Ageing and Long-Term Care
The Research Line Ageing and Long-Term Care (ALTC) creates an inspiring scientific environment where researchers in the area of ageing and long-term care conduct high quality research in close collaboration with the (regional) health care field in order to increase quality of care and quality of life among older people.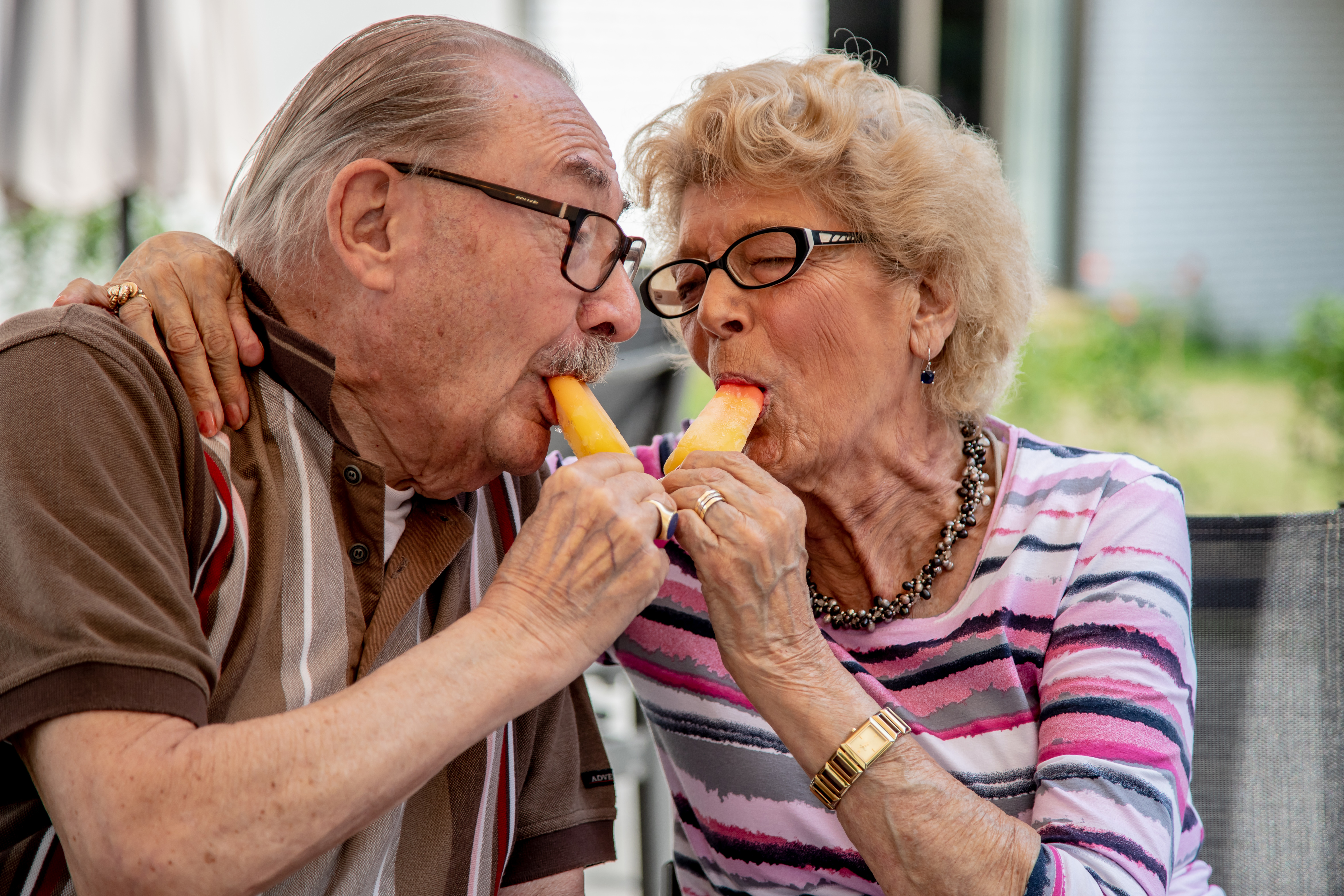 Research and Impact
We develop and disseminate knowledge on psychosocial, clinical and environmental determinants of health care problems, including prevalence, needs, social participation, and independency. Furthermore, we develop and evaluate innovative programmes, research methods and interventions for and with older persons, enabling functional capacity and improving the quality of long-term care. Improving scientific methods and implementation of evidence are important in this.
Case study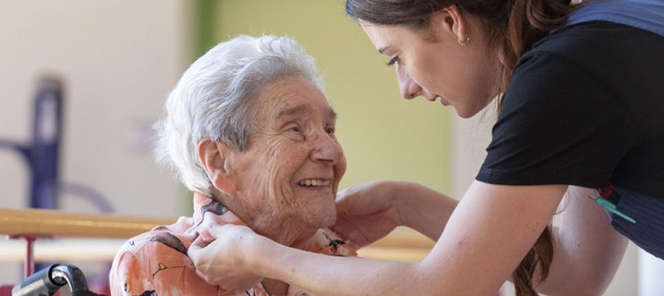 Method to assess experienced quality of care continues to generate enthusiasm among organisations
How can we accurately describe the experienced quality of care in nursing homes from the resident's perspective? Six years ago, the healthcare organisations that are part of the Living Lab in Ageing and Long-Term Care Limburg (AWO-L) were in need of an answer to this question. The resulting research project led to the development of an assessment method called Connecting Conversations (Ruimte voor Zorg) and to several follow-up studies. "I think that now, six years later, we can be proud of the fact that our method is still of interest", says Katya Sion, researcher at the Living Lab, who won the UM Impact Prize 2021 for her work.
News
How can the use of data support learning and improvement within care teams and across organisations? PhD students Merel van Lierop (Maastricht University) and Alies Depla talk about their action research in elderly care and in integrated birth care: 2 different sectors, working on similar processes.

On 26 July the Living Lab Assistive Technology Self-Reliance (AWH-Z)  was officially launched. CAPHRI is one of the core partners. AWH-Z is one of 5 Dutch Living Labs Assistive Technology that are supported by ZonMw for a period of 6 years.

During the annual Maastricht University Dinner, Katya Sion (CAPHRI/ Living Lab Ageing and Long-Term Care Limburg) received the Impact Prize for her thesis "Connecting conversations: experienced quality of care from the resident's perspective: a narrative method for nursing homes".
More news items
The chair is an important link in interdisciplinary education and research in the field of care for the elderly in a vulnerable position within the Living Lab Ageing and Long-Term Care Limburg.

On 23 November, the team within research institute CAPHRI that investigates COVID-19 in nursing homes received the CAPHRI Societal Impact Team Award for the great national and international impact their research has had on the well-being of nursing home residents.

The Dutch Research Council (NWO) has awarded a prestigious Vidi grant worth 800,000 euros to Hilde Verbeek. 

Despite a vaccination coverage of around 80 per cent, most nursing homes in the Netherlands have not yet significantly relaxed their visiting restrictions, according to recent research by Maastricht University (UM) and Radboud university medical center (Radboudumc) in Nijmegen.

The successful partnership the Living Lab in Ageing & Long-Term Care, initiated by Maastricht University, is being expanded. Having been joined by care organisations De Zorggroep, Proteion and Stichting Land van Horne in north and central Limburg, the partnership now covers the entire province.

In the Knowledge and Innovation Agenda Southeast Netherlands 2030, health organisations and partners from the regions Limburg and Southeast Brabant present their plans for better care and a healthier region in the future.

Since 1 November Hilde Verbeek joins the Council for Medical Sciences of the Royal Netherlands Academy of Arts and Sciences (KNAW). 

Dutch nursing homes say they want to avoid closing their doors to visitors during the second coronavirus wave if there is an infection among residents. At the same time, they say they can't guarantee there will be no more visiting bans.

The tool I-HARP (Identifying Heart Failure Patients with Palliative Care Needs) has been launched recently This tool facilitates caregivers in the timely identification of palliative care needs in patients with advanced heart failure and their loved ones. 

Prof. Jan Hamers, professor of Care for the Elderly is one of the six nominees for the 2020 Huibregtsen Prize, which is awarded to recent research that is both scientifically innovative and socially relevant. 

The daily use of low-dose morphine tablets by patients with a severe form of the lung disease COPD has a positive effect on quality of life, and has no negative side effects. These are the findings of a recent study by Cindy van den Berg-Verberkt and Dr Daisy Janssen of the Ciro knowledge centre and Maastricht University (UM).

Hilde Verbeek, Jan Hamers (RL Ageing and Long-Term Care) and their team were awarded a grant of € 1.730.000 by the Ministry of Health, Welfare and Sport (VWS). They will study how relocations in nursing home care be improved for residents and their loved ones, while contributing to their quality of life and quality of care.

Normally, the researchers involved in the DEDICATED project, are working on an approach to empower nursing staff in providing palliative dementia care. Now the involved nurses and other care professionals are working around the clock to provide the best possible care, the DEDICATED team is pausing on-site research activities. Instead, they are contributing from behind the scenes. How? 

The coronavirus is putting intense pressure on care for the elderly, both in the home and in nursing homes. It's very likely that more staff will soon be needed than are currently working in care for the elderly. The Living Lab in Ageing and Long-Term Care recently launched an initiative to find extra volunteers to care for older people in Limburg. 

The coronavirus is hitting vulnerable elderly people the hardest in every respect, finds Maastricht University Professor Hilde Verbeek. Not only do they face the greatest risk of dying from the disease, but they are also particularly affected by the strict government measures to prevent the virus from spreading

Hilde Verbeek, associate professor in the Department of Health Services Research at Maastricht University/CAPHRI will join The Young Academy, a group of innovative scientists and scholars, in 2020. Verbeek is the coordinator of the Academic Collaborative Centre on Care for Older People.

Theresa Thoma-Lürken, postdoctoral researcher within the research line Ageing and Long-Term Care, was awarded the UM Valorisation Prize 2019 for the quality of her valorisation chapter in her dissertation. 

The purpose of these changes in long-term care is to improve the quality of life of vulnerable older people. At the Living Lab in Ageing and Long-Term Care in South Limburg, these improvements go hand in hand with high-quality scientific research. The Living Lab in Ageing and Long-Term Care celebrates its 20th anniversary.
Publications and Doctoral Theses
Calendar
People
Here you can find an overview of staff members connected to the research line Ageing and Long-Term Care:
Contact