Faculty of Law
The Faculty of Law at Maastricht University is a top-quality provider of challenging and rewarding Dutch and European legal education at bachelor's, master's and PhD-level. A true pioneer in small-scale teaching and teaching of skills aimed at a broad range of future legal professionals.
 
The clear focus in research on European and international aspects of the law, Law and tech, and the empirical setting in which the law operates, provides an exceptionally stimulating environment for both students and staff. The Faculty greatly values its open, diverse and inclusive community that makes it a pleasant and rewarding place to work and study. 
Contact details
Visiting address
 Bouillonstraat 1-3 , 6211 LH Maastricht

Postal address
Maastricht University, Faculty of Law
P.O. Box 616, 6200 MD Maastricht

Contact us
The UM Faculty of Law offers a wide range of bachelor's and master's programmes. Would you like to know more about our programmes? Download the brochure for more information on the courses, career perspectives and admission requirements of our programmes.
Download your brochure
News
On Friday 17 November 2023, the ITEM annual conference was held at the county hall in The Hague, focusing on the theme of mobility and infrastructure. The joint finding was that much remains to be done to raise awareness of the necessary priority, to deploy (existing) instruments and the possibility...

PhD thesis written by Sander Paul Martijn Kramer
A growing number of mobile individuals, who take advantage of their European freedoms of movement, face a lack of comprehensive pension information. This obstacle can hinder those who need pension information the most in making well-informed retirement...

PhD thesis written by Alice Giannini
The idea of criminal behavior of artificial intelligence (AI) systems is nothing new. In fact, science fiction has been dealing for decades with evil robots rebelling against humans and taking control, or with machines that go crazy and act unpredictably. Yet, it...
More news items
In their current election campaigns, almost all political parties stress that 'every region matters'. Party manifestos are full of plans to promote broad prosperity in all regions of the Netherlands. Broad prosperity comprises not only material wealth, but also well-being, including issues such as...

PhD thesis written by Haiyang Yu
Professional marine salvors who have the emergency response capacity to maritime casualties traditionally are rewarded on a 'No Cure-No Pay' basis under the maritime law of salvage. However, in cases involving potentially significant environmental damage, such as...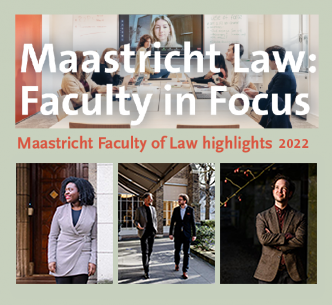 Law 2022 annual review
We are very pleased to present to you a short overview of last year's activities in the field of education, research and our faculty as a whole.
In our new story of science series, we pay attention to the concept of Intersectional Discrimination, subject of Nozizwe Dube's Ph.D research. Furthermore, prof. Jacques Claesssen and Prof. Eric van de Luijtgaarden explain in an in-depth interview the similarities between Restorative and Preventive Justice and the need to 'retrain' lawyers. And assistant professor in Criminal Law and Criminology Robin Hofmann talks about 'the ifs, ands, and buts of cannabis legalisation'. Finally, in a number of showcases, we focus on recent developments, events and special achievements of our teaching and research activities.
 Read our Law review 2022
Agenda / events
The Research Handbook on Soft Law seeks to provide a comprehensive and in-depth scholarly overview of the field of soft law, exploring the scope of current thinking in the field as well as proposing future pathways for soft law research.

This lecture series provides a set of important insights from environmental law scholars on how EU environmental law helps to achieve the aim of a high level of environmental protection in the European Union and across the world.

Tijdens de Meeloopdag ervaar je hoe het is om rechtenstudent te zijn. Dit betekent dat je een échte onderwijsgroep gaat observeren*. Deze onderwijsgroep bestaat uit huidige rechtenstudenten die over een actueel juridisch onderwerp discussiëren onder leiding van een tutor. Zo krijg je een goed beeld...
More event items
Blogs
The pain and suffering of accident victims does not have a price and, in claims for damages, no fixed economic value. Thus, quantifying the amount of money needed to compensate for pain and suffering is a subjective exercise often influenced by adjudicators' biases.

"Change humanity's relationship with the planet.'' Words of the President of Kenya, William Kipchirchir Samoei Arap Ruto, during the opening meeting of the third session of the Intergovernmental Negotiating Committee.

Midway the negotiations on a Global Plastics Treaty, the third round of...

What follows is not new in the realm of legal science, but it ought to be remembered, especially in these times when fundamental rights are being challenged in so many different ways. Developments in legal science are very often interconnected. Legal scholars have acknowledged that the traditional...
More blog items
The EU-funded project FullCompensation aims to make the compensation of pain and suffering damages more equitable and efficient. To this end, the project led to the development of a model legislative proposal and guidelines, based on comparative and empirical evidence. These results were presented...

The EU-funded project FullCompensation aims to make the compensation of pain and suffering damages more equitable and efficient. To this end, the project led to the development of a model legislative proposal and guidelines, based on comparative and empirical evidence. These documents are intended...