Mobility
Sustainable transport to Maastricht
UM is a partner of the mobility programme Maastricht/South Limburg Bereikbaar. The programme aims to contribute to climate policy, a liveable environment, better health and vitality. On the Maastricht Bereikbaar website, students and staff can find specific information about public transport and cycling. On the smart map of Maastricht there are public bicycle parking facilities, public transport bicycle rental locations, Nextbike locations and e-loading points for cars. UM employees can try out an e-bike free of charge via Maastricht Bereikbaar or participate in a discover public transport campaign. If driving is unavoidable, conscious driving helps to limit the environmental impact.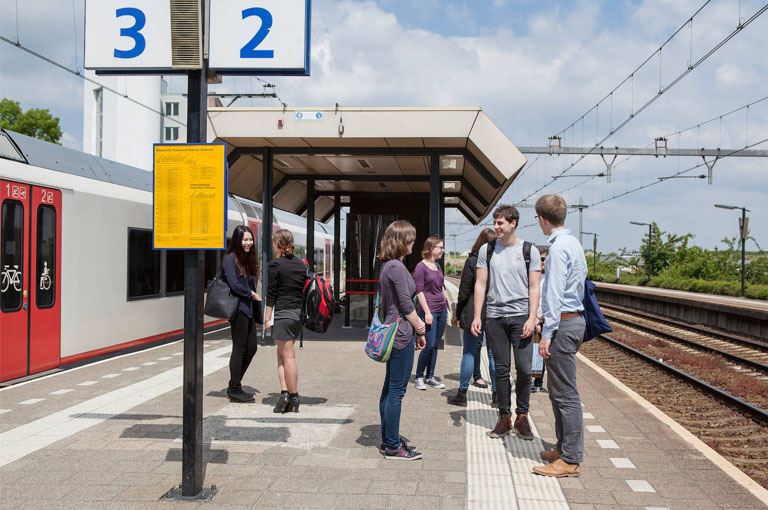 #Posifiets
The Municipality of Maastricht and the organization "Maastricht Bereikbaar" have launched the #Posifiets campaign, which focuses on more frequent and safe cycling and proper bike parking. UM is contributing to the campaign in various ways. Students and employees can give their redundant bicycles a second life by returning them to UM collection points (more information here). UM also deploys bicycle stewards to manage the large flows of bicycle traffic at the university, to ensure that bicycles are properly parked and thus the university and its neighbors remain easily accessible. Together with partners, UM organizes annual bicycle repair days and bicycle lighting campaigns for employees and students. UM also draws attention to #Posifiets at open days and events and through internal communication channels.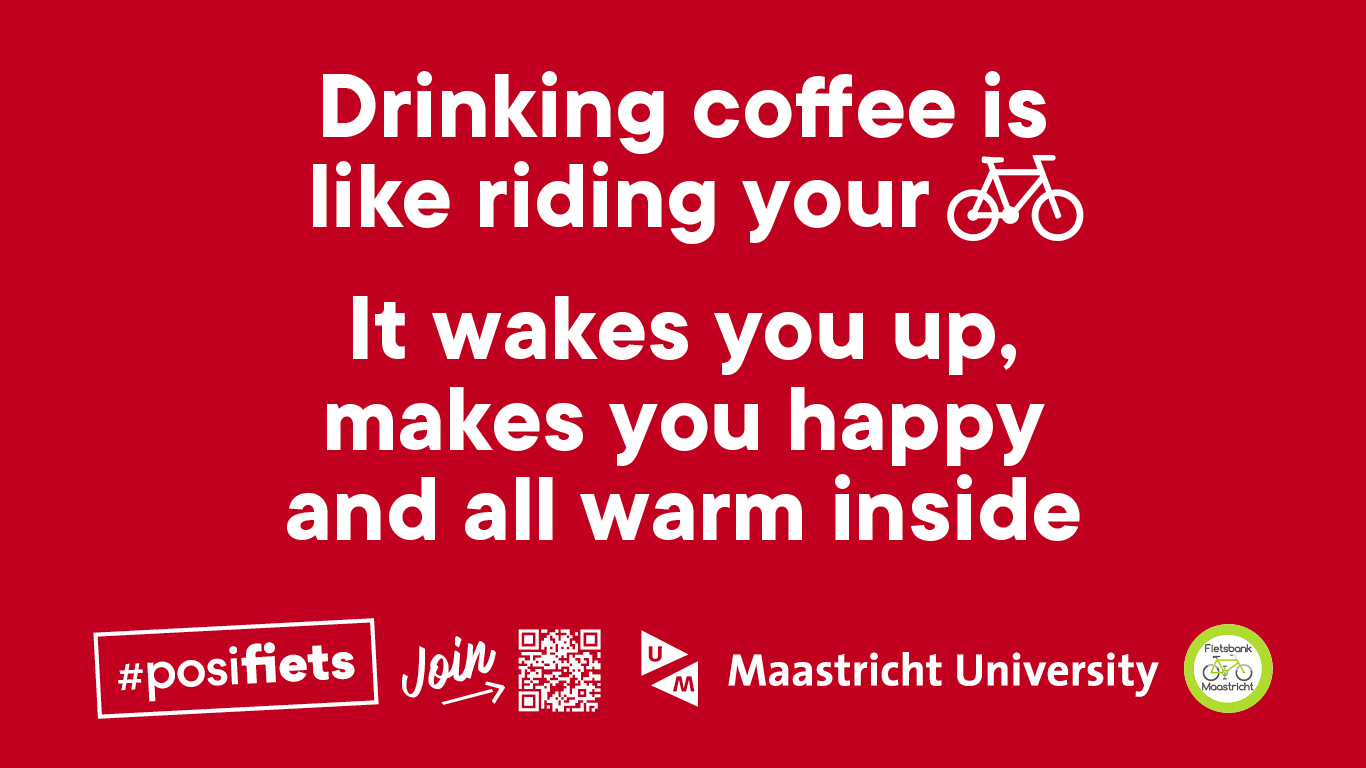 Watch the #posifiets video
Commuting
UM is preparing a new mobility plan aimed at discouraging car use and promoting cycling and public transport. Due to the corona crisis, decision-making has been postponed. In 2022, the plan will be updated based on new insights from COVID-19.
In line with the intention of the new mobility plan, UM has committed itself to the Higher Education Cycling Mission in 2020 which aims that, after COVID-19, UM will have 10% more employees commuting by bicycle. UM encourages the use of bicycles with financial contributions and tax-attractive arrangements. Employees can find more information about the bicycle scheme on myUM (login required). In addition, UM reimburses the use of public transport, see myUM.
Employees can make free use of loaner bicycles for transport between the UM locations in Maastricht. On myUM you can find an overview of the rental bicycles per UM location.
Air traffic
Internationalisation is embedded in the DNA of UM. As a result, air traffic is often unavoidable. The air traffic by UM employees is an important component of UM's CO2 footprint. Based on the available data, the CO2 footprint of business air traffic of UM employees pre-corona was estimated at 2.7 kilotons of CO2 equivalent per year. UM started the  campaign 'Take the green seat' in 2021. This focuses on raising awareness, promoting alternatives to air travel and facilitating voluntary compensation through an internal fund. In 2022, the campaign will be evaluated and it will be considered whether additional measures are needed to achieve a significant reduction in CO2 emissions. Employees can find more information about 'Take the green seat' on myUM (login required).
Zero Emission City Logistics (ZES)
In 2021, UM signed the Act of Ambition for Zero Emission City Logistics. Thereby, the UM supports the Municipality of Maastricht with the introduction of a Zero Emission zone on 1st of January, 2025. This means that service providers and suppliers in the city centre may only use zero-emission transport, such as electric cars and bicycles. ZES also stimulates smart solutions that will reduce the number of transport movements. This way, CO₂ emissions are reduced and Maastricht retains a safe, healthy, accessible and attractive city centre as well as economically vital for a future-proof city.
With the Act of Ambition, UM demonstrates the need and urgency to take steps now to be able to introduce a zero-emission zone by 2025. In 2019, UM already switched to an electric vehicle for the department of maintenance and management of Facility Services. A number of service providers and suppliers have also switched to electric transport, including our internal moving service, print service provider, internal mail delivery and coffee supplier.
We set minimum requirements for means of transport through tenders and encourage suppliers to switch to more sustainable transport more quickly. In addition, we expect suppliers to drive energy efficiently. Are you a (potential) supplier or service provider and do you want to make the switch to emission-free logistics? Then visit the following websites for more information about ZES, the EV charging scan and the new way of driving.
From 2025, ZES will also affect UM employees who use a delivery van for commuting to the city centre. Find out what this will mean for you here.
Rabbe Dormans (coordinator sustainable operations) speaks about UM's contribution to Maastricht's inner city Zero Emission Logistics Ambition. You can find more information on the website of Logistiekbereikbaar.nl