Dutch culture and local events
A year in Maastricht is full of both Dutch, and Maastricht-specific events and traditions.
Here's a list of just some of the things you will come across throughout the year. For some dates, Maastricht University is closed. Also local businesses and stores might have adjusted opening hours and public transport schedules may change.
For an overview of interesting events, international and cultural holidays and commemorations check out the D&I Academic Calendar below.
1st Monday of the month sirens
5 December: Sinterklaas
31 December: New Year's Eve
Carnival
27 April: King's Day
4 May: Remembrance Day
5 May: Liberation day 
July: Andre Rieu at the Vrijthof
Diversity & Inclusivity Academic Calendar 2023/24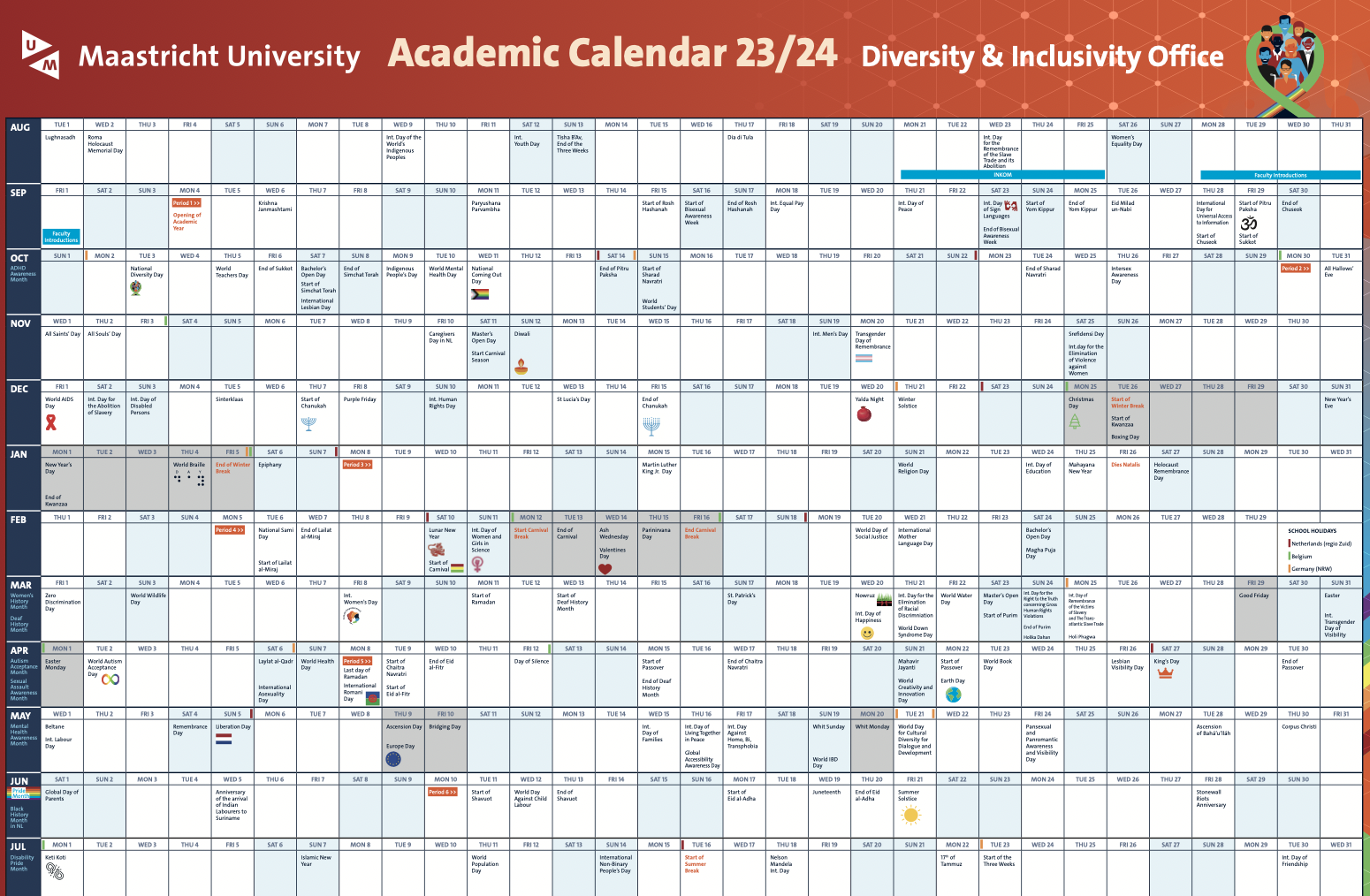 Check out the Academic Calendar 2023/24 by the Diversity and Inclusivity Office.
D&I Academic Calendar marks the richness of UM's community, honouring various events, including UM events, international commemorations, and religious holidays.
 Download the calendar here.
Something missing? Let us know via diversity@maastrichtuniversity.nl 
1st Monday of the month: sirens at noon
At noon on the first Monday of each month, national sirens sound for one minute and twenty six seconds. These are heard all across the country and are a scheduled test to ensure that the sirens are working, without alarming the citizens and taking them by surprise. Should the sirens sound at another time, you should go indoors and close all windows and doors. If your phone number is registered, you will also get a text and alarm sound with information from the Government. The sirens are never tested on a national or religious holiday or Remembrance Day, even if they fall on the first Monday in the month.
5 December: Sinterklaas
In mid-November, cities welcome Sinterklaas (the Dutch version of Saint Nicholas) and his helpers known as Petes as they arrive on a steamboat. Streets are filled with children and parades are common at this time. The actual celebration of Sinterklaas takes place on the 5th of December where families often gather to exchange gifts and enjoy pepernoten and kruidnoten (little gingerbread biscuits) and chocolate letters. 
Sinterklaas' helpers are called Petes. Traditionally, these have been 'Zwarte Piet', i.e. Black Pete, meaning that they are portrayed using blackface as well as racially stereotyping facial features and accessories. This tradition has been challenged as being racist  and is beginning to change. Increasingly 'roetveegpieten' (Petes with smudges in their faces, from climbing down chimneys to deliver gifts to children) appear instead. 
 Trigger warning: please note that you may still see people in blackface or racialized decorations around town during the Sinterklaas period.
At UM, the character of 'Zwarte Piet' is not welcome. This policy is communicated to all members of our community. If you encounter 'Zwarte Piet' at UM, please immediately get in touch with diversity@maastrichtuniversity.nl. 
If you are a target of racial discrimination at UM, you can file a complaint at the Complaints Service Point.
If you experience racial discrimination elsewhere, you can contact ADV-Limburg (Anti-Discimination Platform Limburg). If you highlight the text and click 'vertalen' you can choose your preferred language. If you need help filing a report, please get in touch.
For personal support contact the UM confidential advisors for students or staff.
31 December: New Years' Eve
Amongst celebrations with friends and family, New Years'Eve is the one time of the year that people are permitted to set off their own fireworks! Throughout the year this is limited to professionals, but while ringing in the New Year, it is common for the sky to be filled with bright lights and sounds all across the country. Most fireworks will occur around midnight and continue for an hour or more. Please be aware that there are also occasional fireworks earlier this day. Moreover, in the near future it might get to the point that, by law, only professionals are permitted to set fireworks.
Carnival
Carnival is a big event for southern cities, and Maastricht does not miss out on this! For three days in February (or early March) the people of Maastricht gather to celebrate Carnival together, dressing up in colourful costumes and make-up, participating in parades, brass bands, singing songs and drinking beer (and everything else really) all around the city. This is such a big event that shops (other than supermarkets and Carnival shops) all close. Schools also close for the week, and at UM no education is planned during this time either.
The Carnival season is officially opened on 11 November, once again this is celebrated with parades, brass bands, and partying around the city.
For more information about Carnival in Maastricht check out the special pages of municipality of Maastricht.
27 April: King's Day
King's Day is a national holiday marking the King's birthday. All over the country, people take part in Koningsdag wearing orange or red, white and blue clothing, visiting flea markets in parks (vrijmarkt), going to concerts and local gatherings. As with Carnival, beer is often the drink of choice for King's Day celebrations. 
4 + 5 May: National Remembrance and Liberation Day
On this National Remembrance day, citizens observe 2 minutes of silence at 8pm, and flags are flown at half-mast from 6pm until sunset. It commemorates all civilians and members of the armed forces of the Kingdom of the Netherlands who have died in wars or peacekeeping missions since the beginning of the Second World War. 
On Liberation day the Dutch celebrate their freedom. Although this is only a national holiday with all shops beings closed every five years (last one was on 2020), UM is always closed on Liberation Day. 
For more information please see the 4 en 5 mei website. (right click to translate to English)
André Rieu
André Rieu is arguably Maastricht's biggest export. Every summer, the Vrijthof Square becomes the concert venue for him and his orchestra for several weeks. During this time, Maastricht attracts crowds from all across the globe. The city becomes very busy and you will get a taste of his music in shops and restaurants. You can even overhear the concert (and the rehearsals) while walking through the streets of Maastricht in the evenings or while sitting on your sofa, if you happen to live close to the Vrijthof.
Please note that, due to road closures in the city centre, bus routes are redirected. Please check 9292.nl or ns.nl in order to plan your journey.