Student Services Centre
Maastricht University's Student Services Centre (SSC) helps students with a wide range of issues related to studying and student life. This includes topics such as application, registration, tuition fees and diploma recognition, but you can also contact the SSC for legal advice on a study related issue, career advice or advice from a psychologist. In addition to providing students with help, the SSC supports several organisations that organise extracurricular activities, such as the INKOM, the sports council MUSST and Studium Generale.
What the SSC has to offer
The SSC is the place to be for an introduction to Maastricht University and to find answers to any questions you may have. Current and prospective students, parents, alumni, and anyone else who is interested are warmly welcomed. The UM Student Desk is the common point of contact for various university services, particularly student services. But the SSC is not only open for questions. There is also a reading table with newspapers and magazines. For a delicious cup of coffee, sweets or lunch have a seat at Coffeelovers. And for the real fans we have the UM gift shop. Sweaters, pens, bags, T-shirts and coffee mugs; you will find the best items. In short: a convenient, friendly and dynamic point, especially for you, with WiFi.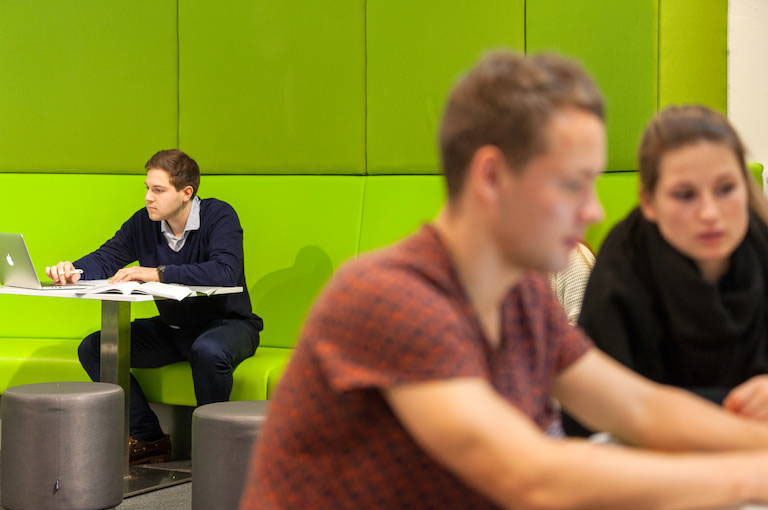 UM Student Desk
The UM Student Desk helps (international) prospective and current students with:

SSC also:
supports several organisations that organise extracurricular activities, such as the INKOM introduction week, the sports council MUSST , and Studium Generale (lectures and debates)
offers sports activities for students, staff and alumni at UM SPORTS
offers trainings and courses, such as language training, a summer school and a European study abroad experience
You are welcome to visit us in person at the SSC, or, if more convenient, you can contact UM Student Desk by phone, email, Whatsapp, or other social media channels. Please find our contact details below.
Please visit the Support section of our website for more student information. 
  Go to Support
Housing
Unfortunately, housing is scarce for students, so be sure to start your search for a room as soon as possible. That means well before you come to Maastricht or Venlo. Make sure to read these tips and warnings.
We are the Student Services Centre (SSC)
Maybe you already know us because we arranged your application, or because you've been studying at our Visitor's Centre with a good cup of coffee. However, you can come to us for much more. Find out what we can do for you.
Contact Student Services Centre
Visiting address

Maastricht University
Student Services Centre (SSC)
Bonnefantenstraat 2
6211 KL Maastricht
The Netherlands

Opening hours: Mon-Fri, from 8.30 to 18.00 CET

Postal address

Maastricht University
Student Services Centre (SSC)
PO Box 616
6200 MD Maastricht
The Netherlands