Sustainability Week
"Sustainability Week 2023 is almost here and we're happy to once again invite you to BURST YOUR BUBBLE" 
We are happy to present Sustainability Week 2023! A week full of events about the topic sustainable development across UM. This week is organised by UM Green Office and KAN Party and supported by Sustainable UM2030 and SWOL.
For this year's edition, we will feature Faculty Days. Each Faculty Day will have its specific activities, workshops and lectures highlighting the role of sustainability within their curriculum and faculty topics. 
We'll end the week by celebrating Earth Day at the Sustainability Festival organized within the Tapijn Area. Here, you'll be able to burst your bubble by interacting with different organizations and companies and enjoy a nice spring day, browsing through our vintage and art fair, while enjoying a sustainable snack and drink.  
Faculty Days
The faculty days are bringing together faculty staff, companies and students to learn more about sustainability topics related to their specific interests and faculty topics. There will be morning lecture blocks, afternoon workshops and evening pannels tied to the core subjects of each faculty. The faculty days are open to everyone, so if you are interested in exploring different sustainability topics or faculties this is your chance.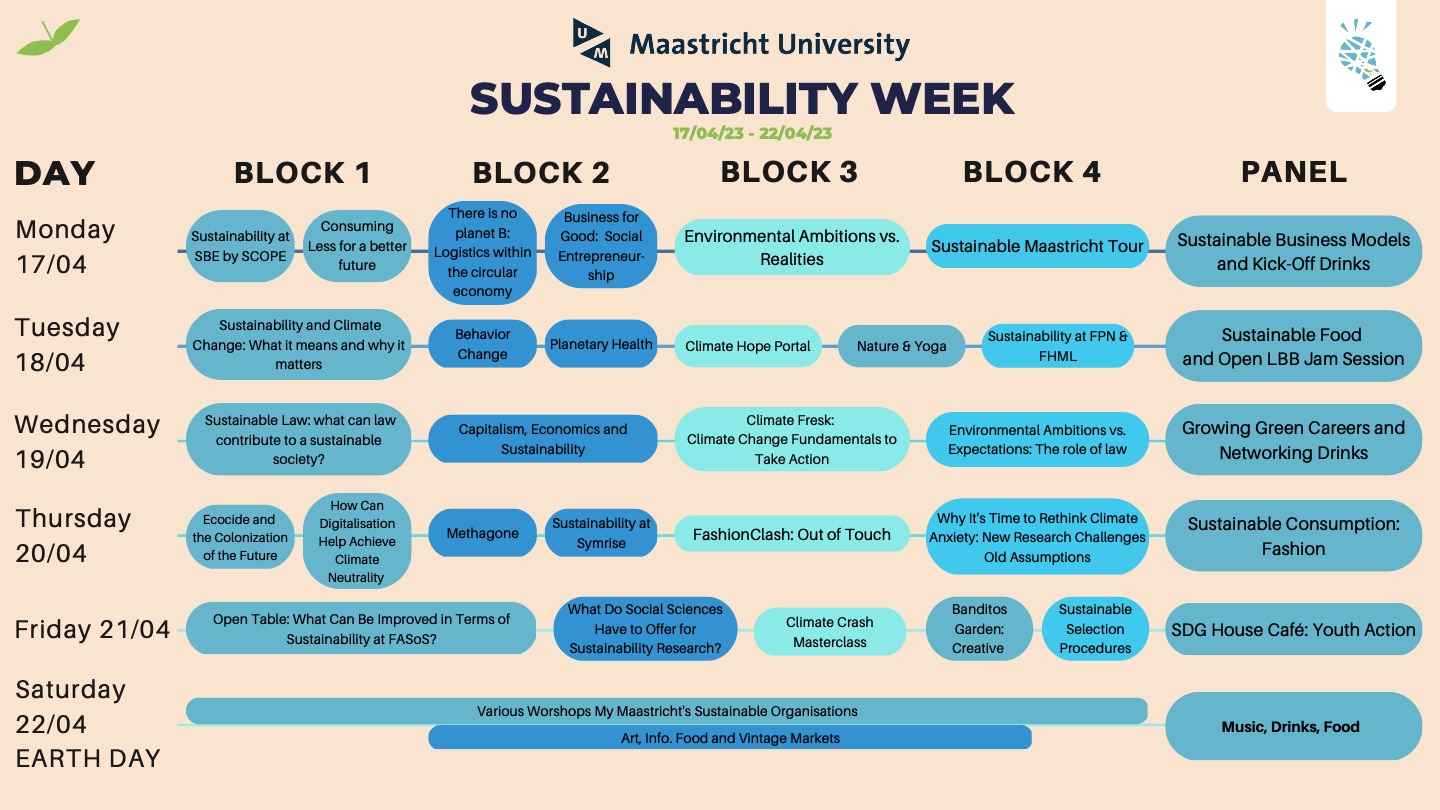 Sustainability Festival
Join us at the Maastricht University Sustainability Festival, a celebration of Earth Day organized by Green Office and Klimaat Actie Netwerk and supported by SUM2030 and Studio Europa. 
The festival will feature a variety of activities and events, including an art market at the Sustainability Hub, an info market at the Tapijn area, and a vintage market at Kaleido, all running from 1 pm to 6 pm. 
In addition, there will be workshops taking place at the Sustainability Hub from 10 am to 6 pm, where you can learn new skills and gain valuable knowledge on sustainability-related topics. 
The music will kick off with a speech by the Green Office and Klimaat Actie Netwerk, followed by the announcement of the winner of the elementary school drawing contest at 5 pm. Until 9 pm, attendees can enjoy food, drinks, and music, creating a wonderful atmosphere to connect with others and celebrate our planet.
Don't miss out on this exciting event!