D&I Office presents a UM Cares project:
UM Summer Camp 2023
This summer the Diversity & Inclusivity Office organises the second edition of UM Summer Camp - Explorers! This summer camp is designed for children of the entire UM community: of staff and students of primary school age (approx. 6-12 years old) in school year 22/23.
The week will take place from Monday 17 to Friday 21 July 2023, from 08.30-17.00, and is for children who also enjoy learning something new during the summer holidays at the place where their parents/carers work or study and hear many stories about.
Students from our UM community take care of supervising the children: this year, the X-Crew consists of 9 students who all take care of their own group of Explorers throughout the week.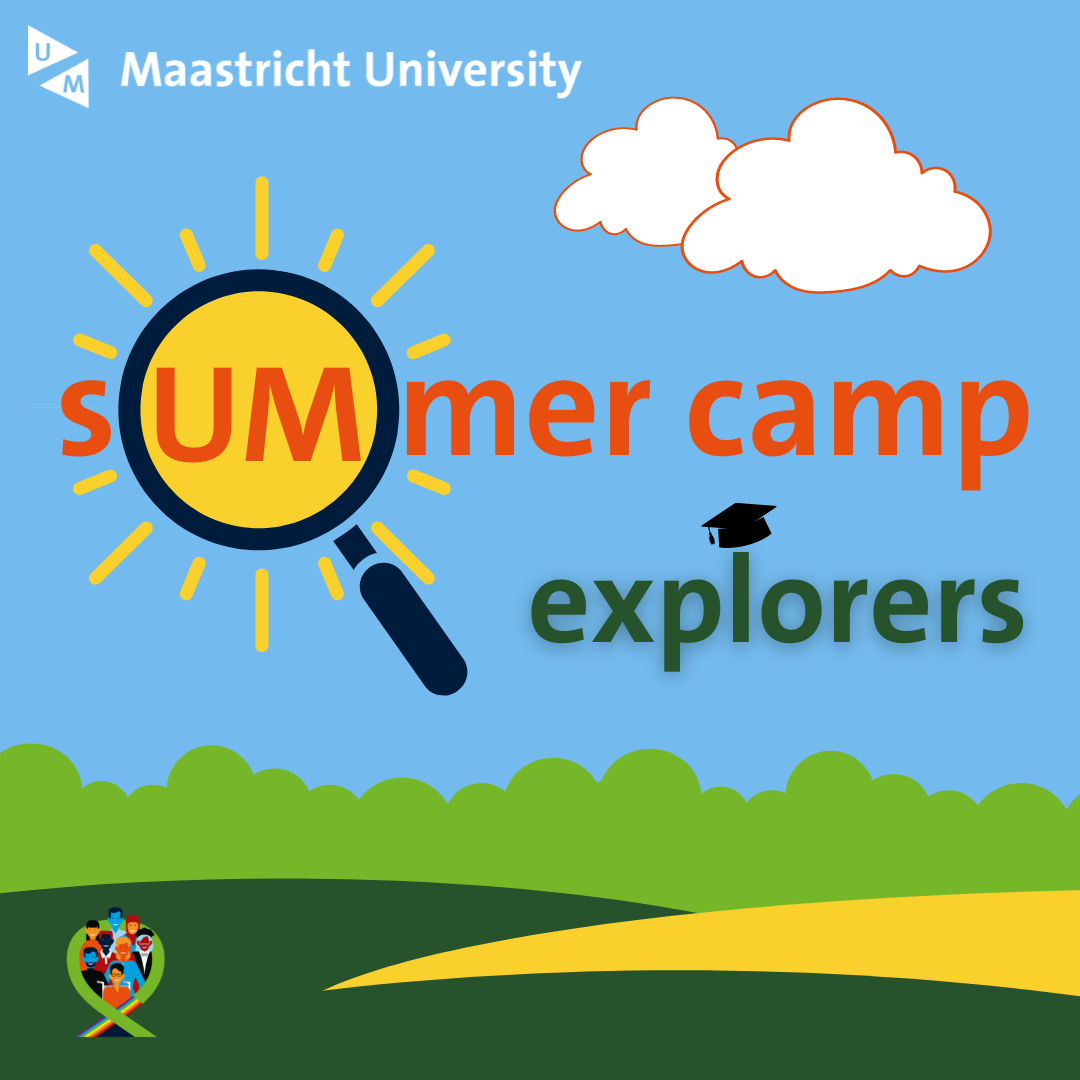 2023 Edition is SOLD OUT!
Kidz and parents/carers about the 2022 edition of UM Summer Camp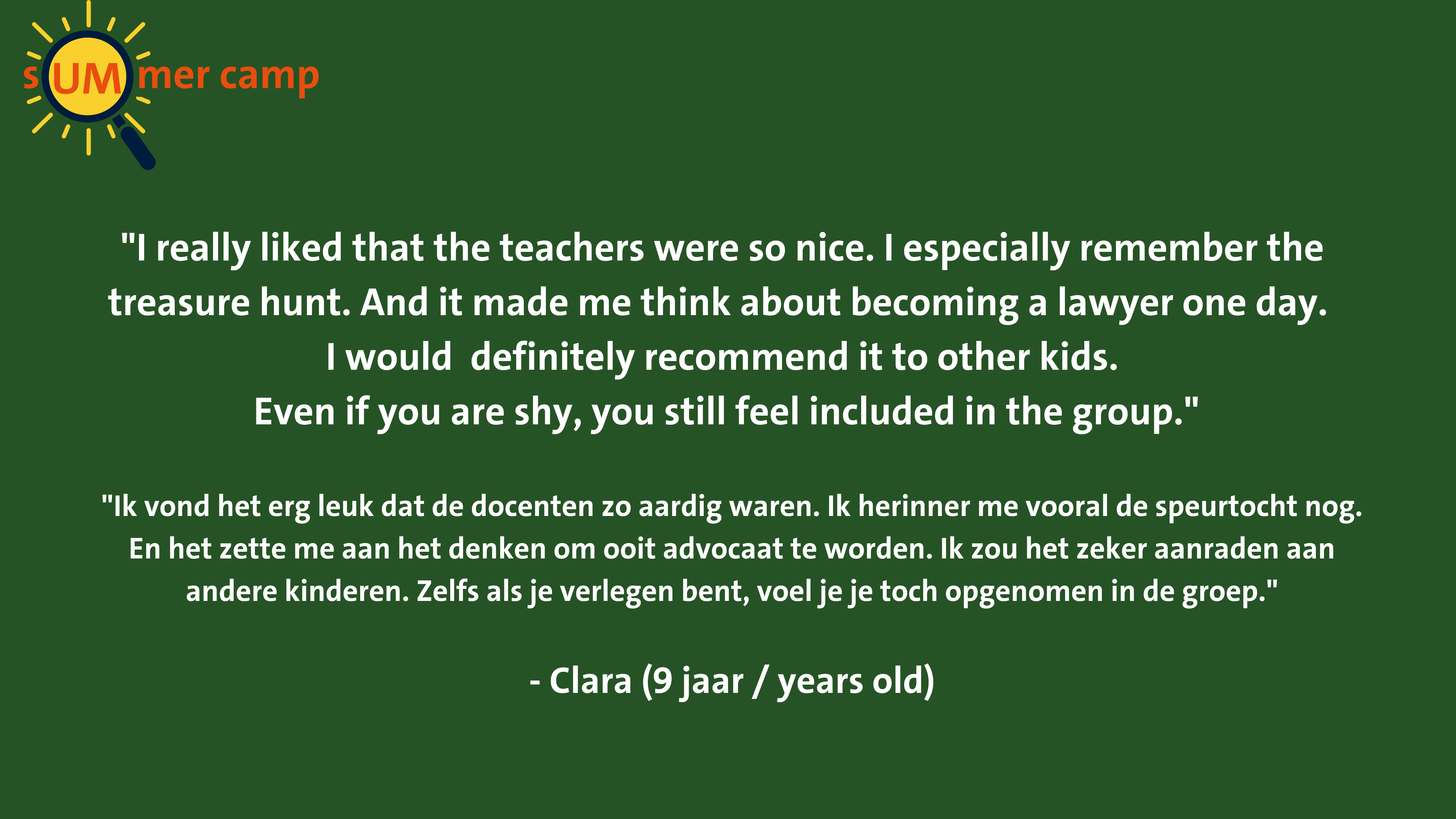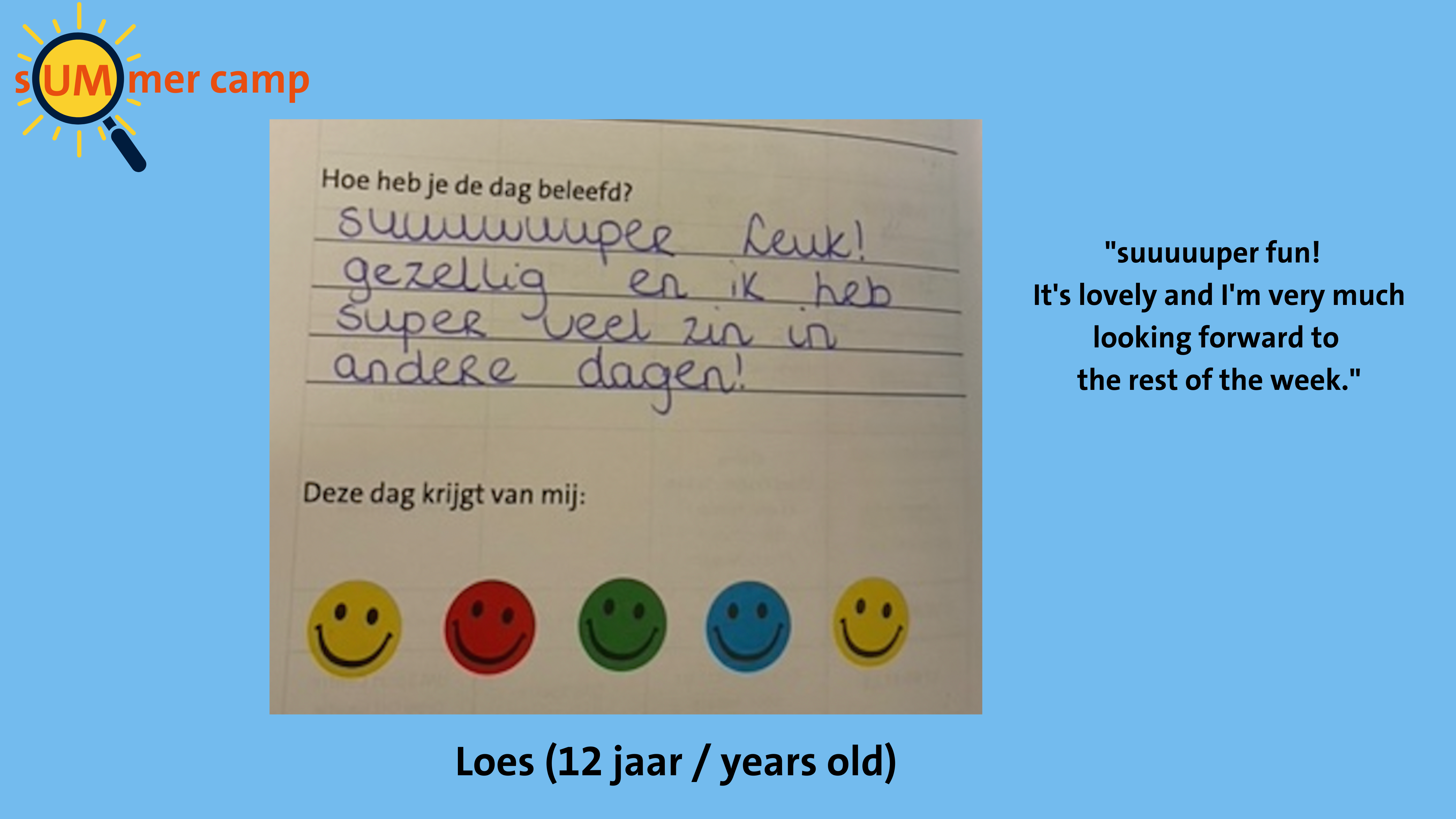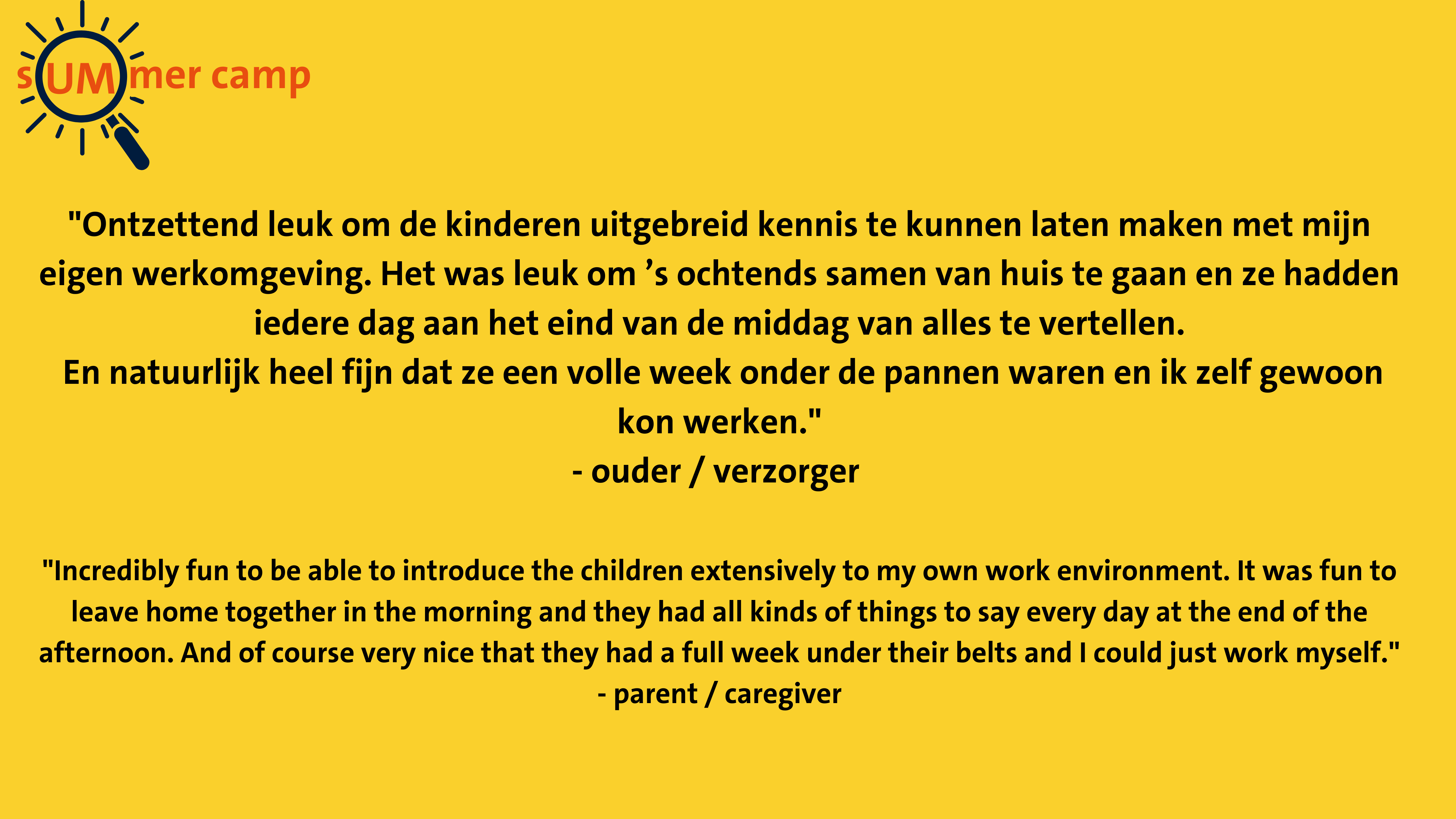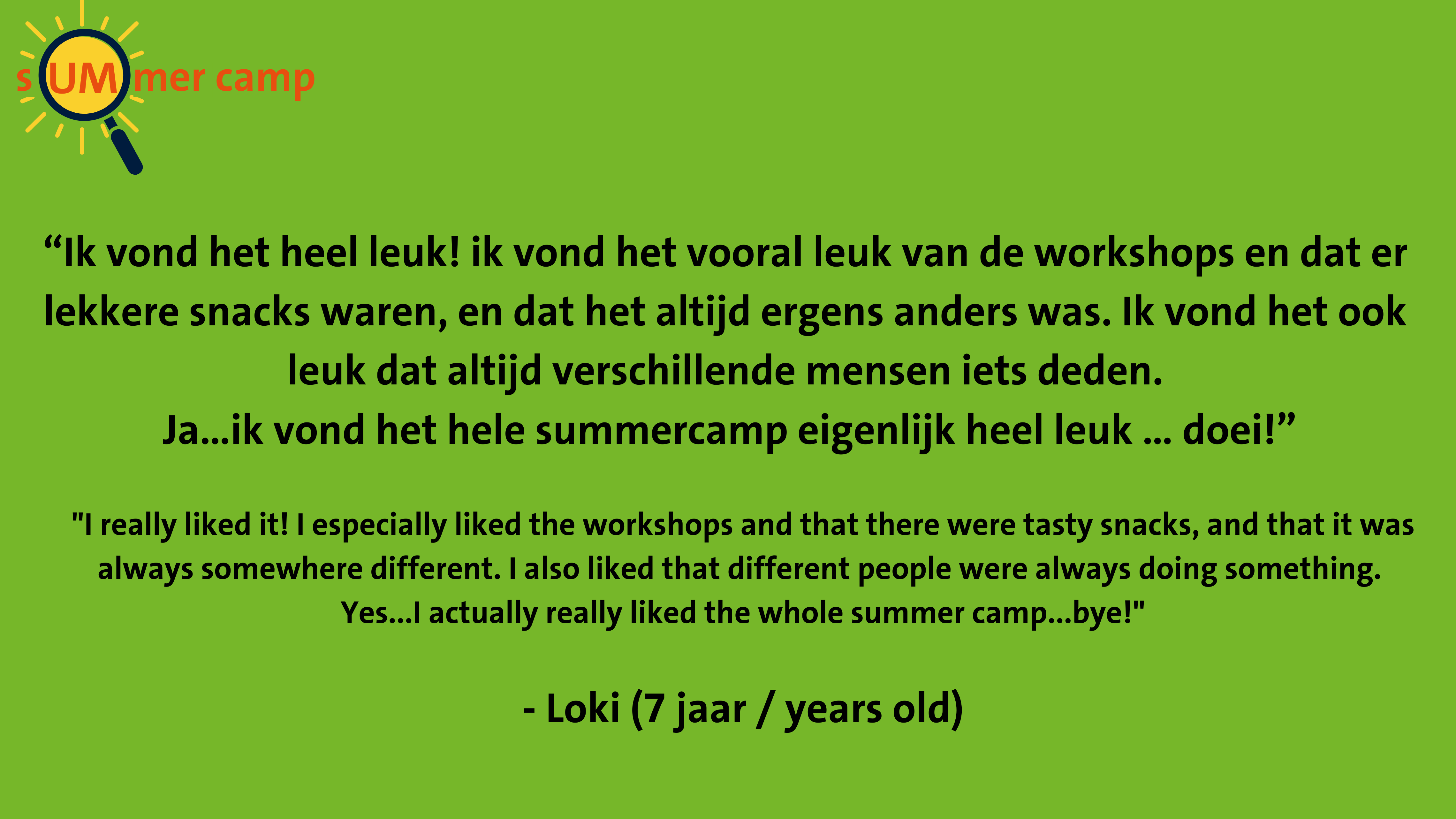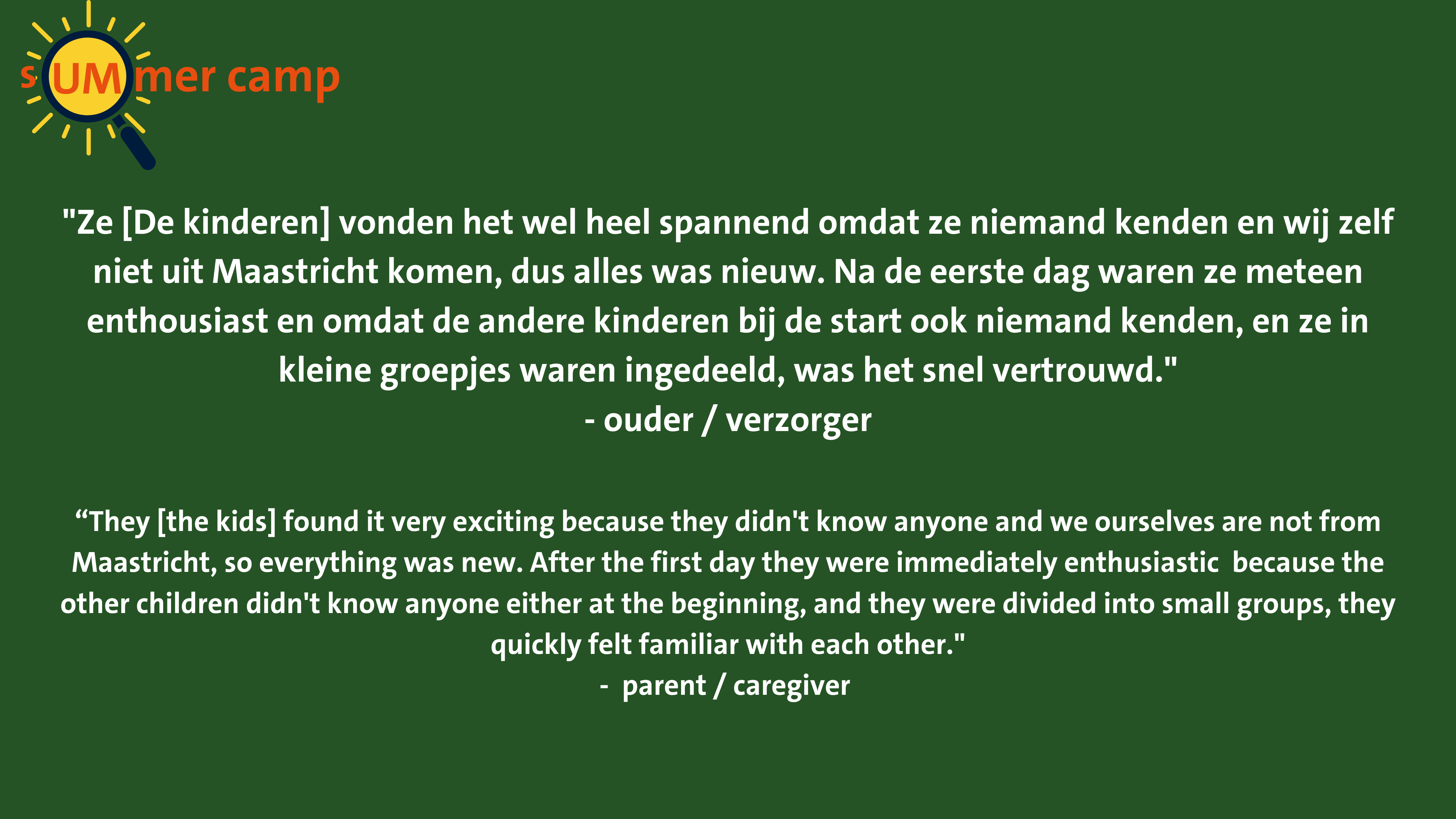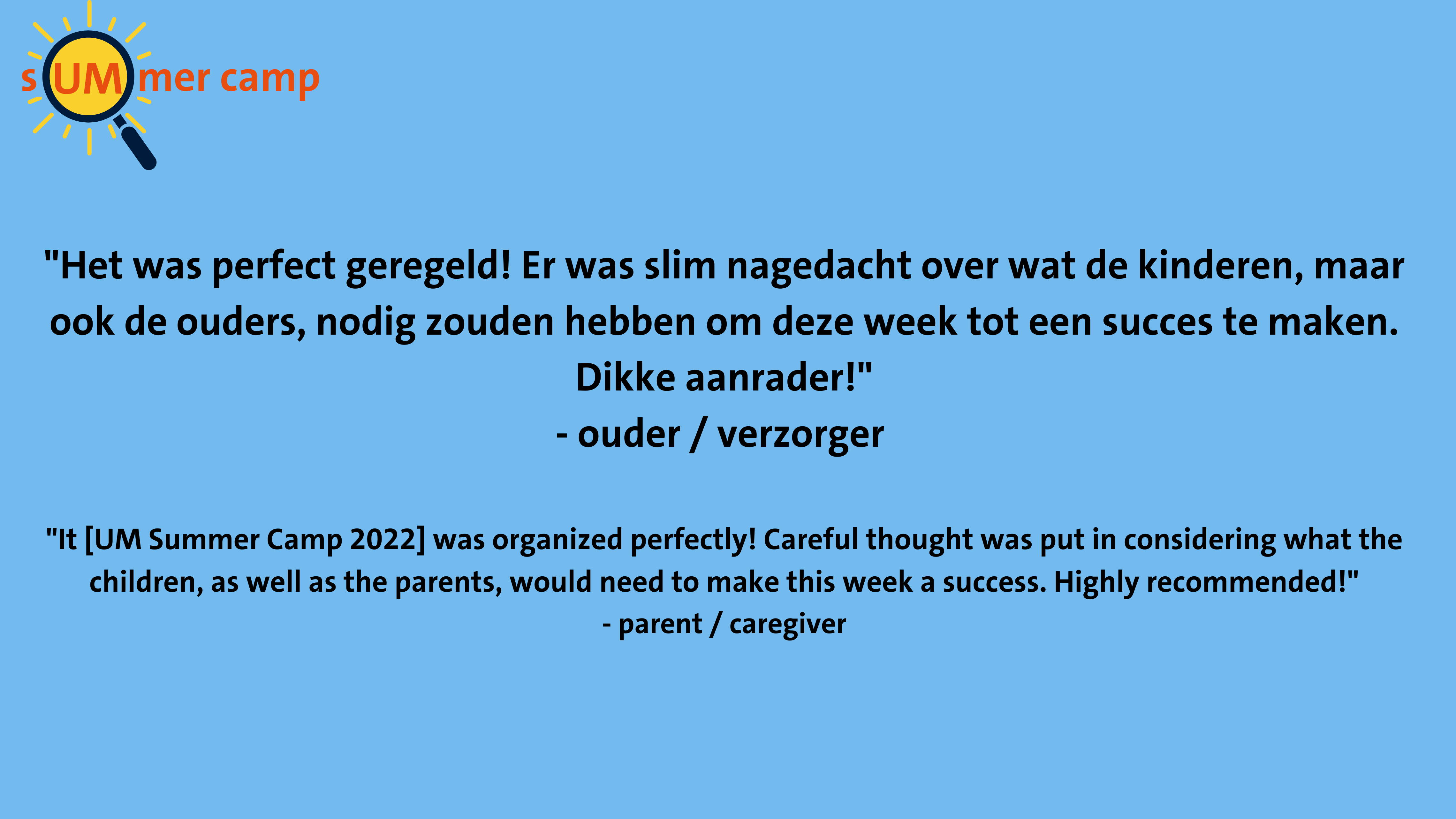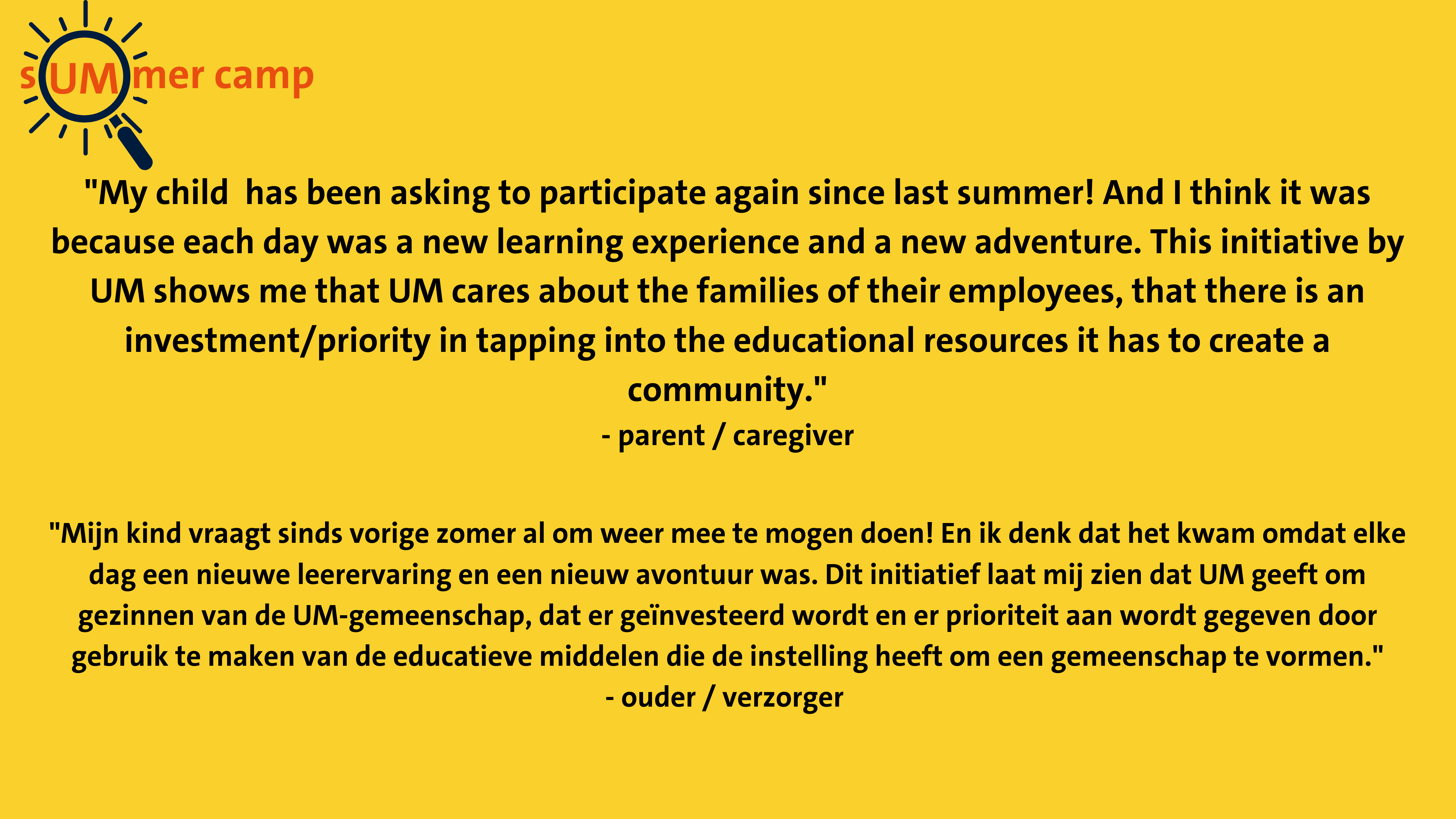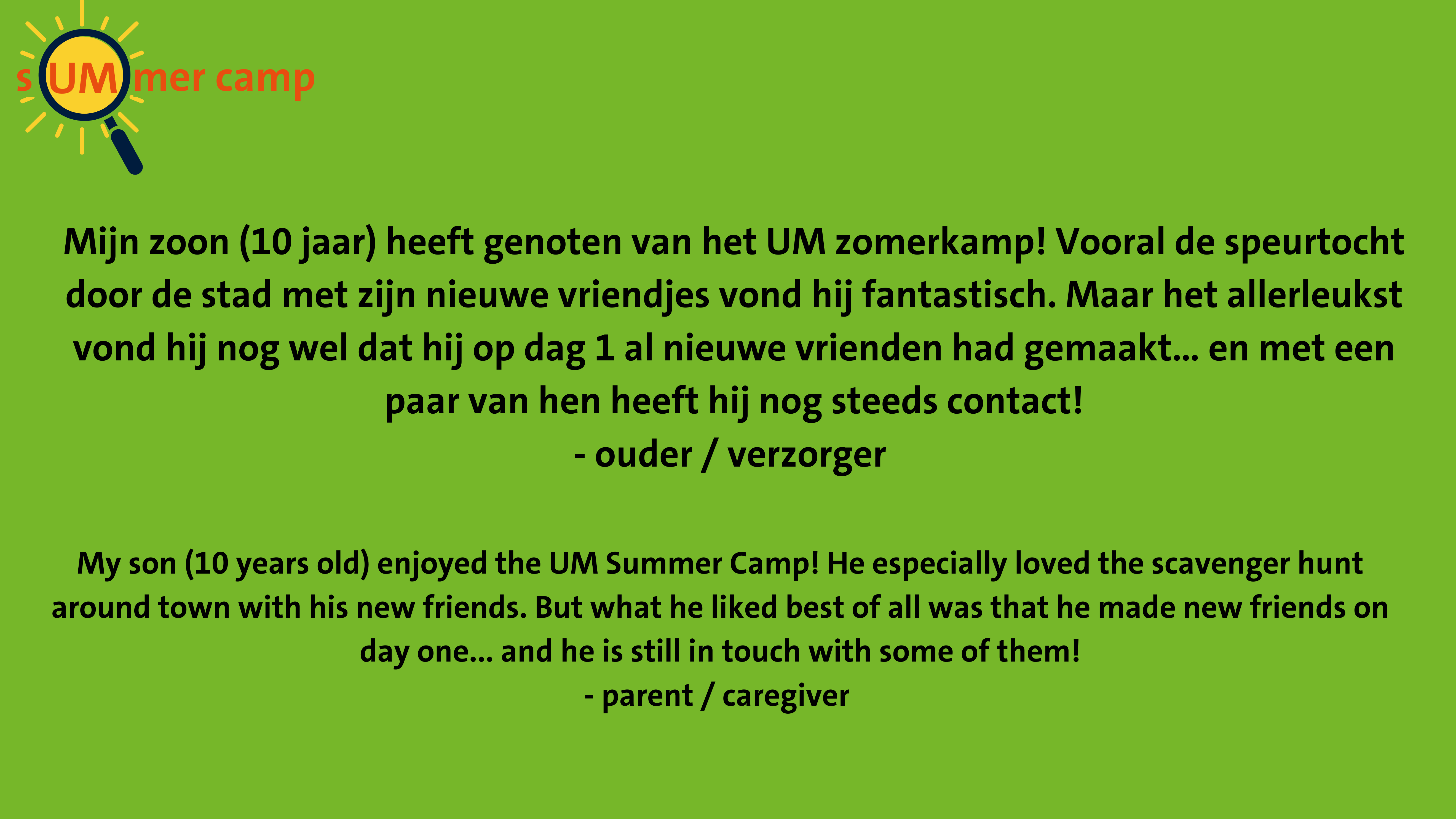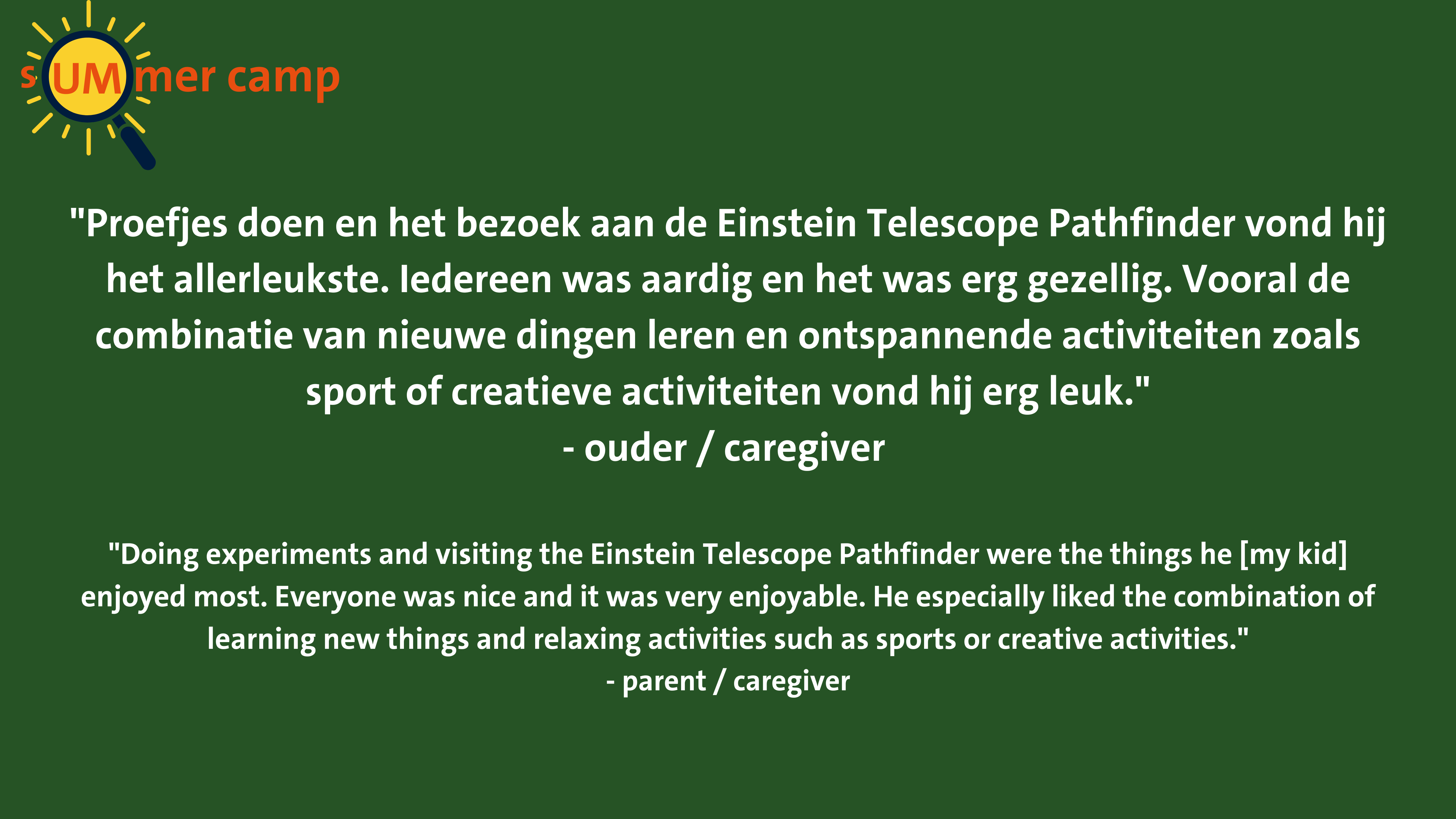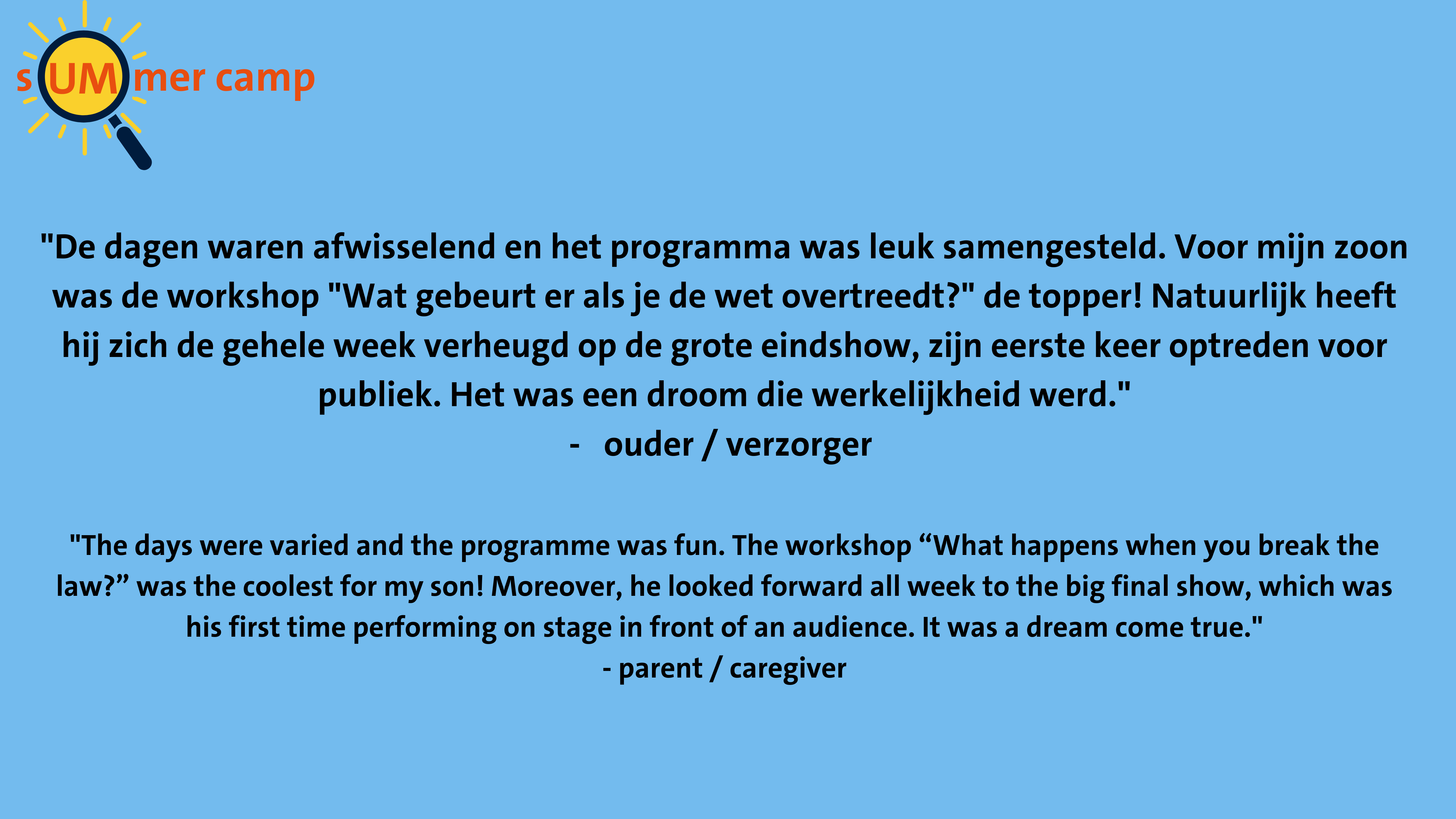 Read comments from children and parents/carers who participated in UM Summer Camp 2022 - WizzKidz
Read Darshini and Netty's retrospective on how they experienced UM Summer Camp 2022 as organisers.
Fun & Educational
The day programme consists of educational workshops and active and creative group activities with an eye for cultural and linguistic diversity of the participants: a nice mix of fun & educational!
The Explorers will be divided into two groups for the workshops and activities:
I. Group 3 to 5 (Netherlands) and grade 1 to 3 (Belgium) or equivalent from international schools and II. Group 6-8 (Netherlands) and year 4-6 (Belgium), or equivalent from international or other schools.
Parents/carers are welcome at the official opening of UM Summer Camp 2023 for children, crew and supervisors. On the last afternoon there will be a great closing party for all Explorers and their families! 
It will be a real UM party because the workshops will be given by UM teachers and staff, the guidance will consist of UM staff and students, and the base location of UM Summer Camp 2023 is Tapijn.
For a hint of the 2023 programme and an overview of the daily schedule, scroll down to Programme Summer Camp 2023.

UM Summer Camp 2023:
5-day programme from 8.30-17.00, fully catered for by UM
Workshops and group activities in two age categories
Supervision of subgroups by UM-students
Food, drinks and snacks
An unforgettable experience and a tangible memory
In 2023, the fee for participation per child is €100.
Application UM Summer Camp 2023 - CLOSED
For the second edition, too, a conscious decision was made that the main language is Dutch. Does your child / children speak and understand Dutch? Then they can participate! The programme pays attention to cultural diversity and crew also speaks English. Communication with parents/carers is in both Dutch and English.
In addition, the group size has been increased to 50 children this edition.
Which children are eligible to participate in UM Summer Camp?
Children of UM-students registered in academic year 2022-2023
Children of all PhD-candidates and bursaries at UM at least until 31 July 2023
Children of UM staff and faculty UM, namely:
with an indefinite contract
with a fixed-term contract (at least until 31 July 2023) both through UM and InterUM
with a contract with a UM supplier, employed at UM and at least until 31 July 2023 (e.g. Eurest Compass, GOM, Trigion, BPL, Equans, Meersmans).
the submitter (UM student/PhD candidate/UM employee) is the parent and/or legal guardian of the child/children.
 The application and selection process consists of 2 phases:
Subscription and selection
Registration and payment, if selected
Subscription and selection: 
Registering your child(ren) for Summer Camp 2023 is closed. Registration was open from Monday 13 March to Sunday 2 April 2023 23:59.
Once the registration period is closed, selection will take place by drawing lots. Fifty children will be drawn to actually participate. By 14 April 2023, we will know whether your child/children will be part of the 2023 Explorers! Correspondence will be sent by e-mail.
Registration and payment, if selected:
After selection, instruction for final registration and payment follows. All additional information regarding allergies, dietary requirements, accessibility needs, special circumstances, permission, emergency numbers, etc. is requested during this registration.
Payment is also made directly at this stage. Participation in UM Summer Camp 2023 is final after payment has been made.
Private online environment for parents/carers
A few weeks before the start of Summer Camp 2023, parents/carers will get access to the online UM Summer Camp environment with detailed information and programme updates.

Eligibility criteria
Children speak and understand Dutch
Children can participate for the entire Summer Camp week (partial participation is not possible)
Children have primary school age (as of 6 years) in school year 2022/23
The submitter is UM employee, employee of supplier* of UM, PhD candidate or bursar at UM or UM student (enrolled in year 22/23)
The submitter is the parent or legal guardian of the child or children.
Each child can be registered only once for the draw
You can submit multiple children per family in one application
If there is a draw, children from 1 family are considered as a whole and thus we guarantee that, if drawn, all registered children from 1 family can participate.
 Do you have questions about whether we can meet your child's needs? If so, please contact us via email umcares@maastrichtuniversity.nl
Programme Summer Camp 2023 - Concept
Monday 17 July 2023
Day 1
Tuesday 18 July 2023
Day 2

Tuesday 18 July 2023
Day 2
| | | |
| --- | --- | --- |
| Tijd | Activiteit | Locatie |
| 08.30 - 09.00 | Arrival Explorers | Tapijn |
| 09.00 - 10.15 | Educational Workshop | Tapijn |
| 10.15 - 10.45 | Snacktivity | Tapijn |
| 10.45 - 12.00 | Educational Workshop | Tapijn |
| 12.00 - 13.30 | Lunch break + group assignment | Tapijn |
| 13.30 - 16.30 | Group activity | Tapijn |
| 16.30 - 17.00 | Close of the day | Tapijn |
Wednesday 19 July 2023
Day 3

Wednesday 19 July 2023
Day 3
| | | |
| --- | --- | --- |
| Tijd | Activiteit | Locatie |
| 08.30 - 09.00 | Arrival Explorers | ntb |
| 09.00 - 10.15 | Educational Workshop | ntb |
| 10.15 - 10.45 | Snacktivity | ntb |
| 10.45 - 12.00 | Educational Workshop | ntb |
| 12.00 - 13.30 | Lunch break + group assignment | ntb |
| 13.30 - 16.30 | Group activity | ntb |
| 16.30 - 17.00 | Close of the day | ntb |
Thursday 20 July 2023
Day 4

Thursday 20 July 2023
Day 4
| | | |
| --- | --- | --- |
| Tijd | Activiteit | Locatie |
| 08.30 - 09.00 | Arrival Explorers | Tapijn |
| 09.00 - 10.15 | Educational Workshop | Tapijn |
| 10.15 - 10.45 | Snacktivity | Tapijn |
| 10.45 - 12.00 | Educational Workshop | Tapijn |
| 12.00 - 13.30 | Lunch break + group assignment | Tapijn |
| 13.30 - 16.30 | Group activitiy | Tapijn |
| 16.30 - 17.00 | Close of the day | Tapijn |
Friday 21 July 2023
Day 5

Friday 21 July 2023
Day 5
| | | |
| --- | --- | --- |
| Tijd | Activiteit | Locatie |
| 08.30 - 09.00 | Arrival Explorers | Tapijn |
| 09.00 - 10.15 | Educational workshop | Tapijn |
| 10.15 - 10.45 | Snacktivity | Tapijn |
| 10.45 - 12.00 | Educational workshop | Tapijn |
| 12.00 - 12:45 | Lunch break | Tapijn |
| 12:45 - 15.30 | Preparation ceremony and rehearsal | Tapijn |
| 15.30 - 16.30  | Ceremony and group performances Explorers     | Tapijn |
| 16.30 - 17.00 | Closing of UM Summer Camp 2023 | Tapijn |