Research
The Faculty of Law has a strong and distinct international profile both in education and
in research. Our faculty is an inspiring and lively place where enthusiastic and inquisitive
researchers seek to find answers to the pressing legal issues of today in a multidisciplinary
and interdisciplinary context.
Research involves studying both institutional and substantive developments in the process
of Europeanisation and globalisation and the role of the national legal order therein.
What makes doing research at our faculty so unique?

Watch the video with our vice-dean of research, Monica Claes to find out. 

Researchers are able to flourish in the faculty's vibrant academic community. They develop their own research projects, within the contours set by the faculty's research programme.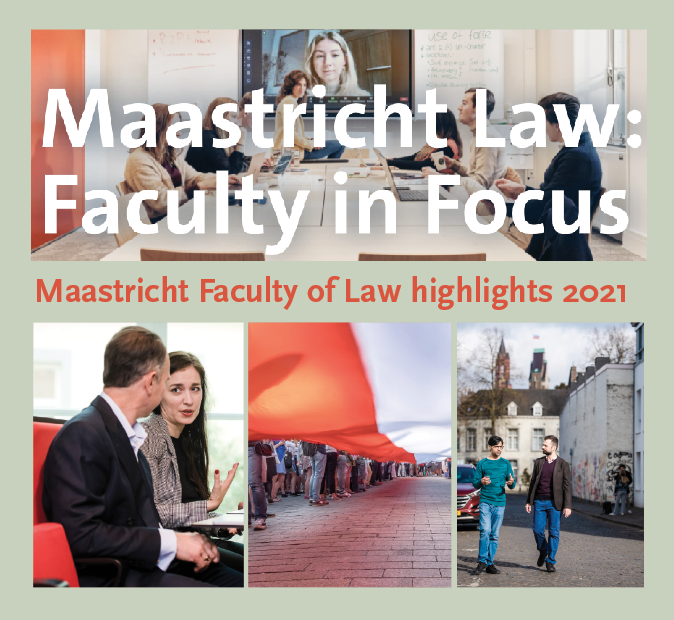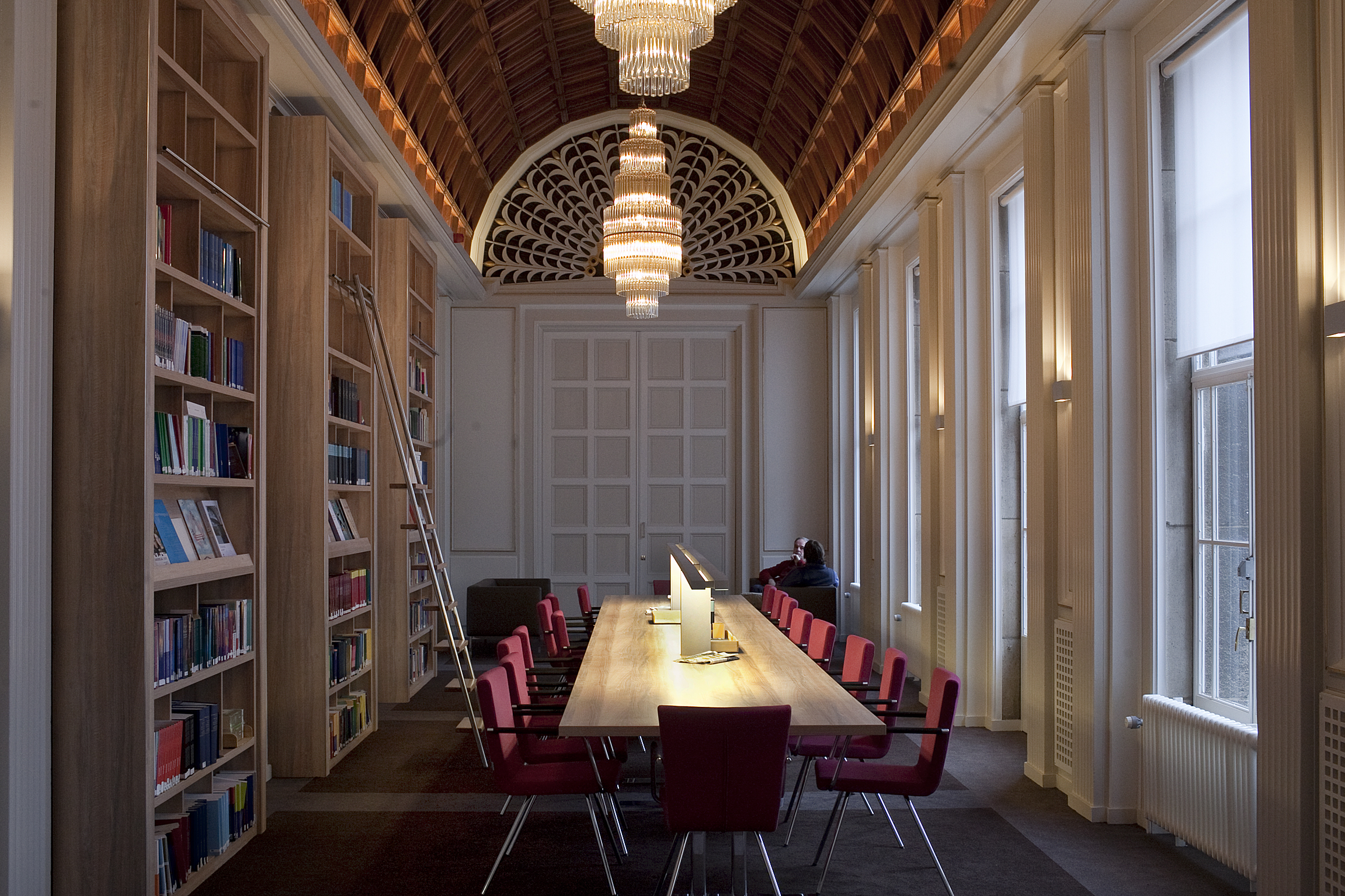 Maastricht Graduate School of Law

The Maastricht Graduate School of Law offers a stimulating and internationally oriented environment for legal research. It is dedicated to train excellent PhD researchers and honours students from all over the world to extend, deepen and actively apply their knowledge, so as to become highly qualified researchers.
Agenda
This lecture series provides a set of important insights from environmental law scholars on how EU environmental law helps to achieve the aim of a high level of environmental protection in the European Union and across the world.

The Globalization & Law Network is composed by a group of researchers of Maastricht University, coming from different backgrounds, who study the role that law plays in a globalizing society from a holistic perspective.

The aimed output of the symposium is to create the forum for setting up a future research agenda and create opportunities for international and interdisciplinary collaboration amongst multidsciplinary experts in thie field.
More event items
News
PhD thesis written by Giulia Giardi
This book draws on never-before used data on both crimes and enforcement to shed light on this murky world. Whether you are professionally or privately engaged in contrasting corporate crime or environmental harm, this book can enhance your perspective and toolset.

This conference aims to compare and critically assess the developments in European Criminal Law and International Criminal Law. The conference sets out to analyse differences and similarities with regard to a variety of different aspects of criminal justice in a globalized world.

The Consul Association has jointly decided to award a prize (value: 1000 euro) for the best master thesis in the field of EU law, written at the Faculty of Law of Maastricht University during the academic year 2022/2023. The Prize will be awarded to the student who wrote a thesis of outstanding quality.
More news items
On 13 March 2023, the latest Globalization & Law seminar took place. We had the pleasure to listen to prof. Patricia Popelier speak about her ongoing research on "Trust in Multi-Tiered Systems". Dr Šejla Imamović acted as a discussant.

The topic of cross-border cooperation plays only a modest role in the party manifestos for the upcoming provincial elections, even in border provinces. This is one of the findings of a thematic analysis by researchers from ITEM, Maastricht University's transnational expertise centre.

On Wednesday 15 March 2023, there will be elections in the Netherlands. We will then vote for the Provincial Council and the District Water Board. Seven of the 12 Dutch provinces border a neighbouring country. Cross-border cooperation and special attention for border regions is therefore extra important. According to Eurostat's definition, the entire province of Limburg qualifies as a border region.

Daan has investigated how employees communicate with each other in a multilingual metal foundry in Limburg, nearby the Dutch-German border. He worked in the metal foundry for 3.5 months to observe and experience to what degree multilingualism hindered efficient communication, and the role of different kinds of power dynamics in this regard.

After short Christmas break, the Globalization and Law Network (GLaw-Net) resumed its bi-weekly seminars with invited experts who study the role of law in a globalizing world. 

PhD thesis written by Adriana Caballero Pérez
This study adopts an evidence-based approach and a mixed research design to explore the de facto realization of the right to vote by persons with disabilities, or the 'opportunity' to enjoy this right on an equal basis with others.

Professor Bruno de Witte is saying goodbye to Maastricht University, but not to European Law. He will continue to deliver his razor-sharp legal analyses at the European University Institute (EUI) in Florence. 

As of 1 January, Sarah Schoenmaekers has been part-time appointed professor of construction law at the faculty of law of UHasselt.

The action with racist slogans on Rotterdam's Erasmus Bridge at the turn of the year was claimed by members of the Telegram group 'White Lives Matter', active in the Netherlands and Germany. Scientists from the UM react via the media.

In recent years, with additional funding from the government, several local, regional and national projects have been launched to tackle and nip undermining crime in the bud. This has raised awareness in the Netherlands about the seriousness of that problem and the need to tackle it together. It is therefore high time for a further course of action, according to research by Maastricht University and the Erasmus School of Law (Erasmus University Rotterdam).

PhD thesis written by Minzhen Jiang.
Based on a law and economics approach, observations are made on the efficiency of the legal regime to evaluate if the existing rules are in line with economic starting points. Following the limitations of the Chinese legal system as specified, the study ends with policy recommendations based upon a functional comparative study with several selected countries.

On 23 November 2022, the GLobalization & Law Network held the hybrid seminar featuring Lucas Carlos Lima, Professor of International Law at the Faculty of Law of the University Federal of Minas Gerais, Brazil. During the seminar, Professor Lima presented his paper "Is the IACtHR advancing the notion of regional jus cogens or a certain regional approach to jus cogens in its case law?" 

The faculty welcomes the excellent news that our colleague Anna Beckers has been awarded a prestigious ERC Starting Grant for her research project on "CHAINLAW, Responsive Law for Global Value Chains". We like to congratulate Anna Beckers!

A lack of coordinated arrangements between neighbouring countries is making it extremely difficult to realise a successful energy transition in the German-Dutch border regions. These are the findings of the annual Cross-border Impact Assessment by the ITEM expertise centre (part of Maastricht University). 

Companies and governments are in dire need of specialists and managers with knowledge of three separate fields: data management, cybersecurity and privacy legislation. It's a rare combination, prompting the European Centre on Privacy and Cybersecurity (ECPC) at Maastricht University to establish a dedicated Advanced Master's degree.

"We can only solve the energy crisis together, COVID-19 taught us this. We should not close borders like we did in that crisis, we should focus on true cooperation." With those words, Dr. Tobias Traupel from the Ministry of Economic Affairs, Industry, Climate Protection and Energy of the State of North Rhine-Westphalia, summarized the essence of the HNP & ITEM Side Event on the acceleration of the energy transition through cross-border cooperation. We should not need a crisis however, to realize this, according to Dutch MEP Bas Eickhout: "Regional authorities understand this much better than national governments: if we want to do better, we have to work together."

The ITEM Cross-Border Impact Assessment 2021 took a closer look at the tax and social security implications of homeworking by cross-border workers in the homeworking dossier. Together with the Secretariat-General of the Benelux Union, the ITEM Expertise Centre organised the Benelux - ITEM Conference "The Future of Work - Working from Home from a Cross-Border Perspective" on Thursday 13 October 2022 in Brussels.

Can I share my research data with colleagues at other institutions? Where can I store my data? How long do I have to preserve the data after I finish my research and where? What should I think about if I want to have interviews transcribed by an external party? These are possible questions that come to mind when you start your research.

They can do it already: deliver pizzas and medicines, inspect windows for cleanliness, monitor crowds. And all that autonomously, without a human driver. But how do you ensure that drones comply with laws and regulations? Professor of Private Law and technology expert Gijs van Dijck translates legal rules such that drones can understand and implement them.

PhD thesis written by Sally Thin.
Thus far we lacked a theory of state responsibility for the breach of non-bilateral obligations: what such responsibility is, how it operates, and what it means for international law.

After years of meaningful work at our university, Prof. Fons Coomans gave his farewell address to the Faculty of Law on 2 September, where he examined important human rights questions. How do they impact our daily lives? And how do they affect people on a personal level? Will future generations still have human rights?

PhD thesis written by Eva van Ooij.
With many forms of flexible work, it seems more important than ever to map out mobility-related issues that highly mobile workers may encounter and to explore possible routes towards more legal certainty regarding their social security protection. That is, exactly, what this research aims to attain.

PhD thesis written by Maurizio Crupi.
In view of the ongoing EU GI reform, this research formulates policy recommendations on how to draw a clear distinction between PDOs and PGIs. The aim is to increase the clarity and understandability of the EU quality schemes for agricultural and non-agricultural products.

How old is the Prinsjesdag suitcase?

PhD thesis written by Emma Moulds.
This research critically examines how the eight largest global markets regulate airlines from the three different perspectives of trade and market access, investment and airline alliances.

Hannah Brodersen, currently working as a postdoc at the Université de Neuchâtel (Switzerland), was awarded the Prize for her Doctoral thesis 'Longer than life: How the ICTY strengthened the rule of law in Bosnia and Herzegovina and Serbia'.

PhD thesis written by Natália de Lima Figueiredo.
In the international arena, there is a strong rhetoric against a type of industrial policy measure called local content requirements (LCRs). They are often characterised, especially by developed countries, as protectionist measures. 

UNESCO has appointed dr. Andrea Broderick (Associate Professor International and European Law) as the new Chair holder (Professor) for the UNESCO Chair in Human Rights and Peace at Maastricht University from 1 September 2022. 

"The European professional football industry is highly vulnerable to money-laundering schemes and major tax fraud, but people both inside and outside the industry are collectively looking the other way."

What is the link between the Grimm Brothers' collection of stories, their work on language, and law? This exhibition proposes to explore how the Grimm Brothers depicted the legal culture of their time through storytelling and the study of language.

In 1999, Hanneke van der Tas was one of the first students to graduate from UM's brand new European Law School. She went on to earn a postgraduate degree from Harvard Law School. She passed both the New York Bar and the Paris Bar, seemingly destined for a career as a lawyer or judge. Then her life took a very different turn.

It could come straight out of Stanley Kubrick's dystopian movie A Clockwork Orange: using direct brain stimulation to reduce aggressive behaviour. For PhD student Ruben Knehans, it's his daily business. Aside from the medical complexity, it raises all sorts of questions. Is it ethical, for example, to modify someone's behaviour? Can you justify imposing brain stimulation on convicts under criminal law? How to set rules and standards? Ruben tries to answer these questions in his PhD research at UM's Faculty of Law.

Within our faculty, as of 1 September 2022, we are looking for a postdoctoral researcher and two assistant professors. The postdoc position is entirely focused on research, while the two assistant professors will engage in both teaching and research.

The Law and Tech Lab were awarded a grant from the European Commission for a project called FACILEX. The project focuses on judicial cooperation in criminal matters and mutual recognition models in the EU.

The output can be pasted or loaded into Docassemble, also a free and open-source expert system for guided interviews. Docassemble is supported by a user community that maintains the software. GraphDoc does not require any installation and can be run online.

On 15 July 2022, the finals of the Nuremberg Moot Court 2022 took place. Like last year, the competition took place online due to the Corona pandemic. In the finals, the winning team of Maastricht University, consisting of Dylan Jesse Andrian, Ekaterina Fakirova, Fikri Fahmi Faruqi and Nicole Binder (coached by Craig Eggett), won against the team of Koç University from Turkey. Moreover, the award for best overall speaker went to Dylan Jesse Andrian. 

An international consortium of nine partners that includes the Faculty of Law was awarded a € 562,951 grant from the European Commission's DG-JUST to carry out DIGI-GUARD. 

Problemen bij het uitvaardigen en uitvoeren van Europese aanhoudingsbevelen (EAB's) worden – onder meer – veroorzaakt door praktische onvolkomenheden, door onduidelijkheid over de Europese regeling en door fouten in de nationale wetgeving van EU-lidstaten.

PhD thesis written by Senai W. Andemariam.
This research investigates whether coherence can be maintained in the concept of necessity across different fields of international law.

On 29 June, our faculty hosted the mini-symposium and book presentation 'Restorative Justice through the Eyes of.... Reflections on restorative justice from 27 different perspectives' took place.

On Friday 10 June 2022, Michael Faure and Niels Philipsen both presented (online) at the China University of Political Science and Law (CUPL) in Beijing, at the occasion of the 70th anniversary of CUPL. The presentations were held in the context of the 8th international conference on Law and Economics: Law and Economics in the Post-Pandemic World.

The Executive Board has appointed Dr Dominic Coppens as Professor of International Economic Law with effect from 1 September 2022 for 0.2 FTE; he succeeds Prof Peter Van den Bossche.

PhD thesis written by Mathias Nikolaus Müller.
This study examines to what extent the right to access environmental information - which is enshrined in the Aarhus Convention, the Environmental Information Directive, and national law - can be used by the public to access information related to compliance with EU environmental law with a view to identifying non-compliance. 

How can a more economic analysis strengthen our innovation policies to achieve a truly competitive digital single market?

The Maastricht Centre for European Law (MCEL) has released two videos highlighting projects of PhD researchers working at the Centre. The videos aim to increase the visibility of MCEL's activities by spotlighting some of its main research strands.

PhD thesis written by Kim Geurtjens.
This book deals with the history of OMCGs and the responses in each country, the authorities involved in the response, and contemporary problems in the Meuse Rhine Euregion.

PhD thesis written by Xiao Wang.
The thesis explored whether a video game will constitute copyright infringement if something in that game (such as display on the screen, software, game mechanics, and so on) is similar to an earlier game. 

The Maastricht Centre for Human Rights is proud to present the first three videos in the Let's Talk Human Rights interview series! In April 2021, the Maastricht Centre for Human rights was awarded a grant from the KNAW 'Gewaardeerd!' pilot fund in order to develop a project to improve the visibility of the research conducted by the Centre. 

Hildegard Schneider, Professor emeritus of International and European Law receives the prestigious Tansmedal during her farewell lecture.

PhD thesis written by Marjolein van Everdingen. This dissertation deals with the application of residence related rules to persons with a dual residence. It describes the role of residence in Dutch social security law in general and the phenomenon of dual residence in particular.

The Executive Board has appointed Dr Roland Pierik as Professor of Legal Philosophy as of 1 August 2022. Roland Pierik is currently still connected to the UvA as Associate Professor and director of the Paul Scholten Centre for Metajuridica. He specialises in legal philosophy and political theory.

As of 1 September 2022, Dr. Kasper Dziurdź will succeed Prof. Rainer Prokisch who will retire in October 2022. Kasper currently works as a Senior Tax Manager at KPMG and he also teaches in the field of Tax Law at the Vienna University of Economics and Business (WU Vienna).

The international finals of the International Client Consultation Competition took place from April 19 through 23. Host was Swansea University in Cardiff, Wales. Unfortunately, the competition was completely online. However, the Dutch team, consisting of first year (!!!) European Law School students Dylan Andrian and Vinca Poerawinata (see picture), did extremely well.

Earlier this month, European Commission President Ursula von der Leyen announced in the European Parliament that the Commission will launch a procedure to withhold EU subsidies to Hungary for violating the rule of law.

PhD thesis written by Anna Goldberg.
In this thesis, an overview of the different ways of conceptualising addiction is provided, before applying this knowledge onto both the legal framework of Dutch criminal law, and to more universal legal concepts. 

The Facebook Papers, a series of documents leaked by whistleblower Frances Haugen, brim with revelations. The company appears to have been fully aware of its role in the dissemination of false information and anger-inducing content. Moral philosopher Katleen Gabriels and data protection lawyer Paolo Balboni discuss the problems and possible solutions.

A screaming labour shortage or not, a job is often not an option for highly qualified status holders. In 2020, for example, only 16 percent of the highly educated Syrian refugees had a job (compared to 81 percent of the highly educated Dutch).

The European rule of law is under siege in Poland. On October 7th, 2021, the Polish Constitutional Tribunal declared that the Polish Constitution is more important than any EU treaty. The rest of Europe is keeping a close eye on the situation; how is it going to develop? Is there any chance that the sovereignty of European law will be restored? And how did we get here?

Cross-border business in the Euregio Maas-Rhine (EMR), i.e. business in the border area between Belgium, the Netherlands and Germany, offers many opportunities. But what are the general requirements for starting up a business in the different countries? And what do I need to pay attention to as an entrepreneur? These types of questions and more are covered in the new brochure "Crossing borders as a self-employed professional between Belgium, the Netherlands and Germany".

In this online seminar on recent developments in competition law and policy, speakers from China and the EU will present their ongoing or recently published research. It will take place on 7-8 April 2022.

Professor Monica Claes and assistant professor Maarten Stremler have received a grant from the Statesman Thorbecke Fund of the Royal Netherlands Academy of Arts & Sciences.

After 35 years at Maastricht University, Constitutional Law Professor Aalt-Willem Heringa will hold his farewell lecture on 25 March. Here he looks back on a successful career and ahead at the role of courts in the Netherlands and Europe.

PhD thesis written by Amidou Yekini. This study on the law of climate change – illustrated by the case of Benin, a developing country exposed to the harmful effects of climate change – aims to highlight the effectiveness of climate law in this country. 

Today researchers at Maastricht University's European Centre on Privacy and Cybersecurity (ECPC) have published the first-ever complete CSR framework for data protection aimed at improving privacy and security for a sustainable digital future - the Maastricht University Data Protection as a Corporate Social Responsibility Framework (UM-DPCSR Framework).

PhD thesis written by Claire Boost.
This research aims to examine the measures taken by the ICTR to promote its legitimacy. Legitimacy examines the factors that incentivise a community or society to consent to the legitimacy of an individual, group or institution. 

PhD thesis written by Madalena Narciso.
EU consumer law imposes many duties to inform on professional parties. To comply with these duties, traders provide consumers with substantial amounts of information to be read before the conclusion of a contract. However, consumers do not frequently read this information and, when they do, they cannot understand or contextualize it to their own needs.

Hildegard Schneider is set to say goodbye. As professor of European Migration Law and former dean of the Faculty of Law, her career coincided with the foundation and pioneering years of the law faculty. She herself made an important contribution to the profiling of Maastricht University as a 'European' university. "Now the university has to get ready for global challenges."

This issue was discussed on 17 February 2022 by the ITEM Expertise Centre with representatives of the specialised advisory and border information services in the cultural sector, as well as politicians and (local) authorities of the EMR. In successful cooperation with the ZZP-fabriek, the GrenzInfoPunt Aachen-Eurode (GIP) and the cooperation Smart, an online expert meeting in the shape of a round table was organised as part of the Interreg V youRegion project.

Recently Niels Philipsen was interviewed by Dutch news radio station BNR on the question whether there are legal or economic arguments to split up Big Tech companies like Facebook, Google, Amazon, Apple and Microsoft. The podcast of that interview is available online. Philipsen also wrote a blog on the topic.

PhD thesis written by Sofie Wolf.
A legal comparison between the Dutch and the German parliament in EU affairs. The purpose of this dissertation is to compare the activities of the Dutch and German parliament in EU affairs. 

PhD thesis written by Prashant Sabharwal.
The Jurisprudential Response of the National Constitutional Courts of Germany, France and the United Kingdom to the Primacy Doctrine of the Court of Justice of the European Union from 2005 to 2015 – and the Lessons to be Learnt.

Our colleague Catalina Goanta received the very good news that she received a prestigious ERC Starting Grant for her research project on "Human Ads: Towards Fair Advertising in Content Monetization of Social Media."

PhD thesis written by Akouvi Okpè Abalo.
Considered to be the most affected, fragile and vulnerable to climate change, poor West African states are at the heart of the international climate regime. They are thus subject to a series of conventional obligations whose implementation is highlighted in this thesis. 

The consultation round on the upcoming ITEM Cross-Border Impact Assessment 2022 is herewith launched! Grab the opportunity to share your experiences with ITEM! Dossier suggestions can be made up to and including 23 January 2022.

PhD thesis written by Huizi Ai
The thesis found that under the current regulatory framework of takeovers in the U.K., Germany and China, public laws (competition law and FDI screening laws) recognize and protect certain public interest considerations in takeovers, of which the national security interest is most important.

The importance of cross-border cooperation manifests itself more than ever during the coronapandemic. Multi-level governance is the foundation for taking the next steps; looking for each other and perpetuating relationships at all levels, in administration, politics and practice. This became clear during the ITEM annual conference on 19 November, which focused on the lessons learned, opportunities and challenges of cross-border cooperation. Watch the video recap. 

We are happy to announce that the LAWNOTATION proposal, amongst others, will be funded through the Dutch Law Sector Plan. LAWNOTATION is an initiative of Digital Legal Lab that brings together Dutch universities working on Digital Legal Studies.

Sexual harassment in public is becoming a punishable offence. It's a good idea, says Suzan van der Aa, professor of Criminal Law and Criminal Procedure, but one that doesn't go far enough. "Sexual harassment in the workplace is common too, and usually has a greater impact on the victims."
 

On 1 December 2021 METRO will organize an online seminar entitled 'The Impact of the EU Green Deal on Chinese trade and investment in Europe: Opportunities and challenges'. This online event will address the potential consequences of the EU Green Deal for Chinese investments in Europe.

Due to the Corona crisis, also many cross-border workers are forced to work in their home country. They have been asked not to cross the border to come to their office situated in the neighbouring country. At the moment, this is only possible because the Dutch, Belgian and German governments have agreed on special exemptions from certain rules until the rest of this year. Otherwise, these frontier workers would face major changes with respect to their social security contribution, taxes and health care. But what, if governments and employers from now on will permanently stimulate that employees work more days from home? ITEM has found out that this would have tremendous consequences for cross-border work if legislation does not change accordingly. This is one out of four case of this year's research into border effects.

PhD thesis written by Jan Willem van Manen
The central question in The Video Reconstruction in Criminal Proceedings is what contribution the video reconstruction makes to finding the truth in the criminal procedure and how this contribution can be optimised.

On 18 & 19 November, Loevestein castle, in collaboration with Maastricht University's Centre for Human Right and the Lab Toekomstige Generaties (Lab Future Generations), will organise a conference on the human rights of future generations. 

Would you like to generate impact for your research outside the university world? Reach a wider audience that includes changemakers such as politicians and policymakers? Build interest from funding organisations that might finance your future research? And above all, contribute to a society in which science is better understood?

PhD thesis written by Nkansah Anakwah
The research shows witnesses with sub-Saharan African background are less elaborative in their eyewitness accounts than witnesses socialised in Western European cultures. Findings are discussed with respect to culturally determined reporting norms of the witness.

PhD thesis written by Remy Jorritsma
This thesis analyses the standard and function of attribution rules in the case law of human rights courts, quasi-judicial human rights bodies, and international criminal courts with jurisdiction over violations of humanitarian law.

PhD thesis written by Maximilian Vollmer
This thesis investigated whether the European Commission designs financial instruments and applies their legal framework in accordance with the principles of proportionality and consistency under European Union (EU) law.

The pandemic has called into question the idea of a Europe without frontiers. Sarah Schoenmaekers and Martin Unfried—specialists in EU law and Euregional cooperation, respectively—search for answers.

The Dutch Research Council (NWO) today awarded a Hestia grant to two researchers, who will receive a UM appointment funded by the 'Hestia – Impulse for Refugees in Science' pilot, which was launched in 2018.

She was a criminal lawyer for many years and a member of the Dutch Senate for the GroenLinks (green left) party. Since 2019, she has been professor of Legal Professions & Ethics at Maastricht University. And in her latest novel, De Juiste Houding [The Right Attitude], her fascination with the grey area between real and fake is revealed in a scintillating way. We talk to Britta Böhler about the morally objectionable aspects of the law, forgeries in art and the role of literature in equal rights for men and women.

Faculty of Law Assistant Professor Lilian Tsourdi, together with colleagues from the Odysseus Academic Network on EU Migration and Asylum Law, co-authored a large-scale study (220 pages) commissioned by the EP Civil Liberties (LIBE) committee.

It is 1986. The time of Grandmaster Flash and Run-D.M.C., but also of Billy Oceans' When the going gets tough, the tough get going and a harsh Elfstedentocht'. In Leiden, Jan Smits starts studying law at a sizeable faculty with 1200 first-year students. It's a big contrast to the small-scale law faculty in Maastricht where he became dean in 2017.

In collaboration with the Institute for International Law of Peace and Armed Conflict of Ruhr-Universität Bochum, the Maastricht Centre for Human Rights is organising a workshop entitled 'Critique is a gift: A workshop on challenges to genocide research.' The organisers invite abstracts to be submitted by July 15th 2021.

Buying a house abroad, with the complex procedures of rules and formalities that apply in the world of real estate transactions, one might wonder: what obstacles might I encounter? In her dissertation, Katja Zimmermann examined the operation and obstacles of various land registration systems. Her research resulted in well-considered proposals for the facilitation of cross-border real estate transactions.

This book launch event will focus on one of the key challenges facing international refugee law, externalisation of protection obligations. Convened by the Maastricht Centre for European Law (MCEL) at Maastricht University, and co-sponsored by the European Society of International Law (ESIL), and Oxford University Press (OUP).

Abazi's potential is easy to recognise, which is reflected in the reactions from several mentors and juries in her academic career thus far. She is lucky (or is it foresight?) that her research topics, such as her work on the legal protection of whistleblowers, often appear in the news. Recently, she was presented with an Early Career Award by the KNAW. This is Vigjilenca Abazi's impressive story.

PhD thesis written by Alexis Antoniades. 
This thesis concentrates on this relationship between the EU and individual applicants in human rights cases. It critically analyses how the EU may be held accountable for violations of human rights through procedures and remedies available to the individual applicant. 

We congratulate Maja Brkan with a new prestigious position. Last week she has officially been appointed to the post of judge of the EU General Court.

PhD thesis written by Katja Zimmermann. 
The aim of this research is to explore how cross-border real estate transactions in Europe can be facilitated. 

As of 1 June 2021, Bram Akkermans will be appointed professor of Property Law. He succeeds Sjef van Erp, who retired in January 2021. Until 1 June, Bram was an Associate Professor in the Private Law department.

This book seeks to explore, from a multidisciplinary perspective, whether human rights are, in fact, a myth or a lived reality. Over the years much has been said about their effectiveness or, rather, their ineffectiveness. This perceived ineffectiveness relates not only to institutional challenges at the international level, but also to national implementation mechanisms and processes. In addition, questions have arisen as to whether individuals or groups of individuals actually benefit from the normative guarantees contained in human rights law and whether human rights as legal constructs can be effectively translated into better outcomes.

On Thursday 20 May, the Maastricht Study Group for Critical Approaches to International Law hosted its first external event, an online workshop entitled Narratives of International Law. With 3 panels, a total of 17 panelists joining from 4 different continents, from students to professors, the workshop provided many diverse and stimulating conversations on what international law is, and what it could be. 

Can you still remember the picture of the body of a drowned toddler washed up on the Turkish beach? In September 2015, the image of the Syrian child refugee Alan Kurdi shocked the world. Surely things would change for the better now! However, the outcome was disappointing. With a Veni grant, Lilian Tsourdi (Maastricht University) is investigating EU immigration and asylum law in the hope of getting the ball to roll a bit faster.

From March 28 - April 2, 2021, Maastricht University competed in the International and European Tax Moot Court Competition 2020 – 2021 organized by the Institute of Tax Law of KU Leuven and the IBFD in cooperation with Deloitte.

PhD thesis written by Michelle Kristy. 
This dissertation explores the implications of the evolution of the concept of sustainable development in public international law for the WTO agreements covering the domestic regulation of trade in goods. 

Robert Horselenberg has been in charge of the Maastricht cold-case team since its creation about 10 years ago. Ten students, mostly from the master's degree in Forensics, Criminology and Law, are given six months to study an existing cold case and come up with recommendations for the Public Prosecution Service and the cold-case team of the Limburg Police.

PhD thesis written by Nicholas Mouttotos.
This dissertation analyzes the impact that European Union law has had upon Cyprus law, focusing on the problems that arose after the financial crisis and how EU law can be used as a vehicle for dealing with problems of over-indebtedness. 

PhD thesis written by Craig Eggett.
This study considered the nature of "general principles of law" in the international legal system. While much is known about treaties and customary law, there is a tendency to overlook foundational theoretical questions about general principles in international law. What kind of norms are they?

PhD thesis written by Garfias von Fürstenberg.
The aim of this doctoral thesis is to determine whether the criteria / principles which govern the treatment of passive investment income in double taxation conventions (DTCs) between developing and developed countries are effective and appropriate for the interests of developing countries.

A peek inside the kitchen of Mark Kawakami. Mark, assistant professor of Private Law, grew up in Japan and Hawaii. Omotenashi, Japanese hospitality, was drilled into him from an early age, but when it comes to food, he prefers the spicy cuisines of Thailand or Mexico to that of Japan.

As per 1 March 2021, dr. Christopher Heath has been appointed as professor on the endowed chair of Intellectual Property Foundations, Institutions and Adjudication. 

The Dutch Ministry of Finance has updated the guideline on the tax qualification policy of foreign social security schemes. According to expertise centre ITEM, the addition concerning certain German social insurances is a positive development, which is in line with their vision and commitment in respect of cross-border pension regulations. The tax treatment of, among others, liberal professions and professional soldiers is addressed.

Dr Matteo Bonelli has become the winner of the UM Dissertation Prize for his thesis "A Union of Values: Safeguarding Democracy, the Rule of Law and Human Rights in the EU Member States". 

PhD thesis written by Yapo Firmin AKA.
There is legislation in Ivorian law governing the transport of goods by sea. It deals with the protection of goods and the safety of navigation. However, given the limits it contains, it deserves to be improved.

Perhaps you might come to the conclusion that in 2020, because of corona, time stood still in our law faculty. Despite setbacks and start-up problems - after all, everything and everyone had to switch to online within a short period of time - a lot of positive things happened last year.

PhD thesis written by Leonie Ayoub.
The thesis attempts to bring coherence to the manner in which international courts and tribunals interpret international law, how they reason out their decisions, and the subsequent effect that this has had upon the institutions themselves.