Diversity & Inclusivity
Maastricht University, the European university in The Netherlands, is committed to nurturing an inclusive culture. As a European university with a global outlook we are aware and proud that our strength lies in diversity. We strive to go well beyond quotas and compliance: we are determined to foster an environment in which everyone feels welcome and valued.
Being a sustainable and caring university is therefore also the foundation of UM's Strategic Programme 2022-2026 
We strive to include staff and students from all walks of life to participate in the wonderful community at UM. From guest speaker events to long term projects funded by the D&I Grants, there is always something you can get involved with and join in. As a family-friendly university we aim to facilitate study and career for students and staff with caring responsibilties.
Check out our website and get in touch if you want to be involved, have questions or suggestions.
The video below gives an insight into what Diversity and Inclusivity stands for at Maastricht University and how you can get involved to support, listen and make a difference.
Who are we as a UM Community?
Conference on Sexual Assault and Harassment - Prevention and Support
On 3 November 2021 UM was host to the Conference on Sexual Assault and Harassement - Prevention and Support.
You can watch the recording of the presentations, discussions and signing of the #LetsTalkAboutYes - manifesto.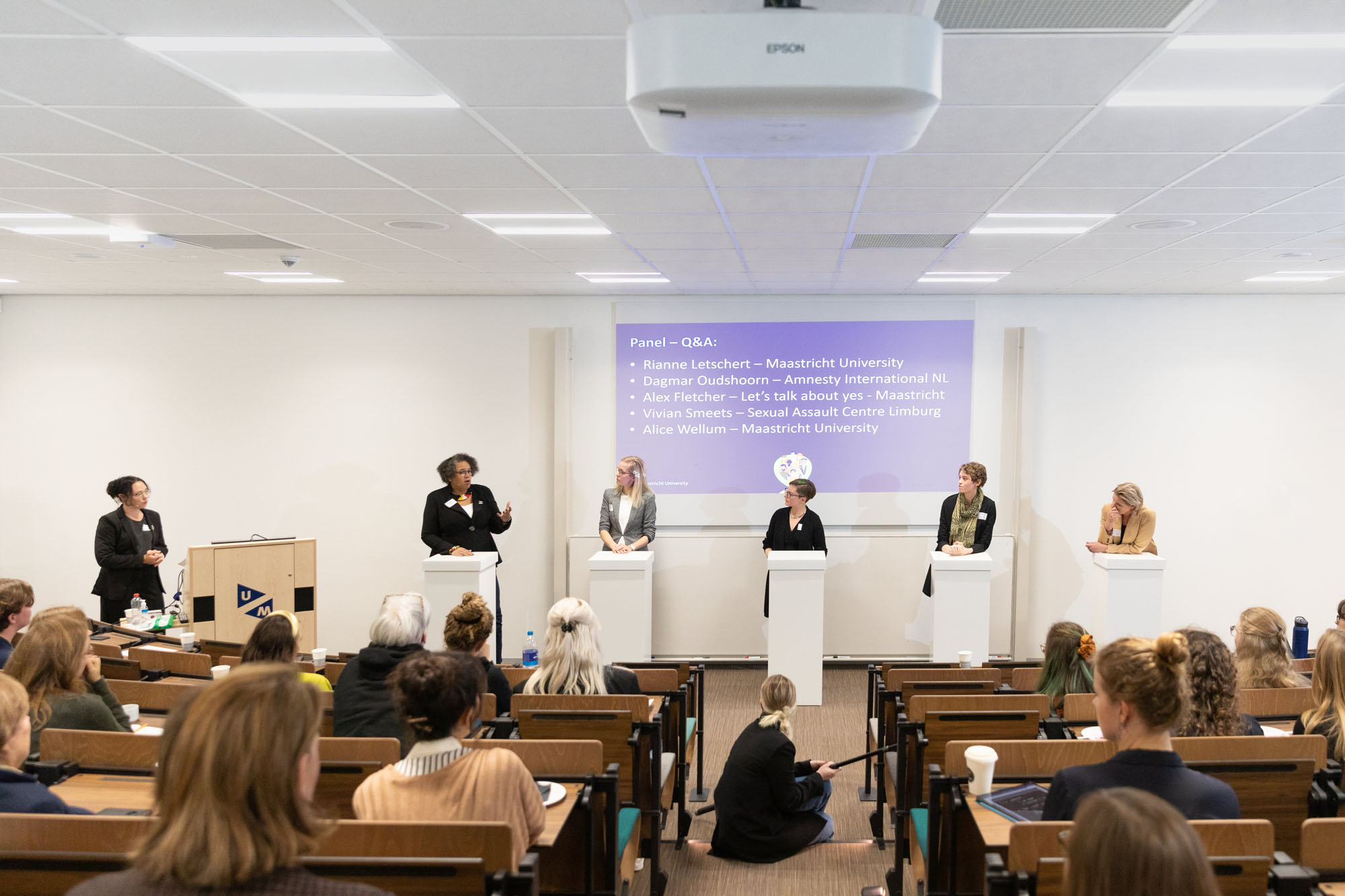 Statement of D&I Office
Hate at UM is never tolerated!
At the D&I Office we stand together against any (cyber-)hate in our community. Read our letter!
News
With the NWO-funded Perverse Collections, Eliza Steinbock researches the evolution of Europe's LGBTQ+ archives. What is preserved by whom and why? How have these marginalised and often persecuted communities managed to preserve their own history? What can we learn about how to preserve history, categorise it and make it accessible and relevant?

Professor Kai Jonas is the Faculty of Psychology and Neuroscience's first chair of "Applied Social Psychology with special focus on LGBTQI+ Diversity and Health". In the run-up to his inaugural lecture, he reflects on difficult conversations, progress, and how he uses psychology to tackle the still very relevant challenge of HIV.

With the project 'About not being an Einstein', made possible by a grant from the Diversity & Inclusivity Office, Anke Smeenk wants to ensure that being gifted is more widely recognised at Maastricht University.
More news items
Sexual violence is unfortunately a reality among students in the Netherlands, as highlighted by the I&O Research report published this week. UM has done a similar study and the results will be published in fall.

Catcalls of Maastricht visualises people's experiences of street harassment. People who experienced catcalling can send their story to the page, CoM goes to the place where it happened, and chalks a description of the catcall on the ground.

Maastricht University is standing by its commitment to being an inclusive university – and is constantly seeking dialogue and making improvements. The problem is that this is a largely invisible process to most members of the UM community – until now.

The UM Diversity & Inclusivity Grant has enabled three students to travel and share the landscapes, people and customs that shaped them. UM Heritage's Daniel Bogdanski talks about their journey to discovering their own and each other's heritage.

The percentage of female professors in Maastricht now stands at 29.7%, earning UM a shared second place in the Women Professors Monitor 2019 together with Leiden University. 

UM Pride offers a safe, inclusive and supportive platform for all LGBTQ and allied students and staff members of Maastricht University. Co-founder Stephanie Blom and project leader Alexander Dieleman talk about their contribution to fostering a diverse community.

UM Rector Magnificus Rianne Letschert is one of the finalists for the title Top Female Executive of the Year 2019. A key selection criterion this year is diversity.

Soul kitchen: a peek inside the kitchens of UM employees
Bakir Bulić, director of the Faculty of Science and Engineering, still remembers being smuggled across the border from Germany to a refugee centre in Zeewolde when he was eight years old. He and his father, mother and sister Sabina were fleeing the Bosnian War. "The only thing I could think about at that moment was my mum's veal schnitzel and mash. The thought comforted me, gave me something to hold on to."

Like last year, UM's Executive Board has allocated €75,000 available to support initiatives that support diversity and inclusivity.

Mathijs Van Peteghem on the benefits and potential pitfalls of diversity in tutorial groups

On International Women's Day, March 8, 2018, the Centre for Gender and Diversity and the new UM Diversity Officer organized the first Diversity Day for the whole UM community.

Constance Sommerey is looking forward to the opportunity to work with the whole UM community on making our organisation a place like home for students and staff alike. 

Isabella Grabner believes that the way performance is measured makes a huge difference on the work floor. She has conducted groundbreaking research in this field.
Map of facilities at UM locations
Click on the green button to open the map to see at which UM location you will find the following facilities:
all gender toilets
accessible toilets
lactation- and resting rooms
baby-changing facilities
Facilities UM locations
Map