About FHML
In 2008, the Faculty of Health, Medicine and Life Sciences and the academic hospital Maastricht (azM) merged into the eight academic medical centre of the Netherlands: Maastricht University Medical Centre (MUMC+). MUMC+ is the first academic medical centre combining the functions of academic and regional hospital. FHML has over 3000 staff and annually educates more than 5500 students. The goals and ambitions of Maastricht UMC+ are laid out in the strategic plan for 2025 'Healthy Living'.
Connecting research, education and healthcare
Maastricht UMC+ highlights the added value that comes from connecting its core tasks of healthcare, research, education and training, and valorisation.
In committing ourselves to forging ever-closer ties between these tasks, we are taking a broad, integrated approach. This has led to a portfolio of strategic themes in which Maastricht UMC+ excels both nationally and internationally.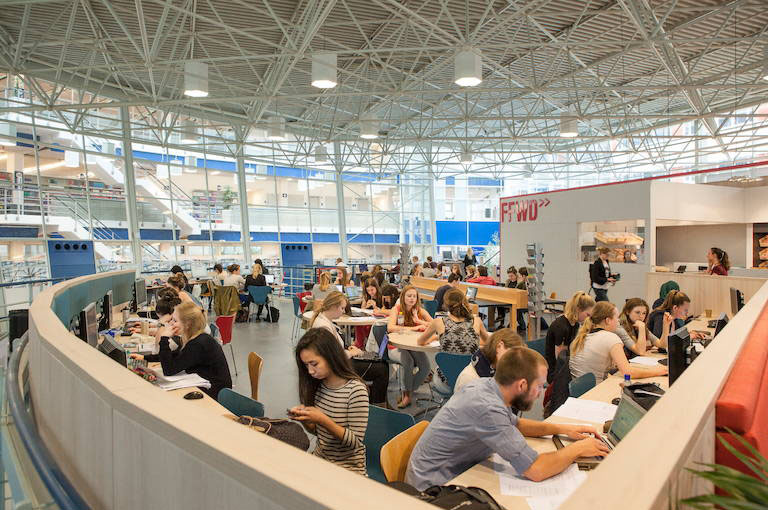 Fast facts
Home to over 5,500 students and 3,000 staff, of which 30% comes from abroad   
4 bachelor's programmes and 12 master's programmes 
6 Research Schools, 2 Institutes and 42 research departments 
Part of Maastricht University Medical Centre (MUMC+) 
Large international partner network 
Strategic themes
Our strategic themes are the result of years of collaboration between clinic and faculty, i.e. the centres for patient care, the research schools and the research institutes, with subject specialisation and targeted innovation. We create a distinct profile for ourselves with strategic themes, both nationally and internationally.
The constant interaction between medical focus areas and new knowledge from the Data science, Imaging, Metabolism and Nutrition and Regenerative Medicine areas of expertise, as well as the knowledge on Prevention and Health Promotion, leads to appealing innovations.
In our vision, we emphasise the importance of taking a broad, integrated approach to health and care. We therefore see the acquisition, sharing and application of knowledge relating to prevention and health promotion as an important area of expertise. Alignment with the region, the social domain and other disciplines is essential in this context.
The circle of innovation
The circle of innovation shows how our researchers and specialists, looking at societal issues, acquire new knowledge and put it into practice, create value, and encourage healthy living. This raises new questions, which our researchers also go on to tackle – for healthy citizens and a sustainable healthcare system.
Watch the video for an explanation of the Maastricht UMC+ circle of innovation.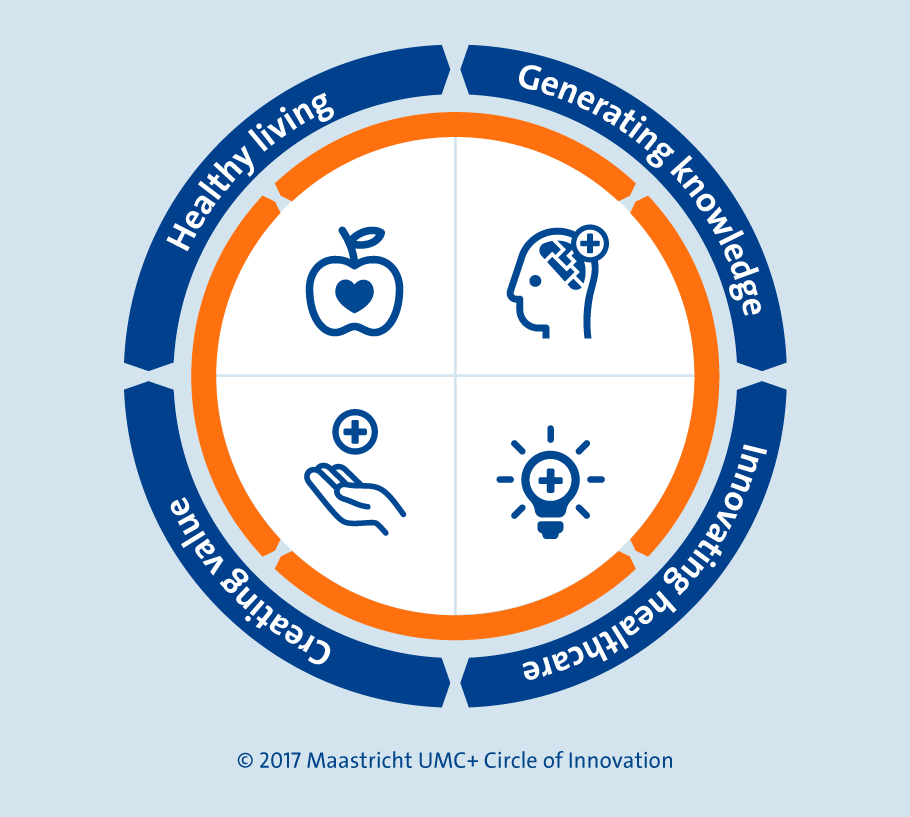 National and international leadership
Maastricht UMC+ is a national and international pioneer in research into the organisation of patient care, prevention, educational innovation and care for patients with chronic diseases. On the basis of this research changes in health policy and a new approach to health care have been implemented throughout the country. Internationally, Maastricht UMC+ is not only leading in biomedical expertise for certain syndromes, but also renowned as a knowledge centre on the topics of health risks, epidemiology and disease prevention, health promotion and health care organistion. As a health care institution, Maastricht UMC+ also caters beyond the Limburg region, including South-East Brabant and neighboring regions in Belgium and Germany (Euregio), and aims at a close collaboration with medical centres in Aachen and Liège. This close collaboration is enhanced by Maastricht's central place, at the heart of the Euregio Meuse-Rhine, and its geographic nearness to the aforementioned university cities.
Governance model
Members of the Board of the azM and the dean and vice-dean of FHML serve on the Board of Maastricht UMC+. The Board approaches health care, education and research in an integrated fashion and governs on the basis of the shared strategic plan. The Maastricht UMC+ Board frequently consults the Executive Board of Maastricht University. Maastricht UMC+ joined the Nederlandse Federatie van Universitair Medische Centra (NFU), a federation of Dutch academic medical centres.