News and activities
A strong, vibrant and rewarding academic environment is essential for excellent Data Science research. Through a wide variety of community activities UM aims to foster an interfaculty environment for collaborative innovation in the development and application of data science technologies. The community activities will take place both online and offline. The online community platform will be a place to ask questions and to share events, news and success stories. Offline activities will entail seminars, workshops and symposiums.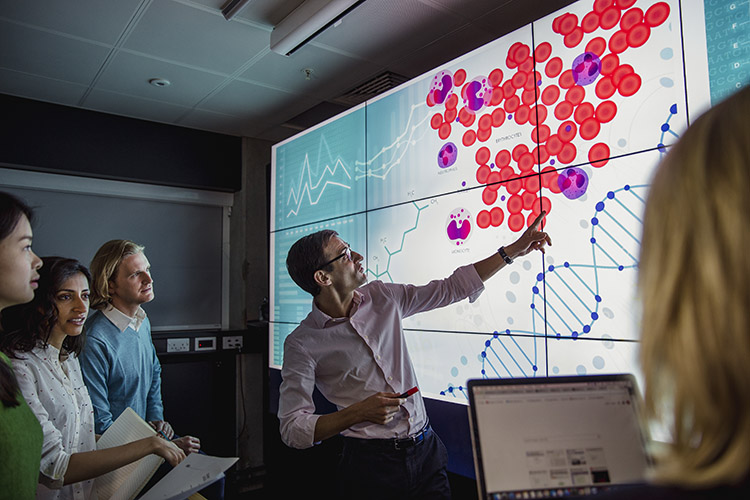 Events
News
At FSE's bachelor's programme Data Science and Artificial Intelligence, KE@Work offers real-world challenges for high-performing students, bright minds for companies, synergies between UM and industry as well as ways to keep international top talent in the region.

Artificial Intelligence (AI): is it an amazing technology that we need to implement absolutely everywhere, or a boogeyman that could spell the end of humanity?

Special Chair of Text-Mining Jan Scholtes on how ChatGPT actually works, why it's an amazing achievement and where we should probably exercise a bit of caution.
More news items
Computers are already capable of making independent decisions in familiar situations. But can they also apply knowledge to new facts? Mark Winands, the new professor of Machine Reasoning at the Department of Advanced Computing Sciences, develops computer programs that behave as rational agents.

Old taboos around poverty and money stress may now disappear

Writing a thesis can be a lot of fun, particularly when you choose a subject that's related to your favourite hobby. For Kristian van Kuijk, an avid cyclist, it's even led to a dream come true. He's found an accurate way to predict the energy burned by a rider during a race. The algorithm has impressed Team Jumbo-Visma, who are using Kristian's predictions in this month's Tour de France.

To realise the promise of artificial intelligence to contribute to today's societal challenges, trust is a central component of the interaction between people and systems based on artificial intelligence.

DKE's Jerry Spanakis on responsible machine learning models, what algorithms can and can't 'understand' and why that matters to all of us.

On 11 and 12 November, the Maastricht University School of Business and Economics and Copenhagen Business School hosted the Causal Data Science Meeting. The two-day conference brought together academics and industry experts who work on one of the most fundamental questions in data science: discerning cause and effect from mere correlation.

What can we learn about the health claims that manufacturers make about foods by applying data science?

The NWO has awarded two grants to projects of the Maastricht Law and Tech Lab under its Idea Generator Programme.

 

Women in Data Science (WiDS) aims to showcase outstanding work done by women in the field. WiDS started at Stanford in November 2015 and has now evolved into a global conference with more than 200 events worldwide. 

Women in Data Science (WiDS) Datathon is a data-focused hackathon which invites students and faculty members from all backgrounds as well as practitioners from industry and government to participate in a global challenge.

Marc Pont, alumnus of the master's programme in Data Science for Decision Making, discusses the atmosphere, curriculum and job search.

A love for Japanese culture snowballed into a London conference trip for Lianne Hufkens, master's student Artificial Intelligence.

Mark Winands has been appointed as professor of Machine Reasoning at the Department of Data Science and Knowledge Engineering (DKE).