D&I Office presents a UM Cares project:
UM Summer Camp 2022 - WizzKidz
This summer, through the UM Cares project, the Diversity & Inclusivity (D&I) Office is organizing the very first WizzKidz UM Summer Camp for primary school-aged kids of UM staff and students!
This week will take place from Monday 25 July – Friday 29 July 2022 and is for kids that want to learn something new in their summer holiday and discover for themselves the place where their parents/caregivers work or study!
This summer camp is made possible by the D&I Office/UM Cares and University Fund Limburg – SWOL.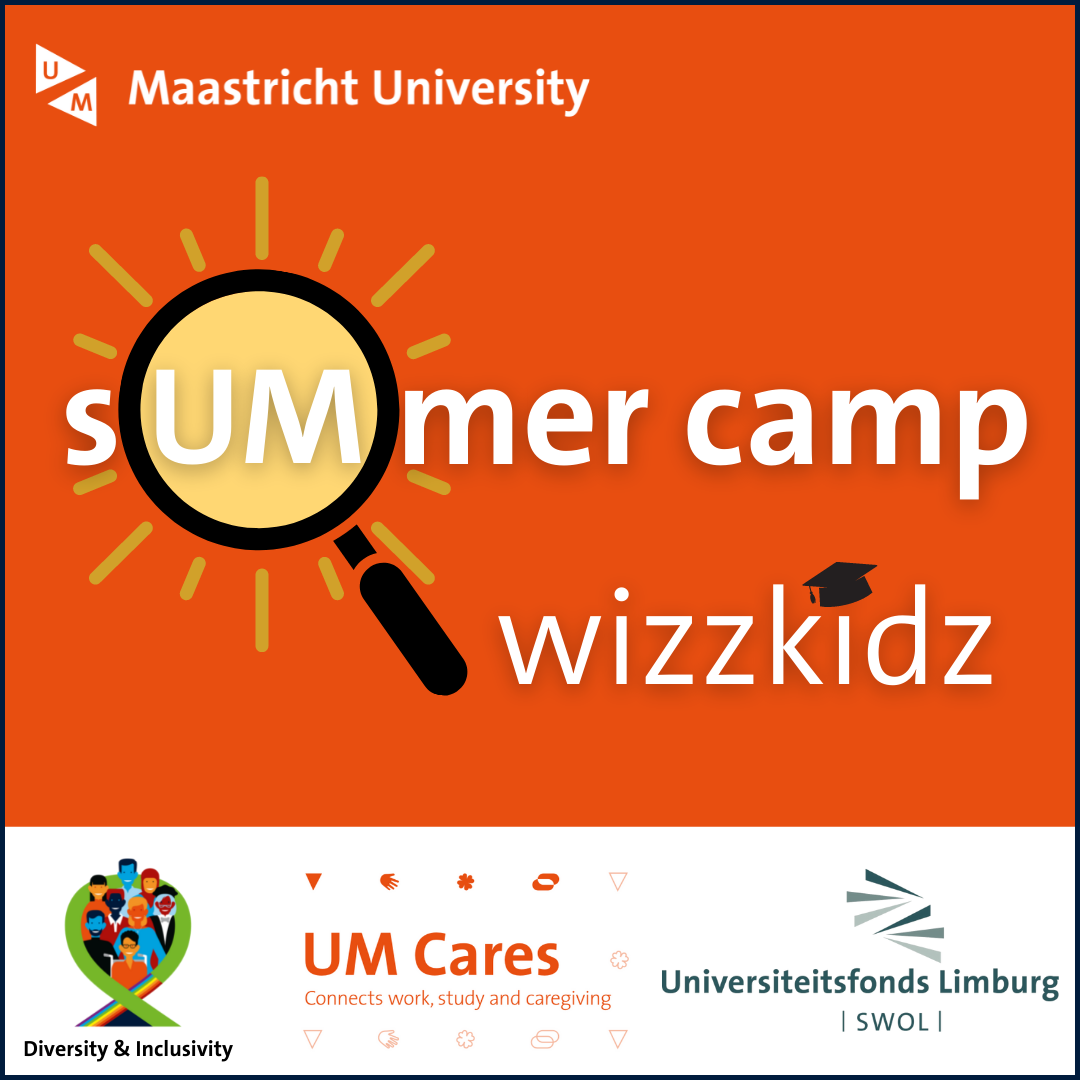 Monday 25 till Friday 29 July 2022
Fun & Educational
The day programme consists of educational workshops and active and creative group activities that focus on cultural and language diversity of the participants: a great mix between fun & educational! The WizzKidz will be divided into two groups for the workshop activities: primary school groups 3 to 5 and 6 to 8 in the Netherlands, and grades 1 to 3 and 4 to 6 in Belgium.
Parents/caregivers are heartily welcome to attend the official opening of UM Summer Camp 2022 for kids, crew, and supervisors. On the last afternoon of camp, there will be a nice closing for all the WizzKids and their families.
This Summer Camp will be a real UM party, as the workshops are given by UM teachers, the supervision consists of UM employees and students, and the kids will visit a different UM location every day.

The participation fee in 2022 is € 75 per child. With this, we offer:
5-day programme from 8:30am till 5pm, fully provided by Maastricht University
Supervision by UM students

Workshops and group activities in two age groups

Food, drinks, and snacks
A great experience and lifelong memories
Pre-registration and selection
Because this is the first year the University is organizing this event, we have made the conscious decision for the language of instruction to be Dutch. Does your child speak Dutch at school and/or at home? Then they can participate! The supervisors will, of course, be able to speak English and the programme pays attention to cultural diversity.
In addition, the group size for 2022 is limited to 30-32 children.
There is a pre-registration, after which a selection is made per lottery from which 30-32 children will be drawn and be allowed to participate.
Please note! Pre-registration is closed!
You will be notified by email whether your child(ren) have been selected to join WizzKids 2022 by the first week of May latest. If selected, you will also receive final instructions regarding registration and payment. Upon final registration, additional information is requested regarding allergies, permission, etc.
If you have any questions, please send us an email at umcares@maastrichtuniversity.nl

Conditions for participation
Children speak Dutch at school and/or at home
Children can participate the entire Summer Camp week (partial participation is not possible)
The applicant is a UM employee or UM student (registered in academic year 21/22) and is the parent or legal guardian of the child or children.

Each child can only be entered once for the draw

You can submit multiple children per family application. Due to the draw, there is no guarantee that all children from one family will be selected.
Programme Summer Camp 2022 - Concept
Monday 25 July 2022
Day 1
Tuesday 26 July 2022
Day 2

Tuesday 26 July 2022
Day 2
| | | | |
| --- | --- | --- | --- |
| Time | Activity | Location | Room |
| 08:30 - 09:00 | Arrival WizzKidz | City Centre | TBA |
| 09:00 - 10:15 | Educational Workshops | City Centre | TBA |
| 10:15 - 10:45 | Snacktivity | City Centre | TBA |
| 10:45 - 12:00 | Educational Workshops | City Centre | TBA |
| 12:00 - 13:30 | Lunch break + Group assignment | City Centre | TBA |
| 13:30 - 16.30 | Scavenger Hunt @UM | City Centre | TBA |
| 16:30 - 17:00 | Closing of the day | City Centre | TBA |
Wednesday 27 July 2022
Day 3

Wednesday 27 July 2022
Day 3
| | | | |
| --- | --- | --- | --- |
| Time | Activity | Location | Room |
| 08:30 - 09:00 | Arrival WizzKidz | TBA | TBA |
| 09:00 - 10:15 | Group activity | TBA | TBA |
| 10:15 - 10:45 | Snacktivity | TBA | TBA |
| 10:45 - 12:00 | Group activity | TBA | TBA |
| 12:00 - 13:30 | Lunch break + Group Assignment | TBA | TBA |
| 13:30 - 14:45 | Educational Workshops | TBA | TBA |
| 14:45 - 15:15 | Snacktivity | TBA | TBA |
| 15:15 - 16:30 | Educational Workshops | TBA | TBA |
| 16:30 - 17:00 | Closing of the day | TBA | TBA |
Thursday 28 July 2022
Day 4

Thursday 28 July 2022
Day 4
| | | | |
| --- | --- | --- | --- |
| Time | Activity | Location | Room |
| 08:30 - 09:00 | Arrival WizzKidz | Randwyck | TBA |
| 09:00 - 10:15 | Educational Workshops | Randwyck | TBA |
| 10:15 - 10:45 | Snacktivity | Randwyck | TBA |
| 10:45 - 12:00 | Educational Workshops  | Randwyck | TBA |
| 12:00 - 13:30 | Lunch break + Group assignment | Randwyck | TBA |
| 13:30 - 14:45 | Explorer Expedition | Randwyck | TBA |
| 14:45 - 15:15 | Snacktivity | Randwyck | TBA |
| 15:15 - 16:30 | Explorer Expedition | Randwyck | TBA |
| 16:30 - 17:00 | Closing of the day | Randwyck | TBA |
Friday 29 July 2022
Day 5

Friday 29 July 2022
Day 5
| | | | |
| --- | --- | --- | --- |
| Time | Activity | Location | Room |
| 08:30 - 09:00 | Arrival WizzKidz | City Centre | TBA |
| 09:00 - 10:15 | Educational Workshops | City Centre | TBA |
| 10:15 - 10:45 | Snacktivity | City Centre | TBA |
| 10:45 - 12:00 | Educational Workshops | City Centre | TBA |
| 12:00 - 12:45 | Lunch break | City Centre | TBA |
| 12:45 - 15:30 | Preparation for closing ceremony | City Centre | TBA |
| 15:30 - 15:45 | Arrival of the parents/caregivers | City Centre | TBA |
| 15:45 - 16:15 | Ceremony Group Performances | City Centre | TBA |
| 17:00 | Closing of the UM Summer Camp 2022 | City Centre | TBA |