Metabolic Research Unit Maastricht (MRUM)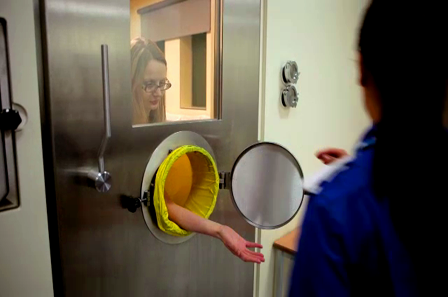 The Metabolic Research Unit Maastricht (MRUM) is a facility built to bring the field of human energy and substrate metabolism to the next level. As the prevalence of obesity and type II diabetes rapidly increases, so does the demand for highly precise studies in the field of energy expenditure, substrate utilization and other in-vivo metabolism parameters. These studies are of the greatest interest for nutritional, pharmaceutical and other health-related metabolic research.
 
In The Metabolic Research Unit Maastricht (MRUM), twenty metabolic rooms were realized, conforming to the latest quality standards regarding safety, climate and research infrastructure. A combination of the latest technologies available allows control of- and stability for all subject environment parameters as well as for research equipment parameters. Where needed, highly sensitive equipment is located in a separately controlled technology section.
To optimize flexibility and efficiency, 11 of the 20 examination rooms are deemed multi-purpose, which means that each of these 11 rooms can be setup for a wide variety of research questions, involving physical setup (single/dual bedding, sports equipment, group interaction) as well as environmental setup (broad range of climate, and ventilation control, overnight stay, circadian rhythm intervention). The remaining 9 rooms are specifically tailored to research questions involving highest level exercise, body composition assessment (BodPod and underwater weighing), and closed-room calorimetry for 1-7 day energy metabolism studies.
One of the unique features of the MRUM are the 5 climate controlled respiration chambers (room calorimeters). These rooms are like small hotel rooms (14 m3), equipped with a bed, sink, toilet, computer, TV and DVD player. A respiration allows to study human energy expenditure and substrate oxidation under strictly standardized conditions over a period of 12h up to 7 days.
Access to the MRUM for external researchers is provided based on scientific excellence. All use of the MRUM should follow the local rules that apply to good clinical practice and require ethics approval according to Dutch CCMO rules. Requests for access can be directed to Dr. Guy Plasqui and will be reviewed by an internal review panel.