NUTRIM is internationally recognised as Centre of Excellence for research on obesity, diabetes, COPD and cancer cachexia.
NUTRIM has approximately 134 researchers, 256 PhD students and 63 support staff. Our core research programme is organised around integrated multidisciplinary themes in three divisions including 18 clinical and basic sciences departments of Maastricht University Medical Centre+ (MUMC+).
Translational research on lifestyle, ageing and diseases induced metabolic and inflammatory disorders is conducted with a specific focus on nutrition.
Contact Us
NUTRIM Office
NUTRIM's mission and vision
NUTRIM promotes translational research into lifestyle and disease induced metabolic disorders with a high societal burden that will contribute to personalised lifestyle and medicine approaches. In its PhD programme NUTRIM aims to meet the demand for scientists who are acquainted with novel fundamental research concepts and are equipped to optimise the translation from science to the clinic and to public health.
NUTRIM strongly believes in connecting and integrating different disciplines to create truly new scientific insights and innovative health solutions for society. NUTRIM focuses on biomedical research to capitalize on its unique strengths, but with a strong link to health promotion. It actively maintains a local, national and international network to contribute to the solution of global health concerns. In our vision an excellent educational infrastructure plus an innovative and challenging research environment are of crucial importance for the academic development of young researchers such that they can develop themselves by acquiring skills and expertise.
Objectives:
running an excellent research programme covering basic, translational, clinical, and prevention projects giving NUTRIM a distinct international profile;
unique patient cohorts, biobank and other resources for metabolic and inflammatory phenotyping, linking tissue and organ systems within chronic metabolic disorders;
to mentor scientists at different stages of their academic careers;

to share of knowledge and expertise both within UM and with outside partners.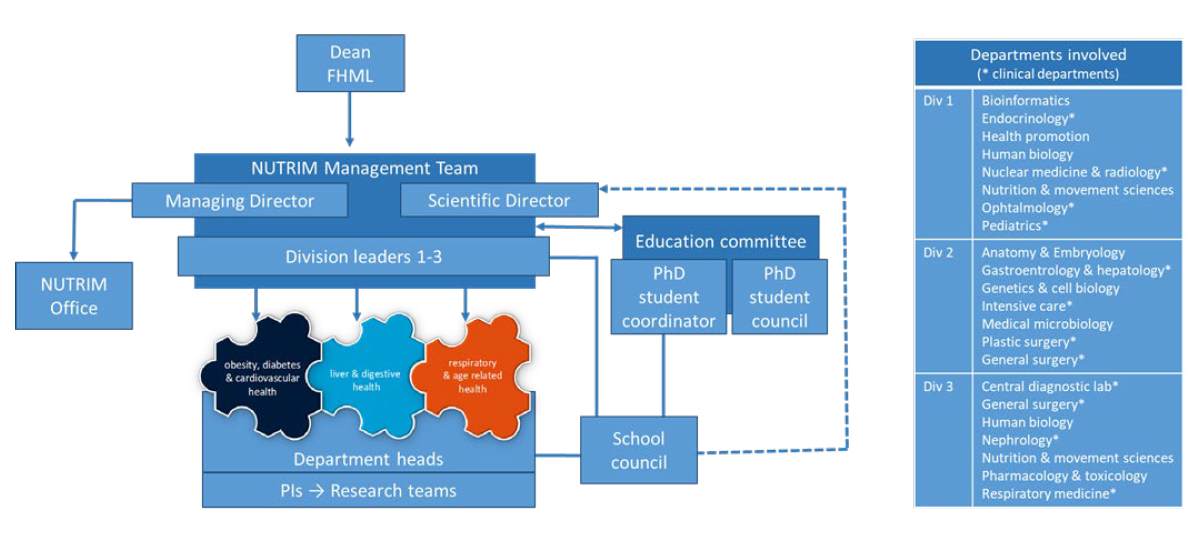 NUTRIM School of Nutrition and Translational Research in Metabolism
 
The NUTRIM Management Team (MT) consists of the Scientific Director (Prof. Daisy Jonkers), the Managing Director (Rob Levels, Msc, EMFC) and the leaders of the NUTRIM Divisions.
The NUTRIM MT is appointed by the Dean of the FHML. The MT meets monthly. The Scientific Director has the full and integral responsibility for the School and reports to the Dean of FHML. The NUTRIM education committee (EC) coordinates and advices on the PhD programme and consists of the PhD Student Coordinator (Dr. Roger Godschalk; chairman), the PhD Student Council and the NUTRIM Graduate Programme (NUTRIM GP) committee. The thematic needs and expertise of the disciplinary departments is attuned every three months within the NUTRIM School Council involving the MT, the chairman of the EC and the department heads. The NUTRIM PhD Student Council consists of zeven PhD students of the different divisions supported by the PhD Students Coordinator and a member of the NUTRIM Office. NUTRIM provides an annual budget available to the PhD Council that is chaired by one of the members.
Collaborating Departments
NUTRIM's activities are carried out in cooperation with research departments and scientists of the UM Faculty of Health, Medicine and Life Sciences and the Maastricht University Medical Centre.
People
NUTRIM consists of people who collaborate, crossing borders between divisions and departments and in close cooperation with the MUMC+ hospital in order to share knowledge, experience, skills and high tech facilities. With this diversity of people, we have built a strong team striving for cross-disciplinary research and innovations leading to, high-quality solutions for patients.
NUTRIM publications and brochure

NUTRIM Brochure

Self Evaluation Report

NUTRIM community
The NUTRIM community consists of a diverse network that provides a sounding board between individuals sharing the same interests. Part of our mission is contributing to the continuation of exchange of expertise in research, collaborations and partnerships that takes place within this network. NUTRIM's international community builds on a lively international network of partners, alumni and students as well as their professional networks. We annually report about our work, keep you updated through the NUTRIM newsletter, meet up at conferences, organise events such as the yearly NUTRIM annual conference and stay connected through Linked-in.
The benefit of the strong NUTRIM Community comes from the ongoing professional connections, friendships and collaborations that are forged between people engaged in nutrition and translational research in metabolism around the world. These connections are made and consolidated within the network and offer supportive opportunities for each member to help solve issues in their own home countries. Read more about the work of the NUTRIM PhD Council, visit also the NUTRIM Linkedin page and get involved.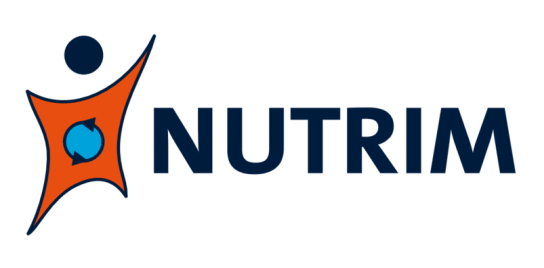 Stay informed with the NUTRIM Newsletter NUTRIM Matters. If you would like to receive the NUTRIM Matters, then subscribe here!
And check out NUTRIM on Linkedin