Our community
The School of Health Professions Education (SHE) community consists of a diverse network that provides a sounding board between individuals sharing the same interests. Part of our mission is contributing to the continuation of the collaborative learning that takes place within this network. SHE's international community builds on a lively international network of alumni and students as well as their professional networks. We annually report about our work, keep you updated through the SHE newsletter, meet up at conferences, organise events such as SHE Academy and stay connected through Facebook.
The benefit of the strong SHE Community comes from the ongoing professional connections, friendships and collaborations that are forged between people engaged in health professions education around the world. These connections are made and consolidated within the network and offer supportive opportunities for each member to help solve issues in their own home countries.  
SHE Alumni
SHE alumni either have a Master in Health Professions Education (MHPE) degree or a PhD degree from the School of Health Professions at Maastricht University. They are an important part of the international SHE Community network. SHE alumni constitute a worldwide bridge between the graduate school and society, making them our best ambassadors. They continue to be part of the academic community and provide a strong link to the health professions education community and societal institutes. As SHE alumni you:
continue to be part of the scholarly community—an important and useful network—and can rely on a bond of collegiality and friendship in which both the School of Health Professions Education and alumni actively participate,
have access to participation in special alumni activities,
exchange knowledge in health professions education and collaborate in projects,
receive regular updates on educational and research developments within SHE,
above all, enjoy staying in touch with former classmates, returning to Maastricht occasionally, reminiscing together and forging new friendships.
SHE likes to keep in touch with its extended family of SHE alumni from all over the world. Over the years, SHE has established a vast community, leading to professional exchange, workplace collaborations and many lifelong (learning) friendships. The yearly AMEE conference is an excellent occasion to meet new and old friends and to keep up to date on developments within SHE and in the field of health professions education. As the popularity of our events increases, we can imagine that even more of our alumni will request and conduct workshops for one another in the near future, inform each other about lessons learned in the field and in general catch up with each other again.
Contact SHE Alumni: please send an email to she@maastrichtuniversity.nl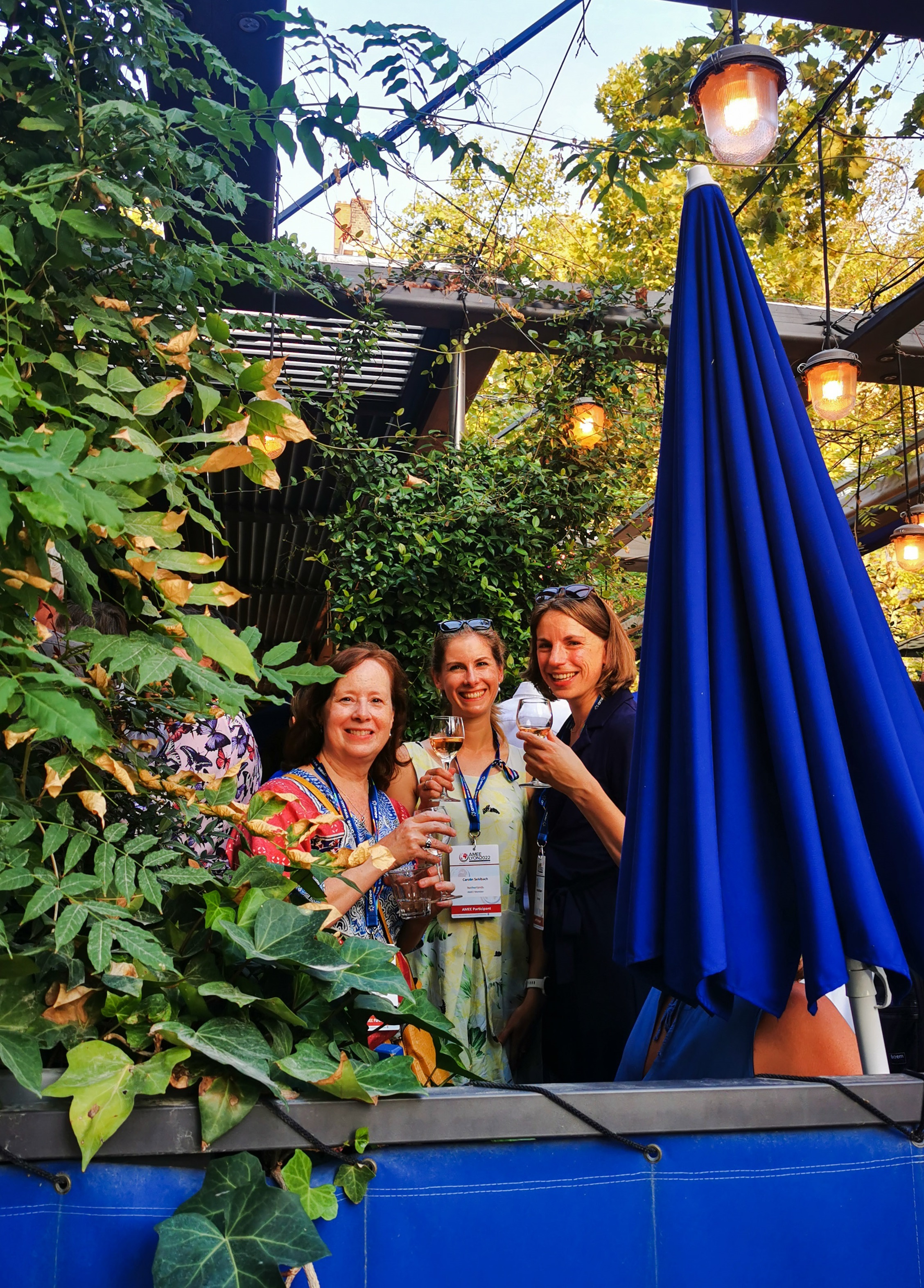 During our annual SHE Drink at the AMEE in Lyon, 2022.