Sascha Bolt, internal PhD candidate
"My PhD supervision team and CAPHRI give me a lot of room to develop further as a professional."
My PhD
In September 2017, I started my PhD at the Living Lab in Ageing and Long-Term Care South Limburg in the research line Ageing and Long-Term Care at CAPHRI in Maastricht. Before this, I earned master's degrees in neuropsychology and clinical psychology from Utrecht University. I did an internship at a memory clinic during my earlier studies. While at university, I also worked as a domestic help for older people. Care for people with dementia has always been an interest of mine. I was a caregiver to my grandmother, who suffered from Alzheimer's disease. That's why I was motivated to work on the DEDICATED project.
My Project
The DEDICATED project (Desired Dementia Care Towards End of Life) focuses on improving palliative care for people with dementia. Within this wonderful project, I aim to develop new knowledge to support caregivers in order to optimise care for older people with dementia and their loved ones. I think it's an important matter. Relatively little attention is paid to the field of palliative care for people with dementia, especially compared with palliative care for people with cancer. But palliative care is ultimately about quality of life for anyone suffering from an incurable disease.
My Supervision

Judith Meijers, Jos Schols and Sandra Zwakhalen are my supervisors at CAPHRI. Jenny van der Steen from outside CAPHRI is also involved. My supervisors each have their own skills and expertise, supporting me in my research from different perspectives. Thanks to its multidisciplinary character, my PhD supervision team contributes to my development as a researcher in a pleasant and supportive way. CAPHRI and my PhD supervision team also give me a lot of room to develop further as a professional. For example, I recently went to Canada to work with TREC (Translating Research in Elder Care), a research programme where my supervisor Judith Meijers has close connections. I did research on the relationship between care staff's commitment and empowerment and outcomes for nursing home residents with dementia.
My Ambitions
I would like for DEDICATED to develop some sort of approach that can be used by caregivers who provide palliative care for people with dementia. Think of it as a toolkit that gives caregivers the tools they need but do not yet have. Pointers on how to start end-of-life communication with people with dementia, for example, or how to provide more personalized care. I hope DEDICATED will lead to more awareness and insight. This would allow us to further improve the quality of palliative care for people with dementia, based on what is needed in practice in particular.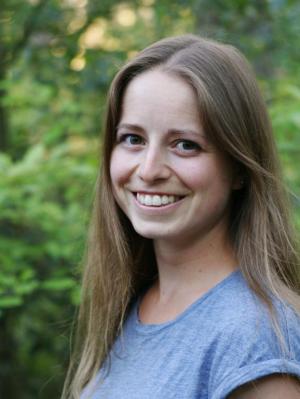 Sascha Bolt
Internal PhD candidate CAPHRI
Research Line Ageing and Long-Term Care