Master of Health Professions Education
'Master of Health Professions Education graduates are leading stakeholders in worldwide innovation and research in health professions education. We educate leaders that make a difference in health professions education and train our students to design innovative education, contribute to research and take leadership and manage complex educational tasks. The two-year, part-time Master of Health Professions Education (MHPE) programme of SHE has a great reputation and position in global rankings and collaborates with partner sites in Canada, the US, and Singapore.' - Dr. Daniëlle Verstegen, MHPE Programme Director
Developing educational leaders
Healthcare professionals play an important role in preventing, treating and curing diseases and in promoting health, which matters not only to individuals but also to society as a whole. It is essential to ensure that those who train healthcare professionals create effective and meaningful educational programmes that result in high-quality health services. The Master of Health Professions Education provides you with the knowledge and skills required for a career in health professions education and research. You will receive a Master of Science degree in Health Professions Education.
The Master of Health Professions Education (MHPE) is an accredited Master of Science programme with a special distinction for internationalisation (CeQuint). This Certificate confirms successful incorporation of an international and intercultural dimension into the purpose, function and delivery of education. Watch the introduction video to the new MHPE Curriculum here.
Online and partly on campus
The MHPE is a two-year, part-time programme taught in English that is largely based on distance learning. You will be required to come to campus for two full-time periods of three weeks at the beginning of the first year and at the beginning of the second year (either in Maastricht or at one of the partner sites). The rest of the programme is online and part time.
Our international partners:
Date: May 21, 2024
Application deadline: April 1, 2024
Course fee: the tuition fee is €17,500 to be paid in two installments of €8.750 (additional fees apply for partner sites)
Degree: Master of Science, 60 ECTS
Related information: 
I want to apply:

Applications open from October 1, 2023
Objectives
Innovation is part of our DNA. The new MHPE programme is compliant with the latest standards and insights. We have turned it into a unique and distinctive programme for you! In the MHPE programme, you will continuously apply theory-based insights in authentic educational problems derived from practice in health professions education. Often, you will be able to work on your own cases or problems from your own professional environment. The MHPE programme is firmly rooted in educational theory and practice. We have carefully listened to stakeholders in health professions education and researched their needs. We have also looked at new insights and theories in the educational domain.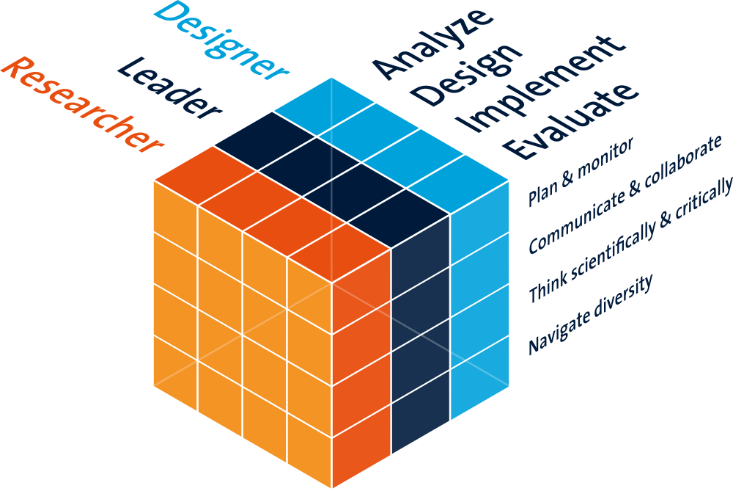 Distinctive features of the new MHPE programme
Authentic and meaningful learning tasks are the cornerstone of the MHPE. Learning tasks relate to different roles in education. You will select learning tasks based on your own learning needs and interests, guided by a coach.
A personal and personalised learning experience guided by a coach.
Learning tasks focus on three roles:
Educational designers;
Educational leaders; and
Researchers in health profession education.
Supporting you to develop your competencies:
Student-centred, self-regulated learning;
Authentic learning tasks;
A large elective component; and
Programmatic assessment.
Flexibility and tailor-made approach; part-time learning alongside your job.
Flexibility in content:
Choose your own elective learning task with the help of your coach; and
Use your local context in assignments. More than half of the programme.
Flexibility in time:
Spread the workload over the year as it suits you;
You can finish in less than two years or take more time (for a small delay fee).
Internationalisation as the leading principle.
Strong international and and interprofessional character.
Learn with and from fellow students from all over the world and from different professional backgrounds;
Become part of the MHPE community.
Learn to apply educational theory to different contexts.
Continuous exchange of best practices and staff expertise.
International and interprofessional student population;
Collaboration with partner sites in Canada, US and Singapore, as well as external teachers from all over the world.
Student profile
The MHPE attracts an international group of professionals from a variety of educational, professional and cultural backgrounds. To be eligible, you need to have a university degree in one of the health professions (e.g.: health sciences, medicine, nursing, physiotherapy, dentistry, pharmacy or speech therapy). You also need to be involved in education in your own professional field.
Career perspectives
Whether you are new to the field or already experienced in health professions education, the MHPE is the next academic step in your career as educational researcher and/or educational innovator. For junior health professionals, the programme offers the opportunity to prepare for a career combining clinical work and education. For those who already have some experience, this is the best way to prepare for a management position in health professions education. For experienced health professions educators, the programme is an excellent opportunity to gain more background in theory and research and enhance your impact on educational practice. Alumni of our MHPE programme can, if they want, continue into a PhD trajectory and become involved in SHE research. You will build a large, international network in health professions education and research. 
How to design your own MHPE 
1. Choose your elective learning tasks organising your own competency development.
In the new MHPE curriculum, you are the leader of your own competency development. You will collect the work that you do on obligatory and elective learning tasks in a portfolio. You will graduate as soon as you have achieved the required competencies, and it is up to you to demonstrate this. This way you steer your own development and prepare yourself for the future career that you aspire.
2. Keep your portfolio
Central to this MHPE master's is the portfolio: a personal, electronic file in which you collect all the feedback and information about your competence development. By keeping this portfolio, you will be able to manage your progress and development throughout the programme. You do that by means of self-analysis and self-reflection. In addition, your coach uses the portfolio to guide you in the best possible way. At the end of each study phase, the portfolio is used to assess the progress you have made and the level you have reached.
3. Guided by your personal SHE Coach
Throughout the programme you will have your own coach who guides you in organising your learning process yourself and who monitors the quality of the educational process. You reflect on your goals and your achievements so far, and then choose your next set of learning tasks with the help of your coach. In this way, you can develop yourself to the maximum and lay the foundation for a career as a health professions educationalist or researcher.
4. Included in the international SHE Community
During the MHPE Master's programme, you will gradually become part of the international SHE Community. You will be encouraged to collaborate on projects or research. Sharing knowledge, collaborating and increase the impact of your efforts. You will lay a foundation for your future career and collaborations with the professional networks that you build around you.