Movement
Crossroad
Research theme: Neuromodulation
Clinical pillar: Movement
Adaptive deep brain stimulation based on experience sampling methodology combined with peripheral wearable sensors.
Mechanistic studies to unravel the pathophysiological basis behind the effects and side effects of neuro-modulation.
Investigating novel targets and indications for neuro-modulation.
Exploring new technologies to apply network and symptom-specific neuro-modulation.
Unique contributions and highlights
Funded research line (Guy Peeters fonds, NFU, Weijerhorst, Abbott, Hersenstichting, ISAO, VENI, CHDI, Prosensa BV).
Adaptive DBS using external feedback loop.
Investigating circuitopathy in post-mortem Parkinson's Disease (PD) brains using ultrahigh field (9.4T) MR imaging.
Exploring the working mechanisms of DBS in PD using cell-specific viral tool, DREADD and optogenetic techniques.
Wireless microneuromodulation in PD using magnetic nanoparticles.
First group to explore sensor-ESM combination in Parkinson's disease.
First publications in Movement Disorders, Nature partner journal on Parkinson's Disease, and Journal of Medical Internet Research.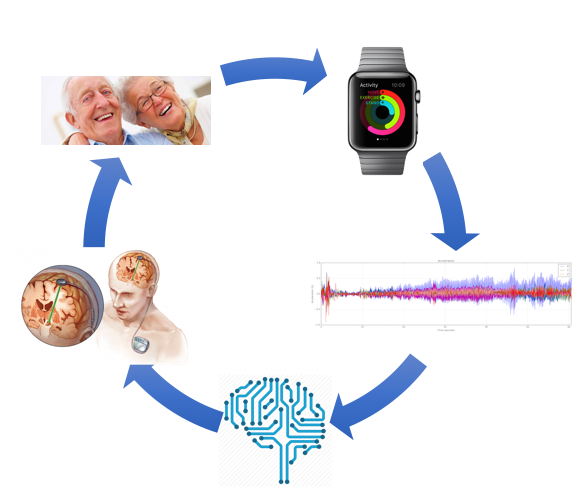 Staff involved in this crossroad
Mark Kuijf
Dorothee Horstkötter 
Departments: 
Psychiatry & Neuropsychology