Research institutes
GROW - School for Oncology and Reproduction
GROW focuses on research and teaching of genetic and cellular mechanisms, as well as environmental and life-style factors that underlie normal (embryonic and fetal) and abnormal (cancer) growth. The emphasis is on basic and translational research, aiming at innovative approaches for individualizing prevention, patient diagnosis, and treatment for genetically determined diseases and cancer.
Fast facts
Led by Prof.dr. Manon van Engeland
Focus on genetics, cancer, fertility, early development, and ethics
Part of the Maastricht UMC+ Comprehensive Cancer Center
± 50 PhD defenses and 675 publications every year
535 scientists, including 375 PhD students, 9 affiliation professors
GROW COMMUNITY
for GROW staff & PhD's
GROW is part of the Maastricht UMC+ Comprehensive Cancer Center
Calendar
News
Having an impact in people's lives and on society as a whole. Being able to make a real difference. That is what Prof Klara Mosterd wants to achieve with her research into skin cancer and the clinical treatment of patients. On 17 March 2023, she will deliver her inaugural address titled ever so intriguingly: "Het mes kan van tafel".

Masoud Zamani Esteki received the KNAW early career award for his research on reproductive health.

This year, for the first time, two TEFAF Fellowships are awarded to PhD students from GROW (School for Oncology & Developmental Biology). Femke Ehlers and Nicky Beelen will have the opportunity to perform part of their research in the renowned lab of the TEFAF Honorary Chair, Professor Dr. Lisa Coussens at Oregon Health and Science Knight Cancer Center.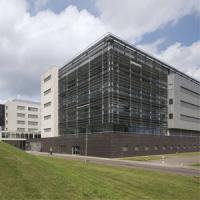 +31 43 38 81863
secretariaat-grow@maastrichtuniversity.nl