Research institutes
School for Mental Health and Neuroscience
The School for Mental Health and Neuroscience (MHeNs) strives to advance our understanding of brain-behaviour relationships by using an approach integrating various disciplines in neuro- and behavioural science, medicine, and the life sciences. MHeNs performs high-impact neuroscience research and educates master's students and PhD researchers. MHeNs performs translational research, meaning practical collaboration between researchers in the lab and in the hospital and in close collaboration with the Faculty for Psychology and Neuroscience and School of Business and Economics (Centre for Integrative Neuroscience).
Fast facts
Led by Prof. David Linden
Research continuum from fundamental to clinical and applied research
About 500 researchers including 325 PhD students, 60 support staff
More than 600 publications annually in Science Citation indexed journals
19 million euro annual budget
Coordinator of the EURON Graduate School
The impact of MHeNs' unique research approach
With the knowledge acquired today, we move forward working towards a better future for the patients of today and tomorrow. That is why we collaborate in crossroads. 
Coming together at crucial intersections is where MHeNs researchers (from the five MHeNs research themes) and clinicians from the clinical pillars from MUMC+ Brain and Nerve Centre (BNC) and Centre for Ophthalmology meet and work together, opening the door to new discoveries. Discoveries for current patients and those of the future.
11 Clinical pillars
MHeNs and BNC collaborate in 11 specialisms, aimed at patients with complex disorders of the brain and nervous system. The research collaborations occur in the so-called clinical pillars. The outcomes of this team research performances will lead to advanced evidence-based insights, innovative decision-making, better directions, highly developed innovations, technologies and treatments that can have considerable societal impact. Explore our crossroads in the following 5 research themes below. 
  Cognition and Dementia
  Epilepsy
  Movement
  Stroke
  Hearing and Balance
  Vision and Ophthalmology
  Autonomic Control
  Mood, Anxiety and Trauma
  Psychosis and Neurodevelopment
  Eating Disorders
  Pain 
  Get acquainted with the work of MHeNs, watch our animation on our research and societal impact.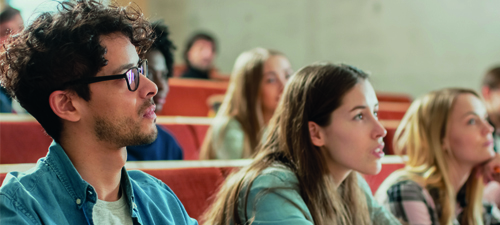 PhD Education
MHeNs' PhD programme promotes a high level of competence in a specific research field, but also in more generic, transferrable skills that are important for professional careers in research, education, or clinical practice.
News
From the 17th to 19th March 2023, ten students from the Honors Programme in Maastricht University organized and attended a conference in Barcelona, focusing on Laminin Alpha-2–Congenital Muscular Dystrophy (LAMA2-CMD), also known as Merosin-Deficient Congenital Dystrophy Type 1A (MDC1A).

Elderly individuals who live alone are particularly vulnerable to prolonged feelings of loneliness. That is why the researchers of the euPrevent PROFILE project addressed loneliness in older people.

Melissa Schepers' doctoral research at Maastricht University and Hasselt University offers hope for the development of a new medication that can halt or restore the limitations of multiple sclerosis (MS).
More news items
Operating cataracts in both eyes on the same day instead of with a two-week interval is equally safe but more cost-effective and patient-friendly.

Today, on the Dutch National Bicycle Helmet Day #dagvandefietshelm, we are happy to announce the winners of our contest "𝘏𝘰𝘸 𝘥𝘰 𝘸𝘦 𝘨𝘦𝘵 𝘵𝘩𝘢𝘵 𝘣𝘪𝘤𝘺𝘤𝘭𝘦 𝘩𝘦𝘭𝘮𝘦𝘵 𝘖𝘕?"

Research shows that mechanically removing a clot during a stroke is useful much longer after the onset of symptoms than previously thought.

Professor Koen Schruers was set on studying schizophrenia after graduation – until he was asked to participate in PhD research on panic. He was fascinated. One in four people will suffer a panic attack at least once in their lives, and one in thirty will develop a panic disorder. The phenomenon can...

Researchers from Maastricht University, as lead applicant of a national consortium for dementia risk reduction (Netherlands Dementia Prevention Initiative (NDPI)), have been notified that they will receive over 3 million euros from ZonMw.

Oxytocin may be able to support memory in people with Alzheimer's disease. This is the conclusion of a study led by Maastricht University in which oxytocin was administered to mice with Alzheimer's-related problems. The research is based on epigenetics, the external effects that turn parts of our...

An organ that disappears almost completely after puberty, but in rare cases can regrow in size and even harbor a tumor: the thymus, also known as the thymus. Physician-researcher Florit Marcuse, affiliated with Maastricht University's Faculty of Health Medicine and Life Sciences, examined this...

The European Commission has awarded €23 million to set up a new platform for drug repurposing: the use of existing drugs in diseases other than those for which they were originally developed. In the next seven years UM will develop the platform REPO4EU (precision drug REPurpOsing for Europe)...

Prof. Frans Verhey appointed Officer in the Order of Oranje-Nassau

Dr. Willemijn Jansen has won the Young outstanding researcher Award, the talentprize of Alzheimer Nederland.

As a neuropsychologist she is fascinated by people with brain damage through Alzheimer but without complains. They seems protected by it. Within the Alzheimer Centrum Limburg of Maastricht...

In various hereditary brain diseases, a mutated protein damages brain cells, resulting in deterioration of health, disabilities and death. There is now hope to develop experimental therapies that can inhibit the production or toxic effects of these proteins. A consortium of several organizations...

Frans Verhey, professor of Geriatric Psychiatry and Neuropsychiatry is proud of what the Limburg Alzheimer's Centre has achieved and of its team, which works tirelessly to improve the quality of life of people with Alzheimer's. "Alzheimer's tends to be seen as a horrible, deadly brain disease that...

Today marks the official start of the FINGER-NL study, a two-year intervention investigating the effect of a combination of lifestyle modifications on the thinking skills of older people. In the FINGER-NL study, part of the overarching national MOCIA project, five Dutch research centers join forces...

No less than 80 per cent of patients who are prone to psychosis are left out of clinical studies on the effectiveness of antipsychotics. These drug studies apply strict exclusion criteria, which means that only the least ill patients participate, such as those who are susceptible to psychosis, but...

As a physician and clinical researcher, Frederic Schaper has one burning ambition: to create a 'map' of the network connections in the brain. The UM alum and his colleagues from Harvard Medical School expect to publish their first, promising results this autumn.

The Alzheimer Centrum Limburg is celebrating its 20th anniversary this year and four PhD students have organized a hiking fundraising for this. From 1 to the 21st of September, until World Alzheimer's day, we will walk 20 kilometers together with colleagues from the Alzheimer Centrum Limburg!

Last month, a paper was accepted for publication in Neuromuscular Disorders, which was the result of a successful collaboration between NIMHANS and MHeNS, aimed at resolving the genetic causes of mitochondrial disorders and finding novel treatment options.

Recently, psychiatrist Anne Koopmans (MHeNs) successfully defended her PhD thesis 'CYP2D6 and CYP2C19 genotyping in psychiatry: Bridging the gap between practice and lab'. She chose an all-female opposition to draw attention to the importance of women in higher academic positions.

For the research at Maastricht UMC+ and Erasmus MC to the steering of the bladder from the brains a grant of circa 1 million euro has been awarded from the programme Humane Meetmodellen 2.0. Within this project more effective research methods with human beings are developed and used, which reduces...

A collaboration between UM researchers (with co-authors from MHeNs and CARIM) and the international Meta VCI Map consortium resulted in a publication on strategic brain infarct locations predictive of post-stroke cognitive impairment in Lancet Neurology in May 2021. 

Two UM academics have been nominated for this year's Science Talent competition from New Scientist. A total of 15 talented academics from the Netherlands and Flanders are currently in the running for the title. With as many online votes as possible, Aurélie Carlier and Kay Deckers have a chance to...

'Stopping Alzheimer's before it starts' is the slogan of a new, nationwide, collaborative project in the Netherlands. The Alzheimer Centrum Limburg, a leader in research into the influence of lifestyle on the prevention of dementia, is one of the participants.

Leakage in the blood-brain barrier is a signal that damage will eventually occur in brain tissue. The stronger the leakage, the greater the damage will be. This is the conclusion reached by scientists at MUMC+ using a new MRI technique.

Dr. Lizzy Boots is a psychologist and has been working as a researcher at the Alzheimer Centre Limburg. Her research focuses on the prevention of overburdening for informal caregivers of people with dementia.

Scientists from Maastricht UMC+ and the German Max Planck Institute have succeeded in stimulating brain areas via a magnetic field in mice injected with electrically charged nanoparticles.


Care for Post Traumatic Stress Disorder (PTSD) in dementia patients needs to improve! Sjacko Sobczak works as a psychiatrist in elderly care at Mondriaan and as a senior researcher at MHeNs. 

The Dutch Research Council (NWO) has awarded a Vidi grant worth 800,000 euros to three experienced UM researchers: Dr. Jordi Heijman (CARIM), Dr. Ali Jahanshahianvar (MHeNs) and Dr. Bettina Sorger (FPN). 

Maastricht University starts a mental health research project 'Transition-Journeys' in close cooperation with other partners in November 2020.

For the first time, in experimental animal models for MS, researchers at Maastricht University (UM) and Hasselt University (UHasselt) have succeeded in restoring the substance myelin, which is degraded by the disease.

Pilar Martinez, newly appointed professor of Neuro-inflammation and Neuropsychiatric Disorders, will deliver her inaugural lecture 'Lipids and antibodies in neurological and psychiatric diseases' on Friday 5 October. Four years ago, Martinez began studying the role of lipids – fats – in the brains...

CIN new interfaculty cooperation for Integrative Neuroscience launched

Sandra Schipper and Mark van den Hurk, who both took their PhD in December 2016, received a Rubicon grant from research financing institution NWO. This grant gives young, highly promising researchers the opportunity to gain international research experience
Events
The EURON PhD Days are an opportunity for PhD students to discuss their findings, thoughts, and insights with other PhD students and senior researchers while learning about recent proceedings in science occurring outside of their own university.
Promotions
"The Balance Within: Factors influencing neurovisceral autonomic responsiveness to endocrine and pharmacological stress challenges"

"Single Retinal Image Restoration"

"The Kynurenine Pathway and Cognitive Functioning A Transdiagnostic Approach"
More event items
"Segmenting the human brain in population bases studies: Methodological considerations and clinical applications in diabetes, depression, and dementia"