Research institutes
Institute for Corporate Law, Governance and Innovation Policies
ICGI is the Institute for Corporate Law, Governance and Innovation Policies. The research area of ICGI is corporate law and governance in a broad sense. ICGI strives to be an excellent institute for academic research as well as an outstanding breeding ground for academics and students in their efforts to further develop their insights into corporate law and governance. ICGI carries out research activities, enables cooperation between researchers from different disciplines and organises conferences. ICGI members also participate in providing high-quality education and disseminating their research findings in this way. Current developments in corporate law and in corporate governance are central to ICGI`s endeavours.
Fast facts
ICGI was founded by prof. dr. Kid Schwarz and prof. dr. Bas Steins Bisschop in 2010
ICGI has four main research lines
ICGI management by prof. dr. Mieke Olaerts and prof. dr. Bastiaan Kemp
The ICGI is associated with the Centre for European Company Law, headed by Professorial Fellow prof. dr. Steef Bartman
Research
ICGI's research focuses on the relation between social changes and the corporation. We look beyond the black box of the corporation and research the role of the main corporate actors, including the board, shareholders, supervisors as well as the role of public and private regulation in relation to corporations.
We look at how social changes can influence not only the content of corporate regulations but also the tools that can be used to regulate the corporate environment, the protection of stakeholders and the decision making power within the corporation.  In its approach, ICGI is characterized by its comparative and European research and its ambition to enhance interdisciplinary research in this area. The latter is embedded by means of the Elverding chair: a co-chair between the Faculty of Law (Professor Mieke Olaerts) and School of Business and Economics (Professor Rob Bauer) on Sustainable Business, Culture and Corporate Regulation.

ICGI's research takes place in the following four research pillars:
1. Corporate Groups and Global Networks
2. Board/Shareholder Dynamics
3. Corporate Mobility
4. Financial Distress
ICGI news
As per 1 March 2021, dr. Christopher Heath has been appointed as professor on the endowed chair of Intellectual Property Foundations, Institutions and Adjudication. 

Looking back on a great online event regarding The EU Green Deal and the Future of the Modern Corporation. Here is a video summary of the webinar - featuring: John Kay (Oxford University), Diederik Samsom (EU), Marlies van Wijhe (Van Wijhe Verf), Dimitri-de Vreeze (DSM Nederland), and Hein...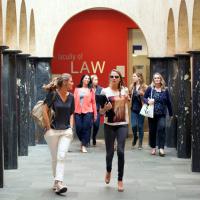 Institute for Corporate Law, Governance and Innovation Policies
+ 31 43388 3040
icgi@maastrichtuniversity.nl