Survey BA students: interest in UM-wide minor Sustainable Development
Between April and July 2019, a survey took place investigating whether bachelor students were interested in having a UM-wide Minor on Sustainable Development. The results of the survey were quite positive towards having such a minor. The taskforce Sustainable UM2030 has presented a project plan as to make such a minor possible as of the academic year 2020-2021.
The end goal of creating such a minor is to promote more education about sustainable development thoughout the whole of Maastricht University.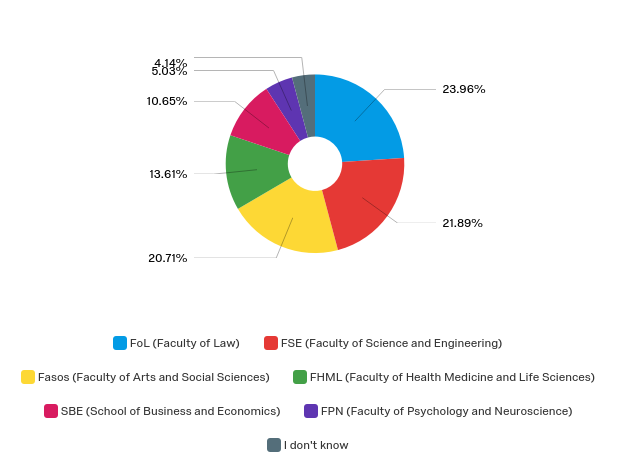 Results
In the image you can see at which faculties the respondents are studying. Most responses came from the Faculty of Law, the Faculty of Science and Engineering and the Faculty of Arts and Social Sciences.
Regarding interest, the survey population (N = 328) indicated that 45% is extremely interested in a Minor SD, 28% very interested, 16% moderately interested, and 8% slightly interested. 2% were not interested at all. So we can conclude that a majority of the respondents would be interested in a minor.

The topics which students would like to be included within the Minor - whereby students had the option to select 5 topics from a fixed list - showed a wide variation. The highest rankings included Global Challenges, Environmental Change, Public Policy, International Law, Human Behaviour, Human Health, and Production and Consumption; all in the context of sustainability. It should be taken into account that the number of respondents from a certain faculty or programme most likely played a role in the choice of topics.
Next Steps
The results of the survey are very informative and useful for a UM-wide Minor SD. The results are part of a project plan that has been approved by the Sustainable UM 2030 taskforce. Now the plan has to be approved higher up in  the organization. Then a project team consisting of teaching staff, students and educational experts will be set up to design the minor.

Background
Maastricht University (UM) launched the Sustainable UM 2030 programme in 2018. Under the programme an Education for Sustainable Development team was set up to help facilitate the process of making UM a more sustainable institution through various education projects and activities together with Green Office. One of its current ambitions includes the development of a UM-wide Minor Sustainable Development. Sustainable UM 2030  aims at fostering the necessary competencies (combinations of knowledge, skills, values and attitude) to empower students to become professionals and citizens who can contribute to a more sustainable world. To do so, students must learn to understand the complexities, uncertainties, trade-offs and risks related to global and local sustainability challenges. Sustainable development is, after all, complex and normative in nature.
 
For more information about the UM Minor Sustainable Development, you can contact Ron Cörvers or Ceren Pekdemir.