Department of Advanced Computing Sciences
Education
Our department offers in-house bachelor's and master's programmes covering artificial intelligence, data science and computer science.
We are the only university in the Netherlands to apply project-centred learning as our teaching method, which places a strong emphasis on skill development through elaborate group projects. We foster one of the most international environments in the country: our staff and students come from over 50 different countries, our student population is the most international among its peer groups in the Netherlands, and we teach in English.
Our in-house bachelor's and master's programmes in Data Science and Artificial Intelligence are part of the KION framework for Dutch artificial intelligence study programmes.
BSc Data Science and Artificial Intelligence
The bachelor's programme in Data Science and Artificial Intelligence bases itself upon the disciplines of applied mathematics and computer science. The programme focuses on technical aspects of data science and artificial intelligence, and equips students with the knowledge and skills to develop smart systems for solving complex problems.
Since the programme's start in 1992, it has grown into a consistently top-ranked Artificial Intelligence programme in the national Keuzegids ranking. Our bachelor's programme draws over 200 first-year students annually. With around 75% international students coming from over 45 different countries, it is the most international AI bachelor's programme in the Netherlands. 
The award-winning KE@Work honours programme, which allows top-performing students to work at local organizations in the second and third year of their studies, is embedded in this bachelor's programme.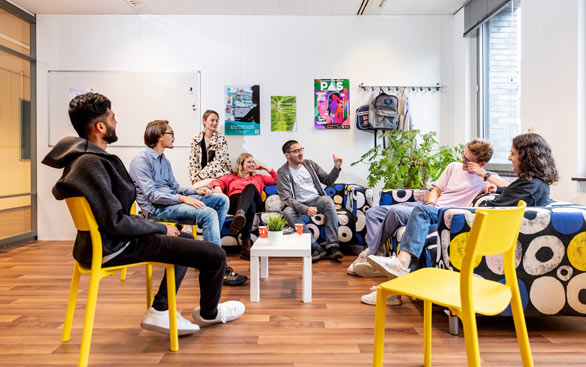 BSc Computer Science
Our 3-year bachelor's programme in Computer Science focuses on developing software for the purpose of improving the performance of computers. The curriculum is designed to let students  discover their interests within the field of computer science and to develop students' employability skills alongside their technical skills.
The bachelor's programme in Computer Science is our newest study programme (to launch in September 2023) and follows the framework of the Association for Computing Machinery (ACM).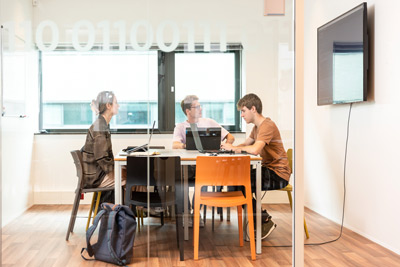 MSc Artificial Intelligence
Our two-year Artificial Intelligence master's programme teaches students to design and develop AI systems to perform complex tasks. These systems are able to act on their own and adapt to changing environments.
The Master's programme in Artificial Intelligence started in 2005. Like our other programmes, it has a highly international student population: more than 80% of students join us from abroad.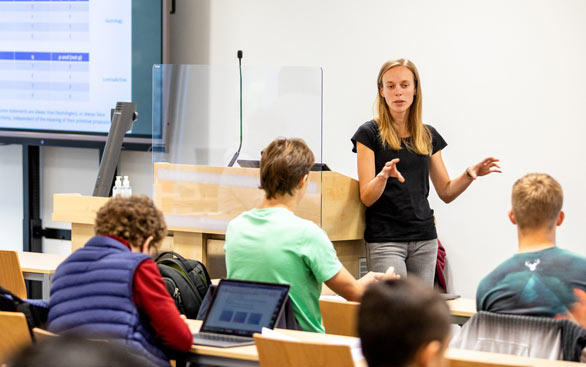 MSc Data Science for Decision Making
Our two-year Data Science for Decision Making master's programme focuses on two aspects. The data science elements of the programme cover techniques to process, transform, and protect data, and to build models. We train students to extract useful information from data, to recognize patterns and anomalies, and to predict future behavior. Secondly, the decision-making elements of the programme cover techniques for intelligent decision-making that take advantage of the knowledge extracted from data.
Our Data Science for Decision Making master's programme (formerly known as Operations Research) launched in 2005. More than 80% of students in this programme come from abroad.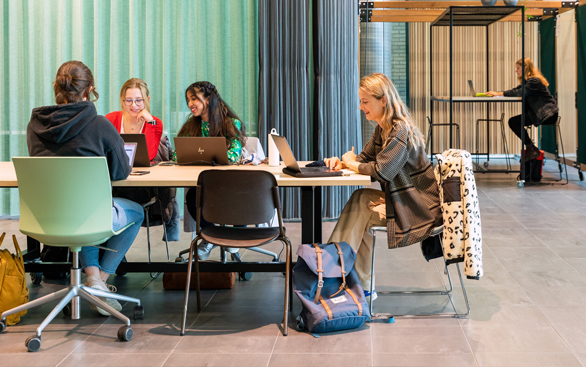 For PhD candidates
We frequently have openings for PhD candidates in projects related to data science, artificial intelligence, computer science, and/or mathematics. We list our open PhD positions on the academic vacancy portal AcademicTransfer.
Teaching in other programmes
In addition to our own programmes, our staff teaches in other Maastricht University study programmes including University College Maastricht, Systems Biology, Maastricht Science Programme, Business Engineering, Circular Engineering, University College Venlo, Health Sciences, and Global Studies.
Within these programmes, the department covers courses related to data science, artificial intelligence, applied mathematics and computer science.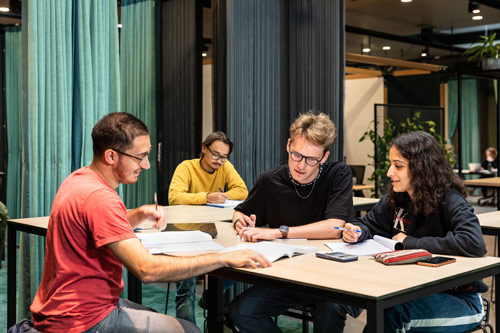 Summer schools and professional education
Our teaching method
All of our bachelor's and master's programmes employ project-centred learning, a variant of Maastricht University's signature problem-based learning. In addition to technical skill development, this educational model trains employability skills such as teamwork, project planning, documenting, and presenting.
In project-centred learning, students work in small groups to tackle two big projects per year (amounting to one per semester). These projects last around five months each and run parallel to courses, which follow a lecture- and tutorial-based setup. The level of the projects, and the products students need to deliver, matches the students' study progress by requiring knowledge obtained from coursework.
We base projects on real-life research and/or societal challenges provided by our staff and by companies. Projects for instance require students to design a quadcopter platform for an autonomous swarm, to optimize timetables, to automate the recognition of facial expressions, or to design and implement a traffic simulator.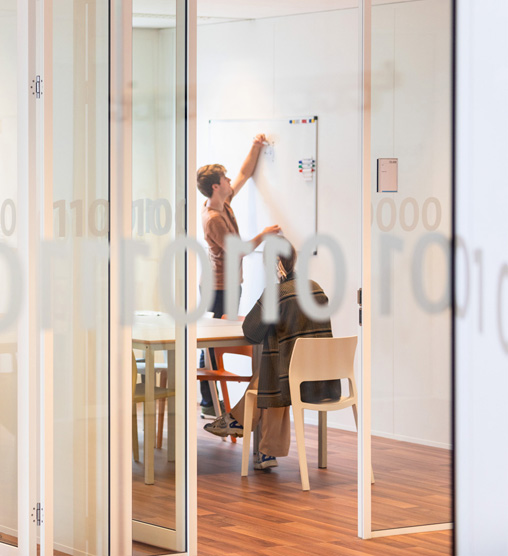 Writing a thesis can be a lot of fun, particularly when you choose a subject that's related to your favourite hobby. For Kristian van Kuijk, an avid cyclist, it's even led to a dream come true. He's found an accurate way to predict the energy burned by a rider during a race. The algorithm has impressed Team Jumbo-Visma, who are using Kristian's predictions in this month's Tour de France.

The new department broadly covers research and education in artificial intelligence, computer science, data science, mathematics and robotics. Over 100 staff members find their home in the new group, which is embedded in the Faculty of Science and Engineering.

Congratulations to Anna-Lena Krause, Krzysztof Cybulski and Frederik Calsius!
More news items
Q-Park announced the winners of its annual Student Awards this week. Mateusz Wiza was one of the winners to receive a €1.500 cash prize for his thesis.

The bachelor's programme in Data Science and Artificial Intelligence now offers the opportunity – in collaboration with Brightlands-based BSSC and BISS – for third-year students to complete a semester project with a company or organization.

As of 1 September 2020, the programme is named Data Science and Artificial Intelligence.

150 unsuspecting students took part in an alternate reality game last Monday. Within 30 hours of starting their introduction to the bachelor's programme at the Department of Data Science and Knowledge Engineering, they collectively defused a bomb and emerged as heroes.

The first international Artificial Intelligence Song Contest is currently taking place online. Even better – it includes a team of UM students and local musicians.

Marc Pont, alumnus of the master's programme in Data Science for Decision Making, discusses the atmosphere, curriculum and job search.

A love for Japanese culture snowballed into a London conference trip for Lianne Hufkens, master's student Artificial Intelligence.

Following the graduation ceremonies on July 11 and 12, we asked four brand new graduates about their next steps in life. We also asked them to reflect – perhaps for the last time – on their time at the Department of Advanced Computing Sciences.

A group of bachelor's students of the Maastricht Science Programme (MSP) and Data Science and Knowledge Engineering (DKE) won the Eramet challenge at the VivaTechnology Hackathon in Paris during the weekend of 18 May.

Technology conference TNW catalogues 500 of the Dutch tech world's most talented people under the age of 26. This year's list – the T500 – features three alumni and eight current students of the Department of Data Science and Knowledge Engineering (DKE). Among them is Dirk Bongers, DKE master's student.

Philippe Debie is literally going the extra mile to present his bachelor thesis at a renowned international conference in Santiago, Chile.

What would you ask someone who, in the words of the organizers, played a major role in the story of science in the last 70 years?

What makes the KE@Work partnership unique, and which philosophy is behind the programme's collaboration?

KE@Work won a silver award in the category Best Employer-University Partnership during the gala ceremony in San Francisco.

The honours path for bachelor students of the Data Science and Knowledge Engineering programme, KnowledgeEngineering@Work or KE@Work, is shortlisted for the 2018 Reimagine Education awards. The reputable Reimagine awards seek to reward education innovators from around the globe.

Three Artificial Intelligence alumni talk about their work. Marloes van Eijk is a data scientist/advisor at the Public Prosecution Service, Gijs-Jan Roelofs is a freelance consultant and Inge Lemmens is chief technology officer at PNA Group.

The 'Keuzegids Masters 2018', released today, ranks DKE's Master programme in Data Science for Decision Making 1st place in the country for the category for Theoretical Master for Computer Science. Due to its high score, it has also received the "topopleiding" seal, which means that it belongs to the best Masters programmes in the Netherlands.

A research project titled 'Intelligent games for assessing cognitive, social and physical capacities of elderly and children' was awarded a prize at the Pre-Dies Natalis symposium 'The Future of a Data-Driven Society'.

DKE student Thomas Vrancken uses text-mining to prove that the vocabulary of rappers is significantly richer than that pop music artists.

How many spells are cast by the characters in the seven Harry Potter books? That's what master's students of Data Science for Decision Making Moritz Haine and Markus Dienstknecht wanted to find out in celebration of Harry Potter's 20th anniversary. To answer their question, they used text mining, an information retrieval technique common in computer science.

Martin Rooijackers (Master student Artificial Intelligence at the Department of Data Science and Knowledge Engineering – Maastricht University) and his LetaBot took part in the annual Student StarCraft AI Tournament and won in both the student-division as well as the mixed division!

Dennis Soemers won the award for the best student paper at the annual IEEE...