Universidade Eduardo Mondlane, supported by MUNDO, launches master programme in nutrition
On 16 November 2022 Universidade Eduardo Mondlane (UEM) in Maputo, Mozambique presented a new master programme: Sciences of Nutrition. This master programme is the result of a Nuffic funded project in the framework of the Orange Knowledge Programme (OKP) in which Universidade Eduardo Mondlane was supported by Maastricht University and Wageningen University.
What makes the master's programme unique is that is that the method of teaching is Problem Based Learning and that it is the first multidisciplinary programme of its kind at UEM. The Master Sciences of Nutrition will start in the academic year 2023 at the Faculty of Sciences. 
Why a new master's programme in nutrition is needed
In Mozambique, 43% of the children are chronically malnourished and suffer from stunted growth. This will seriously affect their future health and wellbeing, and it will limit their capacity to contribute to the further development of the country. In many cases, the cause is not primarily inadequate supply of food. A key factor causing inadequate nutrition resides on the consumer side of the value chain. People in the rural as well as the urban areas, lack awareness of what a healthy and balanced diet consists of. This is exacerbated by cultural beliefs that restrain people from changing their behaviours towards improved nutrition. Mozambique needs experts to address malnutrition. Therefore, various institutions offer training programmes in nutrition. All these programmes focus primarily on nutrition from a clinical perspective. In addition, Mozambique needs experts who combine clinical expertise with competencies to develop, implement and influence food and nutrition policies and strategies to change nutrition behavior. Such a programme, with a strong public health component, does not yet exist in Mozambique.
The UEM master's programme Sciences of Nutrition
Graduates of the programme will have acquired a complete set of competencies required to combat the problem of malnutrition in Mozambique effectively. In addition to knowledge in the science of nutrition, the competencies will also include knowledge and skills to engage in a dialogue with farmers, to influence the behaviour of consumers and to effectively influence decision makers in the private and public sector.
Excerpt of the speech by Prof. Dr. Amálian Uamusse, Vice-Rector Academic Affairs of UEM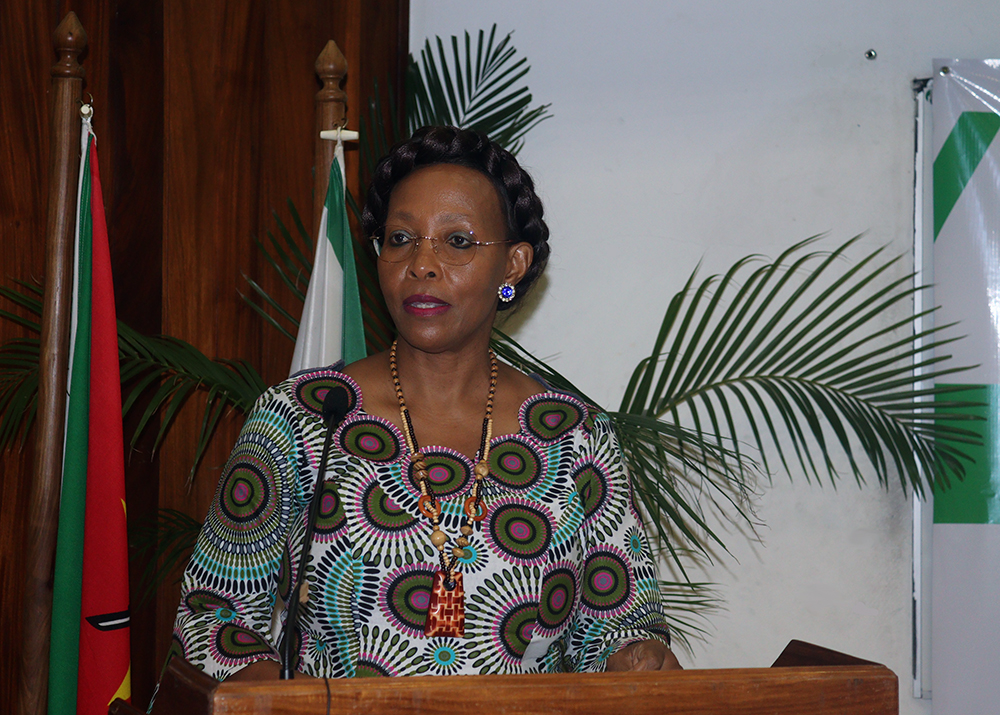 "…Multi-disciplinarity is the way to go. Real world problems do not present themselves confined to the boundaries of our disciplinary silos. Look at the problem of nutrition. For too long we have left the solution of this problem to nutritionists with mainly a clinical background. 
But the problem of nutrition is much more than a clinical problem. To address nutrition many other aspects related to nutrition need to be addressed:
Consumers need knowledge about what a healthy diet consists of. They need to know about the effects of unhealthy diets on their own health and the health of their children. They need to be aware that malnutrition can irreversibly limit the development of their learning and development abilities. From this it is clear that social and behavioural scientists need to be involved that know how to influence peoples' behaviours.
But there is more to it than knowledge and behaviour. Consumers need access to healthy and nutritious food.  The requires farmers that grow good food, industry that processes good food and marketplace that are clean, a government that establishes and enforces rules and regulations for health and hygiene. It is clear that all these factors need to be addressed simultaneously and that for that we also need agronomists, economists, legal experts…"
Watch the video about the project:
MUNDO -
Knowledge for Development

Together with UM faculty and institutes, Mundo strengthens educational programmess of our partner institutions in countries such as Indonesia, Vietnam, El Salvador, Nicaragua, South Africa, Mozambique, Ukraine, Turkey, Ghana, Sierra Leone, Egypt and Kenya

 Through Academic cooperation across the world, our purpose is to create an atmosphere which stimulates people to learn from each other for their individual benefit and for the benefit of the institutions and societies they represent.    
Also read
Ann Vanstraelen (professor of accounting and assurance services) was named today as a new member of the Royal Netherlands Academy of Arts and Sciences (KNAW). 

We are proud to announce that SBE further improved its ranking in the recently published 2023 CEO Magazine's Global MBA Rankings.

In 2022 Mundo implemented a project in which nine members of staff of Amodefa and Lambda, two Mozambican NGOs active in the field of sexual health and reproductive rights were trained in intervention mapping.  Their staff were trained by Prof. Rob Ruiter and Prof. Kai Jonas, both of the Faculty of...