Internationalisation
Closing the international classroom?
Legal scholar Amy Azhar on the unintended consequences of the possible new legislation limiting the influx of foreign students in the Netherlands.
Amy Azhar left her native Iran five years ago, initially to study her second LLM in Leiden. Following several years as a legal adviser in different jurisdictions like Iran, UAE, and the USA, an internship in Germany, and stints as a legal researcher at Radboud and Groningen University, she arrived at UM's Institute for Transnational and Euregional cross-border cooperation and Mobility (ITEM). Naturally, she and her colleagues follow with interest the Netherlands government's plans regarding a new law to limit the influx of international students at Dutch universities.
"I get both sides of the story: as a former international student and as someone who understands the law-making process." The government could impose a straightforward cap on the number of international students. Yet this measure would not apply to EU nationals, who may not be discriminated against. Azhar points out that only 8% of UM's student body are non-EU nationals and suspects that the measures, in any case, are mostly about nationalist posturing.
That is not to say that it's all about pleasing xenophobes. Universities' government funding is based on how many students they have. The capitalist imperative of limitless growth applies. English language education has opened up a vast pool of European students, especially those with STEM-relevant qualifications. That has meant more young people in university cities and thus the potential for housing shortages and noisier city centres. However, to survive, UM for example will have to attract the same number of students – whether they are Dutch or not. The total number of required students doesn't change; the pool of qualified applicants would shrink severely though. What exactly is the government trying to solve?
Legitimate concerns and vibes-based legislation
"Of course, you have to view it against the backdrop of the electorate's legitimate concerns around housing and, to a lesser extent, healthcare." Many would argue that building student housing – and affordable housing in general – would be a better remedy. Dealing with the 'problem of foreigners' costs less and has more of a populist impact though. "A prescriptive approach for the whole country will have many unforeseen consequences – and not just for higher education."
Azhar warns against a blanket approach since different institutions face very different situations. Historic universities in the Randstad [the urban area comprising Amsterdam, Rotterdam, The Hague and Utrecht] might not struggle to make up for a student shortfall of 10%; "for the ambitions of UM, which has built an identity around being international and 'the European university', the measures might be disastrous." South Limburg already relies heavily on immigration to ameliorate its demographic decline.
As Azhar points out, universities tend to draw a significant share of their student population – in the case of UM, roughly half – from a more or less commutable radius. In the case of Maastricht, this catchment area is largely Belgian and German. At ITEM, she is researching the effect of recent regulations on European integration and mobility of workers and students. She also looks at the impact on universities located in border regions vis-à-vis those that aren't, as well as the impact on sustainable economic development and the business climate in the cross-border region. 
 "Taking the 50% international students [and academic staff] out of the equation will have far-reaching consequences for our city." Azhar wonders if Maastricht's housing prices don't rely on the potential income from letting rooms to international students regardless of the condition they are in (the rooms that is, not the students…). "UM and the people depending on it for their livelihoods will be hardest hit – but think also of landlords, restaurants, bars, café and service providers that are sustained by the custom of international students."
While Amsterdam might not struggle to attract desperately needed foreign talent, South Limburg, especially its biotech sector, relies heavily on recent graduates or on workers attracted by the promise of an international environment. "There is a lot of research, also by us, on the positive impact of international students on economies, the labour market and overall prosperity." While people might be irked by their barista not speaking Dutch, they should keep in mind that, had a Dutch person been willing to do this job, they would have been preferred. The alternative to a foreign barista is no barista.
Dutch as the language of instruction and exclusion
In practice, non-Dutch EU students will be deterred chiefly by limiting English language education. One of the suggestions is to limit the number of English-taught programmes; another is to include at least one Dutch-taught course in all curricula. It's worth pointing out that, while the Netherlands has an excellent higher education sector, none of its universities is excellent enough to make anyone study Dutch to academic fluency – which, in any case, would take years. If anyone were to learn a language other than English just to study, they would presumably choose Spanish or French, which have more than twenty times the reach of Dutch.
"I came to the Netherlands because I could study in English in an international environment. If it hadn't been for that, I would have gone to Germany, where the education is free, the cost of living is lower and there is a much bigger labour market," says Azhar, who is fluent in Persian, Arabic, French and English. She started studying Dutch in 2020 – not out of professional necessity, but in an effort to integrate. She has just received her B2 certificate: easily good enough for any private or professional conversation, but not sufficient to practice or teach law.  
Azhar highlights the importance of English language higher education as a way of wooing foreign talent and embedding them into Dutch society. "The threshold is much lower when you are young: you have little to lose and can still go somewhere else if you don't like it. But if you enjoy living here, if you have already built a network, it's much more likely that you'll stay and start working here." Highly qualified workers have the luxury of deciding where to take their labour, so feeling well and welcome matters. This is also what ITEM's research shows.
"I had overestimated how open and welcoming the Dutch would be," Azhar sums up her experience. "I felt tolerated rather than accepted – both privately and at work." She struggled with loneliness and discrimination. One of the reasons she goes by Amy instead of Armaghan is the noticeable difference it made when applying for jobs. Here she singles out UM for praise: "The application and onboarding process here was very good. I felt integrated and equal to colleagues very quickly. I wasn't 'the foreigner', but part of a multinational community."
And yet, Azhar remains one of the foreigners who are sensitive to the signals this new law sends. Has it changed her mind about creating a life in the Netherlands? "It depends on the outcome of the election in November," she says with a little melancholy. "Unfortunately in many labour markets, one's passport is more important than one's qualifications and skills. But Canada for example is a lot more welcoming; they have a fast track for immigration and also for the bar admission." Azhar sees herself as a highly qualified migrant who contributes to the society she lives in. She also wants to be seen as such – ideally here.
By: Florian Raith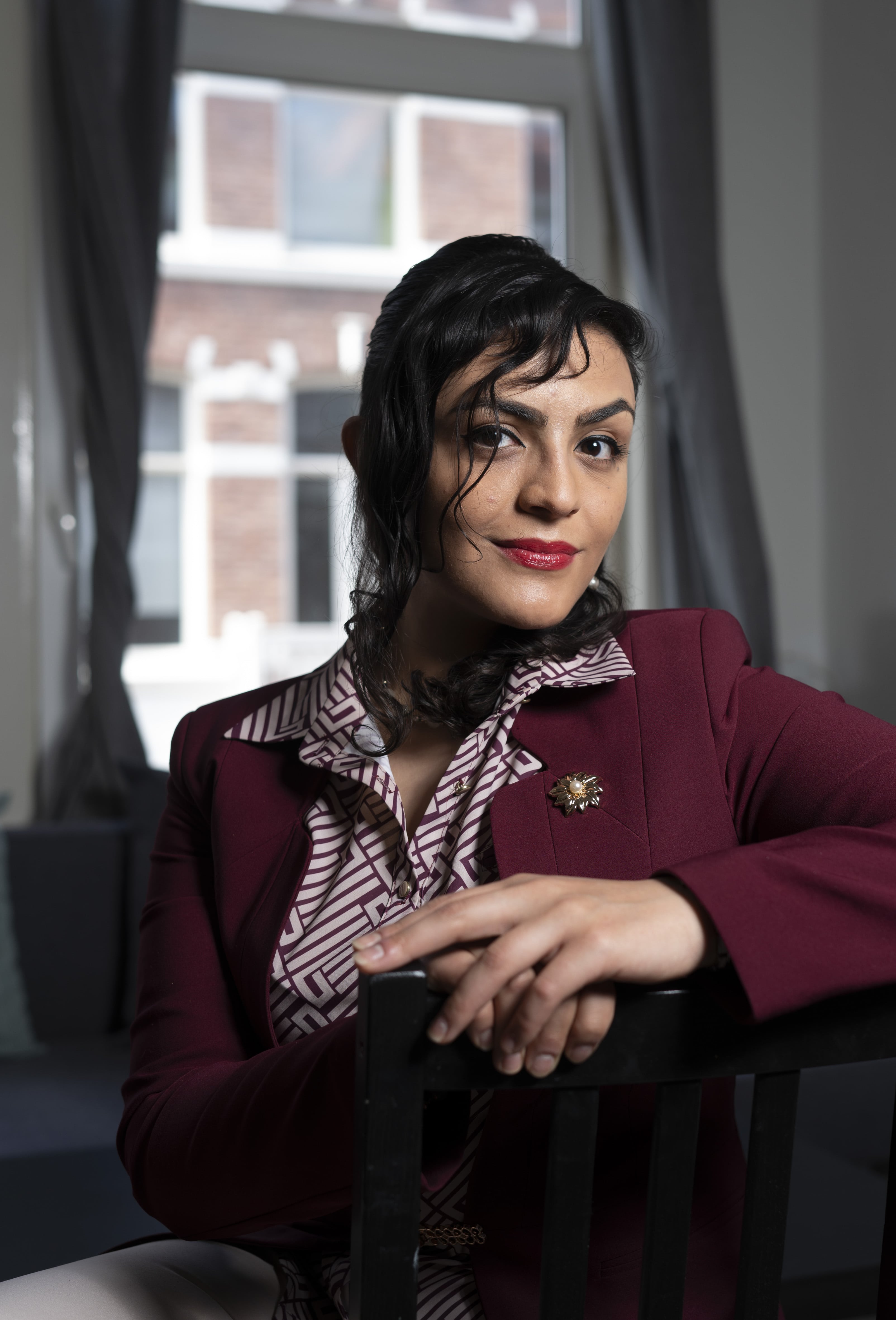 Armaghan Azhar is a legal researcher at ITEM, focusing on the legal barriers to the mobility of workers, students, and service providers across Euregio Meuse-Rhine. She holds two LLMs, having studied international business, trade and tax law at Allameh Tabataba'i University and public international law at Leiden University.
Also read
According to Prof. Dr. Tsjalling Swierstra we have reached a point where there is no disagreeing anymore. He says that it is the mission of any university to help create a better society by doing scientific and technological research. So we have to ask ourselves the question: "What will we do about...

Our daily bread is increasingly considered problematic. Gluten sensitivity is a complex phenomenon and while there's nothing wrong with avoiding gluten, it is a serious restriction and not always necessary. Daisy Jonkers and Marlijne de Graaf researched the effect of expecting to consume gluten –...

Nozizwe Dube's life reads like a novel. The 27-year-old was born in Zimbabwe and, at the age of 14, was reunited with her refugee mother in Belgium. Determined to fight injustice, she became the chair of the Flemish Youth Council within just a few years. She is now a PhD candidate at the Faculty of...