How an honours programme is staving off brain drain
In the KE@Work programme, students solve a complex, real-world problem while working at a local company. An honours track of the bachelor's in Data Science and Artificial Intelligence, KE@Work provides ambitious students with valuable work experience. Moreover, it contributes to keeping bright minds in the region.
Frank Thuijsman is professor of Strategic Optimisation and Data Science and a member of the management team at the Department of Advanced Computing Sciences. He wanted to offer the best students from the Faculty of Science and Engineering programme the chance to work on real-world challenges. KE@Work was born of that desire: a recipe for synergies between UM and industry, and a way to keep talented international graduates in Limburg.
Regional companies can propose suitable projects and are matched with students according to mutual preference. The students work two days per week during course periods and full time for the rest of the year. The contract with the company lasts two years, and includes academic supervision by UM professors. For their efforts, students receive 36 ECTS, an honours degree and a monthly internship allowance.
Impressively for a programme with almost 80% non-Dutch students, nearly half of the Data Science and Artificial Intelligence graduates stay in the Netherlands to start their career. Among them is Husam Abdelqader. After his parents fled Palestine, Abdelqader was born and raised in Jordan. He completed his A-levels specialising in STEM subjects and developed an extracurricular passion for computers.
KE@Work a drawcard
"I taught myself to code, but also read up on related fields; I found AI really interesting," he says. Despite having family in the UK, he decided to study in the Netherlands. Being based in the EU would allow him to travel more easily, and experience more of Europe. KE@Work was one factor in his choice for UM. "I wanted to gain some work experience, and this was an interesting way of doing it without delaying graduation."
Abdelqader was delighted with the experience. "I got lucky. In retrospect, I think I actually got the best project. I'm biased, of course." For Integrin, a mental-healthcare company in Geleen, he developed a machine-learning programme that would help the company make business decisions. The programme was so successful that he presented his findings at a European conference on machine learning.
"The data team consisted mostly of people with immigrant backgrounds. They spoke Dutch, but switched to English with me." One colleague was a fellow KE@Work graduate, whose supervisor was part of the same UM department. "It was really easy to settle in. Working at home during the pandemic made things a bit more difficult, but once I was in the office, I got to know more people."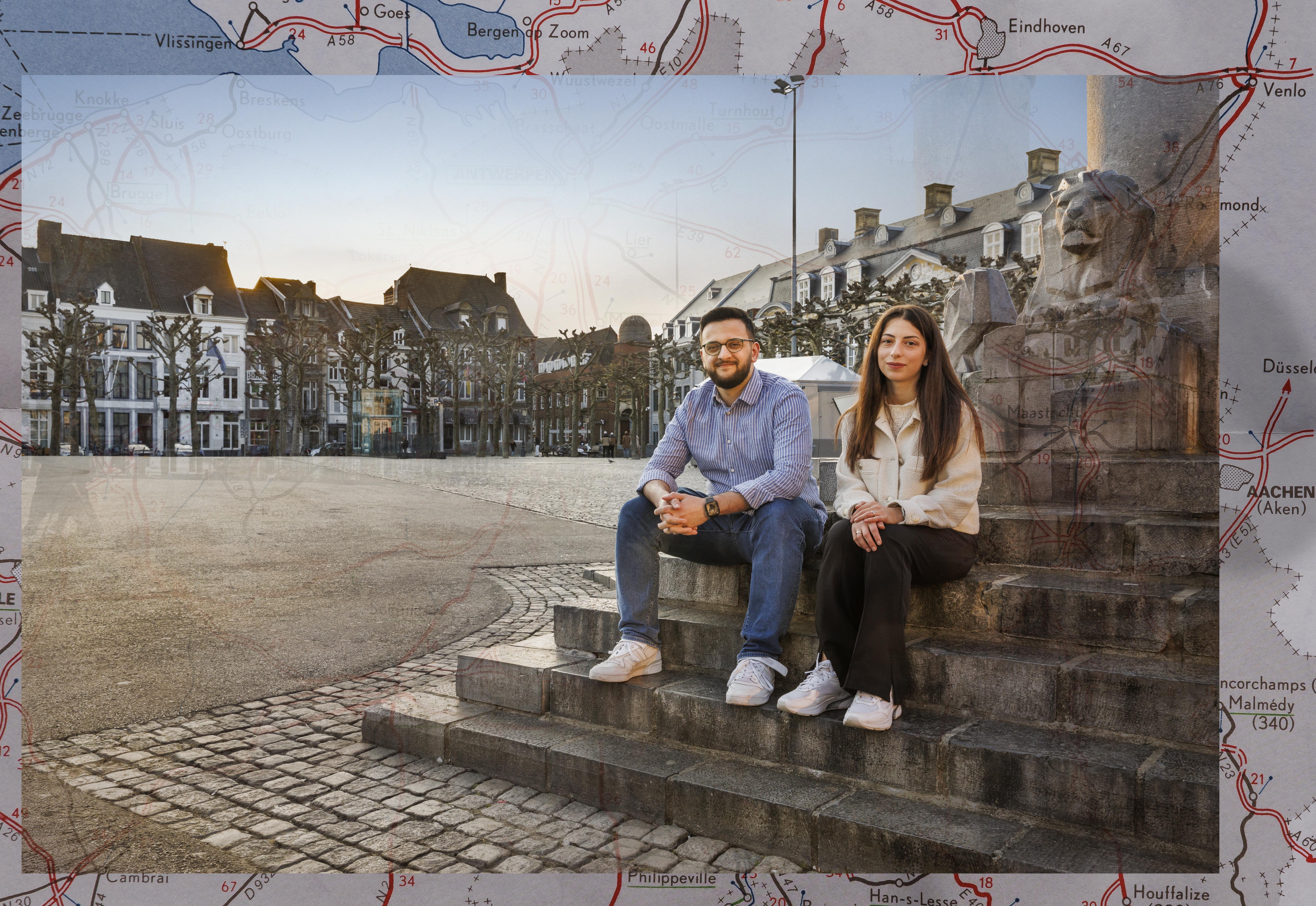 Husam Abdelqader and Mane Minasyan graduated from the bachelor's in Data Science and Artificial Intelligence in July 2022.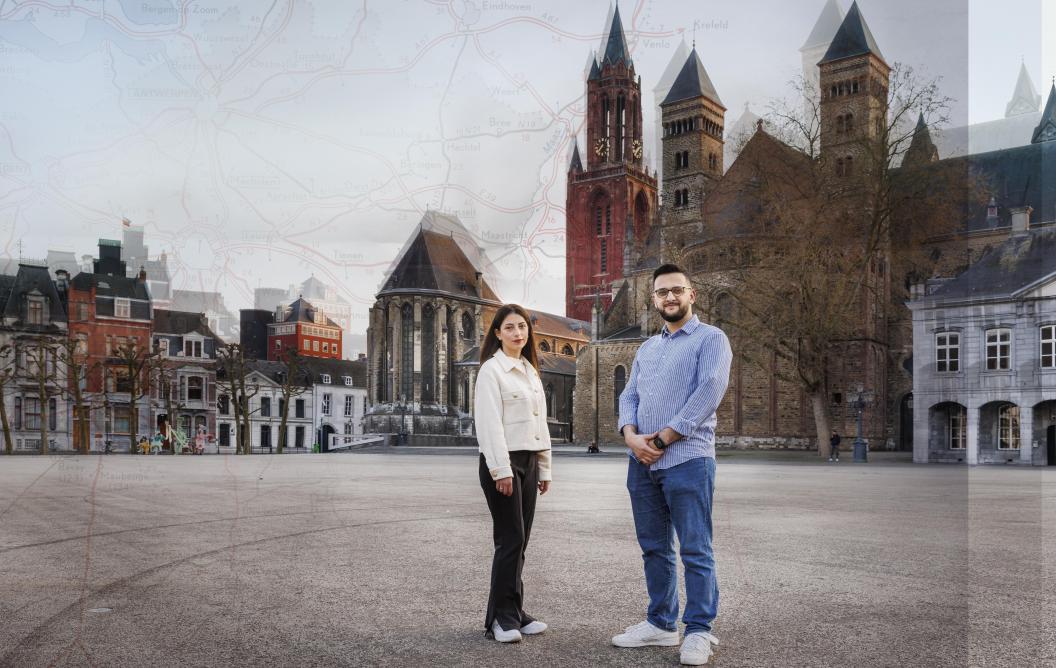 Why not stay?
Abdelqader continued to work for the company for another year after graduation. "I knew the people and had heard about the other interesting things they do, so it made a lot of sense. I really enjoyed it." He is now about to embark on a new challenge at Energy Essentials, a consultancy firm in Maastricht. Opportunities abound for data engineers, and while Abdelqader is not averse to moving to the Randstad, or even the UK, "I've grown to like Maastricht, the people, the lifestyle."
Non-EU nationals have to be sponsored to work or study here. "If you're a student, it's quite easy: UM takes care of everything. But if you work, you need to meet certain visa conditions." Starting his new position at Energy Essentials before the end of his orientation-year visa meant the required income criteria was lowered, making it easier for his employer to keep him on.
Real-life skills
His fellow KE@Work alum, Mane Minasyan, also started looking for work locally on an orientation-year visa. She found a job just two days later, and is now eligible for the highly skilled migrant visa. A native of Armenia, Minasyan moved to Maastricht for the Data Science and AI programme. Her KE@Work project took her to APG, the Netherlands' largest pension fund, where she used machine-learning models to predict phenomena such as the rate of early retirement over time.
"The work experience was just as important as getting good grades. I really got to apply and deepen the skills and knowledge from my studies. I also learnt how to communicate what data science actually is to people with a business background," she says. "Juggling everything was definitely demanding, but it also gave me a lot of self-confidence."
Charming Maastricht
By the time she graduated, Maastricht had grown on her, partly thanks to the positive associations from her time as a student. "It's not too big or loud. It feels cosy, but it's still very international, and I don't feel judged for not yet speaking Dutch." Minasyan now works on automation and innovation at DHL Express. Some of her colleagues are fellow UM graduates; only a quarter of them are Dutch. Still, she intends to learn the language and stick around for several more years.
"I really like the work culture here. People take responsibility and communicate openly." Minasyan credits the KE@Work programme with what she considers her dream job at this stage of her career. "It was a good use of my time. Thanks to the quick, helpful responses from my professors and the company supervisor, I gained so much experience and many skills during my studies. I'm not sure I could have got this job and stayed here without having done that."

Text: Florian Raith
Photography: Paul van der Veer
Also read
Nikola Prianikov came from Kyiv to study Data Science and Artificial Intelligence in Maastricht. He talks about how UM's Foundation Programme opens doors for international talent, how he enjoyed his study experience despite war and pestilence, and how the Netherlands has come to seem like a viable...

How do you fix a crack in limestone, such as mergel? Well, simply ask some bacteria to do it for you. In short, this is the goal 11 students from Maastricht University set themselves to do. They succeeded and ended up in the TOP10 best undergraduate projects competing in the iGEM competition. For...

Campus Venlo students win first and third prizes with food innovations