Yama Saraj, keynote speaker Opening Academic Year 2023/24
"Our achievements shouldn't define our self-worth"
"Today, I'm inviting you to be human. Share your stories, listen to each other, and think about what you can contribute to a resilient and compassionate Maastricht University." With those words, entrepreneur Yama Saraj began his keynote speech at the opening of the 2023/24 academic year. This year's event, which took place on 4 September, focused on students' and staff's mental and physical wellbeing. "Maybe we should adjust our definition of success," Yama said.
"My imposter syndrome had a field day this morning," Yama says, laughing, on the stage of Theater aan het Vrijthof. "All I could think about was last year's keynote speaker, Robert Dijkgraaf. That man has such an impressive career. How could I possibly top that?" That is exactly the thrust of this OAY: not everything has to be a competition with others – and certainly not with yourself. Following our "Compassion and Challenges: flourishing through resilience" theme, Yama Saraj took us on a journey through his inspiring life story.
Working on mental health through sports
Yama's life began in Afghanistan. When he was 11 years old, he and his family fled to the Netherlands. "We ended up in Nederweert-Eind, in Limburg," says Yama. "We didn't have much, but we were grateful. I gradually learned Dutch at secondary school. All that studying and learning was something I liked. I wanted more and later started my studies at the universities of Tilburg and Eindhoven."
After completing his studies, Yama went on a road trip all the way to Afghanistan with a backpack full of good stories, new insights and a great boxing talent. "I just knew I had to go back," says Yama. "I wanted to make myself useful and share my knowledge." And so he did. Yama built a library, school and hydropower plant and gave boxing lessons to Afghan children. At the same time, he helped them with their mental and physical resilience.  (Text continues below picture)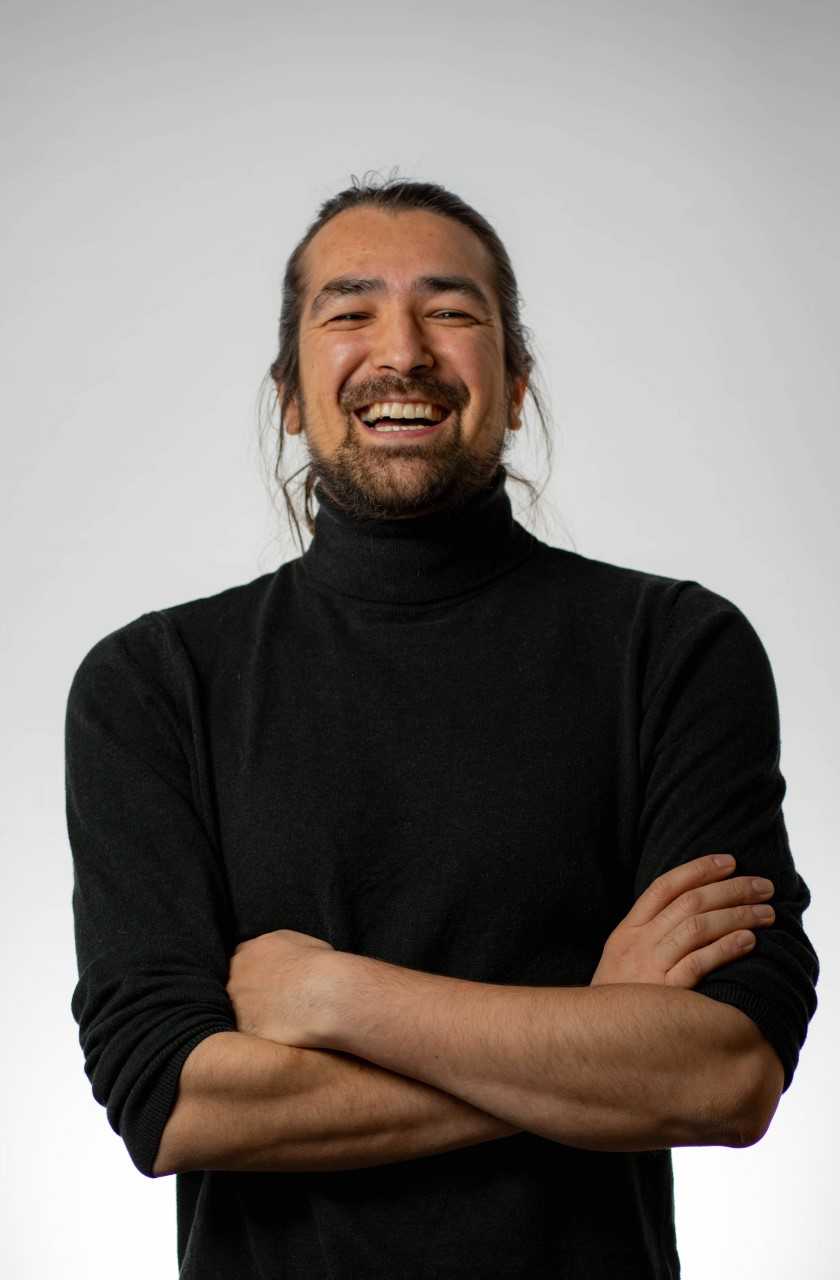 During the Opening of the Academic Year 2023/24, entrepreneur Yama Saraj shared his compelling journey and offered us valuable insights for the year. Yama was born in Afghanistan and fled to The Netherlands when he was eleven years old. He grew up to have a great talent for boxing and decided to use his love for this sport to make a social impact. In his keynote speech during the OAY, Yama demonstrated how we can still make space for our well-being and belonging even in our current success-oriented culture. (Photo credits: Michele Caleffi)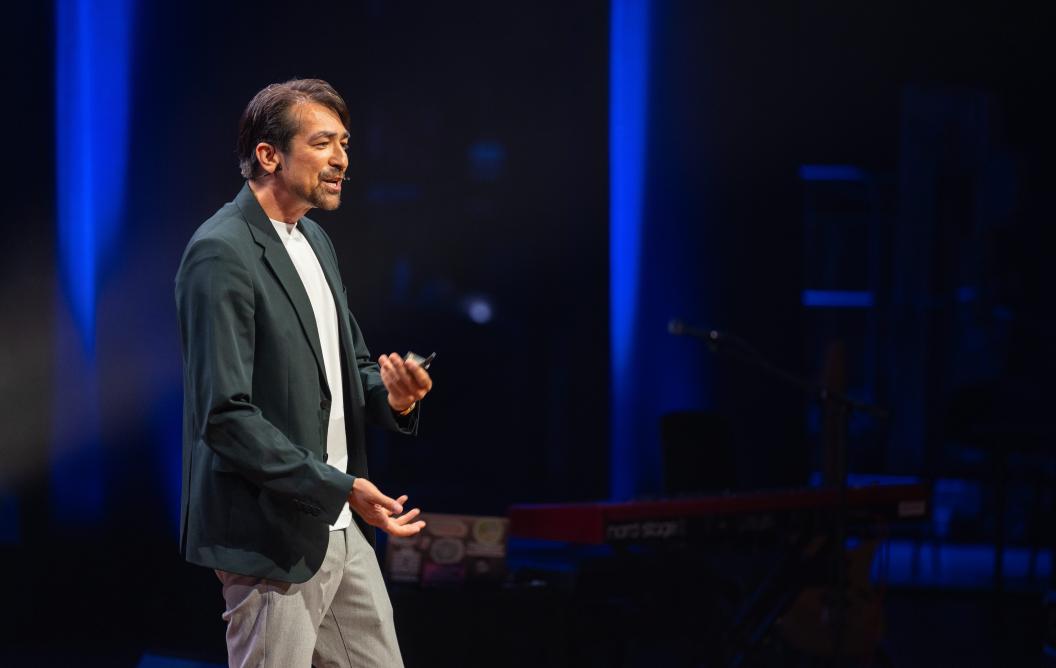 Yama Saraj during the Opening of the Academic Year. Photo credits: Philip Driessen.
A unique keynote speech
"I'm currently working on special projects related to AI and mental health in Paris," Yama's speech at the OAY continues. "I work on my start-up, SensAi, at the innovation lab of France's most prestigious engineering school, École Polytechnique. I am researching the therapeutic use of boxing when coping with trauma. It's good work, but sometimes I still get the feeling that I haven't really achieved anything yet."
For the first time at the opening of an academic year, the keynote speaker invited students on to the stage. "I was very nervous, so it was nice not to go through that alone," Yama laughs, looking back. "And besides, I think the students should be in the spotlight at an event like this. It's all about them." Three students volunteered to share their stories with the audience: "That is incredibly brave. Talking about your misadventures is not a sign of weakness. In fact, showing vulnerability is incredibly powerful."
"Letting go of my own high standards has set me free," Okeeno Hamilton, one of the three students, says on stage. He was the first person in his family to go to college, and that pressure became too much for him. "I studied like crazy and wanted to get at least an 8 in every exam. But the first grade I received was a 6." As much as Okeeno regretted that grade, it eventually got him where he is today. "A burden fell off my shoulders because I couldn't achieve my nonsensical goal. The freedom I felt then gave me the strength to still achieve wonderful results."
"Letting go of my own high standards has set me free."
Okeeno Hamilton, student sharing the OAY stage with Yama
Training together worldwide
In 2015, Yama volunteered at innovation platform Techfugees. He regularly attended important international conferences, including the Tech Good conference in Paris. There, he bumped into the former prime minister of Greece, George Papandreou. And that meeting brought Yama something beyond his wildest dreams: "Right after our conversation, he gave a speech on stage. And suddenly he mentioned my name! He talked about me and suddenly my story was the topic of conversation at that conference. Which opened so many doors for me."
Yama's company SensAI creates smart boxing bags that allow trainers and students around the world to exercise together. "So I can train my own family in Afghanistan from the Netherlands or France," Yama says. In addition, SensAi develops algorithms for athletes. The body is fully analysed and personalised workouts are developed based on that analysis. This innovative and timesaving algorithm has been taken up by the Olympic Committee and in the run-up to the 2024 Olympic Games, SensAi's techniques will be used. "It's a great opportunity," says Yama. "Both as an entrepreneur and as a sports fan!"
"Suddenly my story was the topic of conversation at that conference. Which opened so many doors for me.''
Yama Saraj, keynote speaker
A new way of thinking
Despite all of Yama's recent achievements, he will never forget the source of his perseverance. "There's no opening of the academic year for girls and women in Afghanistan," Yama said in his keynote speech. "Don't be too hard on yourself, but don't forget the privileges we all have either. By recognising and acknowledging that in each other, we can develop a global sense of compassion and solidarity."
In his speech, Yama mentioned some disturbing figures related to student welfare: "80% of students feel lonely at times. That is hardly surprising in a world with so much going on. There's plenty to worry about and you can forget yourself or others in the midst of this chaos." But that has to change, says Yama. "Never lose sight of your own mental health. Being healthy and happy may be the only achievement that really counts."
"Don't be too hard on yourself, but don't forget the privileges we all have either.''
Yama Saraj, keynote speaker
Text: Frederique Huting (Letterdesk)
Also read
SBE Academics created and successfully tested a practitioner's guide for asset managers & asset owners. The guide has helped financial institutions like Nationale Nederlanden, Pensioenfonds Detailhandel, and more in assessing the sustainability preferences of their clientele. 

Legal scholar Amy Azhar on the unintended consequences of the possible new legislation limiting the influx of foreign students in the Netherlands.

For 40 years already, Annemie Mordant has been convinced that academic and support staff are stronger together. Until her retirement, as the head of MEMIC (the centre for research data management), she dedicated herself to optimally facilitating collaboration between academic and support staff. "We...