Opening of the Academic Year 2023/24: a recap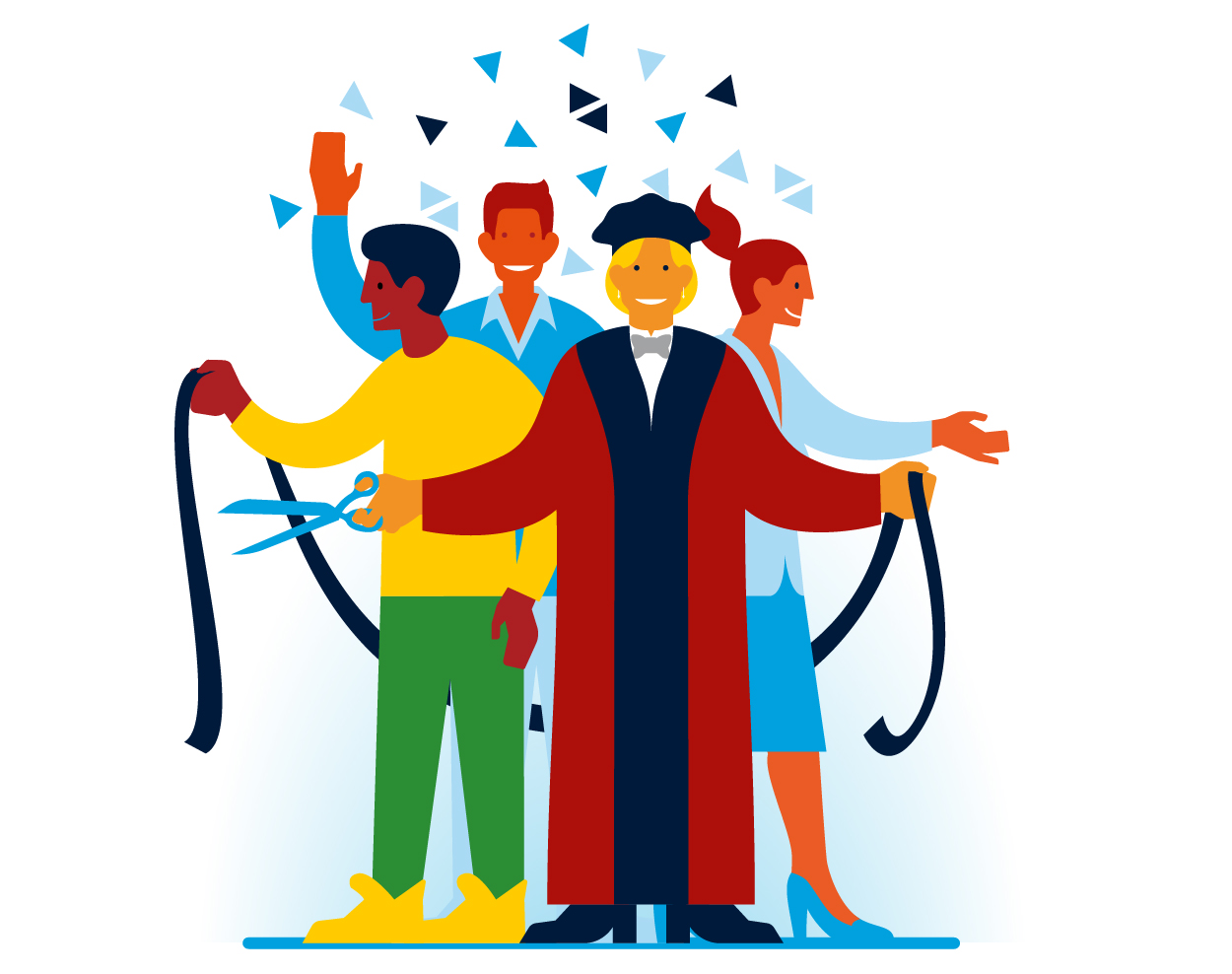 Compassion and challenges: flourishing through resilience
Professor Rianne Letschert, President of the Executive Board, opened the event with a speech that tied in seamlessly with the theme of the opening of the academic year, 'Compassion and challenges: flourishing through resilience'. She emphasised the importance of the wellbeing of students and staff at Maastricht University in an academic world increasingly focused on performance and status.
This year's keynote speaker was entrepreneur Yama Saraj. He shared his life story, full of setbacks and triumphs. Together with students Rosanne Vosters, Okeeno Hamilton and Natalia Podstawka, he discussed the mental hurdles (young) academics face. Yama gave us important insights that we will work on together in the coming academic year.
"Differences in opinion should not cause polarization in our community but should be shared and respected and will ultimately help to improve the quality of our decisions and policies."
Rianne Letschert, President UM
We also enjoyed the magical sounds of the musical duo Aafke Romeijn and Bram Ieven, and the jazz band CLS Trio from the Conservatorium Maastricht. After a great award ceremony with delighted winners, we toasted to the opening of the academic year 2023/24.
"Being vulnerable is not the same as being fragile. There's a difference between acknowledging your struggles and letting them define you."
Yama Saraj, keynote speaker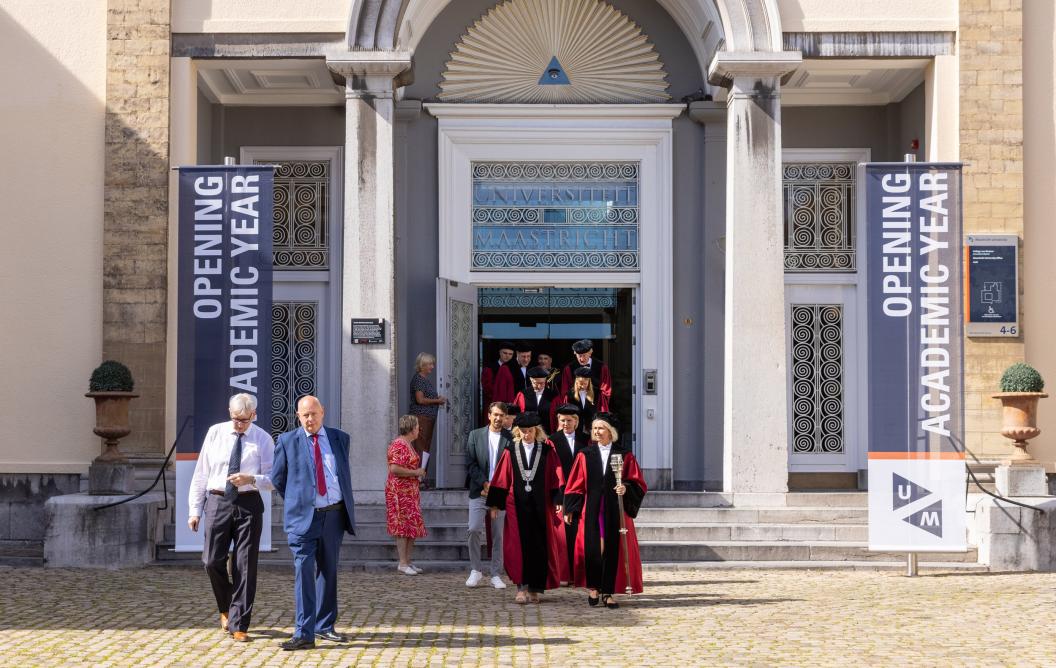 Click on the icon to browse through the photos.
Photos: Philip Driessen
Video of the Opening Academic Year 2023/24
All the winners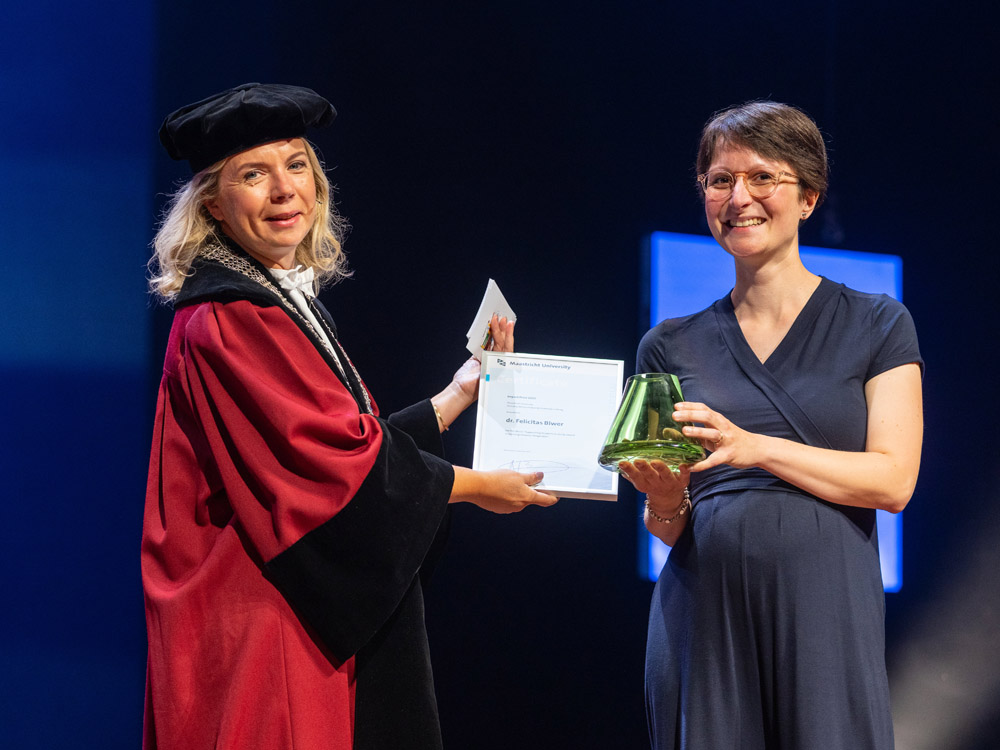 Impact Award
The Impact Prize is awarded annually to the PhD student whose research has had the greatest impact on society. This year, it was Study Smart by PhD candidate Felicitas Biwer. Study Smart is an online platform that provides training and insight into effective study methods. In collaboration with EDLAB, the Faculty of Health, Medicine and Life Sciences and representatives from other faculties, Felicitas has developed the platform that 3,000 students already use.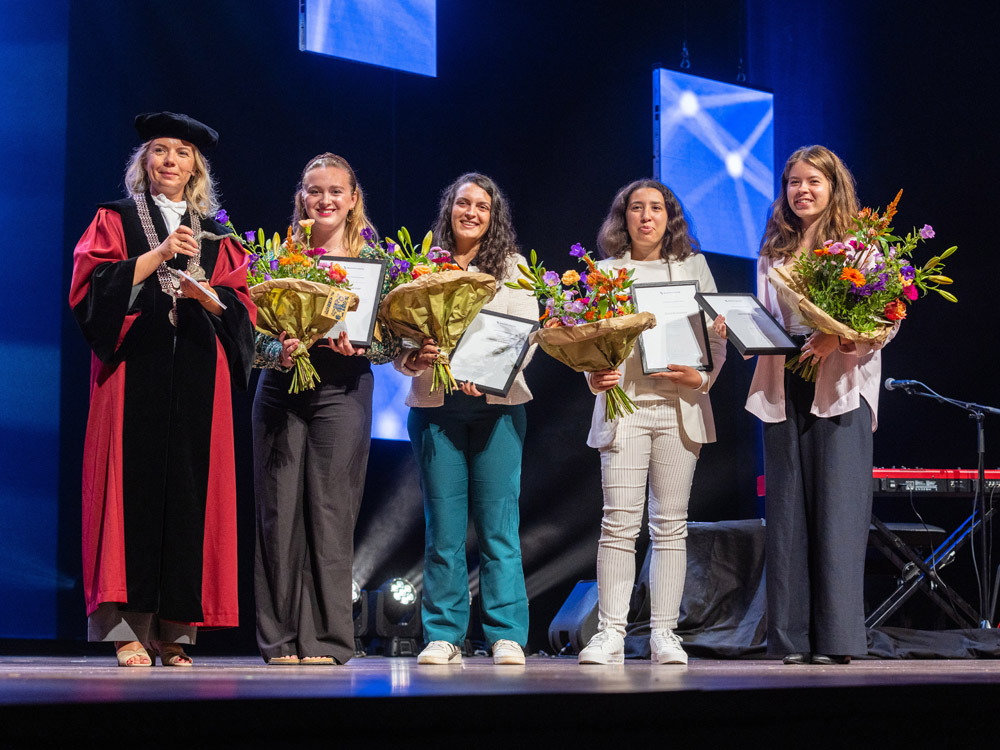 UM Student Award
Every year, the UM Student Award is awarded to students who, in addition to their studies, have made exceptional social or cultural contributions. This year, the prize went to the DIAS (Diversity, Inclusivity, Accessibility and Sustainability) project group of students Maaike van Uum, Helena Sanvicente, Serena Boukelmoun and Anna-Maria Lipolit. 
As part of their 'Are you okay' campaign, DIAS created stickers with a QR code linking to an interactive infographic, listing available emergency services and contact details.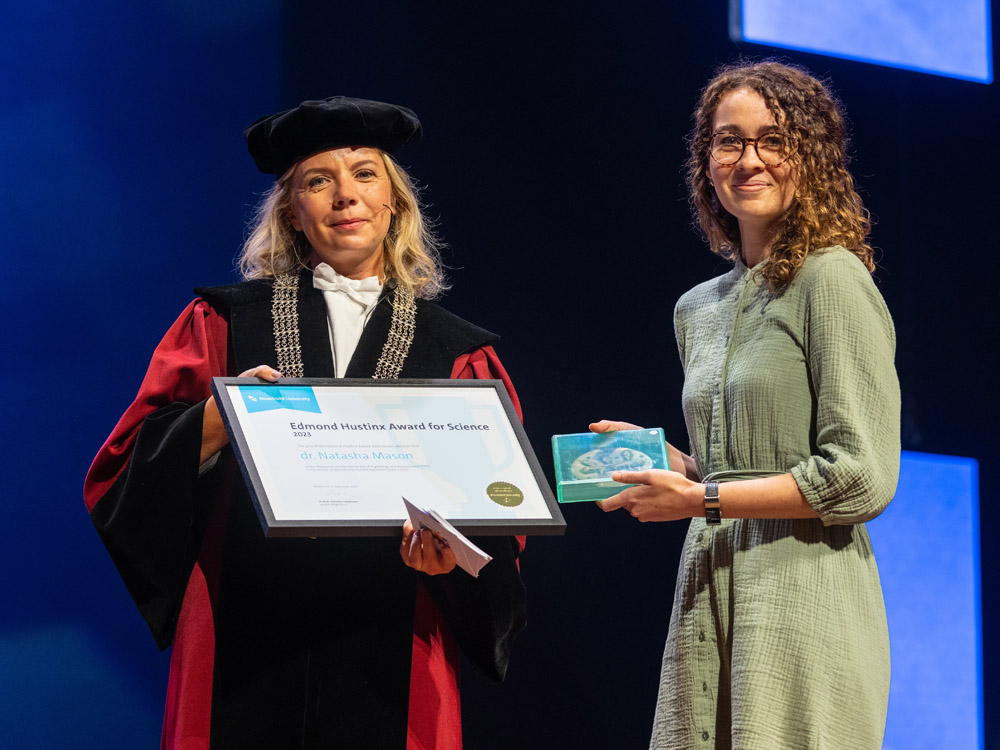 Edmond Hustinx Prize
This year's Edmond Hustinx Prize was awarded to Natasha Mason, Assistant Professor in the Department of Psychopharmacology and Neuropsychology. For the past nine years, she has been investigating the potential therapeutic benefits of psychedelic drugs and cannabis. The Edmond Hustinx Prize is awarded annually by the Edmond Hustinx Foundation to highlight the impact of science in South Limburg.