Staff support students
Are you a UM employee and want to support your students in feeling well and becoming more resilient during and after university life? On this page you will find everything you need to support students; from workshops and training modules to online resources and roadmaps.
At UM we care about our students' wellbeing and employability. With our slogan 'It takes a community to support a student', we think every member of the university and society has their own contribution to students' wellbeing and employability. The UM Psychologists and UM Career Services developed a programme to guide all university staff through this task.
Online coaching modules for staff
UM Psychologists and UM Career Services have designed and developed several online modules to support staff members when guiding students through their process. These modules contain theory and coaching models. However, above all they contain many practical tips, tools and exercises to develop your most essential coaching skills and competences. The modules can be found in Canvas and are accessible for all UM employees.
The modules:
Coaching skills
Advanced coaching skills
Coaching competence development
Addressing challenging behavior
Help! My student wants a job
Fostering students' employability and wellbeing
Do you want to foster your students' employability and wellbeing? Do you want to support them in setting concrete goals, developing their competences and making themselves more resilient and employable? Get started now.
Workshops for staff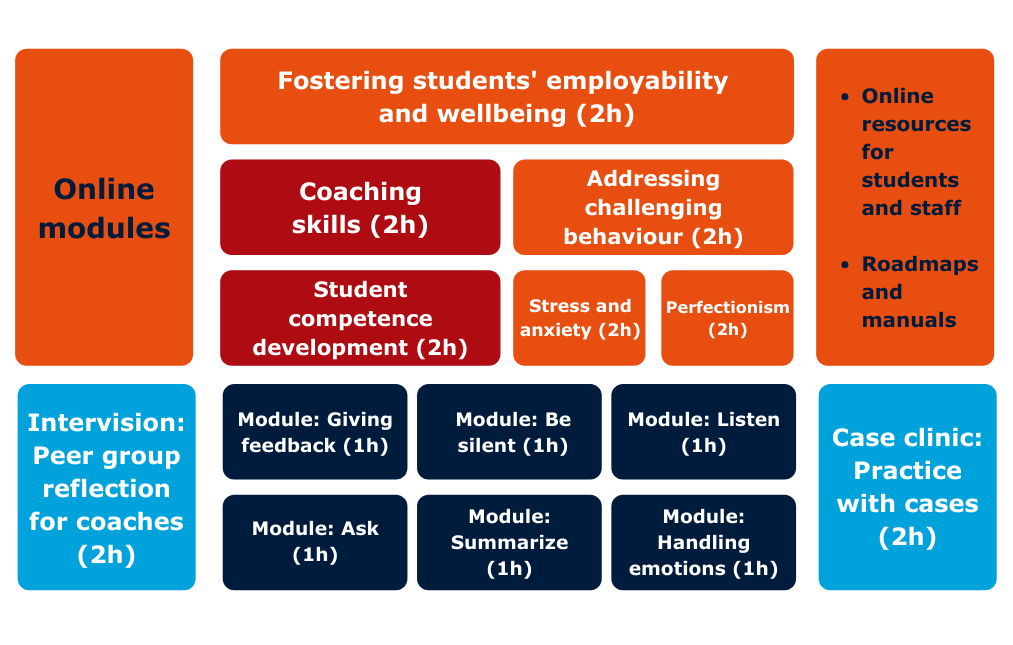 Modular programme: Staff supports students' professional and personal development
Fostering employability & wellbeing
In this workshop we introduce you to UM Career Services & UM Psychologists and their services for students, staff and peer supporters.
In addition, we will introduce you to (online) supporting tools (such as the Overview Career Links, E-health Modules by Caring Universities, referral chart, manual suicide prevention) that can help you and your students to find answers to employability and wellbeing related questions. Together, we will discuss several cases and find out where you as staff member can refer students to for the right support.
Support your students' Professional development
UM Career Services supports you to support your students on topics of employability.
Designed to train mentors, coaches and tutors on coaching and mentoring skills, our coaching modules Coaching skills and Student competence development are used at all faculties. Participants are students and staff in a mentoring or coaching role, e.g. in bachelor, master or honours programmes.
Coaching skills is the foundation of the training programme. It is used for training first-time mentors and tutors. Student competence development has been designed for staff that coaches students in their competence development (e.g. Learning & Development in organizations, honours programmes). 
Support your students' Personal development
All staff, including student assistants and peer supporters can encounter students who struggle with mental health issues or study stress. There are three modules that focus on how to react as staff. In the workshop Addressing challenging behaviour we discuss possible signals of a student that is going through a difficult time and we practice on addressing this. The workshops Stress and anxiety and Perfectionism focus on two main themes regarding study related stress and mechanisms that can affect wellbeing study progress.
Communication skills
Additionally, faculties and service centers can choose 1-hour theme modules, to mix and match the specific training needs of their coaches and mentors.  We also offer two supporting modules: Intervision (peer group reflection) and a Case clinic (high-paced practice with real-life cases).
What did participants especially like about our sessions?
'Very hands-on and full of examples'
'Tools to help students in need'
'The open discussion among group members'
'Having an overview of all services'
 'The combination of background and practice'
'The contents were directed to the needs of the participants'
'The opportunity to share experiences, to get immediate feedback. A moment of reflection, learning from other people's experiences'
'Getting a chance to practice coaching in the training session'
Are you interested in following one of our workshops? At the moment we are offering some of these workshops during the Wellbeing Wednesdays and through Edlab. If you are interested in one or more modules for your staff or if you are looking for more information, please contact us via studentenpsychologen@maastrichtuniversity.nl.
You worry about a student: what can you do?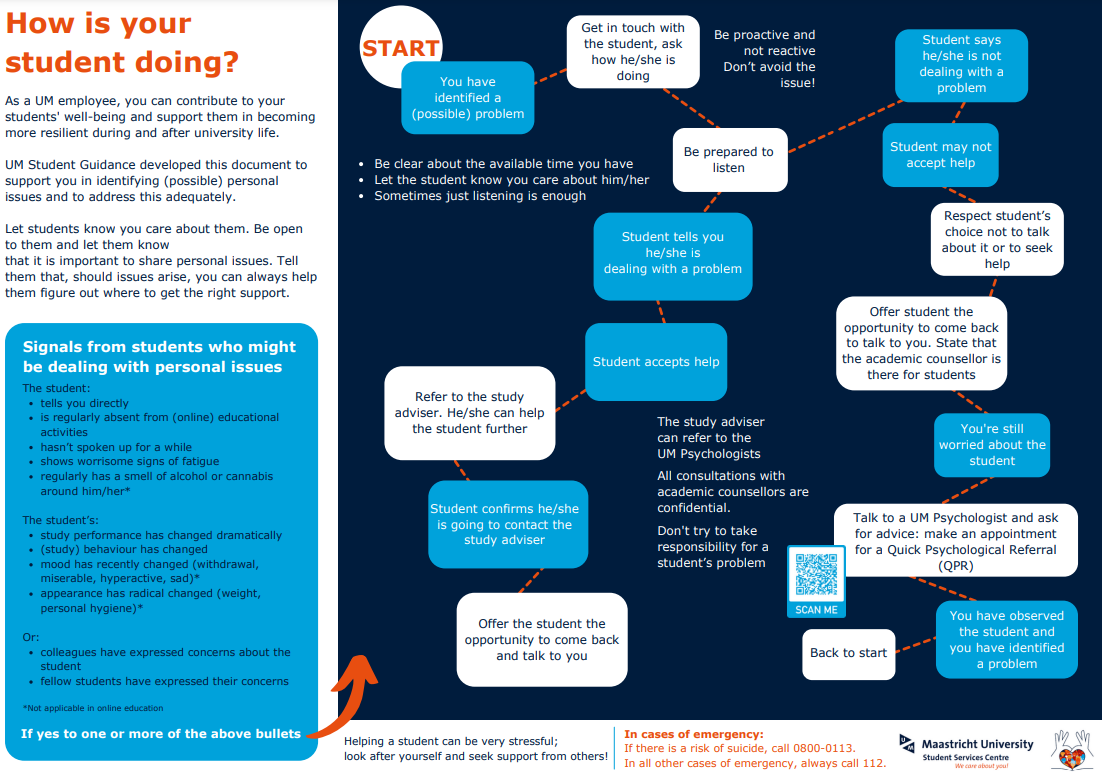 How to refer correctly?
Does a student come to you with psychological complaints or perhaps even suicidal thoughts? These roadmaps and manual can help you refer them to the right care:
Have a look at the Student Wellbeing Overview and what the UM Psychologists offer for students.
You can direct students to these webpages, where you can find all the information about the online offer and the UM Psychologists, including information about the Dutch Health care system. You can also find a few ways for students to find out what they need:
Consult a UM Psychologist
Are you worried about a specific student, is the student not ready to see a psychologist and would you like to discuss the situation with a UM Psychologist? As a staff member, you can also book a QPR session.
A QPR is a ten-minute (online) meeting in which you can briefly describe the situation of the student and ask the most relevant questions. The UM Psychologists offer a quick look, advice on what to do next and/or help you refer the student to the right care. 
The online QPR takes place several times a week. Make an online appointment for a QPR, choosing the option Online QPR in the drop down menu. The UM Psychologist will contact you at the time of your appointment.
How to make the most of your ten minutes:
Be on time.
Try to verbalize what the biggest concern/issue is.
Make sure to guarantee the privacy and anonymity of the student, unless you have the permission of the student to do otherwise.
If indicated, an intake appointment with a UM psychologist can be booked during the session. Have a clear view on the availabilities of the student. We try to avoid making appointments through e-mail afterwards.
All information acquired during the QPR sessions is treated confidentially and will not be registered.
Resources for staff
Below we collect links to websites and partners with information, working material, courses etc. regarding the topic of student wellbeing. Some organisations can provide indoor trainings for your team. Tip: subscribe to their newsletters and check their agendas for interesting upcoming events.
| Language of site | About | Source |
| --- | --- | --- |
| NL | Course about psychological problems, how to recognise and handle. | |
| NL/ENG | Suicide prevention: telephone helpline, online therapy, content, support, training courses for professionals and organisations. | |
| NL/ENG | Everything about students with an extra demand for support, including education and student wellbeing. | |
| NL/ENG | Documents for support of students with an extra demand for support (functional disability, developmental disorders, psychological complaints). | |
| NL | National association of study advisers. Interesting courses, also for non-members. | |
| NL | How to stay in contact with and available for students in times of corona? Website focused on school-age children, but with usefull tips, information and trainings regarding students. | https://www.schoolenveiligheid.nl/kennisbank/mentaal-welbevinden-bij-les-op-afstand/ |
| NL | Make room for a life with and after corona; about change in perspective from a 'failing mode' to a 'developmental mode'. | https://www.nji.nl/nl/Download-NJi/Schep-ruimte-voor-een-leven-meten-na-corona.pdf |
| NL/ENG | Websites focusing on lonely youngsters, both with information and tools for professionals or people close to the student who can offer support. | |