Research institutes
Institute for Globalization and International Regulation
The Institute for Globalisation and International Regulation (IGIR) is an interdisciplinary research institute based at Maastricht University's Faculty of Law. The mission of the institute is to conduct research, to offer courses and seminars and to advise on the role of international regulation in addressing problems and challenges resulting from the process of economic globalisation.
Fast facts
research on the international economic system
impact of emerging economies on international regulation
member of the European IP Institutes Network
member of the Pan-European Seal Professional Training Programme
led by Prof. Anselm Kamperman Sanders
Research
IGIR's research examines the policy, economic, and legal structures and processes through which the international economic system is regulated, focusing on the role that emerging economies such as India, China and Brazil play in the re-ordering of international regulation. To that end, IGIR collaborates with partners in emerging economies and recruits Fellows and PhDs from these regions. The IGIR research group focuses on the concept of "Trust in Trade", which serves as an overarching focal point to address the regulation of Global Markets and the role that national, regional and international actors and institutions play in this regard.
IGIR has three research lines in International Economic Law: 1. International and European Intellectual Property Law and Knowledge Management; 2. International and European Trade and Investment Law; and 3. International and European Economic Law and Policy. 

 Visit IGIR's research

IGIR's research mainly takes place
in the following pillar:
 
3. Globalising Markets
IGIR blogs
ChatGPT's rapid virality sparks both enthusiasm for using the product and concerns about consumer protection. Protecting consumers in the age of AI was also a central topic at the AI-Assisted consumer seminar, co-organized by MaRBLe, GLaw-Net, and IGIR.

Technological developments challenge consumer protection in the digital sphere. One adaptation that could make the digital environment become safer and more trustworthy is to provide consumers with explanations of AI-based algorithm mechanisms used by intermediary platforms.

How does EU consumer laws address dark patterns on the Internet? This topic has been part of the scholarly debate during the panel discussion "The AI-assisted consumer", organized on 6 December 2022 in collaboration with Glaw-Net and IGIR.
More blog items
The widespread use of AI-assisted technologies in the digital sphere has given rise to the concept of digital vulnerability, as a contextual vulnerability experienced by internet users. This phenomenon sparks debate about whether the current legislative framework is sufficient to ensure effective protection.

Content creators, exercising their freedom of expression, may use trade marks in their content in a way that might damage the interests of trade mark proprietors (e.g. use of Nike shoes in a porn movie). How does EU trade mark law address these different interests?

The European Patent Convention defines subject-matter that is not eligible for patent protection, such as methods for doing business. However, when implemented by a computer, non-eligible subject matter becomes eligible for patent protection. Is this desirable?

EU trade mark law excludes certain signs from becoming registered trade marks. In particular, shapes cannot be registered if they are necessary for achieving a technical result. In 2015, the amended Regulation broadened this exclusion to 'another characteristics'.  But what is now covered exactly?

As Internet users produce creative content (generally referred to as 'user-generated content' or 'UGC') by building on pre-existing copyrighted material, one might wonder how the current EU copyright regime deals with this phenomenon, especially after the recent addition of the Digital Single Market Directive.

In its fining decision of 14 September 2021 regarding Samsung, the Netherlands Authority for Consumers and Markets (ACM) imposed a fine of over EUR 39 mln on Samsung Electronics Benelux B.V. (Samsung) (the Decision). According to ACM, Samsung coordinated the retail prices of Samsung television sets together with various retailers by exercising undue influence on the online retail prices of television sets of seven retailers.

Digital platforms are one of the key developments in facilitating industry 4.0 and are at the center of the multifold benefits the consumers derived through this. An important feature of the digital platforms is the presence of high sunk costs and low marginal costs (UNCTAD, 2019). This occurs since the major cost of operation is the platform creation and popularizing it among the stakeholders. Algorithms is the key tool through which the major decisions and processing undertaken by these platforms. This involves high investment in the initial stage of operation. Apart from this, successful operation of any platform depends on the efficient marketing and the service delivery to make it popular among customers. Prevalence of high sunk cost and network effects makes high entry barriers to the new players to successfully enter into the market.

Digitalization has gradually changed business models and reshaped human lifestyles. The rise of business models based on the collection and processing of consumer data allows undertakings to charge business customers and final consumers different prices for the same goods or services, offered at precisely the same time. This technique, which is called "AI-enabled price discrimination", has deeply affected people's daily life. For example, when ordering the same hotel room on the same Chinese website at precisely the same time, a loyal customer was charged more than a new customer (see CCTV.com).

The drafters of EU Computer programmes Directive were aware of the competition law implications of extending protection to the interfaces necessary to enable interoperability of programs and devices. Neither the U.S. Congress nor the CONTU seemed to think of interoperability. So the U.S. Copyright Act of 1976 as amended says nothing  about program interfaces or interoperability. In light of this, in their latest article, Samuelson and Lemley talk about interfaces and interoperability after Google v. Oracle arguing that notwithstanding the Court's assumption that APIs are copyright-protectable, the numerous appellate court rulings that interfaces are not within the scope of protection afforded to computer programs remain good law. The article explains why uncopyrightability defenses are better than fair use defenses to fend off over-expansive software copyright claims. This blog summarizes some of the key thoughts therein.

In April 2020, the French competition authority adopted an interim decision against Google obliging it to enter into negotiations with press publishers to establish the amount of remuneration for the use of publications protected by the related right for press publishers, as foreseen by the DSM Directive, which France was the first EU country to partly implement. Google in order to avoid making any payment for the use of press publications in its services stopped displaying the protected content until it obtains a free license. Some believe this shows how competition law may become a redistributive instrument for the realization of socially relevant aims, such as the protection of free press. Many argue, however, that it should not be a tool for repairing laws which many consider structurally flawed, and that the authority's decision was badly reasoned.

Can firms undertake costly litigation to protect its brand's core market against infringers? Trademarks are an important intellectual property that plays a significant role in commercialization of a product. Despite several international treaties that aim to protect this right for a firm, competitors do engage in considerable amount of trademark infringements for economic reasons. Our research shows that firms that develop a reputation of toughness against trademark infringement create a deterrence effect for future infringers.

On 15 December 2021 the European Parliament has adopted in 1st reading the long-awaited Digital Markets Act – a regulation, aiming to recalibrate competition in the most important sectors of the EU digital economy. As this law and this new regulatory modality are indeed capable to have a paradigmatic impact on such an important industry, the variety – and the polarity – of the interests aiming to contribute to the wording of the DMA, is understandable.

The facto standard for the performers remuneration in the digital context is based on the Common Law model and so, on the contractual agreements between labels and individual performers. Data suggest that following that path the future looks dark for the musicians. I suggest to analyze the Continental model and how the intervention of the CMOs can improve the performers remuneration.

Because of the internet and globalization, copyright infringements often have a cross-border character. If you post a blog illustrated by an image which you found on internet, you can be sued by the copyright holder of the image before the courts in all 27 EU Member States. This blog post focuses on geo-blocking as a tool to prevent being sued in Member States for cross-border copyright infringements. The latter topic will be viewed from various legal perspectives namely private international law, copyright law, EU law, in particular the Geo-blocking Regulation, the right to information, freedom of expression and cross-border trade.

The intellectual property (IP) legal system for 3D printing is challenged by digital technologies and the platforms that disseminate Computer-aided design (CAD) files. Can the IP system be reconceptualized as a complex adaptive system to better incentivize and channel resources of 3D designs on digital platforms?

While the role of access to data and algorithms in digital markets is debated in scholarly literature, it is evident that there are circumstances in which it is necessary to scrutinize databases, algorithms, and source code that are used in digital services for the purposes of the enforcement of the relevant regulation. The question which this post aims to answer is how does the legislative proposal of the Digital Markets Act (DMA) approach these needs in regard to the structure of competition in digital markets. The main purpose is to provide a better understanding of the regulatory act proposed by the Commission, and in particular, the provisions of DMA that include solutions which aim to ensure access to databases and algorithms used by big tech companies.

"While the main stories about antitrust enforcement in digital markets that we hear about in media and specialized outlets focus on Europe and the United States, competition agencies in other regions of the World are also active in this front. How are the competition authorities in Latin America and the Caribbean contributing to the investigation of competition challenges in digital markets?"

The disputes concerning FRAND licensing of standard-essential patents (SEPs) are critical legal issues that dominate the development of the standard-implementing industries like the telecommunication industry. Recently, the patent owners of standard-essential patents tend not to license to rival component suppliers but to end-product manufacturers to maximize their interests. This trend has spread from the cellphone industry to the automotive industry and from the United States to Europe.

This blog analyses the obligation of Albania to approximate its existing and future competition law with the EU competition acquis, including the need to transpose the ECN + Directive in the pre-accession stage. Then, the blog discusses the approach taken by the Albanian Competition Authority (ACA) to transpose the ECN + Directive is mistaken. It concludes that the harmonisation of public enforcement tools is far from being completed.

Data spaces are an important initiative to promote data sharing within the EU and across sectors and to make more data available for the benefit of society at large. At the same time, however, data spaces could be challenging under competition law.

Data is intangible, non-rivalrous, and produced in vast quantities with little to no incentive. How then can it be a source of competition issues in digital markets? This blog seeks to explain.

In the digital economy, algorithms are the new air- they are everywhere, essential for survival online. Algorithms manage every keystroke, every search, every step on the web. Algorithms are a sequence of instructions to solve a problem and take decisions. Online platforms use algorithms in every step of their operations, from search results to payment portals.

As we all can experience in our daily basis, we are living through the age of digitalization. Goods that were formerly tangible (as paperback books) or that at least had a tangible medium (as cartridge-based videogames), are now available in full-digital versions. Moreover, many physical goods are now "smart" (even smarter than us), incorporating software that allows them to exchange data with communication networks (as self-driving cars).

Article 17 Digital Single Market Directive necessitated many online platforms to have an upload filter to prevent copyright infringements. The rationale behind this was to solve the 'value gap' that the music industry believed to exist between revenues generated by music-streaming platforms and revenues of music creators. But was there a disease to be cured in the first place?

Disruptions of supply—as opposed to refusals to supply—are a suitable qualification for the 'open early, closed late' scenarios often observed in the digital economy. The case law, however, does not always distinguish clearly between the two types of conduct. This blog post traces the evolution of that case law, asking whether disruptions are different enough from refusals to merit separate (less stringent) standards.

Some conducts encountered in digital markets, e.g. killer acquisitions, self-promotion and marketing strategies, non-transparent and discriminatory interfaces, signify a need for ex ante regulation, as widely acknowledged. The European Commission, UK Government and US Senators proposed legislative measures to cope with such potential or actual market failures. Against such legislative responses, one can pose the question whether or to what extent economic regulation principles are respected on each side of the Atlantic.

Representing the prototype of multi-sided platforms, app stores are at the forefront of the debate on digital markets. Several regulatory proposals place on app stores neutrality obligations vis-à-vis third parties.  Are EU and US competition laws utterly unfit to tackle platform-related behaviours? What happens if we give up on economically-sound antitrust assessments?

As Big Tech Platforms increasingly become unavoidable actors in digital markets, there seems to be a consensus in the EU, UK and USA that legislative action must be taken to tame their power. However, there are several notable differences in the way in which they suggest to design this regulatory intervention.

In early 2021, Europe's twelve leading football clubs joined hands to create the European Super League. Despite the presence of notable clubs such as Liverpool, Manchester United, Milan, Barcelona and Real Madrid, the League soon fell apart. Unable to convince those on the football field, the three clubs - Italian Juventus, Spanish Barcelona and the Real Madrid - joined hands to formally register a complaint before the Madrid commercial court, which in turn has referred some questions to the ECJ. This blog contemplates about the issues referred to therein.

The EU recently introduced text and data mining exceptions to copyright infringement. However, they are too narrow and situation-specific to enable scientific development. In my master thesis, I suggest adopting a non-enjoyment exception for new technological uses, including text and data mining.

While the trade mark system seems to embrace the expansion of trade marks to Virtual Reality, an intervention is required when an interplay between the virtual and real-world exists.

Recently, the General Court in the HELL coffee case has confirmed that a descriptive foreign language term (German word HELL) can be granted protection under EU trade mark law (Hell Energy v. EUIPO, T-323/20).

When we talk about Trade Marks Trolls we don't mean the ugly creature that might come to your mind. Instead, we speak about practices that constitute an abuse of trade mark law. So, how to defend yourself against such behaviour?

What does the term 'MOCCA' evoke in your mind, a kind of coffee or a specific brand? This Kat randomly asked this question to her friends currently at the Max Planck Institute for Innovation and Competition Munich. Most of them regarded 'MOCCA' as a kind of coffee instead of a specific brand except one Italian colleague who also saw 'MOCCA (almost phonetically identical to 'Moka')' as referring to the Moka Pot (Italian wiki page). The diverged answers could be interpreted as showing different opinions on where the term is standing on the slope of trade mark genericide (certainly the slope will not be as smooth, or even could have a U-turn). 

Patent aggregation is one of the critical paths to raise revenue and earn a return on investment in the ICT sector. It comprises all activities whereby firms build sets of related patents, so-called patent portfolios, and subsequently use these beyond manufacturing. Different kinds of entities pursue such patent aggregation activities, well beyond the usual suspects of patent trolls and pools. The main distinction between patent aggregators is between practising entities and non-practising entities. The former ones are vertically integrated patentees that both sell patent implementing products and monetise their patents. The later ones are patentees operating only in upstream technology markets without downstream product activities. Several notable instances of patent aggregation activities relate to Canadian firms.

Geographical indications (hereinafter GIs) are signs used to safeguard the existence of a link between a product and its place of origin, focusing on quality and tradition. 

For more than 40 years now, the harmonisation and unification of the European patent law have been discussed. So far, the only European legal instrument regulating substantive patent matters is a European Patent Convention (EPC) signed in 1973. The EPC, however, is outside the EU's legislative and judicial framework - once granted the European patents by the European Patent Office (a non-EU institution itself), their enforcement is entirely within the competence of the national courts of signatory countries of the EPC.

Constructing a functioning single market for business and trade among the Member States of the European Union (EU) has been the cornerstone of the EU project, and remains one of the strongest drivers for EU-level legislative reform. Over the years, the EU has prioritized the harmonization of copyright and related rights by passing a series of Directives and Regulations aiming to unify aspects of Member States' regulatory practices, and thereby improve the overall functioning of the "Single Market."

The implementation of the Unitary Patent Package will represent the result of the evolution towards the unification of the European patent system.

Plant varieties are difficult to make but easy to reproduce. Proving that someone reproduced a plant variety, however, is extremely hard. For organized crime, infringing plant variety rights therefore presents low-hanging fruit, with consequences far beyond the infringement of IP rights. 

The topic of AI-generated inventions requires preliminary clarifications: what do we mean with AI? What is the meaning of AI-generated inventions?

An EUIPO Board of Appeal agreed with Facebook that the figurative mark MYHUNTBOOK would take unfair advantage of Facebook's reputation. This was, primarily, due to the inclusion of "book" in the mark. Is such protection not too far-reaching?

Nobuki Yamamoto, a Japanese contemporary artist, made an eye-catching work of 'goldfish swimming in a phone booth' ('Work 1') by December 2000 at the latest. In October 2011, a student organisation called 'Goldfish Club' at Kyoto University of Art and Design produced Work 2 and exhibited it for a week in the same month in the Osaka Nakanoshima Park. 

Current US and EU secondary liability standards do not address all factors to trigger liability. This influences legislation and case law, setting an uncertain secondary liability outcome of IP infringement cases against Internet Intermediaries'. I suggest that tort law can tackle this problem.

Can a single colour alone be a trademark? The question is neither new nor unexplored. However, old wine in a new bottle is presented by the General Court in its decision rejecting an attempt to register a shade of colour for inhalers for asthma and related pharmaceutical preparations, reinstating the difficulty to protect a single colour as a trademark.
Agenda
We are excited to announce the upcoming seminar on Innovation in the EU Plant Breeding Sector, taking place on June 19, 2023, at Maastricht University Campus in Brussels, Belgium. The seminar will explore various topics related to the challenges and opportunities facing the plant breeding sector in the EU, including climate change, consumer demands, global competition, and community plant variety rights.
 

The Globalization & Law Network is composed by a group of researchers of Maastricht University, coming from different backgrounds, who study the role that law plays in a globalizing society from a holistic perspective.

Anselm Kamperman Sanders
"IGIR acts as a research institute but does contract work as well, such as consultancy projects, but also invest in curriculum building in many developing countries."
Watch the whole interview

Peter van den Bossche
"Teaching is my passion. I love acquainting students with international economic law and, most of all, challenging them to think about the sometimes difficult balance between free trade and other societal values."
Read the whole interview

Denise Prevost
"The current relevance of IGIR's research focus is shown by the variety of projects in which IGIR engages, such as policy briefs on the implication of trade law for new initiatives to reduce greenhouse gas emissions."
More on Denise Prevost
Research
IGIR's research examines the policy, economic, and legal structures and processes through which the international economic system is regulated, focusing on the role that emerging economies such as India, China and Brazil play in the re-ordering of international regulation. To that end, IGIR collaborates with partners in emerging economies and recruits Fellows and PhDs from these regions.
The IGIR research group focuses on the concept of "Trust in Trade", which serves as an overarching focal point to address the regulation of Global Markets and the role that national, regional and international actors and institutions play in this regard.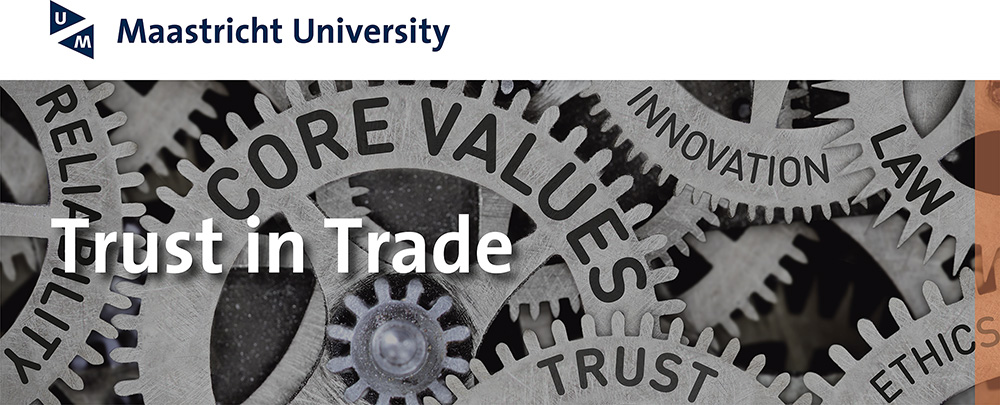 For more information, see our research lines