Pauline Melin (P.V.M.)
Pauline Melin is Assistant Professor in EU Law at the Faculty of Law at Maastricht University. In that capacity, she is currently teaching "European Competition Law" (master course) and course coordinating "European Migration and Citizenship"(master course) .
She defended her PhD at the same university on the External Dimension of EU Social Security Coordination in 2018, supported by an ITN Marie Curie Action grant (TRANSMIC). Prior to her appointment as Assistant Professor, she has been a lecturer in European Law at Maastricht University and a post-doc research at KU Leuven researching on EU social law with Prof. Elise Muir. In addition, Pauline Melin is often invited as a guest lecturer at the ERA Summer School on social security.
Her areas of research are EU social security coordination, free movement of persons, and EU migration law. She is member of the editorial board of the European Journal of Social Security for which she reports on the CJEU cases in the field of EU social law.
EU Social Security Coordination
Free Movement of Persons
Free Movement of Workers
EU Migration Law
EU External Relations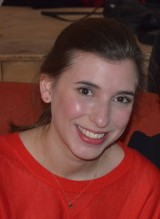 Pauline Melin (P.V.M.)
Internationaal en Europees recht
Faculteit der Rechtsgeleerdheid