Together for each other
Welcome to the UM community!
Do you sometimes think 'I would like to belong somewhere' as a student at UM? Or are there times when you feel lonely? Since September 2021 you are welcome at the UM community (UMc). A community run by students for students that wants to make sure all UM students feel at home here and have company. Simply by doing fun things together and being there for each other at difficult times.
UMc is a space where all UM students are welcome, where you meet students from other faculties, can join interesting activities and fully enjoy everything student life has to offer. UMc has its own hub where they organise events and meetings. This hub is located in the UM Guesthouse, N-building, Brouwersweg 100. But UMc offers more than a nice time and company. You can also go there for peer support.
Peer support
Do you sometimes feel a bit lonesome or are you looking for a fellow student to do something with? Are you in need of a good chat with another student during a walk? Or would you just like to grab a coffee in town?  Are you new in Maastricht and would you like to be shown around your faculty or the town? Then you can contact the peer supporter team. A peer supporter is trained and coached to offer support in an informal, but well-informed way. But keep in mind: a peer supporter is not a psychologist! If the peer supporter notices you need more help, they will help you find another type of support.
Would you like to meet with a peer supporter? Send an email to peersupport@maastrichtuniversity.nl. They will get you on your way and arrange the contact with one of the peer supporters. Together you will agree on what you need.  
Interested in offering peer support to fellow students? Then register as a peer supporter. You will be guided by the peer support team, learn new skills in a peer support training and intervision is provided by the UM psychologists. To become a peer supporter, you can also send an email to peersupport@maastrichtuniversity.nl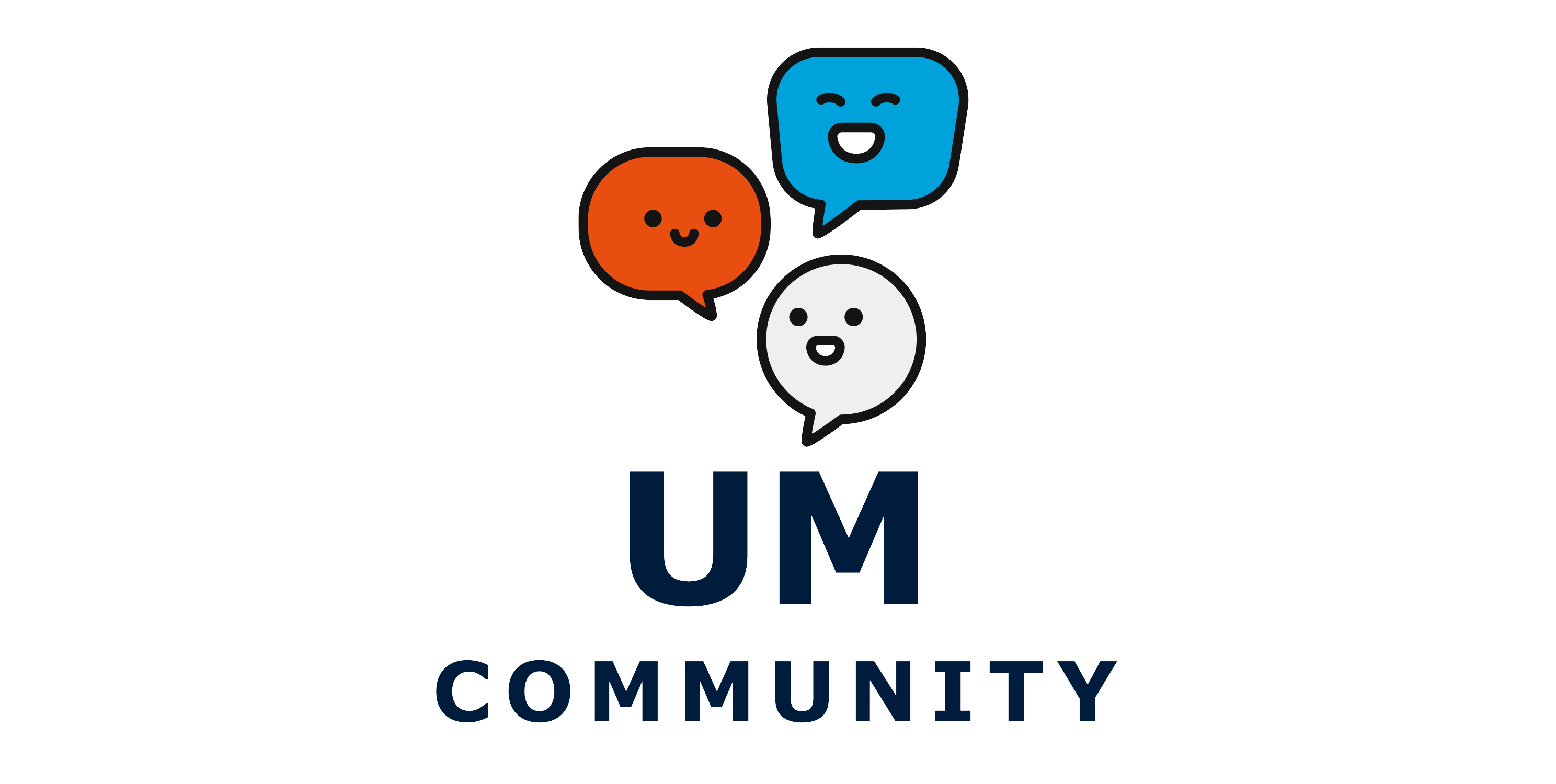 Would you like to join the UM community?
Visit the Speed Friending UMc event, on Friday 16 September. You can sign up here.
 Read below how organisers of UMc experience the community and which plans they have for the future. 
Mateusz Kubow
Head of the UM community (UMc) and third-year student at FASoS
"We started the UM community at the beginning of this academic year, in September 2021. Staff members of the Wellbeing Movement were seeking to expand the Peer Support project into something bigger where students would play a more prominent role. A brainstorm session was initiated with students who had an interest in wellbeing and current peer supporters. We shared ideas about a community where wellbeing would be an important aspect, but not necessarily at the forefront of the activities. After that, we got to bring our ideas to life. From the beginning, I was very involved in the project and quickly became the leading force of the newly established UM community. I was motivated to do something creative with my time and, at the same time, help others have a great time during their studies in Maastricht. This gave me an opportunity to meet great people as well. But most of all, I enjoy putting my organisational skills to a good use. I started my studies in September 2019, so for the majority of my time at UM, all of my education was online. After the on-campus education resumed, I was really motivated to make a change.
Esmée Dijt
Master's student Globalisation and Development Studies (FASoS)
"When I started this one-year master's programme in September, I decided to live on my own in a studio, to have some peace and quiet and not live in a house where you share everything. I did my best to make friends in the building where I lived and at the study programme, and I soon succeeded. Unfortunately, during the past year, when I had only been here for a short time, some difficult personal circumstances arose. Normally you discuss these things with good friends, but I didn't know if I was close enough with my new friends to share my emotions with them. Then I realised that I wanted to talk to someone objective. Someone who would simply listen and provide distraction by doing fun things together. What also played a role was that I sometimes felt the need to speak Dutch with someone, no matter how much I feel at home in the international community here. Expressing yourself is often best done in your mother tongue.
Coincidentally, during this period, information about the Wellbeing Week came along on Instagram. I realised that this university pays a lot of attention to the mental health of its students. I looked into the possibilities and ended up at the UM community. There I asked for peer support by e-mail. At the time, it felt quite formal, sending such an e-mail. Now it has all been made even easier and you can request peer support via social media.
Shana Donatello
Second-year bachelor's student Digital Society (FASoS)
"After I went for an exchange in Denmark – I come from the USA – I decided I really liked the international environment in Europe and wanted to pursue the rest of my bachelor's in Europe. So, I chose to come to Maastricht.
First, I joined the UM Wellbeing Movement to become a peer supporter. I wanted to be socially paired with another student, to hang out with them and help them by lending a listening ear. I think it is important to support these values of making everyone feel welcome and having someone to talk to at university. Then the peer support movement expanded into the UM community, and it became broader. We wanted to create an organisation that offered an opportunity to every student to come and meet other students.  You must not forget that it can be daunting to arrive in a totally new environment, where you don't have a network yet. We can play a big role there, especially because the UM community is an organisation run by students for students.
Also read
Were you absolutely cruising through your exams? Were you well prepared with plenty time to spare? Then Anique de Bruin's work won't change your life. But for everyone else, the Professor of Self-regulation in Higher Education has useful insights and tools. Together with a refugee scholar financed...

After several rocky years, Maastricht University alum Lea Vink has found her feet in Vienna. Professionally, she is taking new steps at the crossroads of aviation and organisational psychology. And on a personal level, luck has smiled on her since her transition from man to woman.