Volunteer for a day
Satisfaction. That is the feeling that prevails among the participants of the first Big Volunteer Day run by volunteer organisation Serve the City Maastricht. More than 50 people—students, seniors, 'Maastrichtenaren' and internationals—signed up to spend a morning helping with a number of projects in the city. The result: happy faces all around, delightful conversations and unexpected encounters.
The kick-off of the Volunteer Day takes place in the Entre Deux, the meeting point where all of the participants are served lunch afterwards. Some of the volunteers greet each other warmly. For them, it is sometimes the third or fourth time that they are participating in a Serve the City activity. "It's a great way to connect with new people", says president Daniël Herbers. "That's why many people come back."

This Saturday, about six groups are on the move: to help an elderly woman move, to play games with refugee children, to surprise bus drivers and passers-by in the city, to prepare a brunch for elderly people or to give people with disabilities a special morning.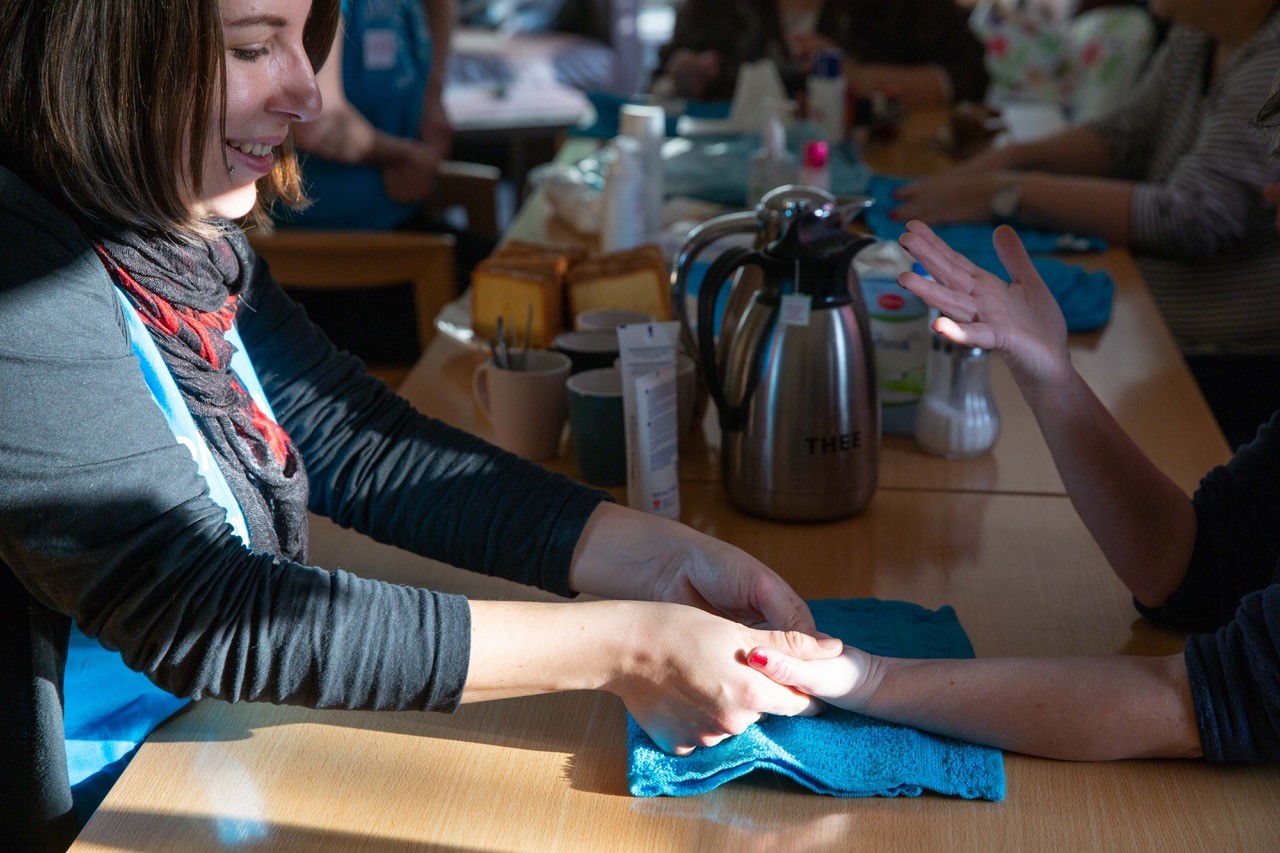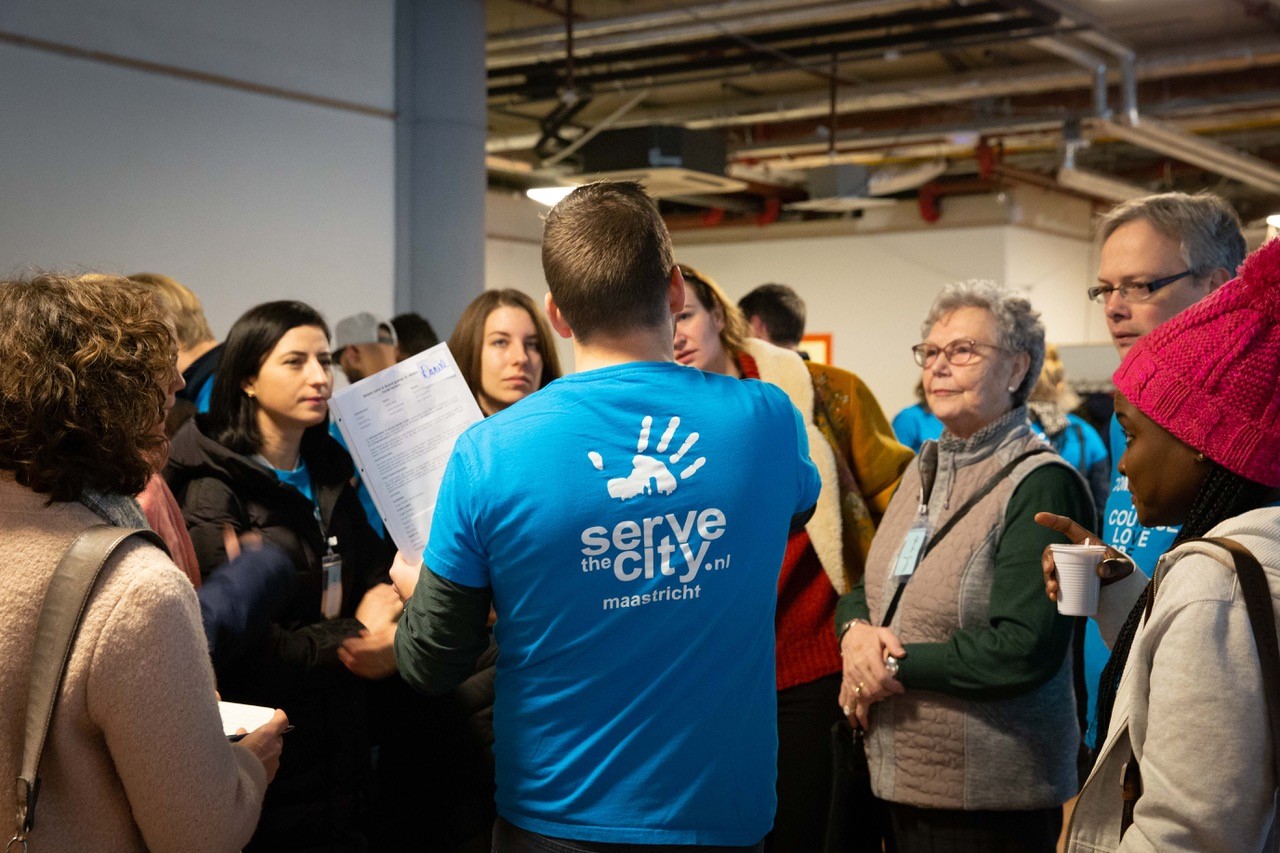 The Big Volunteer Day will be repeated in the coming months: on 16 February, 16 March, 27 April, 1 June and 6 July.>

You can register to be a volunteer at www.stcmaastricht.nl/big-volunteer-day.
The last group sets course for an assisted living location run by Radar. On the way while cycling, the mutual acquaintance takes place—in English, Dutch and Maastrichts. Students Rous and Marie (who are from Germany) have participated before; for Ralph and expats Kasia and Silvia, it is the first time. Maastrichtenaar Wenda is getting on the bus with her walker, accompanied by Zonnoh. The Liberian currently lives in the AZC in Heerlen but has come to Maastricht especially for the Volunteer Day. "I saw the announcement on the internet and wanted to help. I'm actually a nurse. I want to contribute to society—if I can't work, then through voluntary work. Unfortunately, I don't speak any Dutch."
Polishing nails
To the residents with whom Ralph, Zonnoh and Wenda play a game of Uno a little later in the cosy living room, that does not matter. They are enjoying themselves to the fullest. An hour later, Ralph is already roped into coming and playing chess with a different resident every month. In the meantime, the kitchen has been transformed into a nail salon. Hand creams, polish removers and all kinds of colours of nail polish are laid out on the table.
Marie takes care of Mieke, who wants to use nail polish with glitter. "This way, I meet people that I wouldn't normally come into contact with", says Marie. "I like to create an experience together, not only by talking, but also by doing something together." When Mieke's nails are done, the roles are reversed and she paints Marie's fingernails with glitter—lots of glitter. Suddenly alarmed, she asks if it is actually okay. "I think it's beautiful", Marie laughs. "I love excess. More is more", Mieke reassures her. "We have a lot of fun", she concludes.
Resident Kitty has left the 'nail salon' and now puts the finishing touches on a beautiful collage on paper with Rous. In the centre is a photo of the carnival band Ziesjoem. "I've been a fan of theirs for 38 years", says Kitty proudly. With infinite patience, she sticks flowers, poetry and letters around the photo. Crafting is what she prefers to do. For her, the end of the special morning comes too quickly; she could have gone on for hours.
Surprising
Greet de Rechter from Serve the City Maastricht is enthusiastic about the turnout for the first Big Volunteer Day. "We try to bring together people from different backgrounds through these kinds of initiatives. Our experience is that participants are often completely surprised: it gives back so much more than they expect. About 60% of our volunteers are students. They want to do something for the city, but they don't always know how. They find us while searching online. Often, they're also international students. For them, it's an eye-opener. In most cases, they have no idea what life is like for the average Maastricht citizen behind closed doors."
Also read
After several rocky years, Maastricht University alum Lea Vink has found her feet in Vienna. Professionally, she is taking new steps at the crossroads of aviation and organisational psychology. And on a personal level, luck has smiled on her since her transition from man to woman.

Do students' perspectives on education matter? Should educators listen to the "student voice", and if so, how? EDLAB Innovation Coordinator and former UM student Lena Gromotka reflects on the four types of student voices: the Complainer, the Critic, the Idealist, and the Suggester.