HRH Princess Margriet pays visit to UM
On Friday 13 November, Her Royal Highness Princess Margriet paid a working visit to Maastricht University. In her capacity as honorary chair, the princess took part in the 8th meeting of the Advisory Board of Global Health.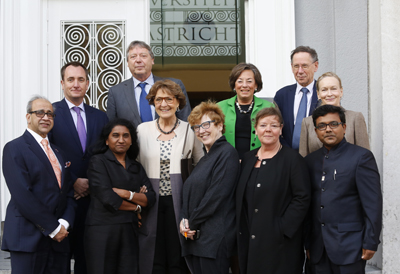 The Master Global Health programmes in Maastricht and at McMaster University (Canada) receive advice from an international Advisory Board. The Advisory Board Global Health is an internationally assembled group of experts, consisting of representatives of international businesses, relevant (non-)governmental organisations and other representatives from the professional field. In light of her special relation with Canada (she was born in Ottawa) and her interest in health care issues, Her Royal Highness Princess Margriet acts as Honorary Chair of the Global Health Advisory Board. The Board convenes regularly either in Canada or in The Netherlands.
At the board meeting, the presentation of MGH at the visit to Canada of His Majesty King Willem-Alexander and Her Majesty Queen Máxima was briefly evaluated. Also, Students and alumni of the master programme shared their experiences and Rector Magnificus Luc Soete talked about innovation in global partnerships.
Dr. Anja Krumeich, programme director of the Master Global Health said: "HRH Princess Margriet showed great interest in the organisation and future of the programme, including the prevention of health problems and understanding for cultural backgrounds during the implementation."
Relevant links
Also read
Together with the Royal Netherlands Historical Society (KNHG), Open University (OU) and Fontys (F), Maastricht University will organize the fourth edition of the Historians' Days. The deadline for submissions in 31/01/24 (via www.historicidagen.nl)