Research institutes
Centre for the Social History of Limburg
The Centre for the Social History of Limburg (SHCL) is an independent heritage institution associated with the Faculty of Arts and Social Sciences (FASoS) at Maastricht University. The centre provides a research infrastructure for comparative regional history by providing access to historical sources, managing a library collection, and conducting research. The SHCL has been publishing a scientific yearbook since 1955 as well as a book series called the Maaslandse Monografieën since 1964 (both in Dutch). The centre is housed in the beautifully restored former Franciscan Church at Sint Pieterstraat 7, which also houses the Historisch Centrum Limburg (HCL).
Fast facts
independent heritage institution, supported by Maastricht University and the Province of Limburg
SHCL director prof. dr. Nico Randeraad is UM professor of Comparative Regional History
the centre employs around twenty people, most of them as information professionals
supports the projects of various PhD students who conduct research into the social, economic and cultural history of Limburg
SHCL website
Research
Since its foundation in 1949, the centre has stimulated and conducted research into the socio-economic history of the province of Limburg from the eighteenth century onwards. The research conducted by the SHCL focuses on a number of specific themes such as labor and business history, demographic history and the social history of the landscape. The position of Limburg as a border region serves as a focal point, with studies both on cross-border contacts and interactions, and on regional developments in a comparative perspective. In collaboration with FASoS, the director of the SHCL holds the chair of 'Comparative regional history, in particular that of Limburg and neighboring regions'. Since April of 2015, Prof. Angélique Janssens has been affiliated with SHCL and FASoS as a result of her endowed chair 'Historical demography, in particular with regard to Gender and Labour', funded by the Unger Van Brero fund. In addition, since September of 2019 Prof. Joep Leerssen has held holds the endowed chair for 'Limburg and Europe', which was established as a collaboration between SHCL and the research group 'Maastricht, Working on Europe' of the UM.
Education
The director and head of research of SHCL teach historical methods at the Faculty of Arts and Social Sciences, supervise theses, and are active in the Honours and Marble programmes. Students can contact SHCL to apply for internships and to conduct research for bachelor's and master's theses.
Reaching out to an audience beyond the university
As a heritage institution, SHCL also targets a wider non-academic audience through lectures, workshops, podcasts, exhibitions and crowdsourcing projects.



Events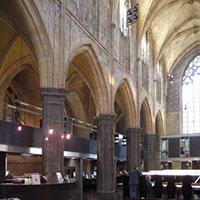 Social Historical Centre for Limburg
+31 43-3284191
info-shcl@maastrichtuniversity.nl