Ride on the A2 under the sign of noise
Weg van Lawaai. A unique app that opens your ears
Researcher Karin Bijsterveld doesn't like noise. However, she is fascinated by sounds. Bijsterveld already published a book and CDs with stories about the history of sound in and around cars. Thanks to new techniques such as GPS, these and other stories can now be heared via an app, while driving along the A2, past the places the stories are about.
A new look at sound
It is not something you think about every day, the sound in and around a car. Unless of course you experience a lot of nuisance from it, for example if you live along a busy highway. Bijsterveld delved into the subject and came across stories that have never been told like this before. From the "weeks of silence" that were supposed to curb street noise in the 1930s to the rise of the car radio and traffic jam reports. But also surprising stories about the car itself. Slamming the door, putting on the seat belt, starting the engine and so on. It all makes noise, but we never experience it so consciously. Until you hear the stories in the app!
The road of noise
Thanks to this app, driving along the A2 from Amsterdam to Maastricht and vice versa takes on a new dimension. While driving past certain places and buildings, the listener is told stories about the history and background. For example, about the noise barriers that from the 1970s onwards were supposed to protect the outside world, but also blocked the motorist's view. Nowadays, architects are more often given the space to transform this necessary evil into an artistic masterpiece. And it is special to know that, out of respect for the deceased, the construction of the A2 tunnel in Maastricht was temporarily halted so that there was no noise pollution during the funeral in the adjacent church.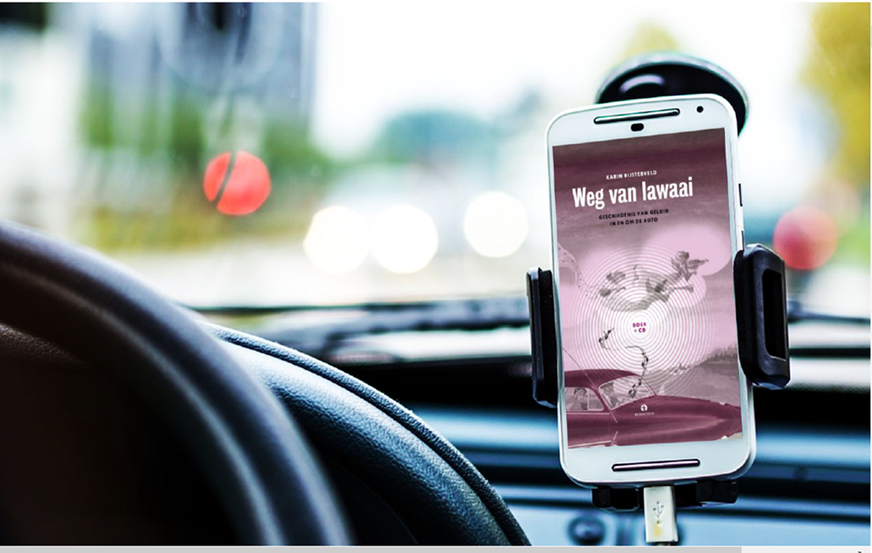 Free to use
De Weg van Lawaai app (in Dutch) is free to download in the Apple app store . The app was created under the direction of researcher Karin Bijsterveld by staff from Maastricht University (text), Sound and Vision (historical audio clips) and Q42 (app) and was co-funded by the ArchiScienza Foundation (Fund for Architecture and Science). The voice is by Rik van de Westelaken.
Also read
Anna Harris has been awarded an ERC Consolidator Grant of €2 million for her project 'The Upcycled Clinic: A global ethnography of material creativity in contemporary medicine'. The project addresses the escalating issue of clinical waste.

Marielle Wijermars and Christian Herff will receive this year's KNAW Early Career Award. The Award is intended for researchers in the Netherlands who are at the beginning of their careers and who have innovative, original ideas.

Twee wetenschappers van Universiteit Maastricht (UM), Keri Vos en Iskander de Bruycker, krijgen een Vidi-beurs van €800.000,- voor hun onderzoeksprojecten.