Students going the extra mile
Students run successful vegan coffee bar
Do what you enjoy. This is the credo of Merel Godelieve Huysse and her partner Dario Mezini. As law students, both were shooting for a career at one of the big law firms in the Randstad. Instead they founded a vegan coffee bar, KAFETHÉA, in Maastricht. That was less than a year ago, and they have already opened a second location.
The day she graduated, Huysse, still kitted out in her mortarboard, was serving drinks in her own cafe. "We wanted to celebrate there with friends and family, but it was just so busy that I jumped in to lend a hand."
It is indicative of the success of KAFETHÉA, which has been popular among students, freelancers and tourists ever since it opened. "We were lucky with the location: the Mariastraat is very nice, and although it's quite tucked away there's still a lot of foot traffic", Huysse explains. "And KAFETHÉA is uncomplicated. It feels kind of like a living room. There are people who come in wearing slippers and spend the whole day on the couch with a book. Lots of international students have managed to find us as well; they appreciate the homely atmosphere. Dario and I find the personal contact important. We know almost everyone by name."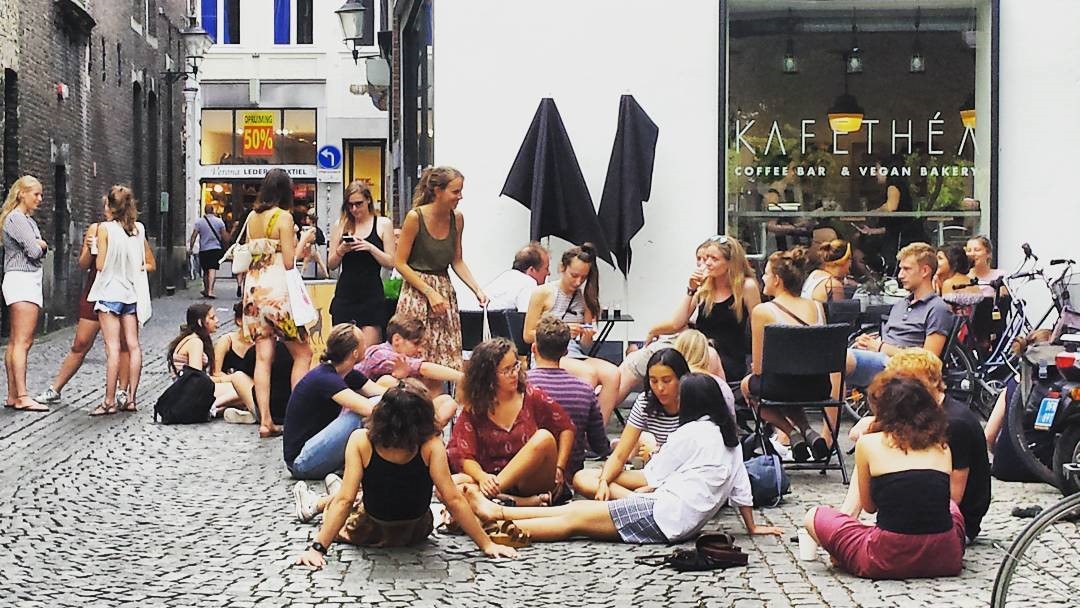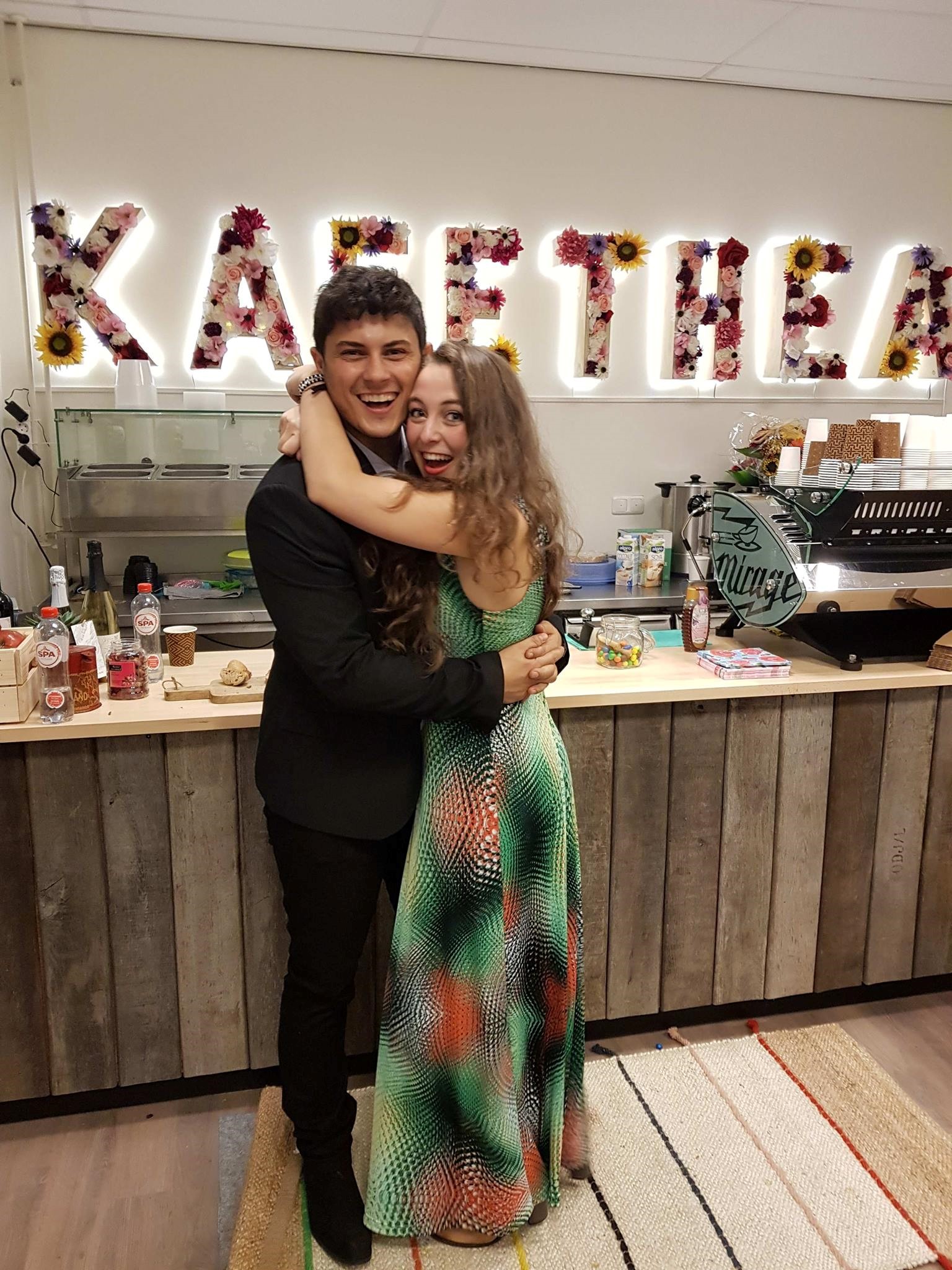 Dario Mezini and Merel Godelieve Huysse
The vegan menu is another unique selling point. "There was almost nothing vegan in Maastricht," says Huysse, herself a vegan. "I had no experience in hospitality, but I randomly started baking vegan cakes and cupcakes. We now make everything ourselves. That was a risk, obviously, but for an entrepreneur that's what makes it a challenge."
Homely concept
So what prompted two students of Trade and Business Law to dive into hospitality in the first place? "Entrepreneurship is in my blood," Huysse says. "As a kid I used to sell jams on the street. At 20 I was running a massage therapy practice for students from home, but I had to stop after practically working my hands to death. During my studies I wanted to become a lawyer, but after a stint in Amsterdam I realised it wasn't for me. In the meantime I'd already travelled a lot with Dario, who's originally from Albania. We decided to come back to Maastricht and open a coffee bar with a homely concept and plant products. Thanks to the openness of Maastricht and its international atmosphere and location, we really feel at home here. That's something we missed when we lived in Amsterdam. Maastricht is a special bubble, and we belong inside it." Besides helping to run the business, Mezini is still working on his thesis, which he hopes to finish this year.
As a student, Huysse felt there was too little nightlife in Maastricht, especially for international students. "In KAFETHÉA we enjoy bringing people together. We organise potlucks, for example, where everyone brings a meal from their own country and shares it with the other guests. So you get to know one another in a way that doesn't feel forced. The same goes for game nights. By playing a board game together, you get an instant click with strangers."
Jobs for refugees
Huysse and Mezini regularly make KAFETHÉA available for external initiatives, such as dance classes for children, poetry slams or yoga lessons. In collaboration with Podium24, they also offer jobs for refugees. "We give them a contract for a few months. Some are shy when they first come here, because of everything they've been through. But in the hospitality industry you have to talk. So you see people slowly coming out of their shells. We're friends with all our former employees."
In mid-September KAFETHÉA opened a second location at the UM Guesthouse on the Brouwersweg. "We were asked if that was something we'd be interested in," Huysse says. "A year ago we'd never have dared to predict that we'd now have two locations. We're not big planners; we tend to live in the moment. I think the success of KAFETHÉA is mainly down to the fact that we do what we enjoy. Dario and I do everything together; we decorate the place, buy groceries, bake cakes, do the bookkeeping, you name it. It's the ultimate relationship test, because there's also the question, who's going to clean the toilets? But it works precisely because we can do it together. We lift each other up."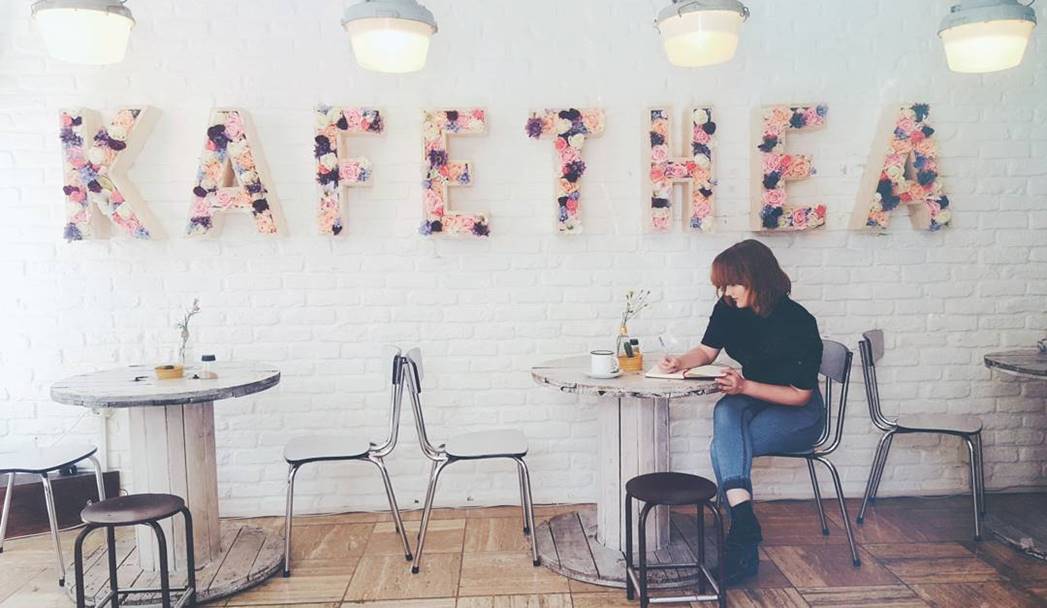 Also read
Together with you we will create a unique and tailor-made program, taking into account everyone's wishes and needs.

After several rocky years, Maastricht University alum Lea Vink has found her feet in Vienna. Professionally, she is taking new steps at the crossroads of aviation and organisational psychology. And on a personal level, luck has smiled on her since her transition from man to woman.