More than a single story
Global Studies—the name of the new Maastricht University (UM) bachelor's programme sounds perfectly Promethean. Yet the concept makes a lot of sense; indeed, it may well be the most pragmatic approach to preparing students for the 21st century.
Somali pirates? "The media narrative was: security concern. That makes sense, but it doesn't help you understand or solve the problem," says Valentina Mazzucato, head of the Global Studies development team. "Climate change has devastated the agricultural sector in Somalia. International companies are overfishing their waters in contravention of existing agreements. Livelihoods were destroyed and diseases broke out. A wave of migration followed—and some people have turned to piracy."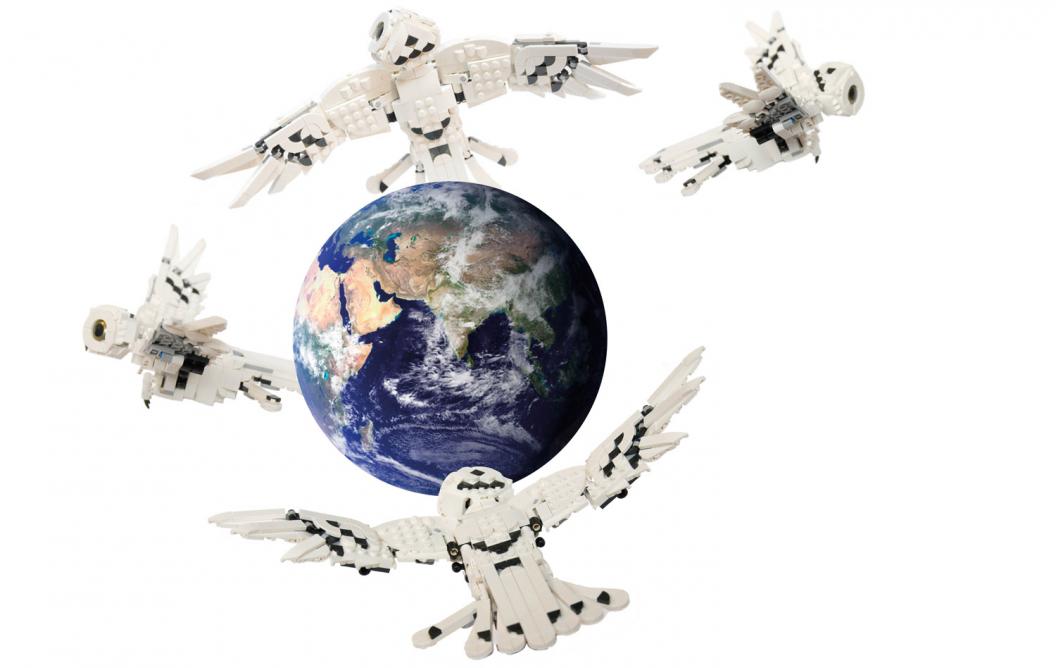 Contemporary challenges are always more complex than one thing in one place at one time. Examples like the above and the omnipresent pandemic have economic, political, legal, psychological, scientific and moral dimensions. "The problems we face are global, complex and intricate. No approach is superfluous." Global Studies suggests a wildly innovative answer: it is taught by all six UM faculties.
Joining forces like never before
"We pooled all the expertise from the many pockets within UM that research and teach global issues. Rianne [Letschert, UM's rector magnificus] was instrumental in getting all the faculties on board." Being a young university with international cooperation in its DNA also helped. "It's not a coincidence that this happened here at UM, which really has interdisciplinarity at its core."
Rather than an eclectic buffet from different disciplines, all courses in a given semester are co-developed and taught by three faculties. Each focuses on a specific theme: besides an introduction to the field, there is Environment & Economy, Migration & Citizenship, Tolerance & Beliefs, Peace & Justice and 21st Century Learning. The penultimate semester includes fieldwork in the Global South with a small group, accompanied by an expert and hosted by a local partner.
It was a tremendous administrative challenge, but Mazzucato was delighted to head the core team of 26 people from all ranks and faculties developing the curriculum. "The collaboration was fantastic and left us all really energised. We started with a blank slate—that was really exciting!" Mazzucato was inspired by her own liberal-arts education. "All these lightbulbs went on because I was exposed to new ideas and disciplines that I'd never considered before. That's what I want to recreate for our students."
Integrating knowledge and perspectives
"Every course is about combining and integrating knowledge and approaches from different disciplines," she says. The difficulty of doing so is also integral to the curriculum, which emphasises the soft skills necessary for working in interdisciplinary, intercultural teams. The programme teaches canonical theories and concepts, but also compares them to those developed by scholars in the Global South.
"We want students to understand complexity and diversity: how to approach such multitudes of information?" But understanding is only one half of Global Studies; the other is action. "They have to come up with solutions to the problems we address in the courses. They design interventions, make difficult choices and reflect on the positive and negative consequences of those choices on different stakeholders around the globe."
Doing good, without being naïve 
Clara Diba, part of the first cohort of 68 students, appreciates this proactive approach. "It's not just leaning out of an ivory tower; we're thinking about solutions—but not in a naïve way. You learn to challenge your own opinions and develop a nuanced understanding of how the world works, why things happen and how actors are affected."
Fellow pioneer Julian Martinez agrees. "You need to view the big problems through different lenses to find the most suitable solutions." He finds the interdisciplinary approach exciting and challenging. "Maths has always come easy to me, but in the methods course, we also use coding to do data analysis. We learn so many different skills. It's not easy, but we're a close-knit community and help each other out."
Although their journey has only just begun, both report that they now consume news more critically. After performing stakeholder analyses of global supply chains, they have also become more aware of their responsibilities and agency as consumers. Diba believes Global Studies will give her the toolkit to find a job that allows her to make a positive impact. "I know it sounds corny," Martinez adds, somewhat apologetically, "but I want to make the world a better place."
You can't know everything about everything
Mazzucato describes the first cohort as motivated, curious and mature when discussing differences of opinion. "That's so valuable. There are 28 nationalities from across the political spectrum and their lived experience adds so much. They learn a lot from each other's perspectives."
The understanding that climate change, for example, looks very different for a software developer in San Francisco than for a subsistence farmer in Bangladesh is central to Global Studies. And this global character is the key to the programme's success so far. Mazzucato is bullish about the necessary trade-offs. "We were very honest about this: you obviously learn a lot less about economics here than during an economics degree." She is unsurprised about the high dropout rates among first-year students across the board in the Netherlands. "I think it's crazy that we ask 18-year-olds to specialise. Our students learn to navigate complexity and work with others. After getting a taste of different disciplines, they will make a much more informed decision about what they want to focus on, what they want to 'master'."
Florian Raith (text), Rafaël Philippen (image)
Valentina Mazzucato is professor of Globalisation and Development at FASoS. She founded and directed the research programme on Globalisation, Transnationalism and Development (2012–2020). She is a member of the Executive Board of the Maastricht Centre for Citizenship, Migration and Development (MACIMIDE) and a member of the Royal Netherlands Academy of Arts and Sciences (KNAW). After studying Political Science and French Literature at Williams College and Agricultural Economics at Michigan State University, she earned a PhD from Wageningen University.
Clara Diba from Lebanon and Julian Martinez from Mexico are part of the first Global Studies cohort.
Also read
Were you absolutely cruising through your exams? Were you well prepared with plenty time to spare? Then Anique de Bruin's work won't change your life. But for everyone else, the Professor of Self-regulation in Higher Education has useful insights and tools. Together with a refugee scholar financed...

After several rocky years, Maastricht University alum Lea Vink has found her feet in Vienna. Professionally, she is taking new steps at the crossroads of aviation and organisational psychology. And on a personal level, luck has smiled on her since her transition from man to woman.