Leadership down to a fine art
The highlight of the Maastricht art scene is TEFAF (The European Fine Art Fair), the annual March event that draws hundreds of high-end dealers and collectors and thousands of visitors to the city from all over the world. This year, the same week saw another – smaller – group of international visitors break new ground: the first cohort of the Executive Master in Cultural Leadership.
The new Executive Master in Cultural Leadership is a joint initiative of three Maastricht faculties – the School of Business and Economics, the Faculty of Arts and Social Sciences and the Faculty of Law – and the prestigious Royal Academy of Arts in London.
The programme's main tenet is the interdependence of leadership, the arts and culture. "We want to foster inspirational leaders with a rich understanding of the creative process and innovation", explains programme director Rachel Pownall. "They're in a unique position to benefit and transform organisations in the arts sector and beyond."
Culture needs commerce
"Cultural leaders create unique opportunities for those around them", says Anna Dempster, co-founder of the EMCL. "This is good for artists and cultural producers, but also for creating successful, sustainable and ethical organisations and businesses."
Offered by Maastricht University (UM) and the Royal Academy of Arts (RA), this master's programme is taught partly in Maastricht and partly in London. To cater to full-time professionals, the curriculum is divided into eight intensive modules. Participants can take part in work placements with leading cultural institutions, choose between a professional project or an academic thesis, and visit international events such as TEFAF.
The curriculum encompasses the arts, business, law, strategy and entrepreneurship, and includes opportunities to work with artists and artefacts from different cultures. "RA and UM complement each other very well", Dempster says. "Students get a really impressive international network of scholars alongside professionals and experts with whom to share perspectives on key cultural debates."
Art at the heart
"We wanted to move away from the classic business school approach and really put the artists' perspectives at the centre of the conversation", Dempster explains. Among the experts who addressed the programme's first cohort were artists, policymakers and international cultural leaders including Christopher Le Brun, president of the Royal Academy, and Tim Marlow, artistic director of the Royal Academy. In Maastricht, students were welcomed by, among others, Stijn Huijts, Director of the Bonnefanten Museum, and Valentijn Byvanck, Director of the Marres House for Contemporary Culture.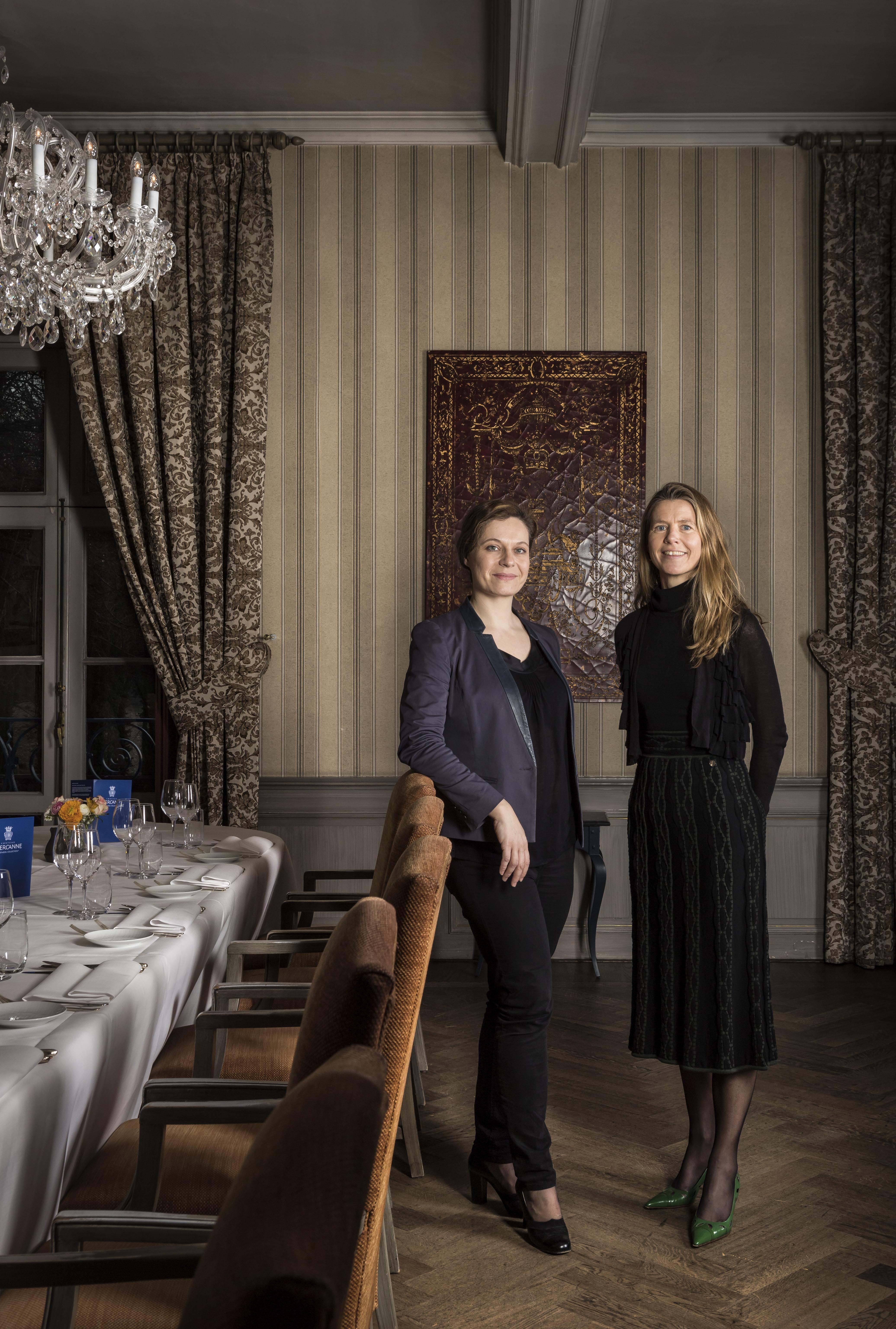 Rachel Pownall (r) is professor of Finance at the School of Business and Economics and director of the Executive Master in Cultural Leadership. She holds the TEFAF Chair in Art Markets at UM and is the author of the 2017 TEFAF Art Market Report. She holds a PhD in Financial Risk Management from the University of Kent.
Anna Dempster (l) is head of academic programmes at the Royal Academy of Arts, fellow of Wolfson College at the University of Cambridge and Director of the Executive Master in Cultural Leadership.  She holds a PhD in Strategy and Management Studies from the Judge Business School, University of Cambridge.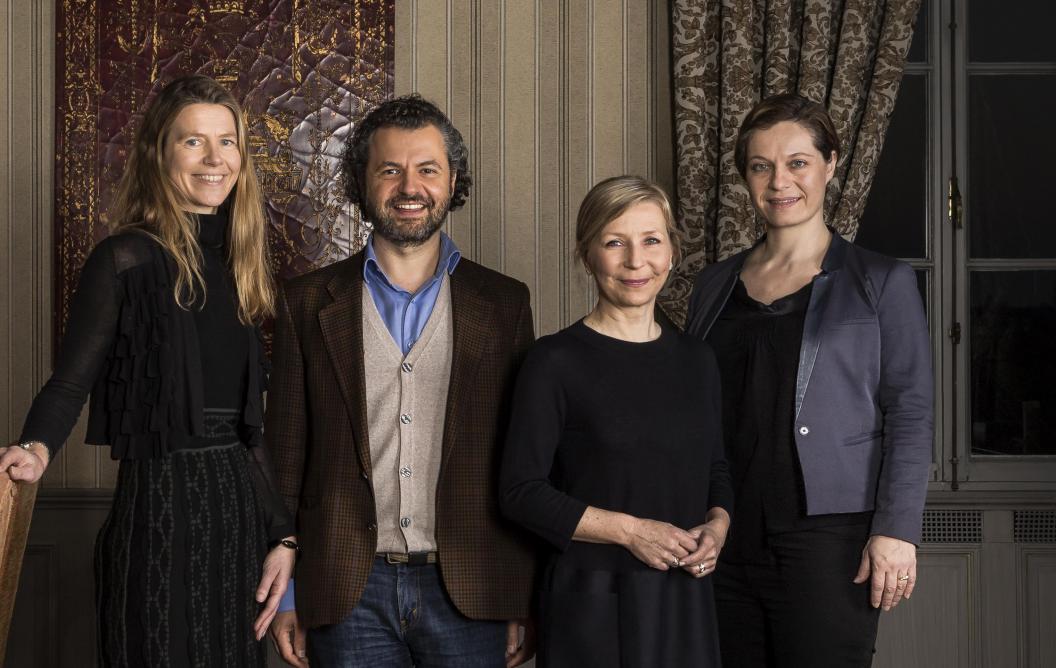 Rachel Pownall, João Correia, Susanna Serlachius and Anna Dempster
Pownall and Dempster were pleased with how much the participants contributed to the discussions. "It's a really diverse group from four continents, most of them with more than ten years' experience in different fields – which makes for very sophisticated conversations." Besides leadership and management skills, EMCL seeks to cultivate new perspectives. In Dempster's view, Maastricht, as a regional cultural centre and counterpoint to metropolitan London, provides the ideal environment "to breathe, to explore and to think."
Owning history
Compared to London, Dempster says, "Maastricht is a lot more tranquil and serene. There's art everywhere but also lots of green. That and the ecclesiastical architecture invite contemplation." The students shared that feeling. "It's beautiful, and I was amazed by how welcoming everyone was. It felt like home", says João Correia, who flies in for the modules from Brazil.
An adviser in the cultural sector, Correia works with artists, collectors, museums and educators. In his native São Paolo, he advises a charity that works with more than 6,000 art teachers every year. "Brazil has an amazing arts scene but it's deficient on the business side. In this programme, I get insights from arts, museology, collection management, education and more, so I can go back and make a difference."
Correia enjoyed the novel perspectives of his fellow students and the speakers. "For example, professor Sir Charles Saumarez Smith said that, when taking over the directorship of a museum, he writes a book about it to learn about it and take ownership of its history – that really surprised me."
São Paolo to Helsinki
The notion of owning the history of a museum also appeals to fellow participant Susanna Serlachius. She is the chair of Serlachius Museums, which house a formidable fine arts collection her family has built up over five generations. After a successful corporate career, she now wants to establish the collection on the international scene.
Serlachius particularly appreciated the in-depth conversations with industry leaders as well as students: "So many different backgrounds, from artists to bankers, and so many different ways of approaching things. I can't wait for the next modules."
As the artists, collectors and aficionados of TEFAF return home and hotel prices return to normal, the first cohort of EMCL students are also leaving town – and taking with them new knowledge, skills, perspectives and connections.