Gerard & Anton Award 2016 for Ferry Schoenmakers, Tom Mulken and René van der Hulst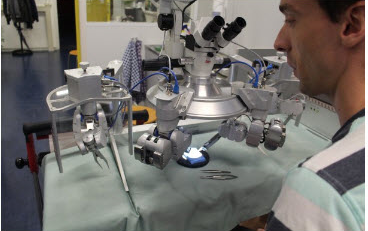 Source: E52, 29 July 2016
The curation of lymphedema:in the medical world it sounds like a desirable goal. But start-up Microsure (Eindhoven - Maastricht) is showing that this is possible with the help of an assistant robot. The developers are Ferry Schoenmakers, Tom Mulken and René van der Hulst.
Full press release
Ten startups were honoured for their efforts in aiming to become the next Anton and Gerard. According to the jury these are the startups to watch. The jury of the awards thinks these ten have all it takes to follow the footsteps of Gerard and Anton Philips, who, 125 years ago formed the first start-up in the region of Eindhoven.
Also read
Symptoms of gluten sensitivity are partly to do with people's expectations, if celiac disease and wheat allergy have been excluded as causes. Recent research at the universities of Maastricht and Leeds shows that the expectation that gluten causes gastrointestinal complaints plays a crucial role in...

Nine out of ten miscarriages happen in the first three months of pregnancy. Researchers at Maastricht University Medical Center have found that in 70% of these cases, the embryo has a genetic abnormality.

Marielle Wijermars and Christian Herff will receive this year's KNAW Early Career Award. The Award is intended for researchers in the Netherlands who are at the beginning of their careers and who have innovative, original ideas.