Soul kitchen: a peek inside the kitchens of UM employees
"I'm a coffee fundamentalist"
Bakir Bulić, director of the Faculty of Science and Engineering, still remembers being smuggled across the border from Germany to a refugee centre in Zeewolde when he was eight years old. He and his father, mother and sister Sabina were fleeing the Bosnian War. "The only thing I could think about at that moment was my mum's veal schnitzel and mash. The thought comforted me, gave me something to hold on to." In the refugee centre, it was a great disappointment to find out they were not allowed to cook their own food. "We ate meat, potatoes and vegetables from the soup kitchen every day."
Food is very important in Bosnia, Bulić says. His grandmother used to start cooking early in the morning. "Both my parents worked, so my grandpa and grandmas looked after me during the week. They'd make oxtail broth for the Bosnian specialty tarhana, soup with sourdough balls. My grandma always made a huge batch. She'd dry the dough out and ferment it a little to make it sour, then lay the balls out to dry on sheets all around the whole house. In the morning, my grandpa would take me for a walk and when we came home hungry around noon, the food was ready." Bulić smiles. "We always start our meals with soup, to aid digestion."
Tight-knit family
Bulić's family was Muslim. "We call ourselves 'Muslim by culture'; we're not deeply religious. I'm a little religious, but I don't like dogmas. As a child, I dyed eggs with my Catholic friends for Easter and they came over to eat sweets with us on Eid. It was mainly my grandparents who passed the religion down to me. My parents aren't religious; they grew up in the former Yugoslavia, and religion didn't play much of a role within socialism."
The family ended up in Maastricht in 1994. "We came here from Amersfoort, the refugee centre where we were eventually placed. At least it was a few hundred kilometres closer to Bosnia." Bulić decided to stay in Maastricht to study molecular sciences. "I wanted to be near my parents, but I did move out. Family is very important to us Bosnians. Just as I did, our daughter Nina spends four days a week with her grandparents, my parents. And when our son, who's now two months old, is a little older, he'll go to grandma and grandpa too. The pattern repeats itself."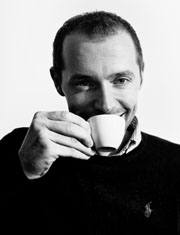 Bakir Bulić (1985) studied Molecular Life Sciences at Maastricht University. As project manager at the Faculty of Health, Medicine and Life Sciences, he was involved in strategic projects such as LINK and collaboration with the MUMC+. He has been director of the Faculty of Science and Engineering since September 2018.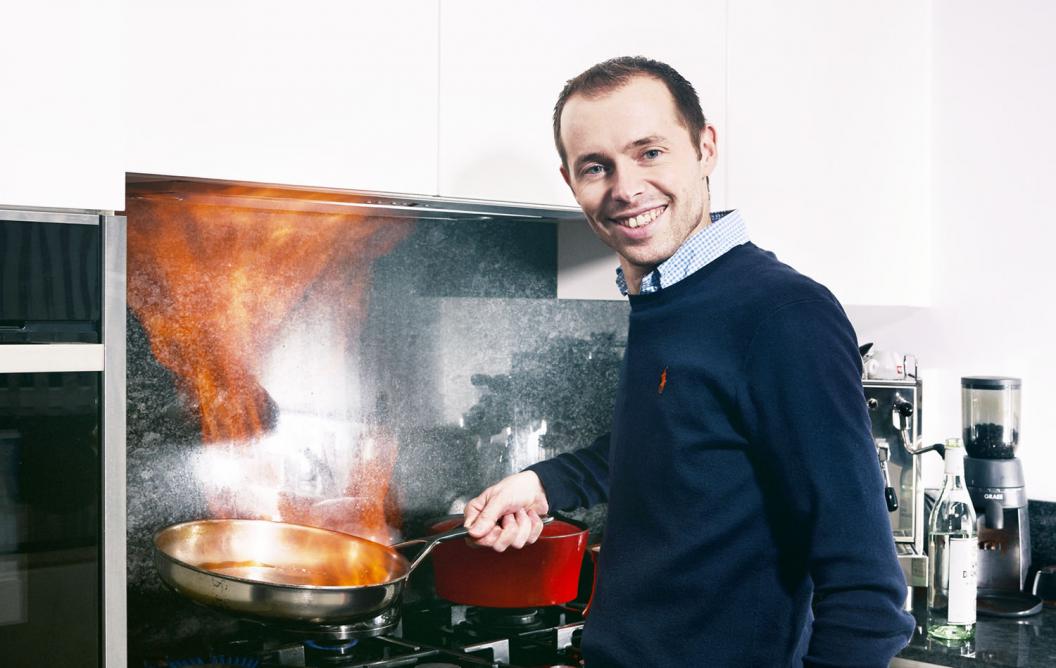 Droba
They bought the house near Annadal in Maastricht three years ago. "We immediately had a new kitchen installed. I especially wanted an open kitchen with a large counter and a gas stove, not induction. Fire is part of cooking, if you ask me! And plenty of room for all my pans and cutlery." He's had his kitchen knives since he was a student. His favourite is a French chef's knife, which is "nice and soft, which means it's easy to keep sharp". His pride and joy is a shiny, semi-professional espresso machine by Bezzera. "From Milan, the only company that makes all the components itself." Enthusiastically, he describes a grouphead – the metal attachment that delivers water from the machine into the filter basket – of such high quality it hasn't changed in 50 years. The coffee cups are in a warming drawer under the oven. "I programmed everything, because it takes the espresso machine 40 minutes to warm up. It switches on at six thirty a.m. Coffee is very important to me; I'm a coffee fundamentalist. Children in Bosnia are raised on it. As a three-year-old I used to eat droba, the traditional breakfast for children: warm milk with a splash of coffee to dip stale bread in. The older the child, the more coffee and less milk you got. In Bosnia, everyone drinks coffee all day long. Nowadays I limit myself to two strong cups per day, but it has to be very good coffee. That first sip in the morning, it's like your lungs open up, whoa, amazing: I can breathe again."
The best meat
Every year, Bulić and his family go to Livno, his hometown in Bosnia. "My grandparents have passed away and my relatives have spread out across the whole world. Only two of my aunts still live there. A lot has changed, but I like going there, if only for the meat and garlic. I can't bring back meat with me, it's too hot for that in summer, but I bring back enough garlic for a whole year. It's so much better than the musty Chinese stuff you get here." As for the meat: even Dutch free-range meat doesn't measure up to Bosnian meat. "The Livno region is known for its meat within Bosnia, too. The soil there is quite porous, which allows certain herbs and flowers to grow. The cows and sheep eat these and that's what makes the meat so delicious."
Food and cooking are his passion. On Fridays, he already starts thinking about what to cook on the weekend. His city garden features a vegetable patch. In addition to tomatoes and aubergines – "they did particularly well this year" – he tries cultivating all kinds of seeds he buys on the internet. On his kitchen worktop sits a small oak barrel he brought home from his latest trip to Bosnia. "I put whisky in it to see how it affects the taste." He's not a fan of wine; where he comes from, spirits are preferred. During dinner, he usually drinks sparkling spring water from – you guessed it, Bosnia. "We spend a fortune on it," he laughs. "I love traditional Bosnian cuisine. I cook it often and try to get it exactly the way I remember it. If it's not working, I call my mother."
Also read
Much to his surprise, Stefan Maubach, a math teacher at the Department of Advanced Computing Sciences, discovered that making educational videos enabled him to turn education theories from abstract concepts into practical tools.

The PhD research of Karlien Strijbosch focuses on Senegalese migrants who were forced to return home after a stay in Europe. Doing justice to such stories is no easy feat, especially when you come up against walls of silence, distrust and shame. Strijbosch and her supervisor Valentina Mazzucato...