Meet the coaches of the upcoming Coach Café
Meet some of the Coach Café coaches
The Alumni Coach Café is an initiative of the Alumni Office of Maastricht University and UM Career Services. During the Coach Café, which is an evening programme, coaches initiate discussions with recent graduates. These coaches are alumni of Maastricht University. They have work experience, often experience with coaching and are motivated to supervise young graduates. The coaches have received training during the Coach Café. On this page you can meet some of them.
The Coaches
Rafaela Frijns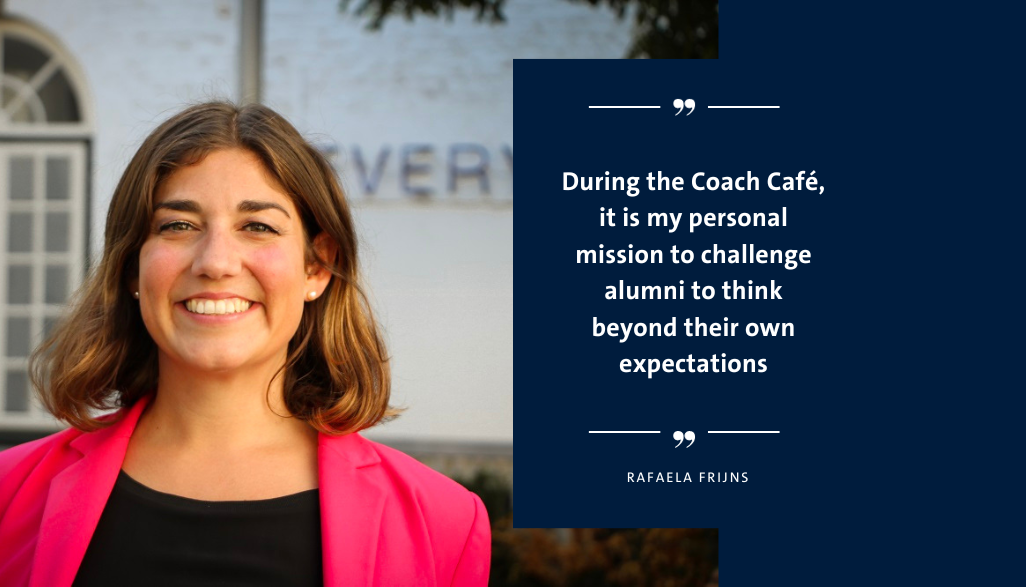 Rafaela Frijns
"During the Coach Café, it is my personal mission to challenge alumni to think beyond their own expectations"
My name is Rafaela Frijns and I am one of the Coach Café coaches. I graduated with a BA and MSc in international communication. After working at a communications consultancy in Utrecht, I was drawn back to working in an international setting. Since 2011, I have been working as a student recruiter for two international universities and at different faculties. In my work as a student recruiter, I talk with students and alumni who are trying to figure out which study programme fits their dreams. Often they already have a thesis topic or career path in mind, but are not sure how to get there.
I love seeing students develop themselves at UM once they get here and reach their full potential. I always wonder what they will do after graduation, resulting in having 1-1 conversations about their future path after Uni and helping them explore the different options out there. This inspired me to volunteer for the Coach Café. This way I could help more students to think beyond their own expectations. I have noticed that every experience throughout your life will provide you with a new piece of the puzzle and might eventually change the idea you had in mind in the first place. Your favourite professor might change your mind about an interesting thesis topic or a suitable master's programme. Your study abroad experience might help you to gain a new set of skills or to fall in love with living in a different country. These experiences might change what makes you happy and intrinsically motivates you as a person. Therefore, I would like to inspire you to think with your heart and to reflect on whether the career path you had in mind is still the right choice for you. In the end: all roads lead to Rome. So, it is okay to make a different choice once in a while or to take a detour.
Manouk de Hooge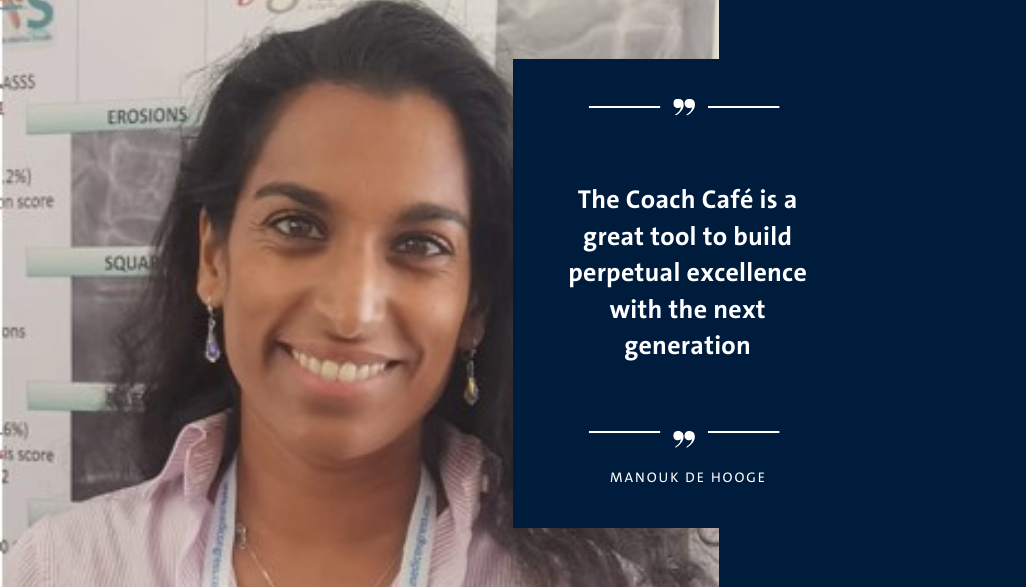 Manouk de Hooge
"The Coach Café is a great tool to build perpetual excellence with the next generation"
Hello all,
My name is Manouk de Hooge and for some time now I have been a coach at the Maastricht University Coach Café. In 2011 I obtained my master degree and in the same year I started as PhD student at the Rheumatology department of the Leids University Medical Center (LUMC). During my PhD I moved to Milan in Italy and from that moment on I also started working for myself on rheumatology research projects, mainly focussing on imaging. In 2016 I moved to Brussels (Belgium) in that year I also finished my PhD and started working as a Post-Doc research at the University of Ghent. Since 2019 I live in Luxembourg and am still working for my own company on Rheumatology related research projects.
As the above shows my work course is somewhat unconventional. And as one can imagine this professional route was not what I could have foreseen when I was in university. Nevertheless it thought me that you need to look at your past and present to determine your future and that this is an ongoing process. The Coach Café is to my opinion a great tool to do this. In a structured manner you learn to think about what you can, what you want and what is possible while having the experience of peers and professionals at your service. Therefore I would suggest the Coach Café to every master's students but also bachelor student in their final year and brand-new alumni.
Hope to see you at the next Coach Café and help you build your future,
Manouk
Aniek Korten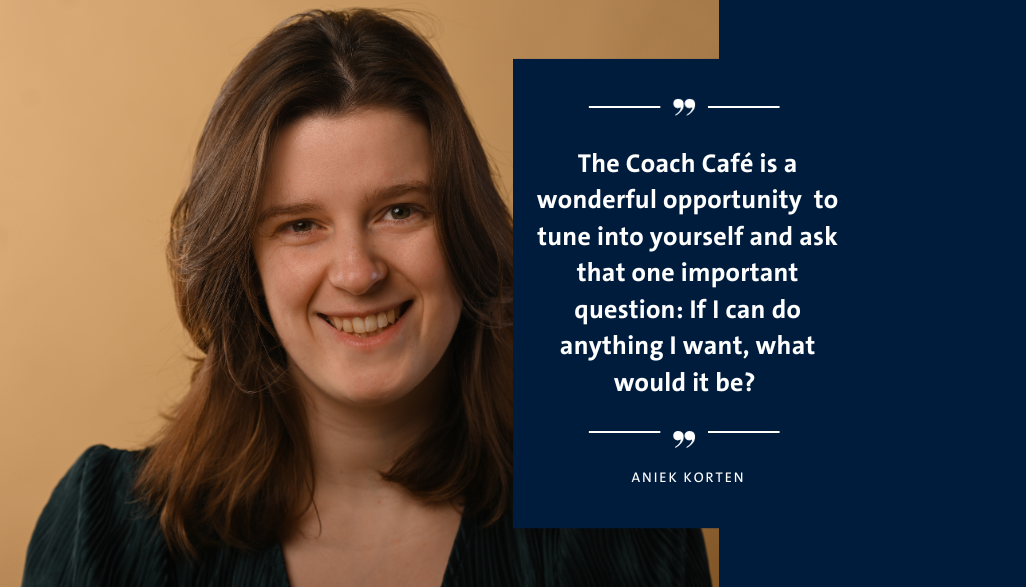 Aniek Korten
Hi everyone, my name is Aniek and since April 2021 I have been involved in the Coach Café from Maastricht University.
In my life I experienced that one simple remark, in this case from my dad, could basically determine my whole career.  When I was 11 years old I came home from elementary school where we had an orientation day to learn about all kinds of professions. When I arrived at home, I mentioned to my dad that I wanted to become a nurse. After which my dad said to me: "But you'll never earn enough money with such a job!" so I said, in all my stubbornness: "Alright, than I'll become a lawyer".
So I went to high school and then to Maastricht University where I studied law. After my graduation in 2015 I had lots of different jobs and eventually became an in-house legal officer for a startup company in Eindhoven. It was fun and I learned a lot, but I soon came to realize that it was not my passion. My passion is in coaching, so I ended up quitting this job to pursue my personal dream of becoming a freelance coach! So now, I have my own coaching practice in which I help people figure out what they really want and to get rid of the expectations of others so that they can confidently go after their dream job.
Basically, I'm doing what I would have wanted someone to help me with when I was 11 years old. To teach me how to stay true to my passion for helping others, even when society, your family, your friends or even your partner might think differently.
That's why I believe the Coach Café to be such a wonderful opportunity for alumni to tune into themselves and ask themselves that one super important question: If I can do anything I want, what would it be? It's a very fun experience to get in touch with ambitious people who want to get the best out of their career. And I am so happy to be a part of that impact!
Had the Coach Café existed when I graduated, I could've definitely benefited from it!
Malu Limpens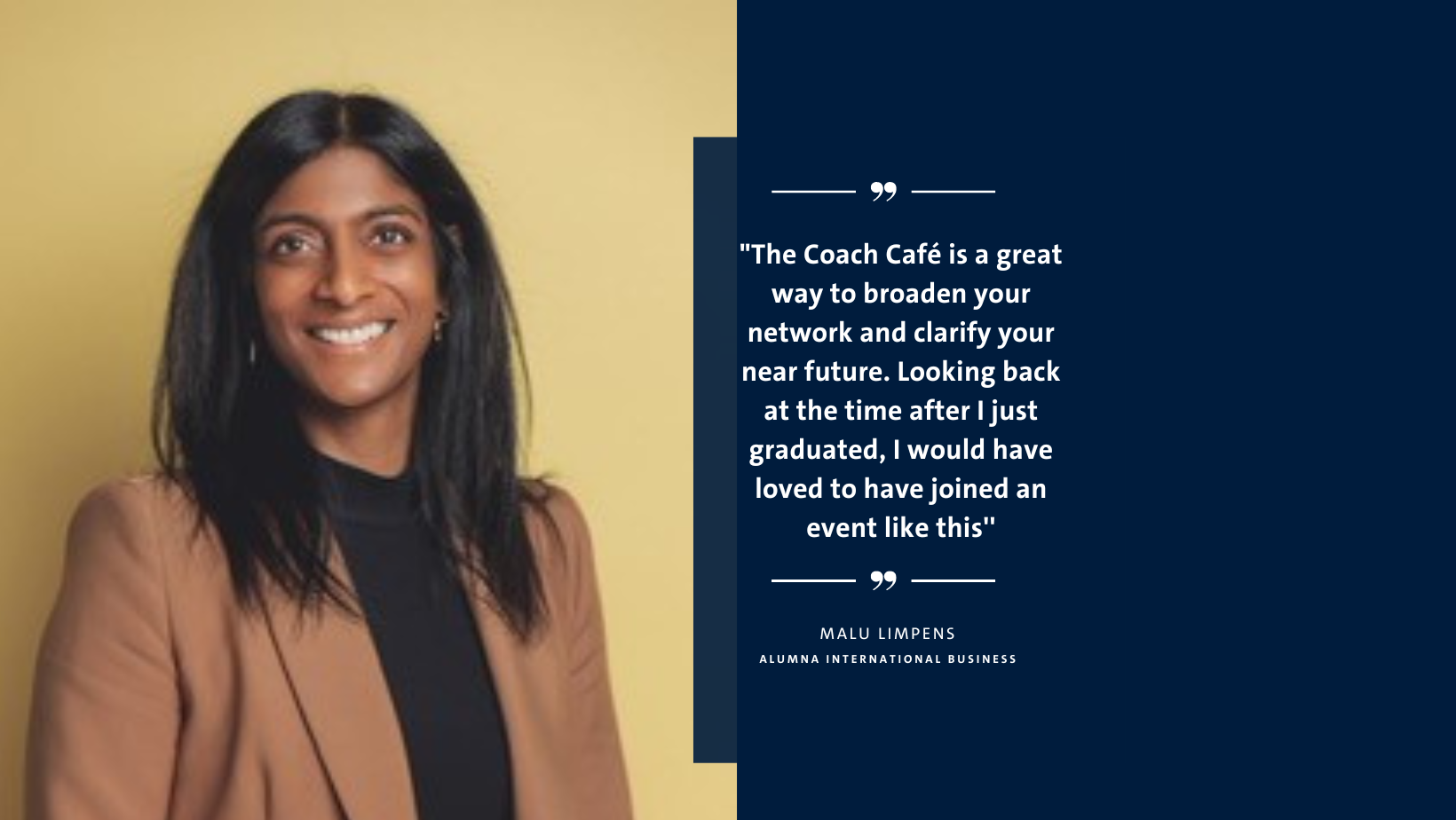 Malu Limpens
I'm Malu Limpens and since 2022 I am one of the coaches at the Coach Café. Quite some time ago (2003-2007) I studied International Business at the UM and graduated in Strategic Marketing. After that I spent a year abroad in Australia and worked in several marketing roles across a multitude of industries. Currently, I am a marketing manager for VTech which is a well-known brand in children's toys.
Looking back at the time after I just graduated I would have loved to have joined an event like the Coach Café to share ideas on future (career) plans and network. The past events appeared to be quite valuable for many participants as they met one or more people who could help them in their first steps towards their future plans.
Or maybe even shape these plans in the first place. Overall, the Coach Café is a great way to broaden your network and clarify your near future.
Will we see you at the next event?
Cheers, Malu
Martin van de Pas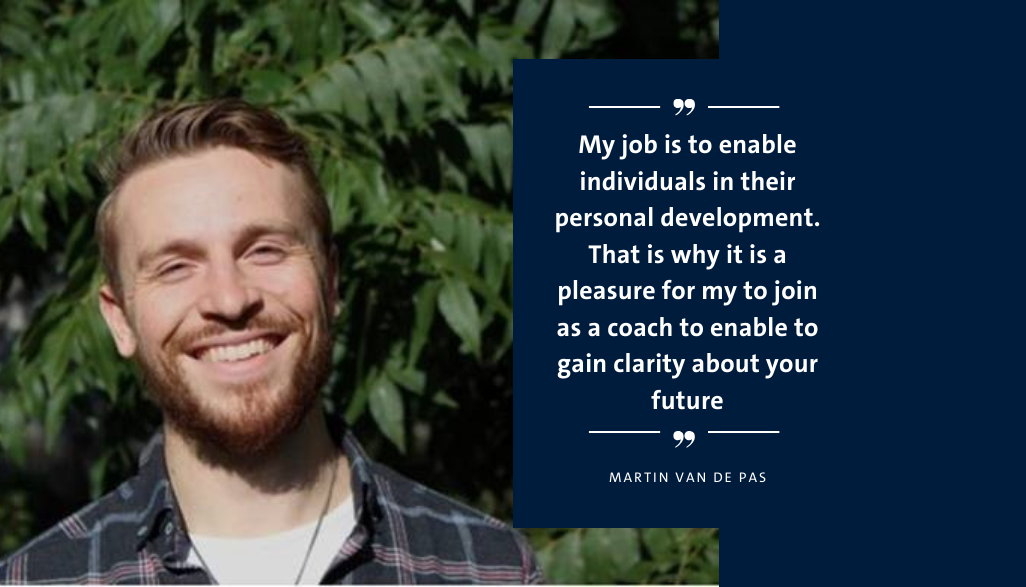 Martin van de Pas
During our time as a student we are faced with unique challenges and opportunities. We are starting to get a taste of the freedom to create our live's autonomously. With a blank slate as our future we are invited to shape our career's in any way we see fit, how exciting!
At the same time, what seems like a great gift of our modern times at first, can quickly turn into a nightmare when presented with limitless options, little self-knowledge and no support.
Personally, I found myself at the end of my studies facing what could be called a 'quarter life-crises'. The comforts and safety of the school-life structures were disappearing and I was left alone with no idea which path I was going to pursue. Luckily, around this time I was introduced to the world of personal growth where I found an abundance of resources which enabled me to get in touch with deeper layers of myself and clarify the future I wanted to create.
Ten years later many of my visions have become a reality. As a 'growth facilitator' my job is now to enable individuals in their personal development by developing and facilitating trainings.
Part of that vision was to support others that were in a similar position to me. Over the past years, I have done that by facilitating sessions that would have helped my 'younger self'. In collaboration with over 15 educational institutions we have been able to impact over 1000 participants.
The Coach Café is very much aligned with that mission. That is why it is a pleasure for me to join in as a guest coach to enable you to gain clarity about the future you want to create.
See you there!
Mayra Quintero Gomez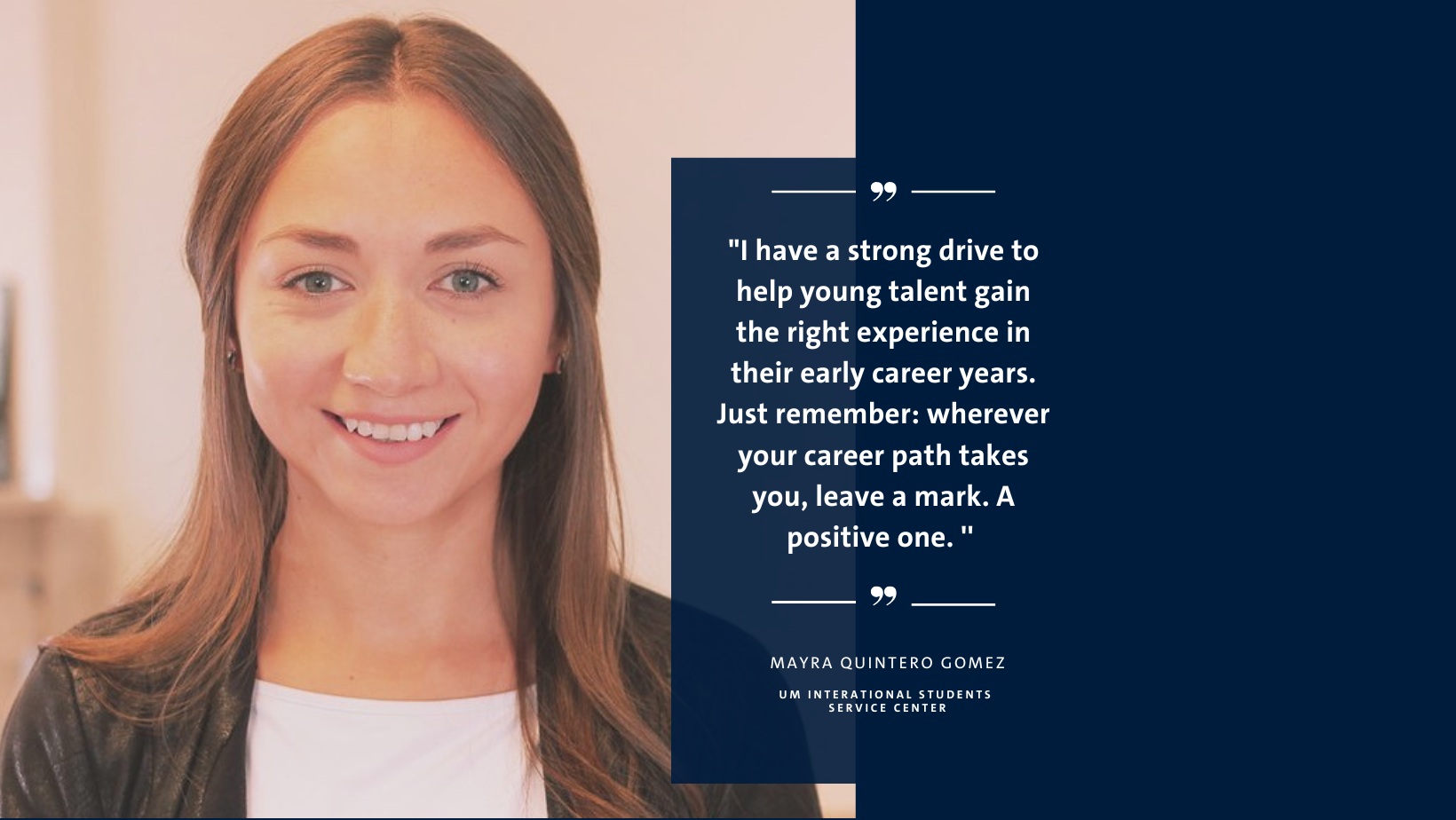 Mayra Quintero Gomez
My name is Mayra Quintero, a 33 year old Ecuadorian who decided to take a different career path in the Netherlands. After completing my Master Degree in Innovative Hospitality Management (2017) in Barcelona, with five years of growing towards a management role in the hotel, I shifted towards a career counsellor/recruitment position. Those 3 years fulfilled my drive of helping young talent gain the right experience in their early career years. When the pandemic hit, another change in my career arrived and I was lucky to have joined Maastricht University. For two and a half years now, I've worked with international students who arrive to the Netherlands with scholarships and Financial Aid as well as pockets full of dreams. It has been wonderful to hear their stories and see where our alumni is now. I really look forward to continue to meet alumni and future graduates this time as a Coach at the Coach Café.
When meeting young (soon to be) professionals, it's an amazing challenge to help organize their ideas, dreams and goals and assist in creating a short term step plan in getting one step closer to the start of their career. When asked the right questions and tuning into what really drives you, incredible things can come out of one single conversation. It might not always be about knowing right away what you want to be, but how you can acquire the right experience when working your way towards a more long term career path. Just remember, wherever this path takes you, leave a mark. A positive one. This has worked for me so far and I really look forward to getting to know your stories and sharing some advice with you all.
Marion Schepers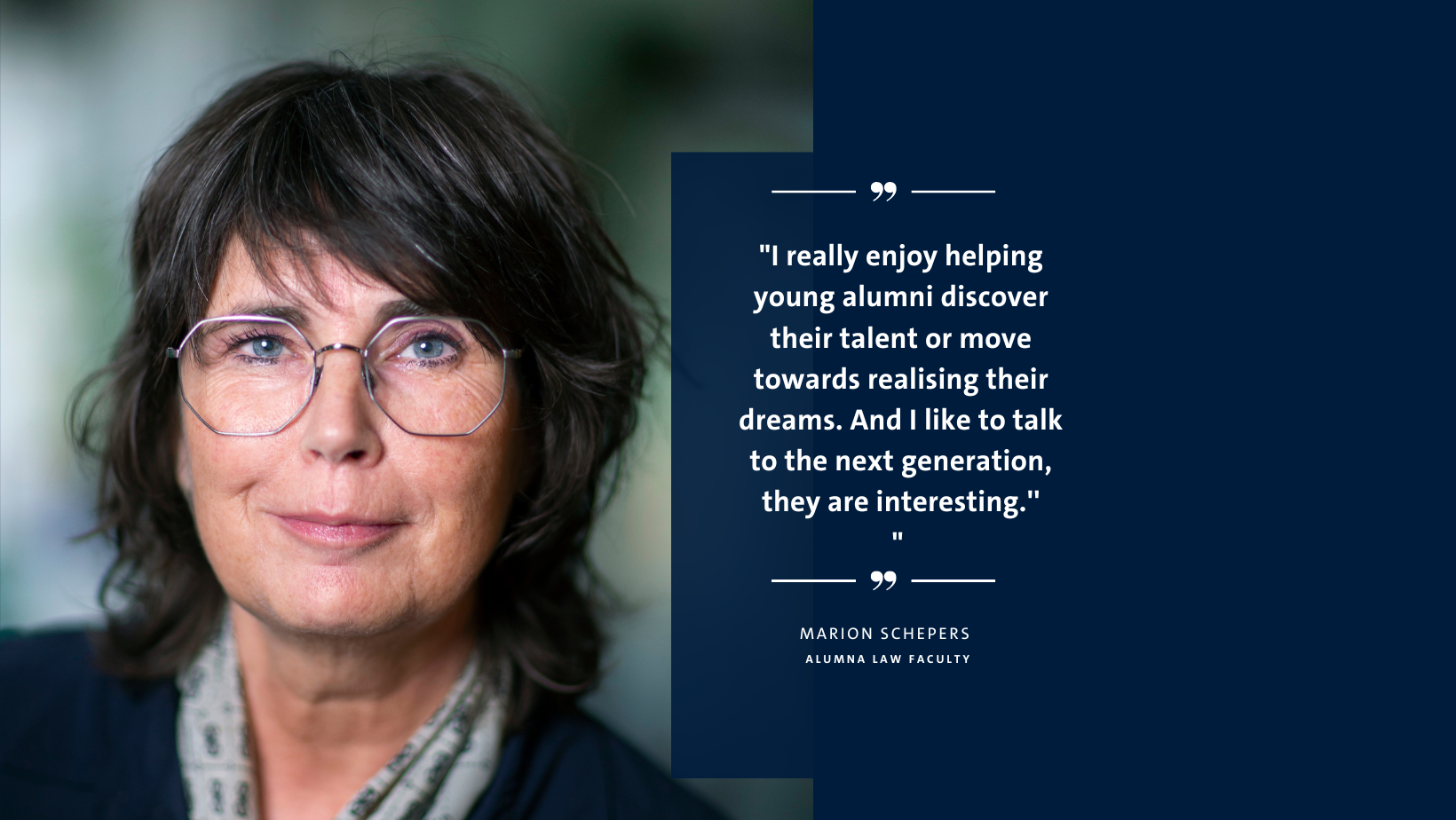 Marion Schepers
Hi, my name is Marion Schepers, I'm 55, mother of a son of 18. I love horses and dogs, riding my bike, yoga and aqua jogging. I am very interested in systemic coaching.
I followed several trainings at the academy www.jategennu.nl. And I am a representant in family constellations, organized by www.Quantum-Leap.nl.
I studied law at the university of Maastricht and still have a warm heart for my university. That is why I like being a coach for the Coach café. I really enjoy helping young alumni discover their talent or move towards realizing their dream. And I like to talk to the next generation, they are interesting. It's a great concept the Coach café. Just a lovely evening in a pleasant and safe environment, with "bitterballen" and drinks. Come talk to your fellow alumni and coaches who want nothing more than to empower you and set you on your way, with a head full of dreams or a concrete action plan or a phone number of someone you want to talk to.
May 1st I will start as a business consultant for the Starterscentrum Limburg (development entrepreneurship and guidance of start ups in Limburg (NL) province. I am also a creative writer (articles, essays, broadcast copy). Not only do I write myself, but I am also passionate about supervising students with their research and thesis.
Before I have worked for the government for 25 years in all kinds of positions (policy officer, deputy head of department, project leader, process manager).
Let's make it a memorable night at the Coach café!
Check out the Coach Café on Tuesday 21 November!