PhD conferral Alessandra Sala
Supervisors: Prof. Dr. Roberto Lorusso, Prof. Dr. Jos G. Maessen
Co-supervisor: Prof. Dr. Michele De Bonis (IRCCS, Vita-Salute San Raffaele University, Milan, Italy)
Keywords: tricuspid valve, isolated tricuspid valve regurgitation, tricuspid valve surgery, cardiac surgery
"Isolated Tricuspid Valve Regurgitation: assessment, timing and surgical treatment
This thesis investigated isolated tricuspid valve regurgitation. The tricuspid valve is the valve that separates the right atrium from the right ventricle. This valve has been disregarded for decades, but it has been demonstrated that tricuspid valve regurgitation was associated with reduced survival. Therefore, the aim of the thesis was to assess patients affected by tricuspid regurgitation, define optimal timing and surgical treatment. The thesis analysed patients that underwent tricuspid valve surgery, either repair or replacement. The objective was to try and identify possible predictors of a favourable outcome, in order to determine the ideal preoperative assessment and optimal timing for intervention. Both in-hospital and mid-term outcomes of patients undergoing isolated tricuspid valve surgery were analysed, together with validation of a new surgical risk score. The study showed that in selected patients isolated tricuspid valve surgery is at low risk, with good short and long-term outcomes.
Language: English
Click here for the live stream.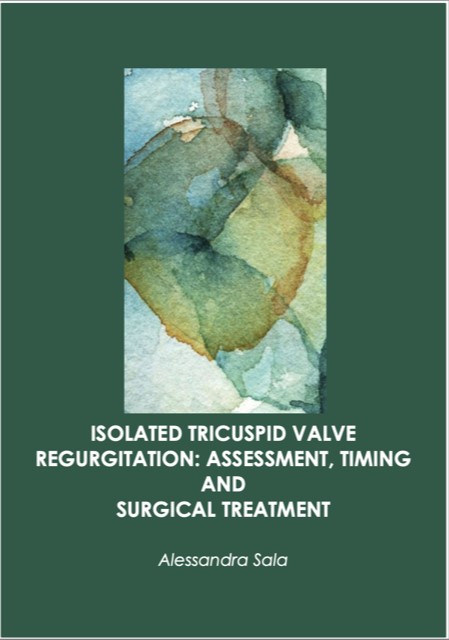 Also read
"Towards Functional Kidney Organoids: Insights from Kidney Organoid and Fetal Kidney Development"

"Deciphering glycoprotein VI signalling in platelet activation: integration of functional and computational modelling data"

"The Radiological Report: A compromise between Structured Reporting and Natural Language Processing"