ITEM/SVB event
ITEM/SVB Informatiesessie
Grensoverschrijdende zorg

Information and session only in Dutch.

Op 17 oktober 2023 organiseert het Institute for Transnational and Euregional cross border cooperation and Mobility / ITEM en Bureau voor Belgische en Duitse Zaken van de Sociale Verzekeringsbank (SVB) een informatiesessie met als titel: Grensoverschrijdende Zorg.
Hoe ziet zorg eruit in België, Duitsland en Nederland, en hoe werkt dat grensoverschrijdend? De Bureaus voor Belgische en Duitse Zaken gaan uw vragen beantwoorden tijdens deze sessie. Zij leggen de Nederlandse, Duitse en Belgische ziektekostenverzekering uit. Ook gaan ze in op de grensoverschrijdende zorg. We besteden aandacht aan de Europese regels zoals die staan in Eg-verordening 883-04 en aan de Patiëntenrichtlijn.
Schrijf u nu in!
Programma
Dinsdag 17 oktober 2023 | 14.30 - 17.00 uur | Academisch Genootschap te Eindhoven
14.30 – 15.00 Ontvangst en registratie
15.00 – 15:20 Zorg in Nederland
15.20 – 15:40 Zorg in Duitsland
15:40 – 16.00 Zorg in België
16.00 – 16.15 Pauze
16.15 – 17.00 Grensoverschrijdende zorg en Vragenrondje
16.45 – 17.00 Borrel
Inschrijven
Gelieve u vóór 10 oktober a.s. aan te melden.
ITEM en SVB kijken ernaar uit u persoonlijk te mogen verwelkomen in Eindhoven.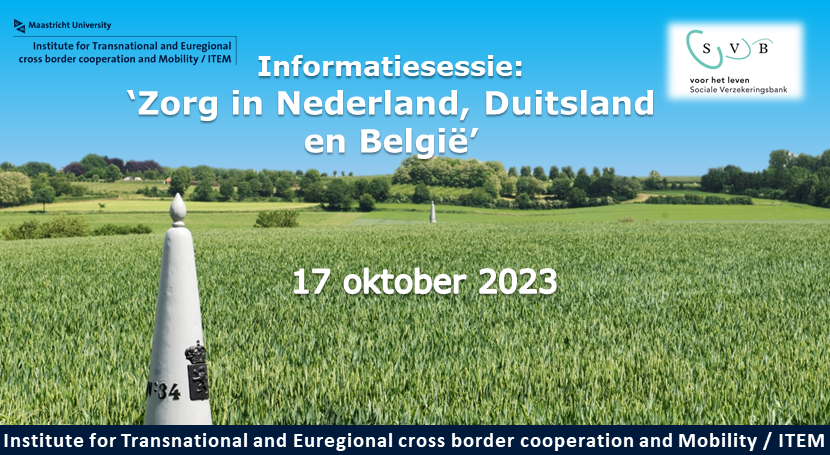 Locatie: Academisch Genootschap te Eindhoven
Contact: chantal.meertens@maastrichtuniversity.nl
Also read
The Globalization & Law Network is composed by a group of researchers of Maastricht University, coming from different backgrounds, who study the role that law plays in a globalizing society from a holistic perspective. Invited experts will give a presentation on a specific topic followed by a Q&A...

We are very excited to announce that the Graduate School is starting a new series of Graduate School Methods Seminars. The Methods Seminars are convened by Elvira Loibl, Monika Leszczyńska, Michele Ubertone, and Daniel On, with the goal of introducing members of our faculty, PhD candidates, Master's...