Ambassador Lecture Series – Roadmap to Peace?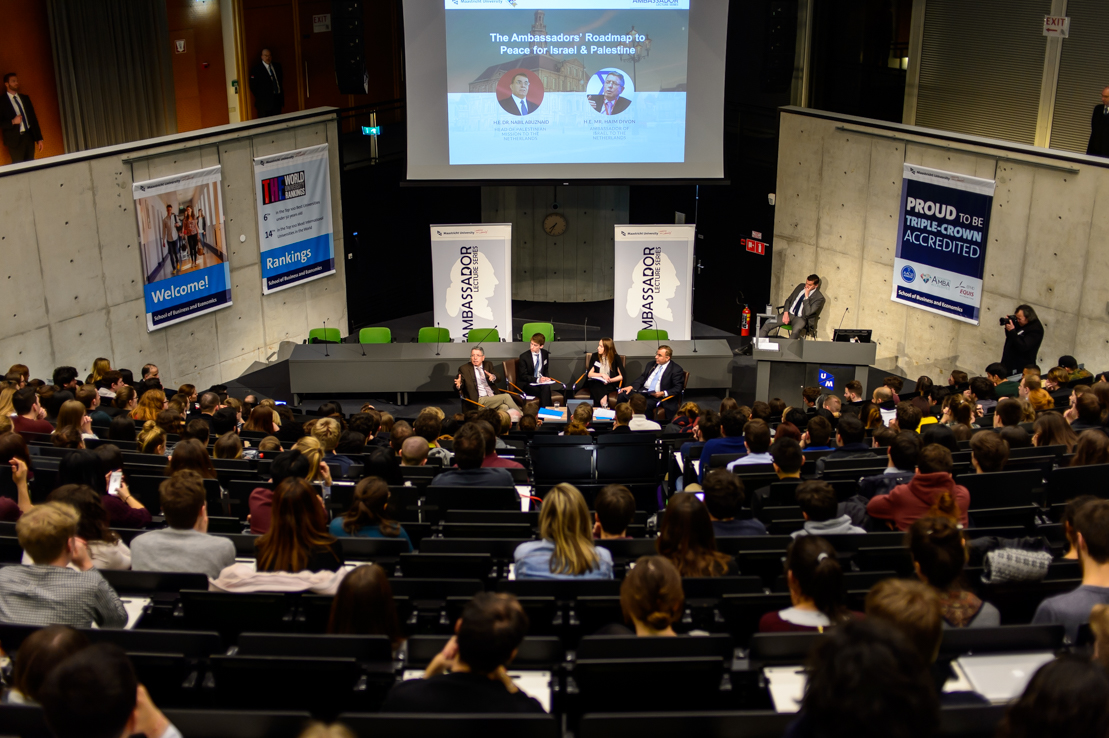 It is an incredible feat to have the highest representatives of Israel and Palestine in the Netherlands in one table openly talking about the Israeli-Palestinian conflict. The event is a testament to the hard work of the Ambassador Lecture Series team, the United Nations Student Association Maastricht (UNSA) and the European Law Students' Association (ELSA) Maastricht. Not surprising given the contentious topic, it took more than a year of planning and organisation for the event to materialise. Our two student reporters, Brian Megens and Karissa Atienza, attended the lecture for this blog.
H.E. Mr Haim Divon represented the State of Israel. A native of Jerusalem, he has served as the Ambassador to the Netherlands since August 2011. Ambassador Divon's diplomatic career has spanned over three decades, having received postings in India, Sri Lanka, Canada, and Ethiopia.Meanwhile, the State of Palestine was represented by H.E. Dr Nabil Abuznaid, the Head of the Palestinian Delegation to the Netherlands since September 2009. A Hebron local, Dr Abuznaid's public service dates back to his tenure as a policy advisor to the late Chairman and President of the PLO, Yasser Arafat during the Oslo Peace Negotiations. 
The event commenced with introductory remarks from each participant. Ambassador Abuznaid wasted little time for pleasantries and went straight to business, listing a number of instances of Israeli aggression including the 2014 attacks on Gaza and the burgeoning Israeli government-supported settlements in Palestine territories. To this, Ambassador Divon replied with humour, stating that "we don't get up in the morning and say, what can we do today in order to annoy the rest of world?" He states that the settlements are not the problem. The core of the issue, he says, is the denial of the presence of a Jewish state while the main obstacle to peace is the refusal to sit down and talk. Ambassador Abuznaid recognises and respects the right of Israel to exist and live in secure borders. However, he is against the Israel policy of occupation. According to him, under this policy, all Palestinians have to go through humiliating checkpoints every day, essentially restricting their freedom and dignity.
The two student moderators, Jakob Henninger and Adrienne McManus, divert the conversation towards the role of young people in the conflict. Ambassador Abuznaid states that Israeli children are forced to go to war, carrying weapons at 18 years old and patrolling checkpoints. "Why not enjoy the beaches?" he says. He continues that "security comes with peace with your neighbours, all these weapons would not bring security." Ambassador Divon retorts that if Israel does not send these young men and women to the army, there would be no Israel. The level of threat in this "crazy neighbourhood" requires them to have a strong army, "otherwise, you are out of the game."
The conversation turns toward the concept of a two-state solution. Ambassador Divon states that he is very hopeful, but the key is to sit down and talk. However, Ambassador Abuznaid believes that Prime Minister Netanyahu wants to keep the status quo. He believes that Prime Minister Netanyahu will never stop building settlements nor accept a Palestinian state.
At this point, the floor is opened to questions from the student audience. Maastricht Students reporter Brian Megens who was three weeks in the West Bank for a personal photography project last January, asks to Ambassador Divon whether it is reasonable to expect people who live right next a wall, which is illegal under international law, to set the first steps for peace. Ambassador Divon replies that back when there was no checkpoints and no wall, suicide bombings had killed innocent people. He states that Israel was left with no choice, but he concedes that the wall is "ugly and inconvenient."
This is not the first time both ambassadors have sat at the same table in Maastricht. In 2012, Studium Generale organised an event on the Israel-Palestine relationship in the aftermath of the Arab Spring, featuring both ambassadors at the same lecture hall. Have their opinions on the matter changed since then? We do not know. However, one thing is for sure. As a salesman would never say his products are bad, it was in the line of expectations that last week's Ambassador Lecture Series' Roadmap to Peace for Israel and Palestine with Ambassadors Divon and Abuznaid provided little concrete solution nor glimmer of hope that the Israeli-Palestine conflict would be resolved anytime soon. The organisation of the Ambassador Lecture Series deserves respect for setting up an event dealing with such high politics. However, taking a more realistic approach for future events might be advisable. Making the two representatives of Israel and Palestine sit together was itself the biggest achievement of the evening as a real dialogue between the two never took off.
Photography: Brian Megens
About the author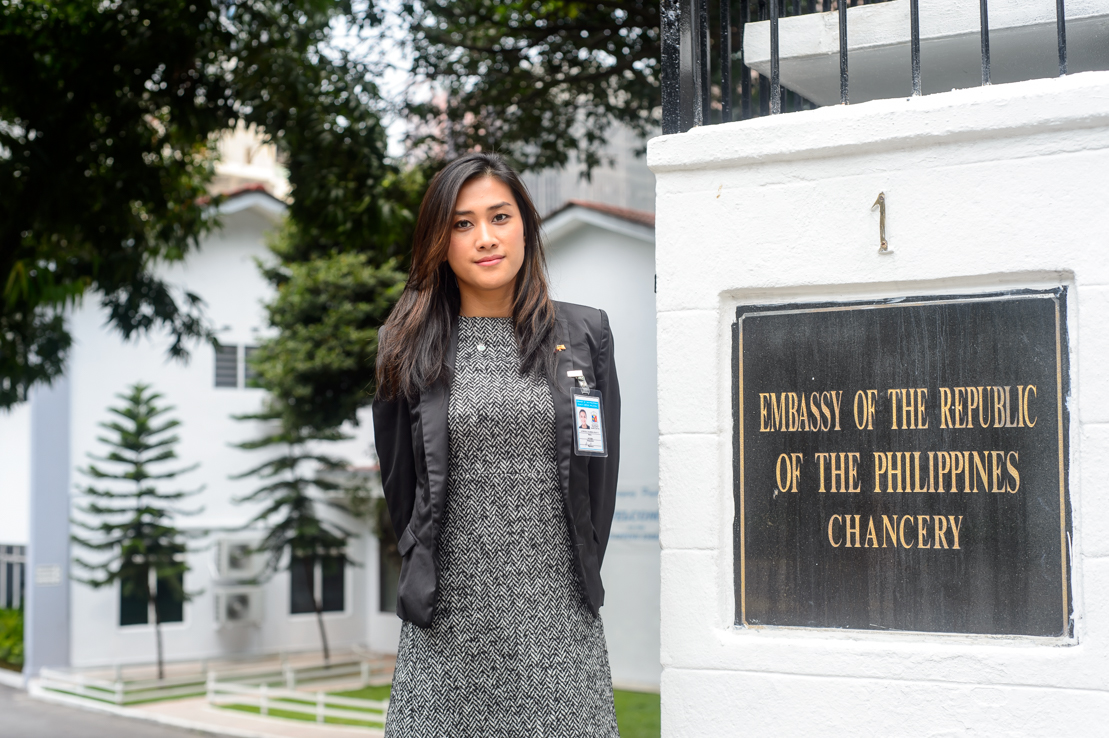 I'm Karissa Atienza, a Filipino public policy master's student at Maastricht University/United Nations University. This is my fourth year in Maastricht as I also did my Bachelors here on European Studies. I have been a social media reporter for Maastricht University since 2015. When not busy with academic or university work, I enjoy eating, travelling and photography. 
Other blogs:
Also read
There are many inevitable things that we have to go through in life from the moment we are born: learning how to eat using a fork, learning to use the toilet, saying 'thank you', etc. This sequence of proper societal integration continues until we are adults. We always have to adapt to our...

Keir Plaice, a former semi-professional cyclist and 3rd year Bachelor Arts and Culture student, is embarking on a cycling ride of a lifetime. He is riding the route of the original Tour de France of 1903 and documenting his experience in his Le Grand Tour column in the cycling magazine Soigneur...

Every year since 2009, fashionistas descend to Maastricht as the city hosts the FASHIONCLASH Festival. It has attracted more than 900 talents from 50 different countries. This year's 8th edition is bigger and better, involving more than 150 designers and artists from all over the world who will...