Soup, Salad and Smoothie Bars of Maastricht: Vers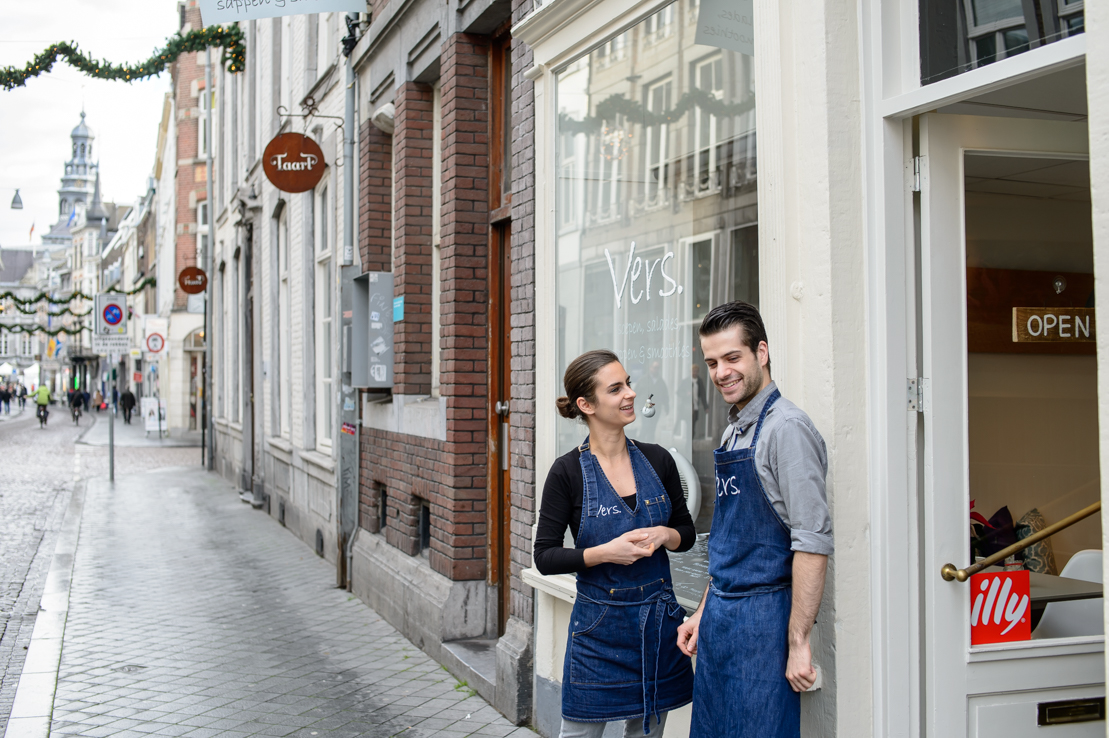 Maastricht is well known for its historical city centre, shopping, hilly surroundings, and gastronomical cuisine. However, since the foundation of the University of Maastricht, a younger, more international generation has entered the stage. Inevitably, these new inhabitants have an impact on the city as they come from various backgrounds with different lifestyles, preferences and demands. 
In big cities like London and New York, a plethora of soup, salad, and juice and smoothie bars abound. Gone are the days where healthy living is boring. Like the increasingly cosmopolitan city that Maastricht is, healthy living has caught on. In this new column, we will visit the recent arrivals of soup, salad, and smoothie bars in Maastricht and meet their passionate owners, hear their stories, show their place, and of course, have a taste of what they have to offer! In our first column, we interview Paul van Aubel and Marie-Claire Giessen of Vers.
What is Vers?
Vers is a soup bar with extras! We make homemade soups, salads and fresh juices and smoothies. We try to make good, healthy food based on the season which you can eat here or take to work, in class or at home.
How did you end up starting a business?
Marie-Claire: I always had it with the smoothies and juices. Abroad, you can find it everywhere. It's so easy to have a fresh juice, but we thought it would be a little too small just to do juices and smoothies.
Paul: We really liked soup bars, but we always had to go to Belgium, in Hasselt or Ghent. We said there's nothing like a soup bar in Maastricht, so let's do it. We always said it to ourselves that we wanted to start a business and we thought it would be nice to do it together.
Marie-Claire: We wanted to start something, we wanted a new challenge. We said let's do it now, otherwise we won't be able to do it again.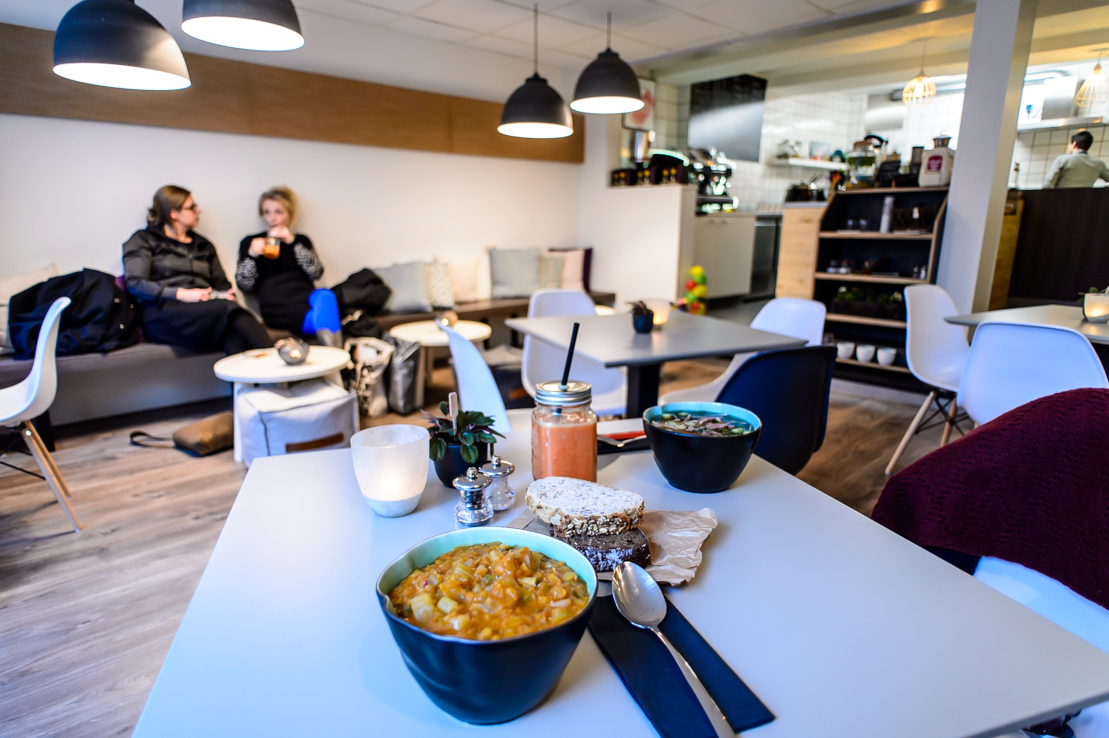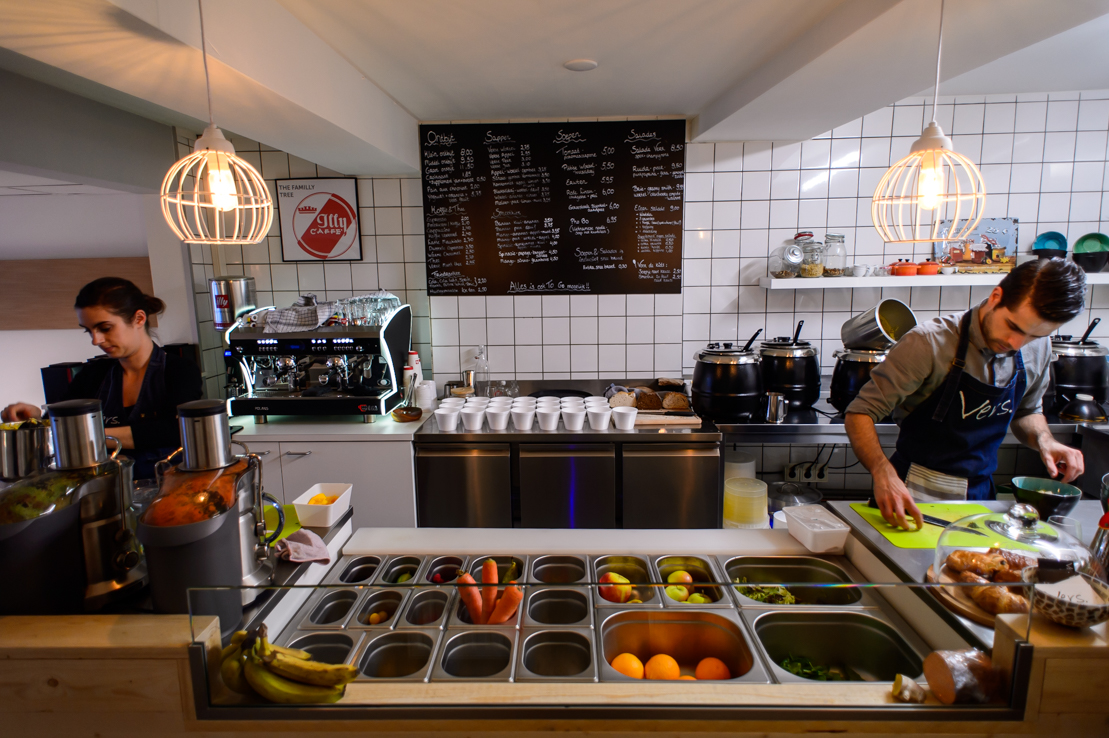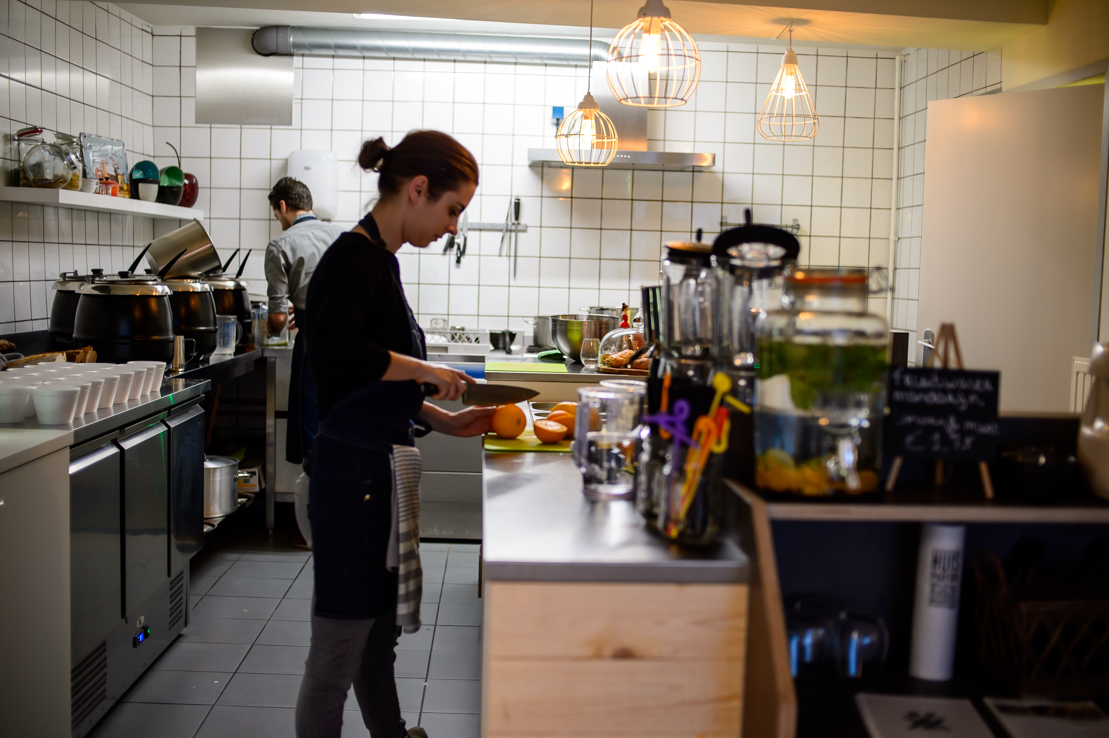 What do you aim to bring with Vers?
Marie-Claire: We hope to bring good, healthy food that make people happy. So when people take their juice in the morning, they have a good start to their day or that they can have a good quick healthy lunch, even if they only have half an hour.
Paul: It's difficult to find healthy fast-served food so I think it's one of our strong points. You can have a quick lunch or sit down for a cup of coffee.
Marie-Claire: You can also stay longer and work or study here. We have Wi-Fi and we have plugs for your laptops.
What's your favourite in the menu?
Marie-Claire: We regularly change the menu based on the season, and we also change something every week so it's not always the same.
Paul: For the soups and salad, we try to focus on the season but it's a bit more difficult with the fruits, especially in winter. A lot of the vegetables are locally produced, I think it's very important to have local and seasonal ingredients.
Marie-Claire: For now, I like the mango-raspberry-orange smoothie and the pho (Vietnamese noodle soup with beef).
Paul: We started with a red lentil soup and we still have it in the menu. It's very popular and I really like it. Even after almost three months, I can still eat it every day!
How has the students changed Maastricht?
Paul: In the last couple of years, you see there are more and more students coming to Maastricht. It's become a student-town. What that brings, especially the international people…
Marie-Claire: …is diversity in the people and of their food. For example, you see it now with the Korean place. It brings new things and I think that's good for the city.
Paul: In the holidays, we get a lot of tourists from Belgium and Germany. Now that the holidays are over and the students are back in Maastricht, we immediately feel their presence.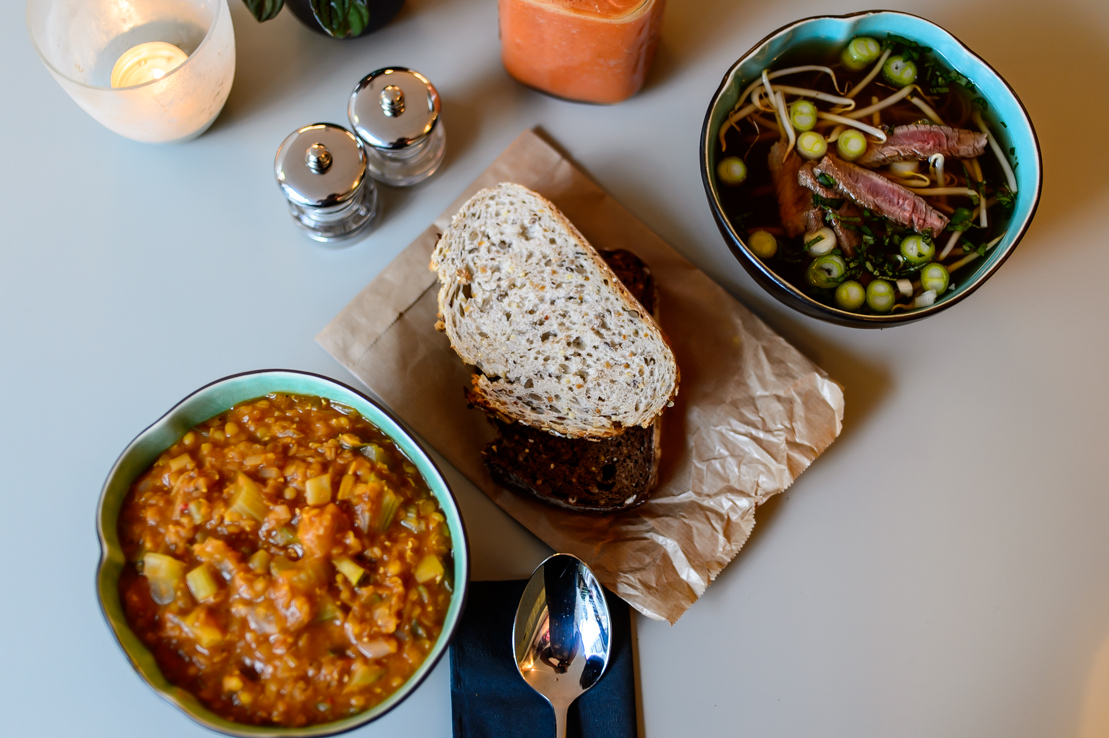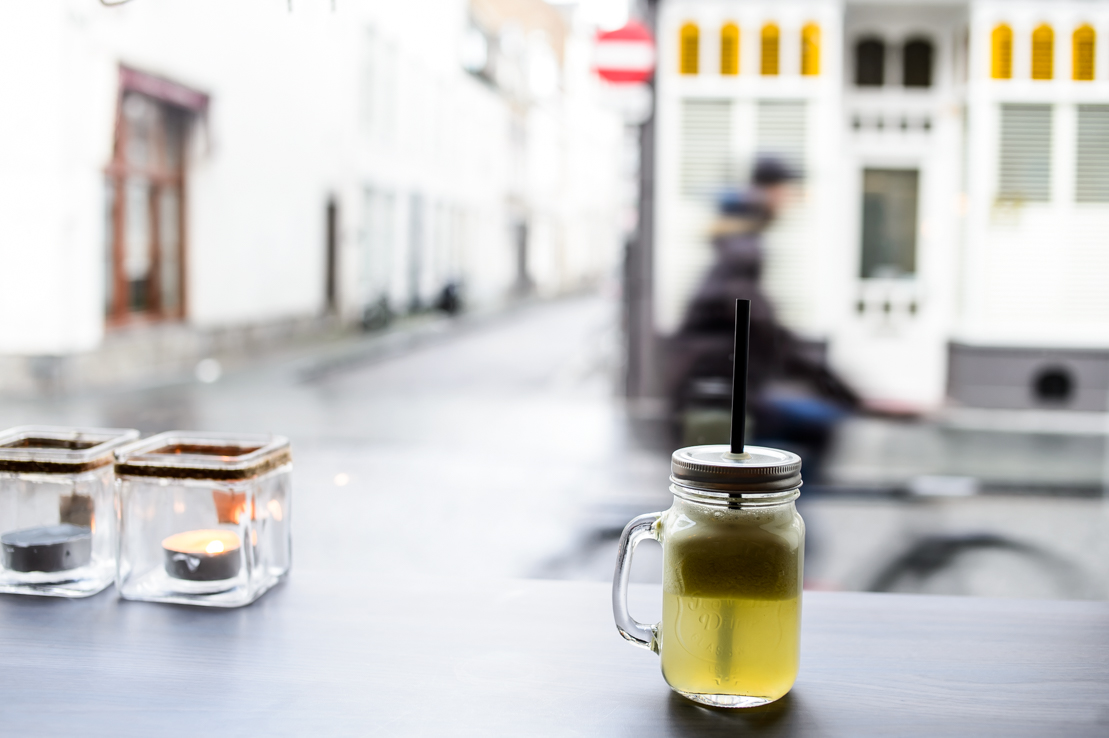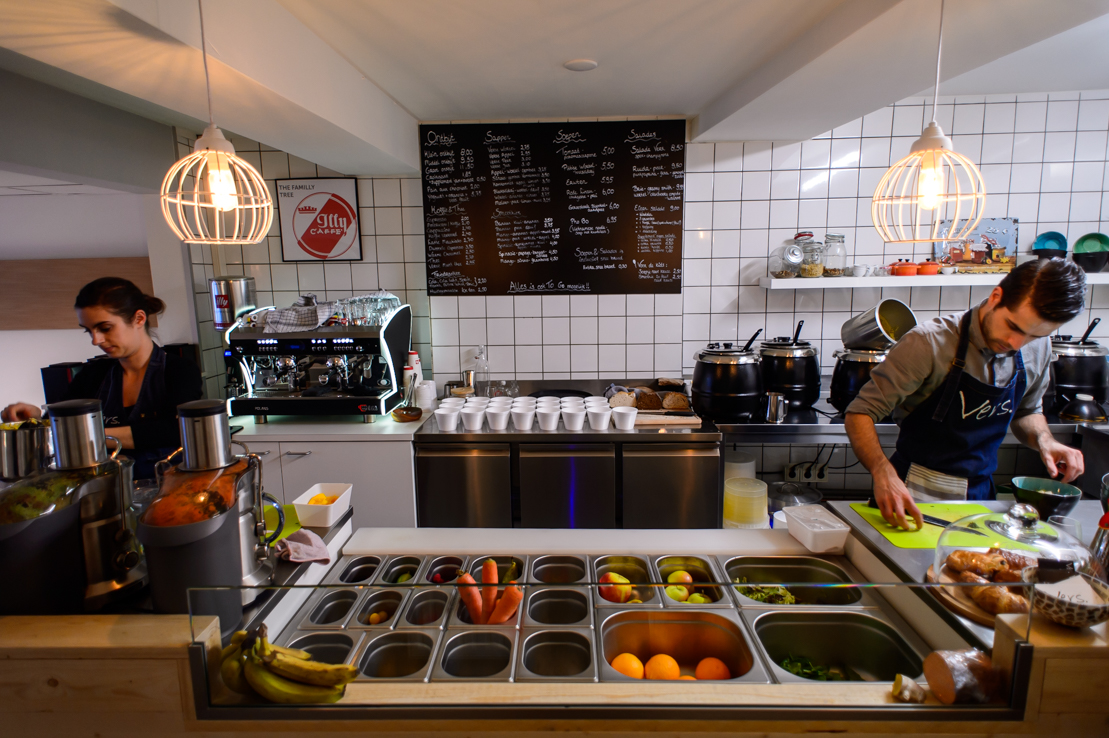 What do you like most about Maastricht?
Paul: I like Maastricht because it's diverse. It's international, it's not a typical Dutch city. Everyone who comes here say that Maastricht is very different. For the students, just enjoy Maastricht.
Marie-Claire: Explore the little streets and try the local spots. Don't just go straight to the Vrijthof square, but go outside Maastricht too. For example, the Château Neercanne, you can bike there, or go to the Sint Pieter. The surroundings of Maastricht are very nice.
What are your favourite events in Maastricht?
Marie-Claire: The Food Truck Festival in the summer is really nice (the Stadspark turns into one big outdoor restaurant with dozens of mobile kitchen, live music and theatre performance) and of course, we have the Preuvenemint (the annual food event of Maastricht and the largest food festival in the Netherlands)
Paul: The Bruis (a free multi-day music festival) and JekerJazz (a two-day event with concerts at various venues spread across Maastricht) are good too.
Vers.
Grote Gracht 31
6211 ST Maastricht
About the author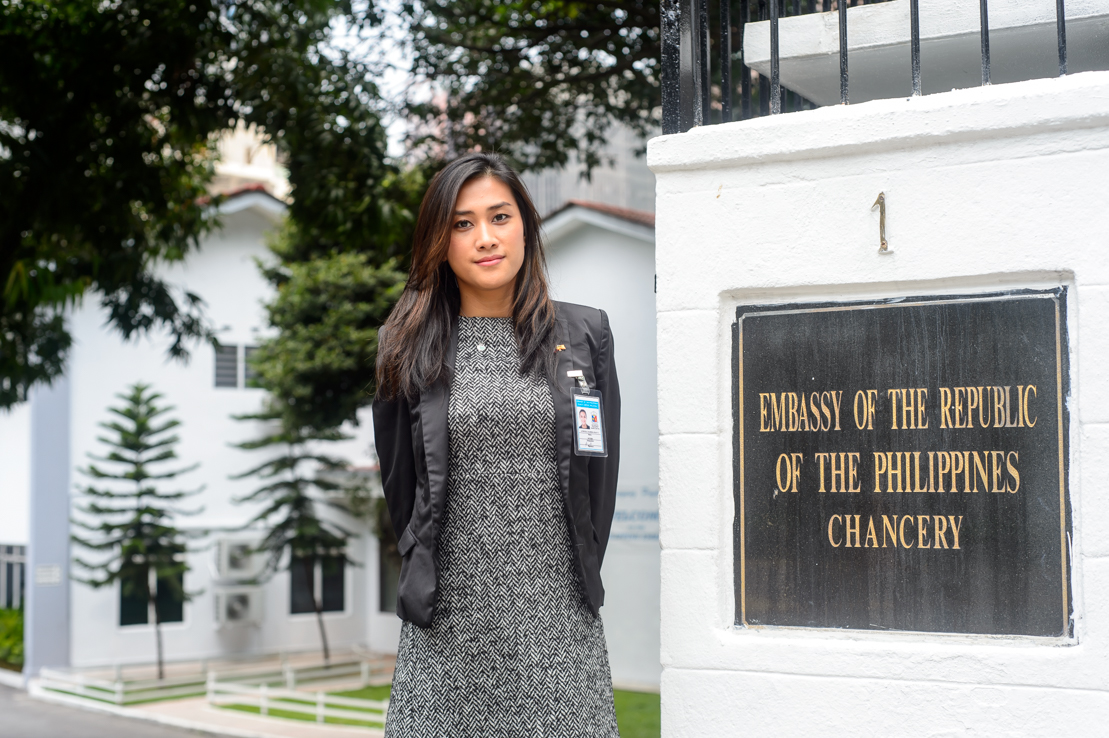 I'm Karissa Atienza, a Filipino public policy master's student at Maastricht University/United Nations University. This is my fourth year in Maastricht as I also did my Bachelors here on European Studies. I have been a social media reporter for Maastricht University since 2015. When not busy with academic or university work, I enjoy eating, travelling and photography. Any ideas, comments or recommendations for our social media channels? Send me a message!
Other blogs:
Also read
Keir Plaice, a former semi-professional cyclist and 3rd year Bachelor Arts and Culture student, is embarking on a cycling ride of a lifetime. He is riding the route of the original Tour de France of 1903 and documenting his experience in his Le Grand Tour column in the cycling magazine Soigneur...

Every year since 2009, fashionistas descend to Maastricht as the city hosts the FASHIONCLASH Festival. It has attracted more than 900 talents from 50 different countries. This year's 8th edition is bigger and better, involving more than 150 designers and artists from all over the world who will...

In a few weeks, Maastricht will play host to the vibrant WE Festival. But what is it? This week we met with Alexandra Frank. A third-year Arts and Culture student, she has been involved with the annual WE Festival since her first year and currently leads its programme committee. Read on to hear more...