Master Public Policy and Human Development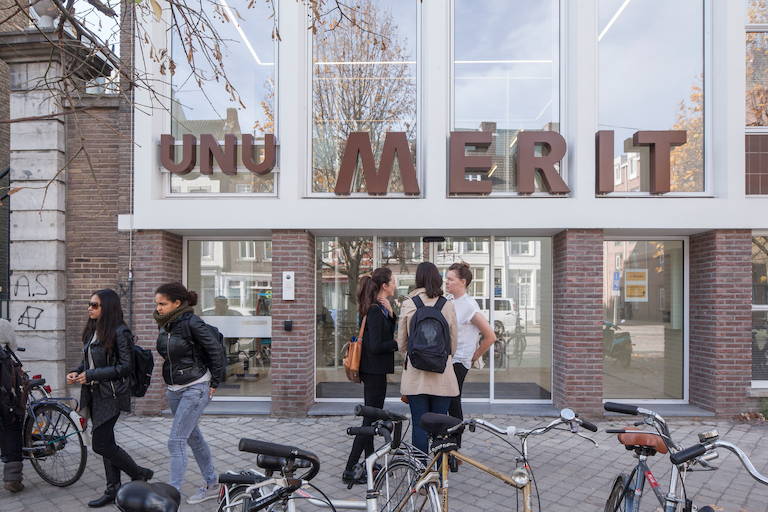 This blog and the following one will be about the two masters I'm currently taking at Maastricht University: the master Public Policy and Human Development (specialization Innovation, Institutions and Development) at the Maastricht Graduate School of Government and the master International Economic Policy (specialization European Economic Policy). I intend to write another blog about the Maastricht University's PREMIUM honours programme after that, but we'll see, I haven't been good at regularly blogging lately so I cannot promise anything. Don't worry; there'll be drunken stories again in the future, but not in these few blogs.
I hope that these blogs will answer many of the questions I often receive about all the stuff that's keeping me so darn busy all the time. Even my parents are still having difficulties remembering the names of the programmes I'm enrolled in (I try to keep it simple by just addressing them as economics and public policy) so I have no high expectations of that. More importantly, I hope that these blogs will inform future master students so that they either get super enthusiastic about these programmes or make them realize that there's really no reason to stay in Maastricht after having studied here for years already.
The UNU-MERIT/Graduate School of Governance, which is located at the Keizer Karelplein next to the Vrijthof (there's a UM flag indicating it's entrance but it's still difficult to find it, it took me two trips around the Vrijthof when I was first looking for the place at the Master Open Day last year), takes around 100 students from over 40 different nationalities to enrol for the master Public Policy and Human Development. Although the application requirements seem very stringent the admission board is the first to stress that those strict requirements are more or less a formality which are pretty easy to suffice. One of the major advantages of this big international student body is the open-minded attitude of the students and the eagerness to undertake social shenanigans and go to parties together (about one third hasn't done a bachelor in Maastricht so they're still fresh) but more about this later.
After having been accepted you'll get offered to partake in the summer courses in either mathematics and/or politics which serve as an introduction into these topics for people who have absolutely no background knowledge. These summer courses are offered online for free and require about ten to fifteen hours per week. I took politics, which was nice and informative. I heard from people who had the mathematics course that this wasn't really preparing you for the level of mathematical knowledge required for later courses but I'm sure they'll adjust the contents next year (Lutz, are you reading this?).
Courses at Public Policy usually take four weeks so every block you have multiple of these small courses. The first semester courses Introduction to Public Policy (4 EC), Introduction to Statistics (6 EC), Public Economics (4 EC), Public Policy Analysis (6 EC) and Econometrics (6 EC) are all mandatory but you have the option to request an exemption for Statistics if you've had Quantitative Methods I, II and III or a bachelor degree in Econometrics. I could've applied for an exemption for econometrics too but instead I took the optional Econometrics+ course (8 EC) which parallels the regular course but advances at a higher pace and hence covers many more topics. The econometrics courses are generally considered to be the most difficult courses but I felt that anyone who is not completely thrown aback when learning that Greek letters are very often abused to form parameters instead of hexameters could pass this course with a little extra effort. I can offer assistance for a reasonable charge.
In the second semester the large group of students divides over the seven specialisations Regional Integration, Risk and Vulnerability, Migration, Social Protection (in co-operation with the ILO), Trade and Development Law, Sustainable Development and Innovation, Institutions and Development. Descriptions of these specialisations can be found on the MPP (that's the common abbreviation of the master Public Policy) blog or the Maastricht University website which are listed below. I can only speak for myself when I say that I think my specialisation, that is Innovation, Institutions and Development, is quite interesting, time-consuming but apart from that not extremely challenging. I've heard similar stories about the other specializations.
One of the biggest advantages of the whole master is its large international student body. This not only benefits the discussion in the tutorial groups, which are often inspired by Peruvian, German or Catalonian experiences brought up by enthusiastic students, but the extracurricular activities organised by MPP students and it study association DEMOS are also a lot of fun. We've had International Dinners, a Sinterklaas evening, plenty of birthday parties and occasional random activities such as the impulsive decision to go to the Christmas Market in Aachen. You were wrong when you thought that people of a certain age start drinking more responsibly.
Given the workload of the programme it is difficult to combine it with a social life but this is clearly not impossible, it works out quite well for me to combine it with the honours programme and still be present at ESN parties, my fraternity drinks and the MPP shenanigans. Doing another master at the side is only possible because I'm still taking courses next year but this allows me to stay in Maastricht for another year. I find this prospect very pleasant – something I could not imagine myself saying a year ago.
Please contact me if you're interested and want to learn more, you can also inform yourself by clicking on these links:
http://mgsog.merit.unu.edu/prospective_students/pphd/index.php
About the author
Julian Slotman studied Public Policy and International Economic Studies at Maastricht University. He was a contributor to the Maastricht Students blog from August 2011 to May 2013.
Other blogs:
Also read
Now that I have survived an entire period of studying at the University College, plus a full "reflection" week, I think I am finally qualified to blog about the University College, and what exactly, I love about it.