UM Summer Camp 2023
Call: workshops Summer Camp 2023
Do you enjoy teaching primary school age children? Do you speak Dutch? Do you know how to introduce them to a topic within your expertise or field in an enthusiastic, interactive and instructive way? Then you are the workshop giver we are looking for for UM Summer Camp 2023!
The summer camp
After a very successful first edition of UM Summer Camp in July 2022, thanks in part to the fantastic contributions of UM employees from various faculties and departments, work is now underway on a second edition. The UM Summer Camp 2023 will take place from Monday 17 to Friday 21 July 2023. A maximum of 50 children of primary school age 6-12 can participate. The children will be divided into school group 3-5 (grade 1-3 Belgium) and school group 6-8 (grade 4-6 Belgium). The language of instruction during the UM Summer Camp is Dutch.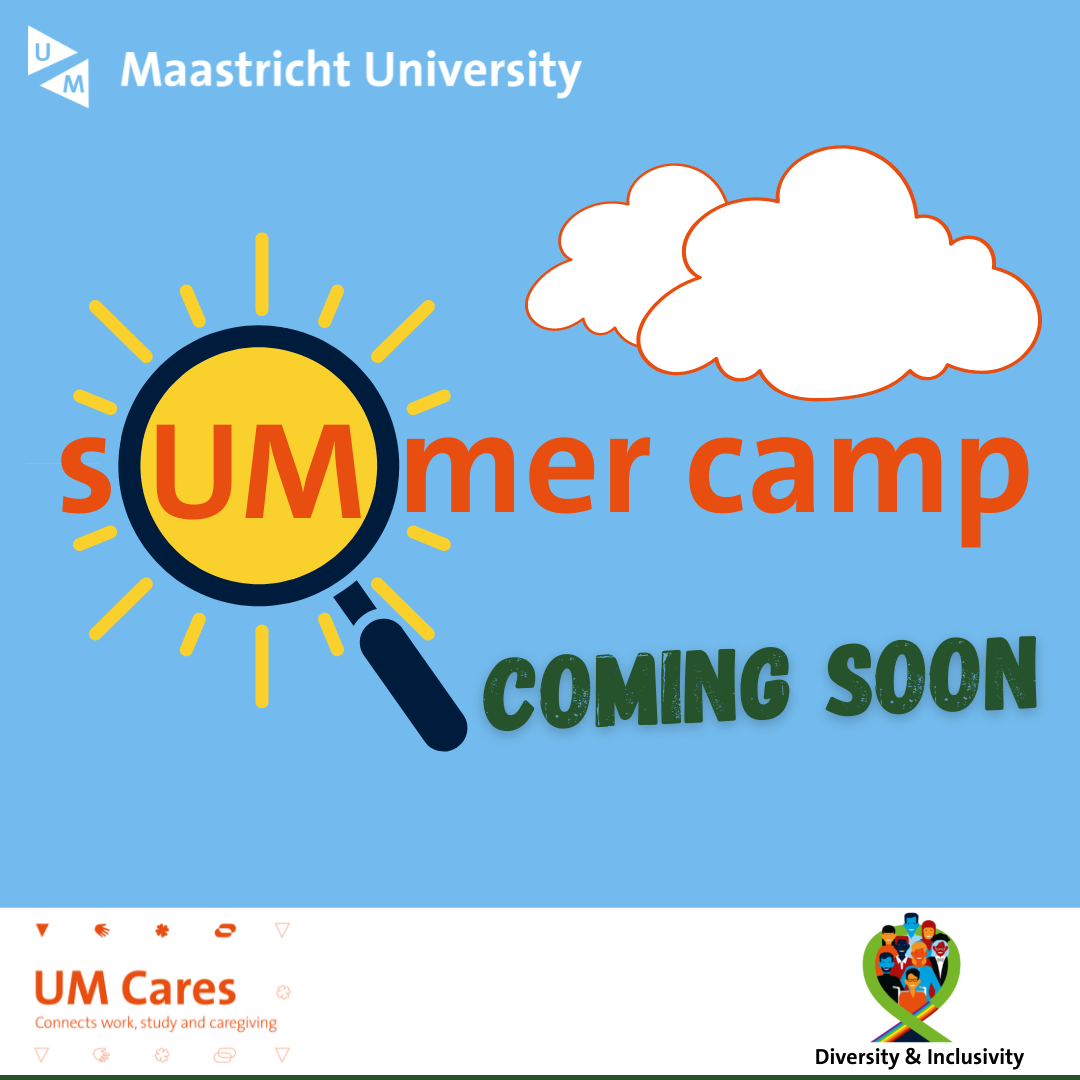 UM Summer Camp: 17 - 21 juli 2023
The workshops
Educational workshops are scheduled daily in parallel in the morning (Monday to Friday between 09:00-12:00) at a UM downtown location (tbd) and last up to one hour for both age groups. A workshop for both groups takes place on the same day. The working language of the workshops is Dutch. A fee of €100.00 per workshop will be transferred to the department/professional group's desirable budget number.
Experience from the first summer camp shows that collective interaction is an important element in keeping the children's attention, especially with the youngest group. So do not turn the workshop into a university lecture, but involve all children in your class in the story: use tangible and visual items; divide the children into sub-groups where they can work on an assignment; let the children step into the role of a doctor/researcher/lawyer/politician, etc. Check out the overview of workshops given at UM Summer Camp 2022 for inspiration (at the bottom of the page).
Submit your workshop idea!
If you have been inspired and have a good idea for a workshop for UM Summer Camp 2023, submit your idea via the online form (in Dutch).
>> Deadline for submitting your idea: Sunday 26 February 2023 23:59 <<
A maximum of 10 workshops will be selected and therefore the following will be considered in the selection process:
the diversity of applications (themes/topics) and applicants (faculties/disciplines/expertises)
the social relevance of the workshop topics/themes
incorporation of components of diversity and inclusiveness in the design of the workshop
You will hear by e-mail no later than Thursday 2 March 2023 whether your workshop has been selected.
If you have questions, please contact us by e-mail: UMcares@maastrichtuniversity.nl
My idea for a workshop
Submit your proposal