Language Level Assessment
The UM Language Centre can assist you with proof of language proficiency. We offer different tests to evaluate your language skills and can provide you with a certificate stating your level.
You can register for a Level Assessment test using our Registration form - select level assessment in the first drop-down box and then choose the language of interest followed by the type of test you need (quick test excl. or incl. writing or a full test as per CEFR, please see below).

After registering, you receive a direct payment link to complete the test fee and an email contact to schedule the test (different options depending on the test and language, please see below).

After having completed the assessment and arranged the payment,  you will receive the document with your level in PDF format.
Quick tests or proof of level (only for UM-students and UM-employees)
If you go abroad for your studies, an internship, or for work, the host institution usually requires a document that states your level of proficiency in the particular language.
If your host university or the institute approving your scholarship (e.g. DAAD), requires you to submit proof of language proficiency, you can make an appointment for a Quick Test. We can confirm your language level in a letter or fill out a form.
The quick test without writing takes roughly 30 minutes to complete and assesses your speaking, listening, and reading skills. The Language Centre can also test your written language skills by doing a quick test including writing which takes a bit longer.
Fee Quick Test excl. writing: € 45
Fee Quick Test incl. writing: € 90
Test according to CEFR criteria (for UM and non-UM participants)
For some of the languages we teach we also offer a full test in accordance with CEFR criteria. CEFR describes foreign language proficiency at six levels. The speaking and listening skills test is administered by the teacher, followed by an independent writing and reading test. The full test takes roughly 2,5 hours to complete. To review the CEFR levels, download the PDF  Levels of the Common European Framework of Reference (0.48MB).
Available tests (in person and online unless mentioned otherwise)
| | | | | |
| --- | --- | --- | --- | --- |
| Language  | Quick test, exc. writing € 45,- | Quick test, incl. writing € 90,- | Full test as per ERK € 225,- |   |
| Arabic | no | no | no |   |
| Chinese | yes  | yes | no |   |
| Dutch  | yes | yes | yes, online and on location |   |
| English | yes | yes | no |   |
| French | yes | yes | yes, on location only |   |
| German | yes | yes | yes, on location only |   |
| Italian  | yes | yes | yes, on location only |   |
| Portuguese | yes | yes | no |   |
| Russian | yes | yes | no |   |
| Spanish | yes | yes | yes, on location only |   |
Dutch B1 and B2 tests for Medical Professionals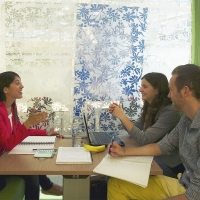 For more information about the Dutch B1 and C1min tests for Medical Professionals please see Medical Dutch.