Technical feats at 180 degrees below zero
"I've come a long way down a short road", jokes Frank Nijpels. Having started out as a technician in the instruments department at Maastricht University (UM) and the MUMC+, he is now working on the Vitrojet, a new device that prepares samples for a form of electron microscopy that received the 2017 Nobel Prize in Chemistry. Or, as Professor Peter Peters likes to describe him: "Frank is our goose that lays the golden eggs."
As a boy he enjoyed taking things apart, from radios to hand mixers. "In secret, when the rest of my family was out. The main challenge was putting them back together before everyone came home. My one failure was the watch my grandfather gave me for my First Communion – I didn't manage to put it back together in time." Forty years later, his boyhood hobby seems to have sown the seeds for a successful career within the walls of UM.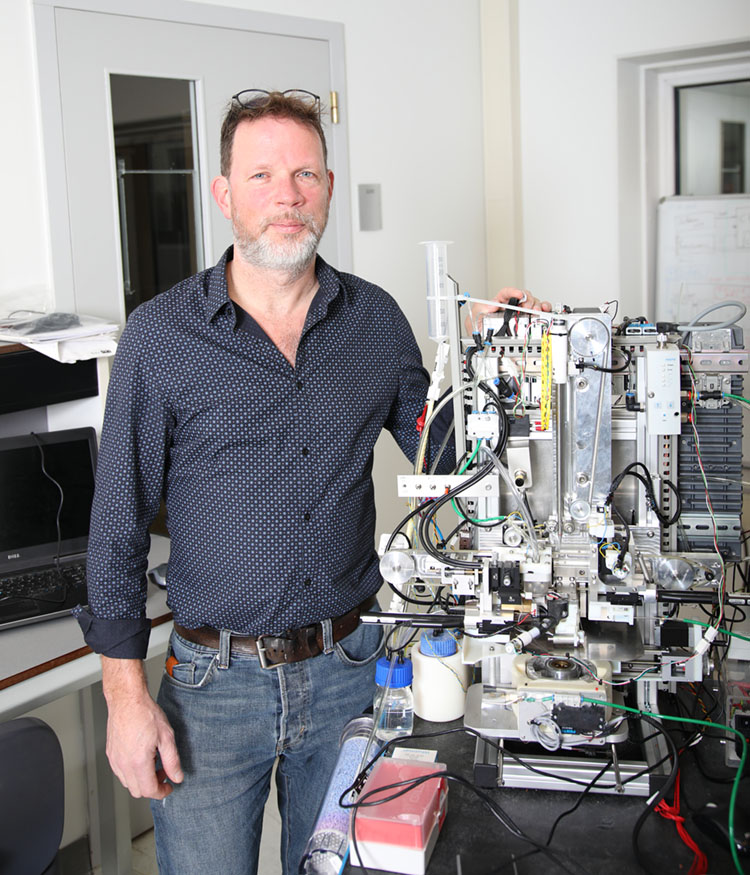 Spinoff
By the time this article appears, Nijpels will have left these familiar surroundings behind – partly, at least. On 1 February he started a job at Cryo-Sol, a startup headquartered on the Brightlands Maastricht Health Campus. This spinoff company was founded to bring the Vitrojet, a sample robot initially developed at UM, to consumers. This summer Cryo-Sol hopes to send the first test models to the world's leading laboratories.
Researchers at said labs are already familiar with his work. In 2001, working at UM's Instrument Development, Engineering and Evaluation department (IDEE), Nijpels was involved in the development of a renowned forerunner of the Vitrojet, the Vitrobot. Over the past decade, the Vitrobot has become the world's most widely used device for sample preparation in the field of cryo-electron microscopy. The new structural models revealed by this technique lift the lid on a wealth of details, giving a new impetus to scientific research in areas such as Alzheimer's disease.
Semi-automatic
At UM, cryo-electron microscopy is done in Professor of Nanobiology Peter Peters's lab, part of the molecular imaging institute M4I. This form of microscopy requires samples to be cooled very rapidly to avoid crystallisation. The new device, the Vitrojet, should largely automate this process of vitrification. "This saves time, a lot of money and leaves less room for human error", explains Nijpels. "Technically, the Vitrobot is only semi-automatic. That's why our very first client, Professor Wah Chiu from Houston, preferred to call it the Vitrobox. Where the Vitrobot mostly cools the carrier, the Vitrojet directly cools the sample itself." To achieve this, the device squirts the sample with two thin streams of ethane at 180 degrees below zero, deep-freezing it in a mere millisecond. The sample is then stored in liquid nitrogen at -196 degrees Celsius. "The best thing about my job is being able to facilitate the work of my scientist colleagues. Don't forget that a single sample can cost several thousand euros. Come to think of it, I take quite good care of my researchers."
From furniture maker to engineer
'My researchers' – that's how he feels about them. Nijpels deliberated for a long time before deciding to leave UM for Cryo-Sol. "Over the years, I've formed a close bond with some of these researchers. Raimond Ravelli at the M4I, for example: he's not only a good friend, but also a scientific sounding board. After all, everything I make still has to be verified by physical theories. I don't have that kind of knowledge; I never went to university myself. That's something that's always bothered me in my work, even back when I became a furniture maker in Gronsveld straight out of high school. It's a sense of insecurity that's never entirely left me. So, yes, maybe I needed that validation from my researchers."
Nijpels will join a familiar face at Cryo-Sol, where business developer Bas Lemmens will be responsible for global business development for the Vitrojet. The pair met while working at the wholesaler Biozym in Landgraaf. "That was my first introduction to the world of laboratories. It means a lot to me that I'll be working with Bas at Cryo-Sol. And the new job will give me the chance to finish what I started, in a way. I wasn't able to work on the further development of the Vitrobot, but I'll get that chance now with the Vitrojet."
If the goose that lays the golden eggs is leaving the nest, what will become of IDEE and M4I? "If I were in charge at UM, I'd focus on establishing a logical connection between IDEE and the new Faculty of Science and Engineering. There's a great opportunity there to attract technically minded people", Nijpels says, smiling brightly. "Not only scientists, but also people who'll be able to take good care of them … "
Frank Nijpels (1966) completed his secondary education in Maastricht in 1982. He worked as a technician at Rotterdamse Gemeente Musea and as a furniture maker in Gronsveld, Limburg. In 2000 he joined the Instrument Development, Engineering and Evaluation (IDEE) department at UM as a designer/inventor, switching to M4I in 2016. As of 2019, he is an R&D engineer at Cryo-Sol in Maastricht, working on the further development of the Vitrojet.